Welcome to another edition of 'Elroy's Elliott Wave Weekly'. By now regular readers are hopefully familiar with some of the charts and jargon involved with Elliott Wave, and I can more or less dive straight into the analysis.
One thing I should mention, though, is how I trade the information presented. I don't try to trade every single turn, and for the most part, I use Elliott Wave to identify the general direction of a market and try to sit tight. For example, I am long gold (NYSEARCA:GLD), oil (NYSEARCA:USO) and about half a dozen stocks over the long term as I believe they will be higher in this time frame. However, I make additional trades in a short-term account, either adding swing longs in the direction of the overall trend, or fading the trend and going short. I am often long in one account and short in the other, but with very different holding periods and expectations.
I'm not advocating this method, but it is worth mentioning. Use the information in the article in a way which helps you and your system.
Equities
The S&P 500 (NYSEARCA:SPY) closed the week down for the first time in seven weeks after getting very near the 2,410 target for this wave 3. However, the structure of the decline does not look impulsive so there is little point in being short against the highs.
Expectations for the coming weeks can be guided by the fractals from the 1999-2000 move in equities, which have provided an excellent guide for so long now: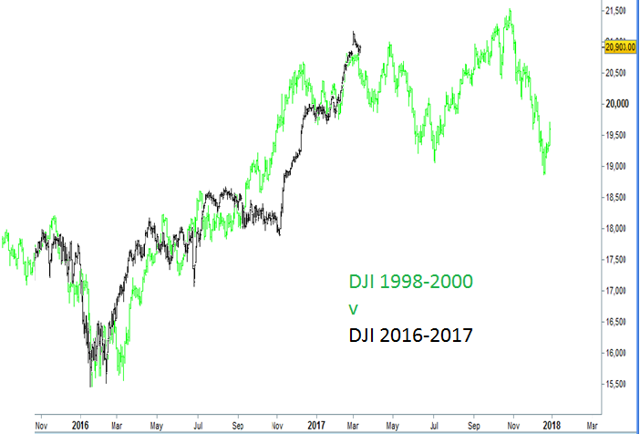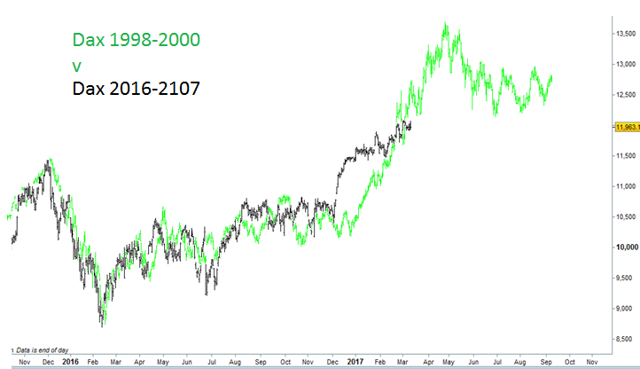 The Dax fractal is pretty amazing. Here is the original I tweeted back in May 2016 projecting a sideways range followed by a huge rally beginning November: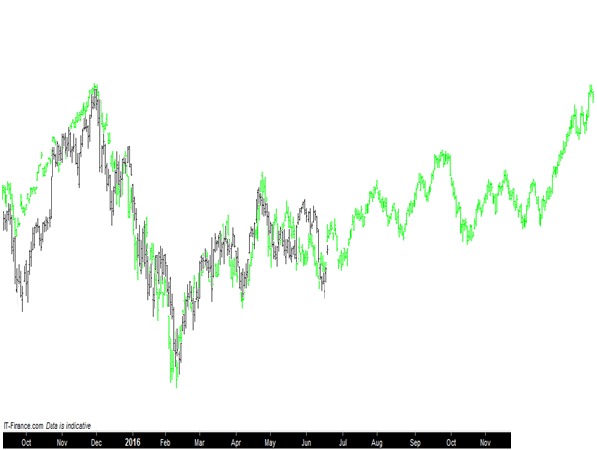 The S&P 500 had a weaker move into the 2000 top so I am not using it as a guide.
What both the Elliott Wave counts and fractals suggest is any pullback is a buying opportunity.
If there is a solid set-up to go short in the short term, I will include it in the update or comments section, but so far there is nothing. In fact, the low on Thursday was a very good set up for a short-term long for a B wave rally (or something even more bullish). The measurement for wave Y = 90%. Wave W is one of my favorites: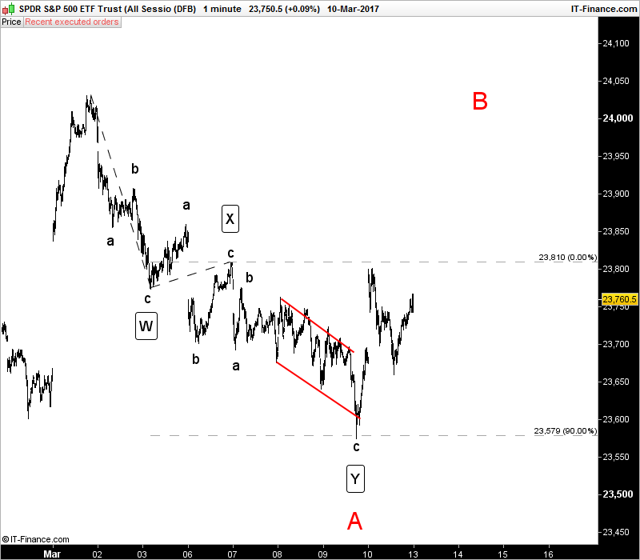 Just to be clear, B waves can go to new highs.
Precious Metals
Soon after I wrote last week's update, I discovered something new and wrote a new article to explain. Now that a March rate hike is almost certain, the gold and gold miners (NYSEARCA:GDX) divergence makes a lot more sense. Just look at what happened leading into the last hike in December 2016: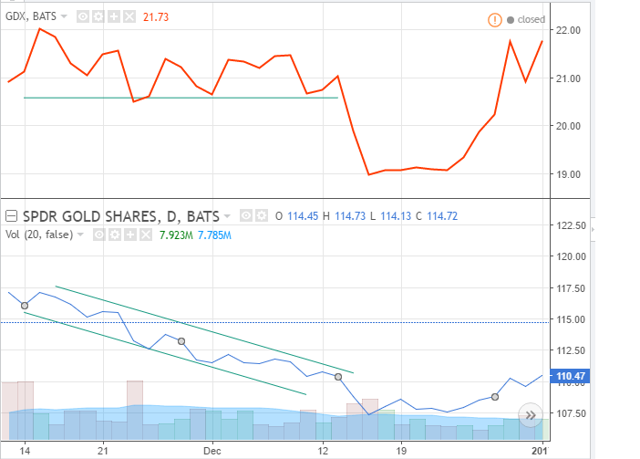 GDX held the 61.8% retrace of the prior uptrend while gold played catch up and continued to decline.
The exact same happened last week. GDX fell further and faster during both the 2016 and 2017 declines, but once it reached the 61.8% retrace, it held steady until the Fed announcement.
GDX was the better long, and a short in GLD hedged with a beta adjusted long in GDX would have been a great trade.
Last week's action suggests this scenario is likely:

Gold is just trading a loop: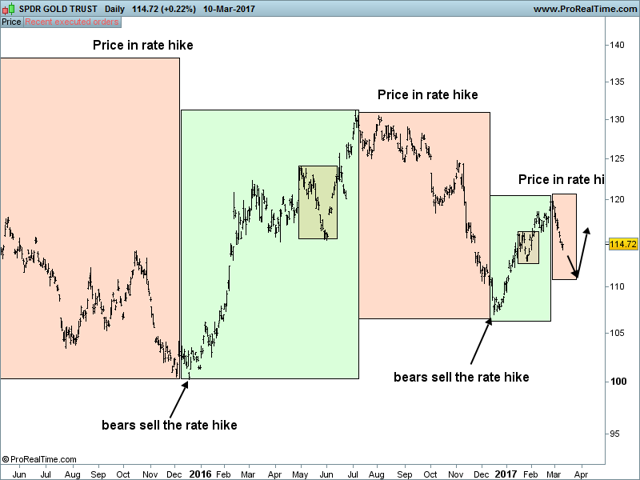 The reactions to each rate hike seem to be getting smaller so this pattern will likely change after the next hike.
The takeaway is simple: don't get caught short after the announcement.
Oil
There was finally some action in oil last week, and we got the expected drop. At some point, I will try and buy the decline, but the fractal posted last week suggests price could get to the low $40s.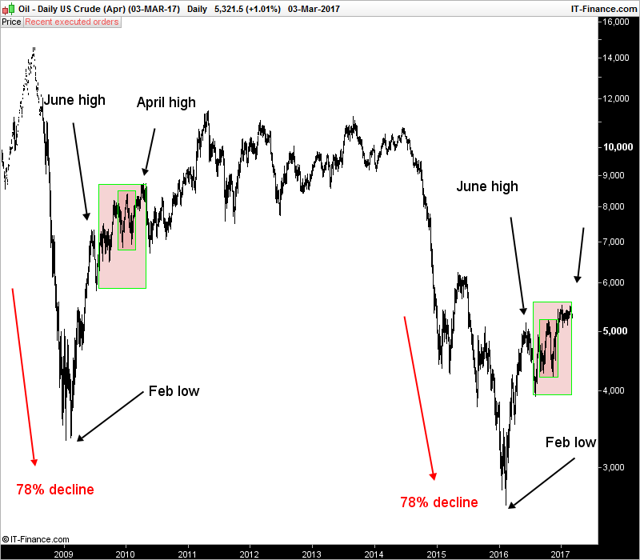 If the long specs are capitulating, there's no rush to stand in the way, yet. I'll update the short-term view next week.
Natural Gas (NYSEARCA:UNG)
Talking of capitulation, natural gas is looking much more constructive after the drop in late February. Maybe my $2.84 call wasn't so awful after all. Here is an update of the fractal I've been writing about over the last six months or so: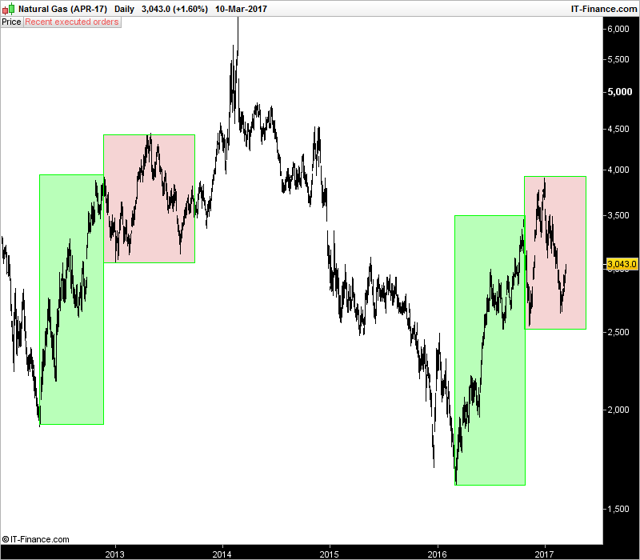 Assuming the low is in, the target is $4.7.
Bonds
Long bonds (NYSEARCA:TLT) acted surprisingly well last week and should reach the 115 target next week to complete the first leg down from the 2016 high.
Once this wave down is complete, it is usual for a 50-61.8% retrace, which will take it back to 130-133. Here's an old chart from my December article showing the likely path: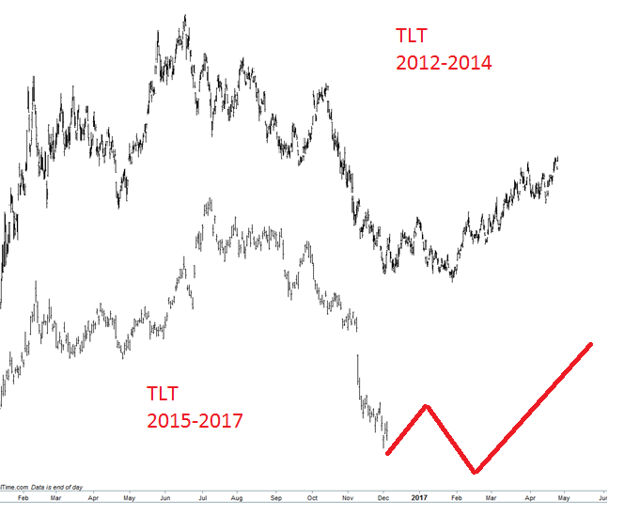 You could call the red line a lucky guess, but it's an educated guess based on historical examples and how normal cycles behave. Let's hope the similarity continues.
The Dollar (NYSEARCA:UUP)
The dollar is trading in a sideways range as expected, but there are few moments of clarity. Choppy, overlapping waves are hard to count. This is my preferred scenario for now: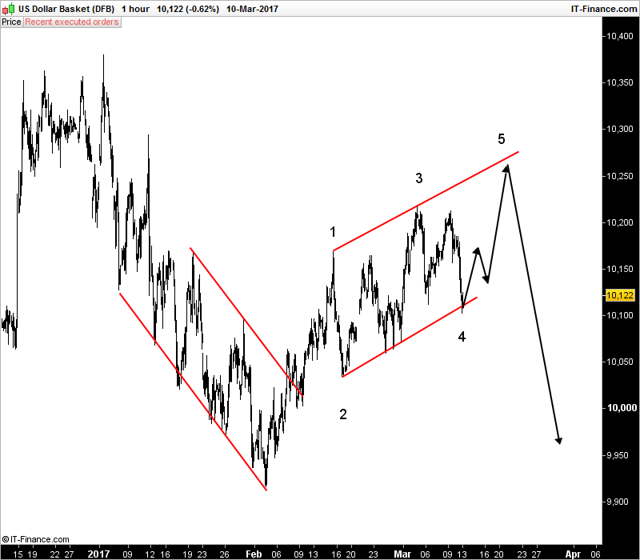 This is given some weight by the fractal I've been using for USD/JPY (NYSE:FXY) over the last few weeks: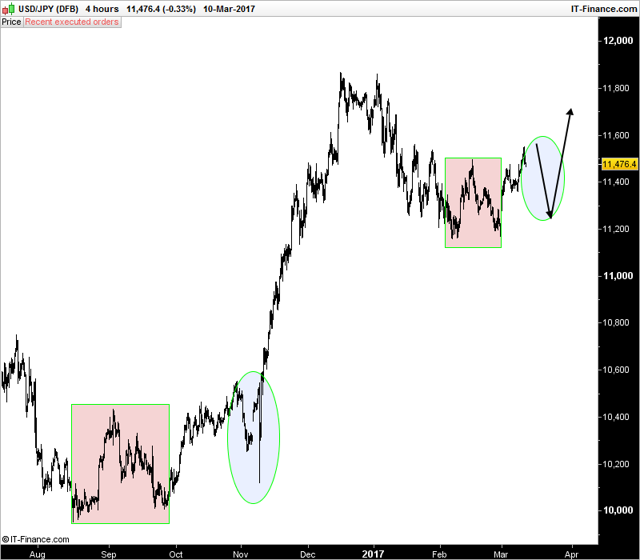 Requests
Since USD/JPY, TLT, GLD and GDX all reconcile so I'll leave out silver (NYSEARCA:SLV) this week. There was also a request for Chesapeake (NYSE:CHK), but I wrote a whole article about it last week (and already +6% up). Let me know of any other requests in the comments section.
Conclusions
March 15th is the day of the FOMC, the Dutch elections and the expiry of the debt ceiling suspension. It could be very volatile, and anyone trading around this period needs a plan. I hope this update helps in constructing yours.
Follow for updates.
Disclosure: I am/we are long GLD.
I wrote this article myself, and it expresses my own opinions. I am not receiving compensation for it (other than from Seeking Alpha). I have no business relationship with any company whose stock is mentioned in this article.
Additional disclosure: I am long USO, GDX, various stocks, UNG calls