By Scott Tzu
Bitcoin plunged on Friday after the stock market closed when the SEC denied the Winklevoss twins their shot at starting a bitcoin exchange traded fund. The ongoing application process has been talked about over the last two years and has come to an unceremonious end as the SEC struck down the idea of a bitcoin exchange traded fund based basically on the fact that bitcoin is unregulated,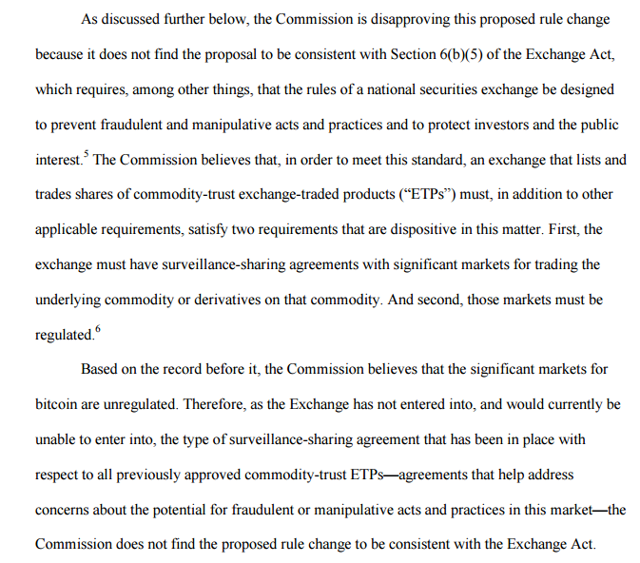 Many people think this is a negative. In fact, the price of bitcoin crashed more than 20% after the news was announced. Headlines like this one crossed the wires,

The thought process is that people were believing this bitcoin ETF would increase demand for the digital currency and the price would appreciate further. We believed that the 20% pullback was simply a good dip to buy. Unfortunately, we couldn't write this article fast enough and the price of bitcoin already has recovered almost all of what it lost in value on Friday,

So instead of talking about why we will be buying the dip, we want to talk about the resilience of the digital currency and why this denial may actually be a good thing.
Bitcoin's price has grown dramatically over the last year as public accessibility to the digital currency continues to rise. As some real demand is being introduced, we have seen a drastic move higher in the price of the digital currency this year.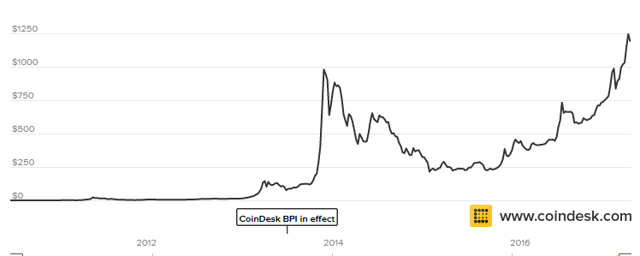 While that demand is certainly not going to be kicked into hyperdrive now that this ETF has been denied, the SEC has really in essence helped validate the currency as an unregulated and "off the map" reserve for those looking to have a financial asset that exists outside of the normal class of assets that we already have grown used to.
The SEC's denial of the ETF reasons that because the digital currency isn't regulated that it could be a danger to investors. This is also coming from the same agency that allowed Great Basin Scientific (NASDAQ:GBSN) to reverse split its stock from a split adjusted price of over $100,000 to one tenth of one penny ($0.0011)...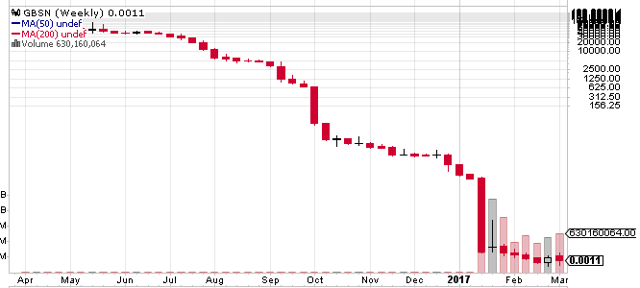 ...and the agency that allows levered ETFs that eventually asymptote to zero trade while uninformed investors park there money in them and watch it wash away.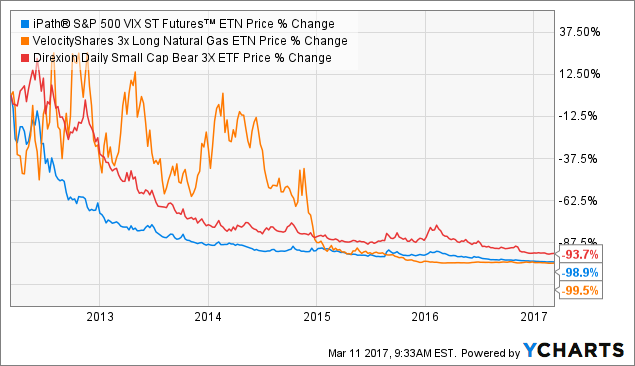 But we don't really take exception with the SEC's decision, although we don't really agree with it. For a bitcoin though, we think this is going to be immaterial for the future and we continue to see the price of bitcoin rising over $2000 and eventually toward the $5000 mark within a couple of years. We know that this sounds overly optimistic, but we want to remind readers that we suggested buying the dip after the Bitfinex exchange hack and when prices crashed down to around $600 just months ago. Those investors have already seen 100% return on their investment and, whether or not bitcoin is going to survive for the extremely long term or not, we believe that it is an asset that is still going to achieve appreciation from the public catching on to what it is and how they can transact it.
This SEC decision is merely a small bump in the road for a financial asset that is very much still in its infancy and in terms of being recognized. As long as the fundamentals of the currency are not altered, meaning that no more than the initial ~21 million bitcoin can be issued, we believe that the price has nowhere to go but up from here. There's only a small constituency of individuals that even understand what bitcoin is, let alone how to trade it and transact it. As this number grows and bitcoin becomes more readily accessible to individual investors who previously had no exposure to it, we can't help but believe the price is going to continue to go up.
As always, we will leave you with our largest caveat for a bitcoin, which is that it is a asset that is not physical and relies upon information infrastructure to be transacted. It may be a good hedge against some other financial assets, but it certainly doesn't play the role of doomsday hedge like gold does. For us, we own both gold and bitcoin as we embrace both the old-school and the new school methods for hedging out ourselves. Our first inclination on the news Friday was to buy more bitcoin, but as we woke up on Saturday and prepared to enter the market, we noticed prices had already recovered. We will continue to buy dips as time moves on and we remain bullish for the long term.
Disclosure: I am/we are long BITCOIN AND GBTC.
I wrote this article myself, and it expresses my own opinions. I am not receiving compensation for it (other than from Seeking Alpha). I have no business relationship with any company whose stock is mentioned in this article.