In my last article, "The Most Popular Stocks In Dividend-Focused Mutual Funds," I surveyed 21 dividend-focused mutual funds to discover which U.S. dividend stocks are the most popular among active mutual fund managers. In the comment stream of that article, I received feedback that some folks would like to see the analysis repeated for European stocks. That sounded interesting to me as well!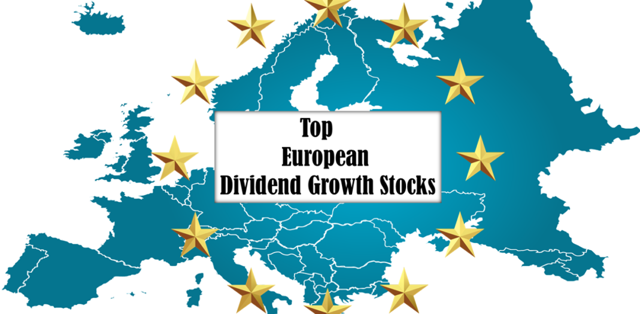 One note before we dive in - as with my U.S. analysis, this European study does not include "passive" dividend-focused index funds or ETFs. My goal was to find out what mutual fund managers invest in when they use their judgment, not when they default to a market-weighted formula.
Sixteen European Dividend-Focused Mutual Funds
How did I select the 16 actively managed European dividend-focused mutual funds for my survey?
I researched several lists of "Top European Dividend Mutual Funds" from sources including Investopedia, CNBC, investorplace.com, and USNews. If a mutual fund earned a spot on a respected source's list, then it earned a spot in my spreadsheet!
Below I've listed the actively managed European dividend-oriented funds included in this analysis. I have arranged the funds according to their Morningstar ratings from highest to lowest.
Morningstar "5 Star" Funds - Invesco European Growth A (MUTF:AEDAX), Franklin Mutual European A (MUTF:TEMIX)
Morningstar "4 Star" Funds - Columbia European Equity A (MUTF:AXEAX),
Morningstar "3 Star" Funds -- Shelton European Growth & Income Direct (MUTF:EUGIX), T. Rowe Price European Stock (MUTF:PRESX), Santander Dividendo Europa FI (NYSE:SM), Putnam Europe Equity A (MUTF:PEUGX), JPMorgan Intrepid European A (MUTF:VEUAX), Henderson European Focus A (MUTF:HFEAX), Ivy European Opportunities A (MUTF:IEOAX)
Morningstar "2 Star" Funds -- Federated International Strategic Value Dividend (IVFAX), BlackRock EuroFund Inv A (MUTF:MDEFX), Morgan Stanley European Equity A (MUTF:EUGAX), ProFunds Europe 30 Inv (MUTF:UEPIX)
Unrated Funds -- CPR Euro High Dividend (CPREHDI:FP), Schroder ISF European Dividend Maximiser (SIEDMDC:LX)
Which European Dividend Stocks are the Most Popular?
In the U.S. analysis, I looked only at the Top 10 holdings of each mutual fund I studied. In contrast, for this European analysis, I included the Top 30 holdings of each fund, where the information is available. If a fund is rated by Morningstar (and you hold a premium subscription), you can obtain the entire list of holdings of each mutual fund. So 14 of the 16 funds included in this analysis incorporate each fund's Top 30 holdings. The two funds not rated by Morningstar include each fund's Top 10 holdings.
The table below lists the 19 European dividend stocks most widely held in at least a third of the European dividend-focused mutual funds. In other words, the stocks listed in the table are held as a Top 30 holding by at least 6 of the 16 funds studied. In addition, the table also shows the subset of Morningstar 4- and 5-star rated funds that hold the same stocks.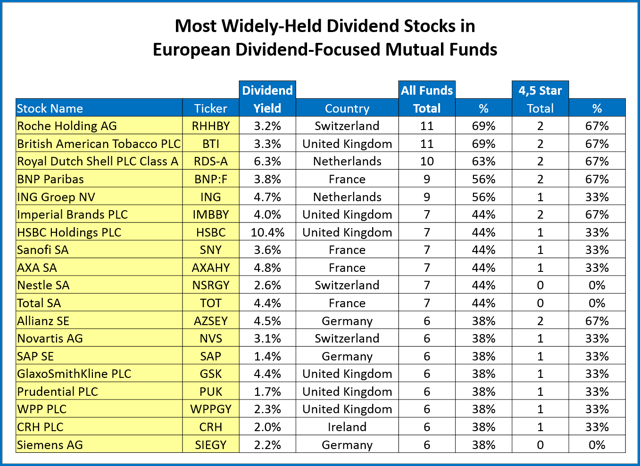 The two most popular European dividend stocks held in mutual funds are Roche (OTCQX:RHHBY) and British American Tobacco (NYSEMKT:BTI). Both stocks are included in more than two-thirds (11 out of 16) of the funds surveyed and in two out of three of the 4- and 5-star Morningstar-rated funds.
Rounding out the top five are Royal Dutch Shell Class A shares (RDS), held in 10 of the 16 funds (63%), and BNP Paribas (BNP) and ING Groep NV (NYSE:ING), held in 9 of the 16 funds (56%).
Beware Foreign Dividend Taxes!
At first blush, this table is pretty exciting. The dividend yields are generally quite attractive, and a strong dollar may facilitate some attractive buying opportunities. But buyer beware! Many foreign stock dividends are taxed at a high rate to U.S. investors.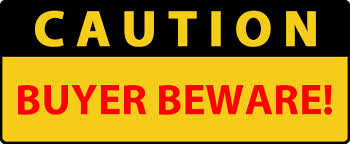 I'm not a tax expert. But it is my understanding that the 6.3% dividend yield paid by Royal Dutch Shell is actually 15% lower due to the 15% withholding taxes retained by the Netherlands.
Below is a table of the withholding taxes on foreign dividends for U.S. investors for those countries associated with the 19 most popular European dividend stocks. (For a more complete list, see this article on Dividends.com.)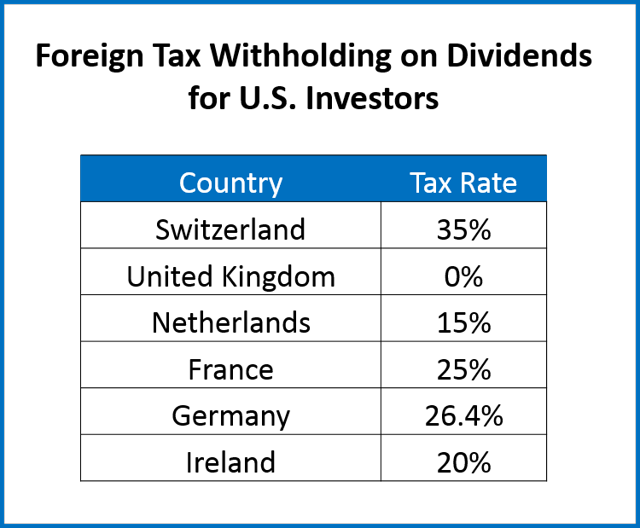 So what's a U.S. investor to do? As I see it, there are three options for individual foreign stock investing that I have ordered from least attractive to most attractive.
Buy foreign stocks in tax-advantaged accounts but take a haircut on the dividend. If you purchase foreign dividend stocks in tax-advantaged accounts, the foreign government will withhold taxes on your dividends before you receive them in your tax-advantaged account. You will have no way to get them back. You may still decide that for a particular stock at a particular price (and yield) that this is worth it. I have not found such a bargain yet!
Buy foreign stocks in taxable accounts and apply for a tax credit on your income taxes. Just like purchasing foreign dividend stocks in tax-advantaged accounts, purchasing foreign stocks in taxable accounts means the foreign government will withhold taxes on your dividends before you receive them in your taxable account. However, you may be able to get those foreign withholding taxes credited on your income taxes. I haven't personally tried this, and I believe there are certain situations where you cannot get all of the taxes withheld back. Even when you can get all of the taxes withheld back, you have to wait until tax time each year to do so!
Only purchase foreign stocks from countries that do not withhold taxes. Unfortunately, only one country in Europe - the U.K. - does not withhold taxes on dividends paid to U.S. investors. Even so, this means that there's a green light on the six most popular United Kingdom stocks discovered in the analysis above: British American Tobacco, Imperial Brands (OTCQX:IMBBY), HSBC Holdings (NYSE:HSBC), GlaxoSmithKline (NYSE:GSK), Prudential (NYSE:PUK), and WPP (WPPGY).
If purchasing individual European stocks sounds like too much trouble, you could consider purchasing shares in one of the European dividend funds available. But you will take quite a hit on dividend yield and on fees compared to purchasing individual foreign stocks or U.S. dividend-focused mutual funds. The table below illustrates this for the Morningstar 4- and 5-star funds covered in this analysis compared to Vanguard Equity Income Fund (MUTF:VEIPX).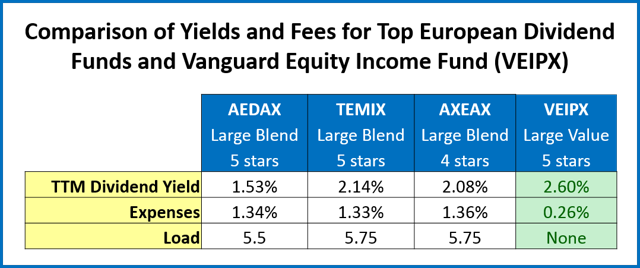 Conclusion
In general, I find investing in international stocks to be fraught with fees and tax consequences. As a result, I have restricted our European stock investing to three UK-based stocks: Diageo (NYSE:DEO), Unilever (NYSE:UL), and BHP Billiton (NYSE:BBL). While I am open to investing in additional UK-based stocks, your approach may well be different.
My husband and I plan to retire in four years. Between now and then, we are singularly focused on growing our dividend income stream. The dividend yields of the highest rated European dividend funds are below our portfolio's threshold minimum of 2.7% and their fees are high. As a result, we aren't considering investing in European dividend mutual funds at this time.
I hope this article has given you food for thought about investing in foreign dividend stocks as well as some stock ideas for further due diligence! Are you investing in international stocks? Which European stocks are you finding attractive now? I would love to hear your views on this!
Disclosure: I am/we are long ABBV, ABT, AMGN, AVA, BBL, BMY, CAH, CBRL, CCP, CLX, CMCSA, COP, CSCO, CVX, D, DEO, DLR, DUK, ED, EMR, EPD, GE, GILD, GIS, HCP, IBM, JNJ, KHC, KMB, KMI, KO, LMT, LNT, MCD, MMM, MMP, MO, MRK, MSFT, NEE, NOK, O, OHI, OMI, PEP, PFE, PG, PM, SCG, SEP, SO, SYY, T, TUP, UL, UPS, UTX, VTR, VZ, WEC, WMT, WPC, XEL, AND XOM.
I wrote this article myself, and it expresses my own opinions. I am not receiving compensation for it (other than from Seeking Alpha). I have no business relationship with any company whose stock is mentioned in this article.
Editor's Note: This article discusses one or more securities that do not trade on a major U.S. exchange. Please be aware of the risks associated with these stocks.