Last week was a classic example of roll yield helping short volatility products increase in value despite VIX index moving higher. VIX index tried to break 12.50 but was unable to move above that level and settled the week at 11.66, up more than 6% on the week.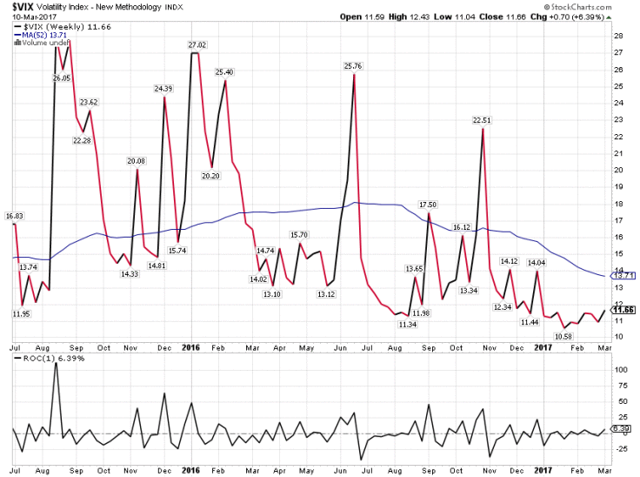 The mini-move towards 12.50 was predicated upon some market participants buying insurance in the form of puts prior to the jobs report on Friday. Once the report was out, option volatility diminished pushing VIX index lower. As mentioned above, thanks to a significant roll yield in place at the end of the previous week, SVXY actually managed to close higher overcoming a rise in VIX index.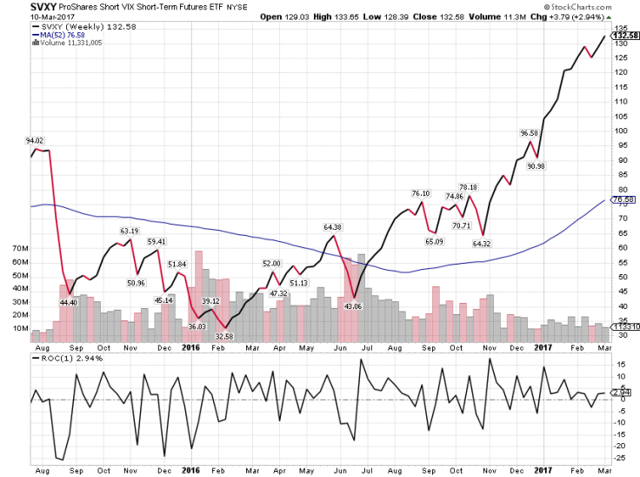 In doing so, SVXY managed to attain a record weekly closing high. On the opposite side of the spectrum, long volatility ETFs such as VXX and UVXY continued to bleed into oblivion.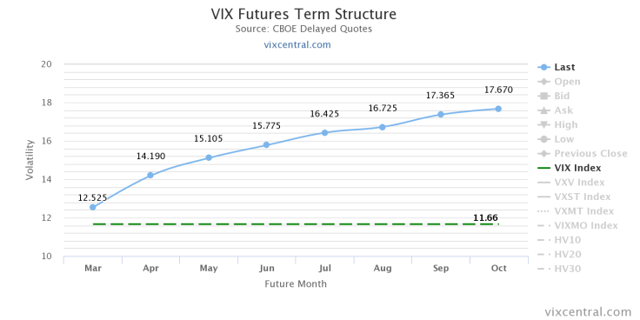 There is still significant roll yield remaining on April VIX futures contracts and more importantly SVXY increased nearly 3% on the week, while 30-day synthetic future ended at 13.75 almost unchanged from prior week's level. Roll yield capture continues to be the primary volatility trade for now.
Previous weekly recap focused on deteriorating market internals and during this past trading week the degree of deterioration strengthened substantially. Major market indices remain near all-time highs; however, Russell 2000 has now closed three straight days below its 50-day moving average and Dow Transports closed right at that 50-day average price level. Recall that both of these indices were early leaders during the initial stages of the post-election rally.
$NYA50R, or percentage of stocks on New York stock exchange trading above 50-day moving average had a major breakdown, closing the week below 50 and down nearly 26%.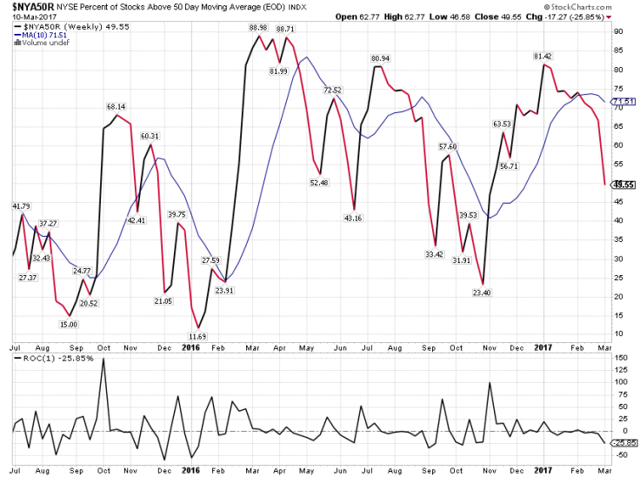 Some traders would view such a break as emblematic of things to come, I personally think that market top is not in place and any further selloff will be a buying opportunity, which would take markets towards new record highs.
In addition to a significant breakdown in $NYA50R, there were breakdowns in $BPNYA and $NYA200R. While the latter was not as noteworthy, it is still an important development showing overall weakening of market internals. Advance decline line has been strongly negative over the past 10 trading sessions with decliners leading advancers on average by 440 issues.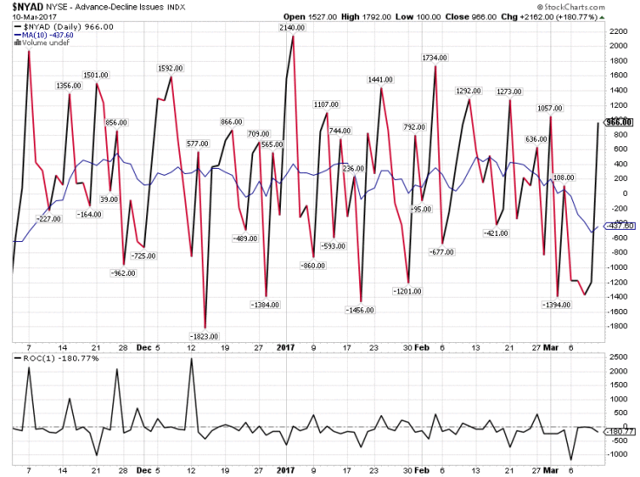 Real estate sector, which is very interest-rate sensitive, continued to weaken as bond yields rose to 2017 highs.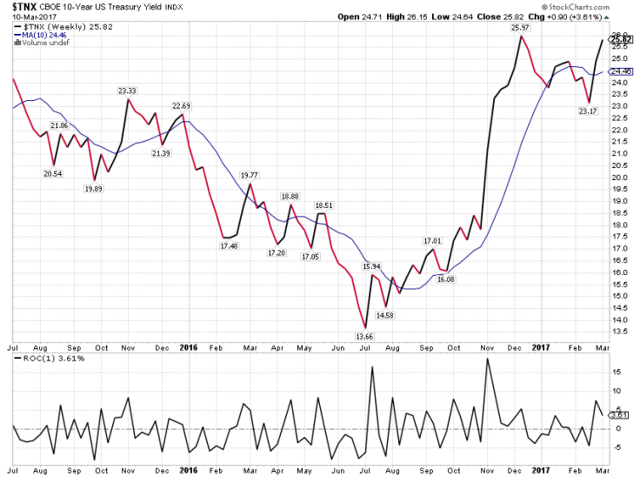 Telecom, retail and energy are remaining laggards currently accounting for the lion's share of negative market internals. Thankfully, financials and technology, which account for the vast majority of S&P 500's market capitalization, remain in bull mode keeping the index somewhat immune from problems elsewhere.
On a positive note, investor sentiment as measured by AAII is once again terrible. Bullish sentiment declined to 30% reflecting substantial skepticism across the investment community.
What volatility longs should keep in mind is that VIX index level of 11.66 against a backdrop of deteriorating internals is a disconcerting proposition for their thesis. I'd be hard-pressed to find a historical precedent where Russell 2000 moved more than 4% from top to bottom yet VIX index remained below 12. It seems to me that market participants have taken a positive view (in terms of volatility) of the current shallow correction and view it as a necessary evil to relieve some overbought conditions developed over the past three-four months.
To sum it up, capturing roll yield continues to be the only game in town so far. Market internals deteriorated further with $NYA50R exhibiting particular weakness. Bond yields surpassed 2017 highs, potentially putting pressure on stock valuations if the rally in yields continues. I personally think this correction while it lasts will remain shallow and will be used as an opportunity to buy for those who missed the initial rally from November of last year. I continue to see mostly upside risks to SVXY and therefore have not made any changes to my positions.
Positions: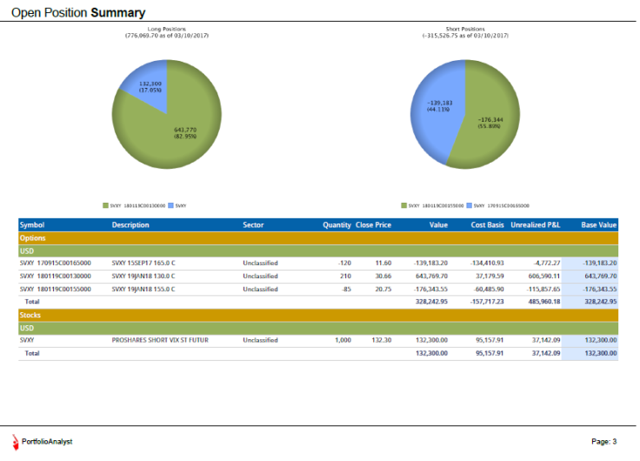 Account performance YTD: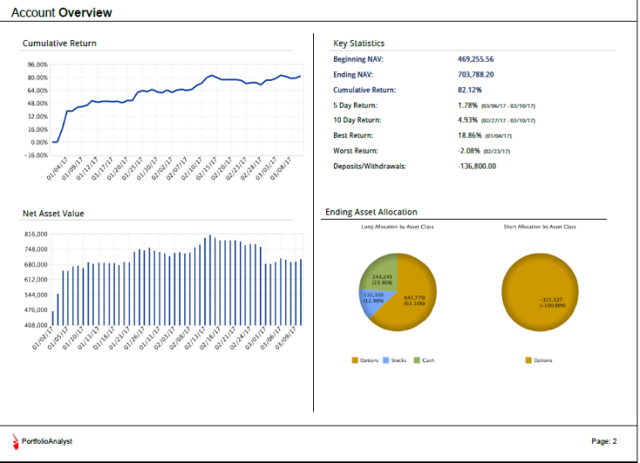 Disclosure: I am/we are long SVXY.
I wrote this article myself, and it expresses my own opinions. I am not receiving compensation for it. I have no business relationship with any company whose stock is mentioned in this article.