Recently, I see a lot of bullish comments and articles about the US dollar (UUP). When sentiment is so strong, a contrary view may be prudent. So let's have a look at some of the drivers.
Fed interest rate hikes
Rising interest rates is one of the drivers for the stronger dollar. The Fed has signaled three rate hikes this year. After some disbelief recently, the March hike is priced in as nearly certain, and the other two rate hikes are now also largely priced in. Unless one expects the economy to perform better than anticipated by the Fed, there is little room left for dollar strengthening surprises here.
Inflation
The stimulating effect of the pro-business policies of Trump may result in overheating the economy and rising inflation. This is one scenario where the Fed is likely to rise interest rates more than the signaled three hikes. In this scenario, however, inflation keeps real interests low. Consequently, this scenario is not a net positive for the dollar.
Stock market
At present, the US stock market is richly valued. That said, the S&P 500 (SPY) doesn't show many signs of a reversal yet. Smaller companies represented by the Russell 2000 (IWM) are showing the first signs of a weakening trend. Recently, there was some encouraging economic data outside the US (VXUS), in particular in Europe (EZU), initiating buying interest. Relative strength of foreign stock markets diverts money from the US to these markets. This results in less demand for the dollar. A move of investments to outside of the US may also be aided by disappointment when some of Trump's pro-business policies are delayed, watered down or blocked in the legislative process and other policy risks.
Political risk in Europe
The EU is considered a political mess, and in my opinion rightly so. Upcoming elections, in particular in the Netherlands and France, are considered an existential threat for the euro. I believe the risks are exaggerated.
In France, the margins are quite large, and uncertainty in the polls is likely less than with Brexit and Trump. The right-wing, populist electorate is already well known.
In the Netherlands, Mr. Wilders' PVV has a real chance to become the largest party. The Netherlands, however, has many parties. In the March 15 elections, 28 parties partake, and 11 parties are likely to win one or more seats in parliament. Consequently, it's extremely unlikely that one party will win a majority. After the elections, a majority coalition will be negotiated. Possible coalition partners are very unlikely to agree to the most harsh objectives of Mr. Wilders. So, Mr. Wilders will have to make concessions or he will not be able to form a majority government.
Even if the populist vote were to win, unraveling Europe is a long and slow process. How this process would be shaped is not known. All parties involved, however, have a common interest in doing this in an orderly manner. Uncertainty may demand some toll, and so does the less efficient economy that would result from the unraveling. Though, think this is mostly priced in.
A technical view
The dollar index shows a negative divergence for the two last major tops. Short term, a first lower top may be forming, considering the pullback at the end of Friday's session. Divergence is a first sign that the trend is weakening, and a multi-year reversal is possible. The major component of the dollar index, the euro (NYSEARCA:FXE), together with the euro proxies of SEK (FXS) and CHF (FXF), contributes about 65% of the dollar index. Not surprisingly, the euro shows a comparable picture as the dollar index. The other components of the dollar index, CAD (FXC), yen (FXY) and GBP (FXB) show a less clear picture.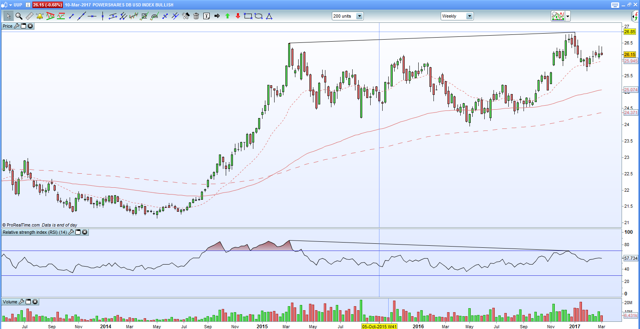 (Source: ProRealTime)
What to do?
It's too early to announce a trend reversal for the dollar. With dollar positives that seem largely priced in and charts that signal a weakening trend it's prudent to take notice. Review your dollar exposure, direct exposure, but also indirect exposure, as many companies and markets are sensitive to exchange rates. Take some profits and lower your dollar risk. Monitor the situation, specially around the known potential triggers such as the FOMC meeting and election dates.
If more conformation arises, you could take on larger positions aimed at profiting from a weaker dollar. This may be done directly through a position in the dollar index or the euro (FXE), but also through exchange rate-sensitive investments. Commodities such as oil (USO) and gold (GLD) tend to rise on a weakening dollar. At this moment, I'm not convinced about oil. Gold and gold miners (GDX GDXJ) look like a better play to me. The correction due to the pricing in of a rate hike this week seems to be ready.
In stocks, exporters and multinationals with significant revenues abroad profit from a weaker currency. Importers will be confronted with a headwind due to higher prices. Investments outside the dollar area are enhanced by a weaker dollar. As the dollar index is mainly EUR/USD and signals in other currency pairs are less clear, the region of choice would be the euro area or individual countries such as France (EWQ), where the sentiment is focused most on Germany (EWG, GGOV) as the main economy of the eurozone.
It is, however, still early. At this moment, a large position to bet on a US dollar decline is not prudent. Limiting long exposure and small speculative positioning is okay. More confirmation is needed to justify a large position. The FOMC meeting and Dutch elections this week may form the first catalysts for the possible trend reversal.
Takeaway
It's too early to announce a reversal of the dollar. A lot of optimism about the US economy and the signaled Fed interest rate hikes for this year seems to be priced in. The concerns about the euro are real - there is plenty of political risk. I think, however, that the political risks associated with the elections are exaggerated. With all the good news priced in, there seems little room for more appreciation of the dollar, and a trend reversal is possible. Combined with charts that signal a possible multi-year trend reversal, it's prudent to review your portfolio for dollar sensitivity. If more confirmation of a reversal occurs, it may be justify short positions either directly or through investments that benefit from dollar weakness.
Disclosure: I am/we are long GLD, GDXJ.
I wrote this article myself, and it expresses my own opinions. I am not receiving compensation for it (other than from Seeking Alpha). I have no business relationship with any company whose stock is mentioned in this article.
Additional disclosure: Many of my positions consists of derivatives, in particular option constructs. Disclosure is based on net exposure at the time of writing. Positions may change at any time either due to price movements or transactions.