Summary
Rising interest rates brought pain to many CEF holders this week. A March rate hike is practically guaranteed and the Fed seems determined to get in as many as possible in 2017. Despite the modest correction, I feel there is more ahead. We are staring down a bad combination of rising short-term rates, rising long-term rates and small discounts.
I am going to discuss the following in this article:
1) The Fed's rationale to hike interest rates
2) How rising long-term rates will hurt CEF NAVs and widen discounts
3) How rising short-term rates will hurt CEF distributions
4) What you should do about it
This will be written from the perspective of someone who concentrates on fixed-income funds (munis, bonds, preferreds) although at least some of the ideas apply to other asset classes.
Rate Hikes
After years of doubting the possibility of rate hikes, I've warmed to the idea that the Fed is going to hike as many times as possible in the years ahead.
Why are they doing this? Three reasons, in my opinion:
1) We are late in the economic cycle and the Fed is desperate to hike before the next recession hits. The current expansion is one of the longest on record (this chart is also out of date, 6 months or so should be added to the current length):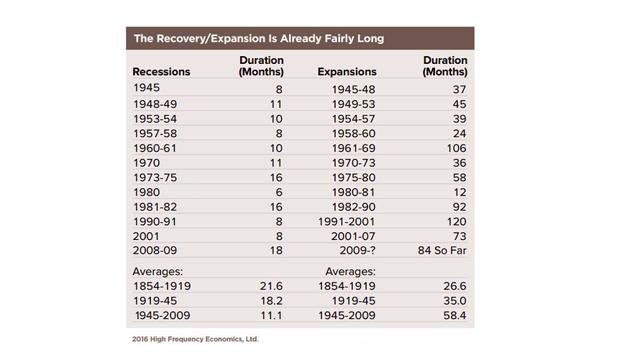 (Source: Marketwatch)
2) The Fed sees Donald Trump's economic platform as a smokescreen for the hikes. Whether they believe the reforms will work (or actually happen) is an appropriate topic for another article.
3) The Fed is concerned about asset valuations despite what they say in public. Real Estate, in particular, is looking very expensive again.
We are going to get at least one hike this year. Here are the March rate hike odds: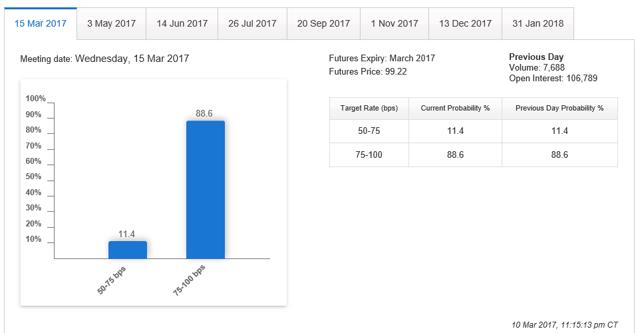 (Source: CME)
Small CEF Discounts and Rising Long-Term Rates
I've lamented the small discounts many CEFs offer in some of my previous articles (see here, here, and here).
I am going to use John Hancock's PDT as an example of the discount narrowing we've seen over the last 6 months. PDT spent almost a year and a half at a double-digit discount. As of 3/10/2017, that discount is down to 2.69%.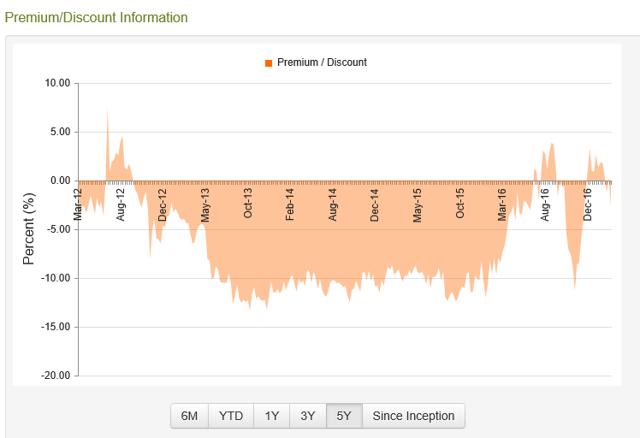 (Source: CEFConnect)
Let's pull up a Price and NAV chart of PDT during the Taper Tantrum to see the effect of rising long-term rates. Orange Line is NAV. Green line is price. Notice the small discount at the beginning of 2013 and how much it widened by the end of the year.

(Source: CEFConnect)
Clearly, I'm doing some cherry picking. Not all funds will behave this way. Some may actually perform well if rates rise. My point is to demonstrate that fixed income CEFs that have small discounts may not fare well if long-term rates rise.
Rising Short-Term Rates and CEF Leverage
Many Closed-End Funds use leverage to boost returns. Many CEF investors don't have a solid understanding of how this mechanism works and how Fed rate hikes may cause distribution cuts.
I pulled the annual report for PDT to see the leverage agreement:

(Source: John Hancock) (PDF File)
Here is a chart of One Month LIBOR and the Federal Funds Rate: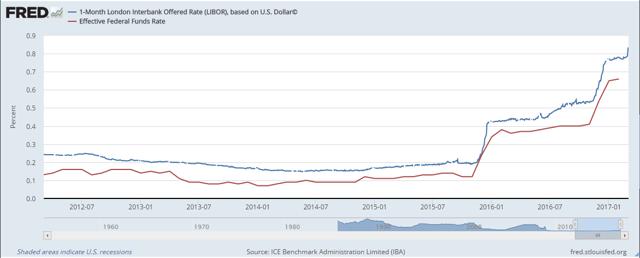 (Source: FRED)
The takeaway here is this: One Month LIBOR will continue to rise if the Fed hikes this year. This, in turn, will cause an increase in short-term borrowing costs for the fund. The costs are not dramatically higher but they may put strain on funds that are already under-earning their distribution. Many CEFs could cut dividends.
Conclusion
In conclusion, here are my thoughts:
1) Rising short-term rates will lead to increased borrowing costs which could result in distribution cuts
2) If rising short term rates bring curve steepening, you may see NAV declines
3) All of this is happening at a time when many funds have a small discount cushion which may cause price declines.
4) You may see retail panic selling which happens from time to time in CEFs.
I've mentioned some funds in prior articles that may fare better. (See links earlier in this article.) Anything with a floating coupon should, in theory, weather the storm.
It's never a good idea to panic sell anything. But you should be aware of how the rate environment will affect your funds. I've said many times that I don't see rates "blowing out," but they definitely have some room to rise.
Keep some cash on hand and look for bargains. I would pay close attention to long-term discount trends in your funds and buy when they get closer to their widest margin.
Disclosure: I/we have no positions in any stocks mentioned, and no plans to initiate any positions within the next 72 hours.
I wrote this article myself, and it expresses my own opinions. I am not receiving compensation for it (other than from Seeking Alpha). I have no business relationship with any company whose stock is mentioned in this article.