Rumors have circulated regarding a buyout of GNC (NYSE:GNC) by private equity firm KKR (click here or click here). It is my opinion that based on the numbers, a deal for GNC alone may be difficult due to the company's leverage, however if the deal included Vitamin Shoppe (NYSE:VSI) then it becomes more attractive. A position in VSI could give an investor exposure to positive events at GNC with less risk. I'll explain my rational in this article.
A potential sale to private equity is an idea that goes back almost a year. Back in May 2016, TheStreet had an article on GNC (click here) and pointed out that 7x EV/EBITDA is "close to the kind of valuation private equity firms have historically found enticing." With the general market trading higher than a year ago this ratio may have risen but let's go with it. Also, according to SA contributor Integer Investments' sources (click here), the deal could be worth up to $3.5bn. Does the $3.5bn make sense? Well if we use the 7x multiple on 2015 adjusted EBITDA then we get $3.4bn.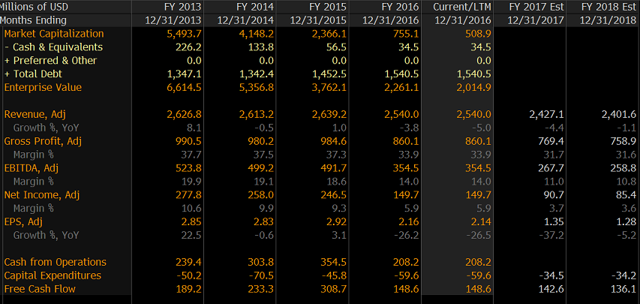 (Source: Bloomberg "FA" Screen)
Now the problem is that EBITDA has dropped to $355m in 2016 and is projected to drop further to $268m in 2017 due to a continuing decline in margins. The GNC bulls will point out that a 7x multiple on 2016 would result in $2.5bn or 100% upside for current shareholders. However it is unlikely such a large premium would be paid, especially when considering 2017 projections. After all let's not forget that dividend was suspended. If things were getting better that wouldn't have happened.
So let's assume private equity (KKR or someone else) uses 2017 EBITDA. At a 7x multiple we get $1.9bn and therefore no deal, as this is below the current EV of $2bn. Here is where Vitamin Shoppe comes into play. VSI has only $132m in debt and generated $131m in EBITDA. This is expected to remain relatively steady.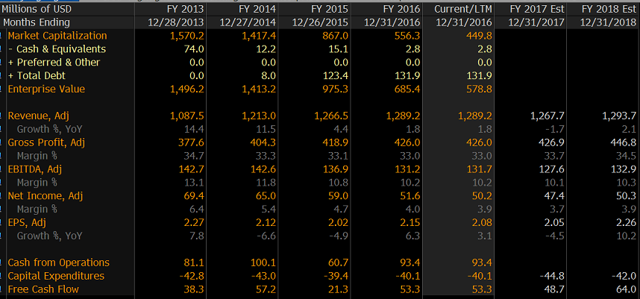 (Source: Bloomberg "FA" Screen)
Now let's combine both GNC and VSI. The combined projected 2017 EBITDA is $395.3m. At a 7x multiple the EV is $2.8bn. Next we subtract the combined debts ($1540.5m+$131.9m) and add the combined cash ($34.5m+$2.8m) to reach an equity value of $1132m. That figure is 18% above the combined market caps. In other words, an offer for both companies at an 18% premium (1132/(508.9+449.8)). The combined company will also have a higher FCF/EV margins because VSI has a forward margin of 8.4% vs. GNC's 7.1%.
I am sure readers so far are thinking that an 18% premium is not enough, and I agree. The point is that the deal starts to make sense when you combine the two companies (versus GNC alone). The result is that this deal can be valued higher because of synergies, cost savings and the elimination of one competitor. Let's assume a 1% of revenue synergy which results in $37m in additional EBITDA. That translates in an additional $259m in value (7x37). Immediately the premium rises to 45%, and the deal gets done. Finally, I would like to point out that activist Carlson Capital has an almost 10% position in VSI and will have a board member (see here). This could help a deal get down if it is something Carlson is thinking about. In such a deal both companies and private equity walk away happy. It makes much more sense to me than a stand-alone acquisition of GNC. The smaller long-term holders may not be satisfied as they may still be underwater but at the end of the day the large institutions will vote yes. A scenario we have seen multiple times.
The problem for GNC shareholders is that a) VSI needs to get on board and b) Private equity needs to get moving quickly before GNC financials get worse. There is over a billion in debt coming due in 2019, and if Wall Street projections are correct then this 5.8x Debt/EBITDA company may have problems refinancing its debt. It will depend if the company has bottomed and is starting to improve or if it continues to deteriorate. Personally, I am no prophet, hence I have preferred a small position in VSI. VSI will appreciate in sympathy if a GNC deal is announced, or if VSI is also included in a deal or if GNC goes out of business, or if the general industry sees higher demand. In other words, there are more ways for a position in VSI stock to do well.
Below I show some core numbers for the two companies. GNC sales have dropped for the last four quarters whereas VSI have not. GNC's operating income took a -73% dive in the last quarter while VSI's rose.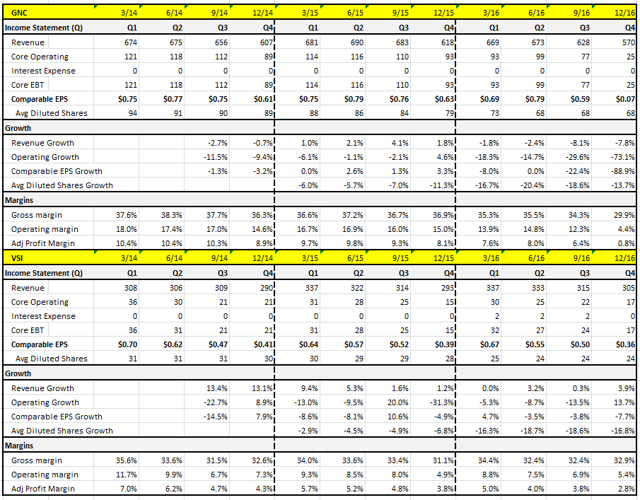 On an annual basis, GNC's operating margin dropped from 16.5% in 2015 to 11.6% in 2016 while VSI's dropped from 7.8% to 6.8% respectively. VSI is definitely not in the clear as same store sales (SSS) have dropped the last two quarters by around 2% per quarter, however GNC's SSS dropped -12% in 4Q16 and -8.5% in 3Q16. Bears have argued that the products can be easily purchased from other outlets (such as Amazon). While I do not live in the US I do see the attractiveness of purchasing from VSI. Shipping is essentially free because orders can easily exceed the $25 minimum, pricing is good (with several products cheaper than Amazon), and "Healthy Awards" is almost a 5% cash back program (you get a $5 coupon for every $100 spent per quarter).
Conclusion:
The deterioration in GNC's financial performance makes it harder for a private equity deal to happen. The large amount of debt the company carries does not make it any easier. Private equity may sit on the sidelines for a lot longer than expected. A deal for both GNC and VSI makes more sense, and I believe, that event is more likely to occur. VSI has little debt, better same store sales, appears more stable and has an activist involved.
Disclosure: I am/we are long VSI.
I wrote this article myself, and it expresses my own opinions. I am not receiving compensation for it (other than from Seeking Alpha). I have no business relationship with any company whose stock is mentioned in this article.