The story of Ted and Mary has been one of the most popular segments. Countless readers have turned to this series to look for ways to handle the challenges that face retirees today. Retirees need to know how to plan their cash flows, how to build a steady portfolio, and what levels of expectations are reasonable. It is heartbreaking to hear from retirees who state they "NEED" a 14% return per year. Even with high volatility and risky investments, sustaining 14% per year is an insanely aggressive goal and it certainly wouldn't be likely to come in a smooth pattern.
Ted and Mary
This hypothetical couple faces situations that my readers may face. They aren't professional investors and they don't have an enormous amount of money. They have a reasonable nest egg, but not enough to make it easy. If Ted and Mary had $4 million instead of $1 million, this would be a joke.
Ted was born in 1954 and is already 62. He has a few years left to go before he can claim the maximum benefit for social security. He wants to wait for the maximum for a few reasons:
He knows the interest rates available on bonds are still pretty low. They are better than they have been lately, but not high enough to replace the huge growth in income he gets from each year he waits.
He looks around and sees the market at new all-time record highs. He plans to invest some, but he doesn't want to give up a certain stream of cash flows from Social Security to take on the volatility of going with a huge stock allocation. Instead, he will plan to use some short-term bonds to cover part of his cash flows for the next few years. As those bonds mature, he will use both principal

and interest.

He believes they will live to see 100 after assessing their health risks. They are both in fairly good shape, have shockingly low cholesterol, and most of their older relatives lived to see at least 88.
Ted and Mary have agreed that at least one of them should have a part-time job with an employer that offers a generous health insurance plan. They don't expect high wages, Ted's prior role was out-sourced and he had a terrible time searching for new work.
The goal of the job is simply to get access to employer-sponsored healthcare and to use the small paycheck to cover the premium. They just want to cancel out any health insurance bills until they are eligible for Medicare at 65.
Unique Challenges
Ted and Mary don't own a home. They lived in an apartment in San Francisco. They either need to plan the necessary cash flows for renting a property, or they need to buy a house. It won't be possible to retire and afford either of those options in San Francisco.
Mary loved investing and she enjoyed researching the best dividend stocks. Because of her interest in dividend growth champions, their portfolio is heavily overweight on companies with strong dividends and a strong history of increasing their dividends. Fortunately, they were maxing out their IRAs every year so a substantial portion of their capital is in tax-advantaged accounts.
Since Mary and Ted have a long-term perspective, they are not always watching the returns on the stock market today. However, they also need to plan for cash flows in the very near future to cover living expenses. They attempt to follow a simple buy and hold strategy of the best dividend stocks. The plan was to rely on a stream of income that would grow year after year. However, in this example, they will find a few of their champions aren't doing so great. Occasionally they will see a sudden reduction in income.
Ted and Mary are reading Seeking Alpha and improving their knowledge on dividend growth strategies. This is a far better strategy than most plans on how to make money online.
No Go for Nursing Homes
If Ted and Mary were going to be stuck in a nursing home for a prolonged period, it would almost certainly drive them into bankruptcy or an early grave. The cost of skilled care is so high that it absolutely decimates retirement portfolios. Retirees that consider that option even remotely possible may want to speak to a financial planner about designing a legal structure to protect their capital if they were forced into bankruptcy.
Building the Plan
Ted and Mary look up the following chart to determine how their benefits will be impacted: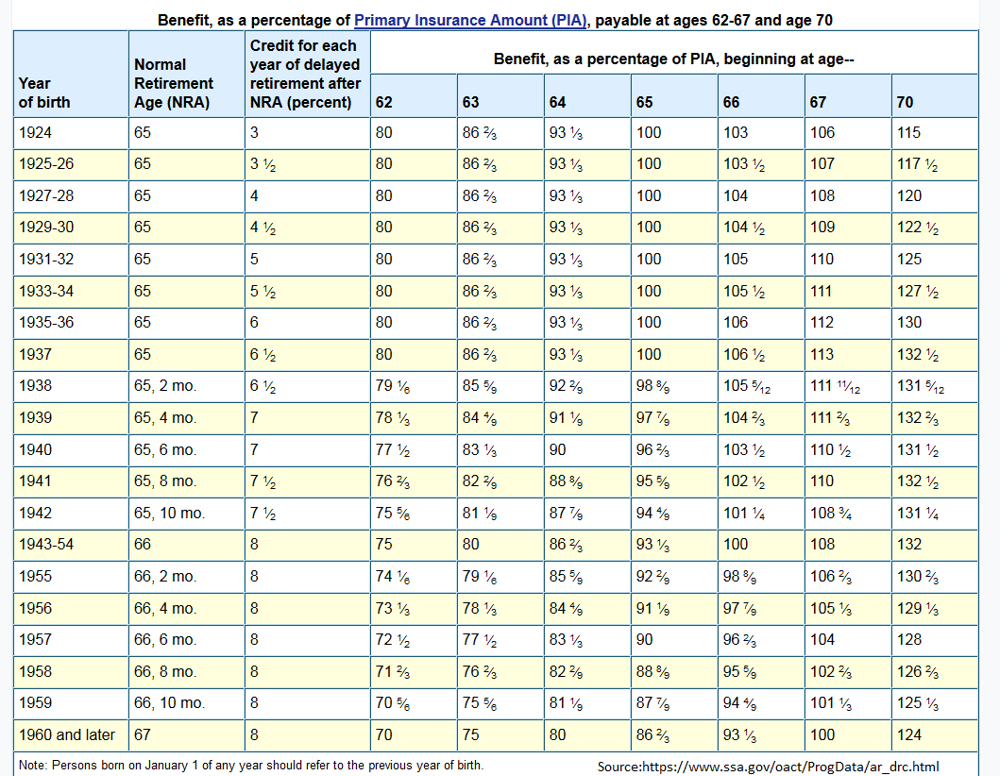 After looking at the chart, they decide the growth rate in the payments will make it worthwhile to wait until they are 70 to file. The growth in payments for people born in 1954 is very attractive. Absent a very high effective interest rate, if the retiree expects to live anywhere near 100, choosing to wait is a very intelligent choice.
Buying a House
House values have been soaring across much of the country. Previously, plans called for Ted and Mary to buy a larger house. However, the climb in stock prices creates a major challenge. Since higher prices mean lower dividend yields, the couple needs more to invest. However, spending more on buying stocks because the prices already went up is a very unfortunate way to invest.
To be careful with their money, Ted and Mary decide to move to Colorado Springs, Colorado for a lower cost of living. The goal was to find a low cost area where prices were not soaring, but several checks on known locations ended up with a similar story.
The following chart from Zillow shows the average home value index for a 2 bedroom house/condo: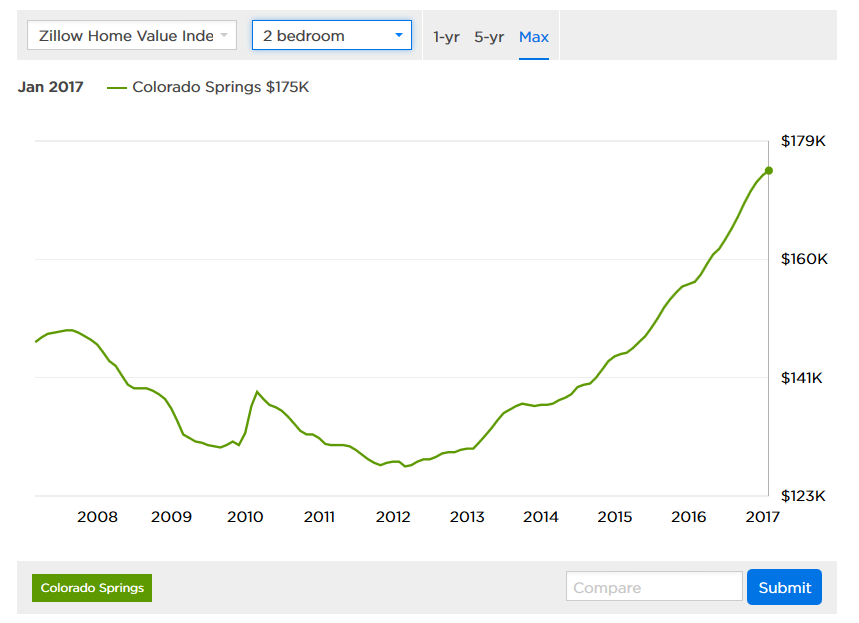 Based on that chart, we will write in $175,000 for Ted and Mary's cost of buying a place to live.
Inflation
For simplicity's sake, assume the increase in CPI matches the actual rate of inflation experienced by the retirees. Just to make a more bearish case, I'll assume it runs 2.4% per year indefinitely.
Allocation of Wealth in Dollars
I'm building the portfolio based on the projected expenses. Social Security payments starting at 70 will create a substantial source of income for the couple. They are similar to maturing bonds, with the exception that the couple cannot sell them in advance to acquire immediate capital. Therefore, the stock and bond portfolio will include reinvestment in some years and selling off a portion of the portfolio in other years.
The chart below shows the allocation of capital:

Ted and Mary could have a larger portfolio and stocks and ETFs if they were going to take social security earlier. If they were taking it early, they could cut down on cash and bank CDs.
Why Bank CDs?
In some cases the rate on the bank CDs will be better than the rate on Treasuries with a similar maturity. We could simply use Treasuries instead and it wouldn't change the numbers much.
The Champions
Mary loves investing in the best dividend stocks. They build a portfolio that is primarily filled with dividend champions. On the other hand, Ted feels more comfortable with using ETFs. Consequently, they will build a portfolio that mixes the two. This strategy should help each of them sleep better. While their retired friends are still trying to make money only, Ted and Mary focused lowering their cost of living and using dividends to supplement their income. Together they plan on buying and holding some of the best dividend stocks on the NYSE.
They come up with the following group of companies to own for their batch of dividend champions.
| | | | |
| --- | --- | --- | --- |
| Company | Ticker | Yield | Years |
| Northwest Natural Gas | (NWN) | 3.27% | 61 |
| Procter & Gamble Co. | (PG) | 2.94% | 60 |
| Emerson Electric | (EMR) | 3.23% | 59 |
| 3M Company | (MMM) | 2.46% | 58 |
| Vectren Corp. | (VVC) | 3.00% | 56 |
| Cincinnati Financial | (CINF) | 2.71% | 56 |
| Coca-Cola Company | (KO) | 3.50% | 54 |
| Johnson & Johnson | (JNJ) | 2.53% | 54 |
| California Water Service | (CWT) | 2.09% | 49 |
| Target Corp. | (TGT) | 4.34% | 49 |
| Stanley Black & Decker | (SWK) | 1.80% | 49 |
| Altria Group Inc. | (MO) | 3.20% | 47 |
| Sysco Corp. | (SYY) | 2.53% | 46 |
| Black Hills Corp. | (BKH) | 2.77% | 46 |
| Universal Corp. | (UVV) | 3.20% | 45 |
| Wal-Mart Stores Inc. | (WMT) | 2.91% | 43 |
| PepsiCo Inc. | (PEP) | 2.75% | 44 |
| ExxonMobil Corp. | (XOM) | 3.67% | 34 |
| McDonald's Corp. | (MCD) | 2.94% | 40 |
| National Retail Properties | (NNN) | 4.32% | 27 |
| Realty Income Corp. | (O) | 4.42% | 23 |
| Averages | | 3.07% | 48 |
Mary's Portfolio
Mary puts her portfolio into the Best Real Time Dividend Portfolio Tracker. She is checking for excessive concentration in the portfolio and making it easier to track her investments. This is what she finds: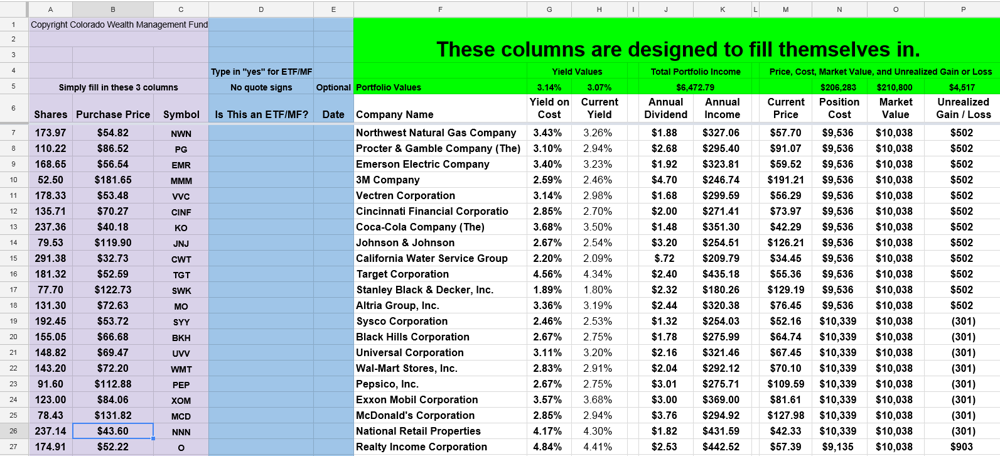 When she moves on to check the concentration of risk, she comes to the following charts: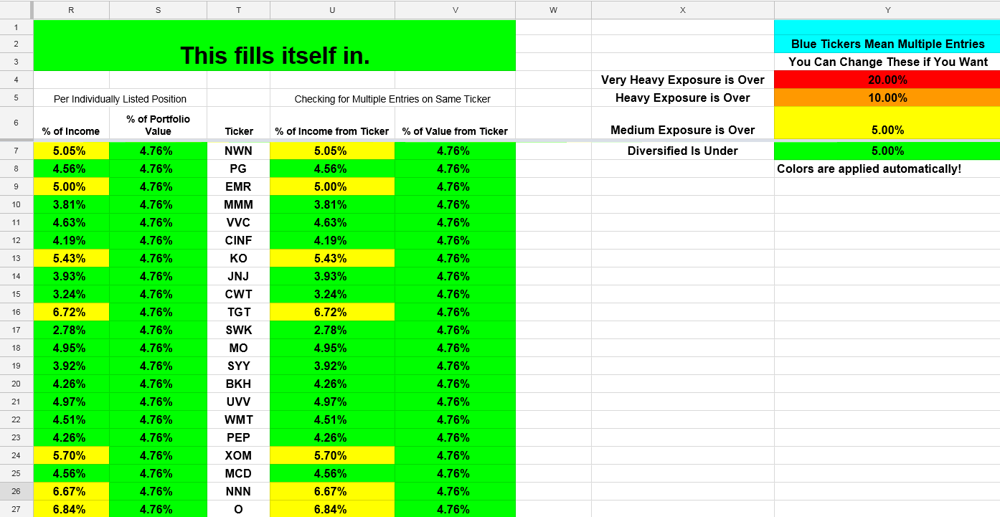 This confirms for Mary that her diversification is fairly solid whether she looks at it from the % of income generated from each position or the portion of her portfolio value invested in the position.
The goal for this portfolio is going to be a yield of 3.7%. The portfolio is designed to grow dividends in a more stable fashion, but I'm assuming that this fails to materialize for Ted and Mary and their dividend income is hammered at the same time as the value of their investments.
The problem is that the current portfolio can't get up to 3.07% and simply satisfying Ted's desire to incorporate ETFs won't solve the issue. Consequently, they decide together to use a mix of ETFs and to pick out a few higher yielding companies and preferred shares together to push the yield higher. Of course, the preferred shares generally won't offer any growth in dividends. However, the preferred shares do help the yield a great deal.
Getting Even More Diversification
These are the ten ETFs Ted picked.
| | | | |
| --- | --- | --- | --- |
| | Ticker | Name | Div. Yield |
| VIG | (VIG) | Vanguard Dividend Appreciation ETF | 2.02% |
| VYM | (VYM) | Vanguard High Dividend Yield ETF | 2.81% |
| DVY | (DVY) | iShares Select Dividend ETF | 2.96% |
| HDV | (HDV) | iShares Core High Dividend ETF | 3.18% |
| PFF | (PFF) | iShares U.S. Preferred Stock ETF | 5.78% |
| SDOG | (SDOG) | ALPS Sector Dividend Dogs ETF | 3.22% |
| VCLT | (VCLT) | Vanguard Long-Term Corporate Bond Index ETF | 4.39% |
| TLT | (TLT) | iShares 20+ Year Treasury Bond ETF | 2.65% |
| HYG | (HYG) | iShares iBoxx $ High Yield Corporate Bond ETF | 5.25% |
| SPHD | (SPHD) | PowerShares S&P 500 High Dividend Portfolio ETF | 3.79% |
Since these ETFs also include bonds and preferred shares, it reinforces the importance of running lower projections for the growth rate.
Ted and Mary decide they will incorporate preferred shares for Annaly Capital Management (NLY) and MFA Financial (MFA). Using the E series for Annaly and the B series for MFA they find yields of 7.83% and 7.6% respectively. Then Ted picks Ford (F) because he likes his truck and the 4.8% dividend yield. Mary picks Apple (AAPL) because she thinks their phones are easier to use and believes the huge cash position of the company makes the dividend extra safe. Together they pick Chevron (CVX) for the last position. CVX offers a yield of 4.32% and increases their exposure to the oil industry. If oil prices go up in retirement, that could be very helpful. The total portfolio ends up looking like this: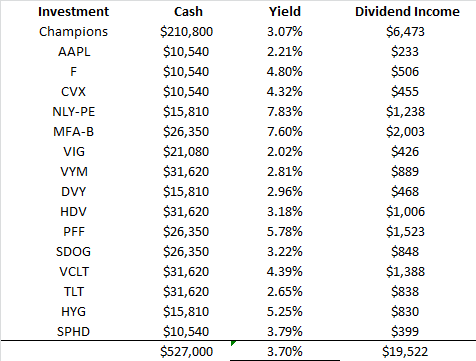 They allocated $527,000 and the portfolio is expected to produce $19,522 in annual income.
The Cash Flows
The following table demonstrates the cash flows: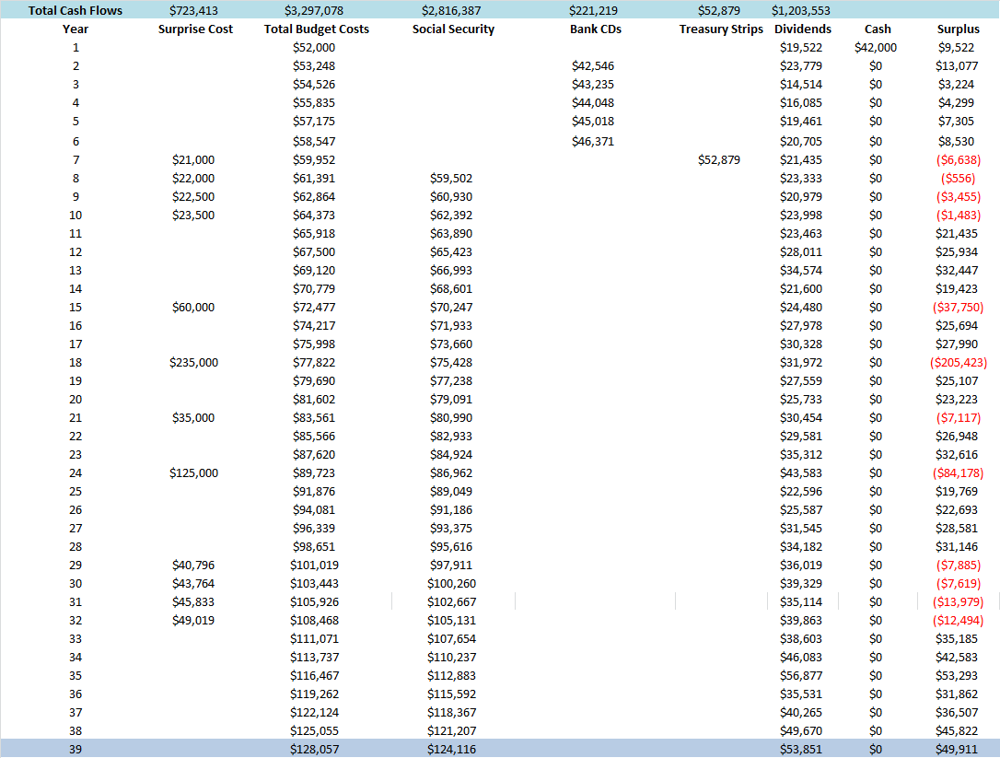 The easiest way to work through this presentation is to start from the left and move to the right. The years in the first column are fairly simple to read. The "Surprise Costs" include the costs that are outside of the normal planning system. First, we see that Ted and Mary decide to put their grandson through college. That significantly raises their expenses. Then, in year 15, they end up with a large bill for a medical emergency. In year 18, they help their granddaughter by buying a condo for her in the same city. They haven't got to see her enough and she recently separated from her ex. She shows up with their great grandkid and asks to stay with them for a bit. They bought a condo to help her out. In year 21 and 24, they incur more unexpected medical expenses. Finally, in years 29 through 32, they help their great grandkid attend college. Inflation is nasty, so even at a state school she ends up paying around over $40,000 per year.
These costs were not in the original budget and several are very far off, so there are no cash flows planned specifically for them. When these costs come up, Ted and Mary are forced to sell a chunk of their portfolio regardless of the market value.
Annual Rates of Return
I randomly assign future rates of return to simulate the way returns work in the real world. There is no simple 6% annual rate of return the way most brokerages like to demonstrate.
Here are the returns (excluding dividends) I'm simulating: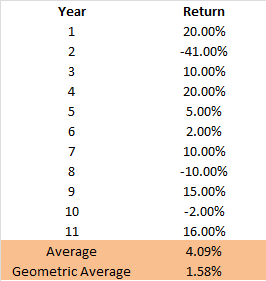 The average price growth comes in at 4.09%, but averages are deceiving because the returns jump higher and lower. Consequently, the geometric mean is a much better predictor of the overall growth rate. This was only 1.58%. This assumption strips away all the glitter of the "plan" because reality involves investing through contractions.
Portfolio Values
The next chart shows the projected portfolio values following the cash outflows and the rate of returns.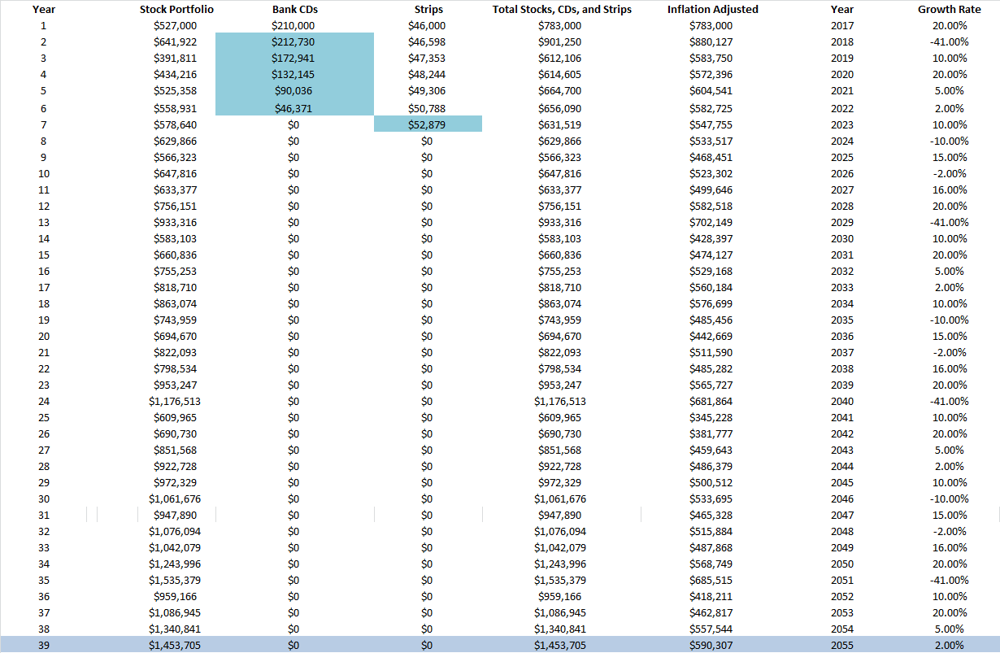 That portfolio value is volatile. This is what the couple must endure because recessions do happen. Contractions happen. There is no simple 6% or 8% indefinitely.
The Investments in CDs
The following table shows the rates I used for the CDs, the amount invested, and the amount harvested.

You can check rates on certificates of deposit here.
The End of the Story
Ted and Mary get through retirement despite the occasional recession, unexpected medical bill, helping some relatives through college, and even buying a condo for one of them. They can do it because they were disciplined and created an intelligent plan in advance. They stuck to that plan even when things were tough. Perhaps most importantly, they recognized the importance of planning out how they could survive to 100 without taking on extreme amounts of risk.
They were also at least a little lucky, because if they had needed a nursing home earlier in retirement they wouldn't have had much chance at success.
Other Great Reading
I've found many retirees want to know more about the top dividend ETFs for 2017.
You can also see inside my portfolio or read about doubling down on a cheap dividend champion.
Please Share
If you appreciated this work, it would be a great kindness if you decided to share it. Posting it to Facebook, Google, Linked in, or linking to it from your blog will help other retirees find it.
I would love to hear your experiences in the comments as well, so feel free to include your story or any questions you might have.