Boy, this is one bleak-feeling Sunday.
It's unusually chilly here. And it's cloudy. And on top of that, I've got a lizard problem in the condo which I initially brushed off as a good problem to have given what it conveys about where I live, but that was until one showed up on the nightstand.
And that's not all. The worst thing about this particular Sunday is there's very little to write about with Trump having refrained from pre-dawn Saturday tweeting and with everyone kind of frozen in time until we see what the Fed says and what happens in the Dutch elections.
But I did want to take a few minutes and pen a quick note on oil (NYSEARCA:USO) and no, not because I want to "break my arm patting myself on the back" for having predicted last week's slide (as one reader for whom the "charm of my arrogance has worn off" put it), but rather because Sunday's continued slide in Gulf stocks underscores something rather amusing about the dynamic going forward.
As detailed on Sunday morning over at HR, Saudi shares fell 1.2% today to their lowest level since mid-January while other markets in the region suffered a similar fate.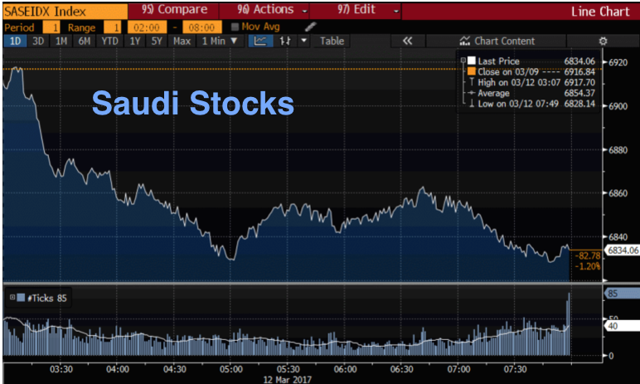 (Bloomberg)
So the Saudis are at a crossroads here and the irony of their plight can't be overstated.
Here's how Bloomberg's "oil strategist" Julian Lee put it over the weekend:
Saudi Arabia has ended up with precisely what it wanted to avoid. Its output cut has left it supporting rival producers, while its sacrifice of volume has yielded little in the way of higher prices. Crude fell back on Thursday to levels not seen since before the producer group announced its historic oil output cuts on Nov. 30. What went wrong, and where do they go from here?
Okay, for one thing nothing "went wrong," per se. It's not exactly like Riyadh didn't see this coming. I'm always amused at how analysts the world over seem to harbor this notion that somehow the Saudis don't understand the dynamics of the crude market.
This whole charade was nothing more than a conciliatory, grudging nod to the fact that for two solid years, OPEC had driven prices into the ground, contributing at times to a deleterious deflationary dynamic that also found expression via China's reluctance to purge overcapacity sectors of failing SOEs.
If you're one of those folks who believes in the idea that the production cuts were some desperate attempt to plug a yawning budget gap in Riyadh, I encourage you to look at last October's massively oversubscribed $17.5 billion bond offering, have a look at the Saudis' debt-to-GDP ratio and then tell me again about how the kingdom "can't afford" for prices to stay low. Here are the numbers:

(Citi)
So yeah, debt-to-GDP has "exploded" in recent years and is projected to rise going forward, but have a look at the highlighted figures for 2016, 2017, and 2018 and then compare them to your favorite advanced economy. That comparison makes Riyadh's numbers look pretty good, no?
But the interesting thing now is that the Saudis have gotten themselves into a situation where they'll have to decide whether they're willing to endure some near-term pain in order to achieve long-term stability.
That is, had they not trumpeted the "cuts" (which, you're reminded, weren't really "cuts" in the first place) and gotten everyone all excited, sub-$50 crude wouldn't be freaking everyone out and triggering declines in regional equities. This is all just optics. Crude collapsed during CERAweek (bad optics) and the decline came as a big surprise not because we're not used to $49 oil by now, but rather because $49/bbl seems really bad considering the fanfare around the cuts (again, optics).
Let's go back to Bloomberg (my highlights):
So what does Saudi Arabia do now? Al-Falih's position on extending the cuts has shifted. Six weeks ago he said an extension was unnecessary; last week, speaking at IHS Markit's CERAWeek conference in Houston, he opened the door to the possibility of a rollover. However, he also warned that fellow OPEC members couldn't count on the kingdom to continue shouldering a disproportionate share of the burden. "We've been willing to do it for the front end but we expect our friends and partners to pick up the slack as we move forward," he said.
Right. Or, put differently, "with friends like that, who needs enemies?"
Well let me tell you what I think they're going to do. I think they're going to say "to hell with this" sometime later this year as the global economy gains its footing, inflation expectations rise in the US and Europe, and Riyadh doesn't have to worry so much about causing a worldwide deflationary spiral if they push prices back down.
In short, I think they're going to move to put US shale out of business once and for all unless something changes dramatically over the next couple of months. You can't expect them to just sit on their hands while they're made to look silly like they were last week.
Disclosure: I/we have no positions in any stocks mentioned, and no plans to initiate any positions within the next 72 hours.
I wrote this article myself, and it expresses my own opinions. I am not receiving compensation for it (other than from Seeking Alpha). I have no business relationship with any company whose stock is mentioned in this article.