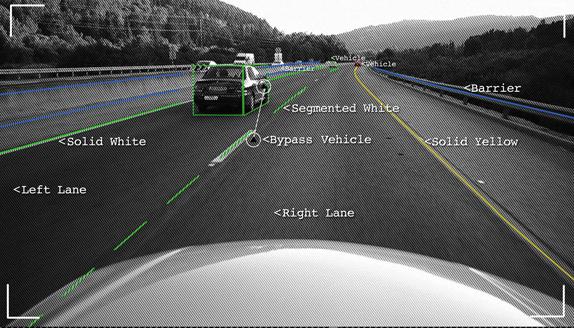 Intel (NASDAQ:INTC) is making a mistake in buying MobilEye (NYSE:MBLY).
Intel is making this mistake not because it might be overpaying. Intel is making this mistake not because Mobileye might see much-increased competition. Intel is making this mistake not because Mobileye's technology isn't the leader. Intel is making this mistake because of a much more fundamental reason. The reason, indeed, is the same which leads Tesla (NASDAQ:TSLA) supporters to wrongly think Tesla leads in self-driving tech.
The problem here is that Mobileye presently has very nice systems to provide driver assistance. These systems work using cameras, which can then be fused with other sensors. They allow for the best presently-available driver assistance when it comes to TACC (Traffic Aware Cruise Control), AEB (Automatic Emergency Braking) and especially lane keeping, among other features.
Mobileye was the component behind Tesla's successful and lauded Autopilot 1. When Tesla lost Mobileye, it was set back a couple of years, and only now is it trying to catch up to where it stood before. This is so even though Tesla is now using a much more powerful set of sensors and computing equipment (nVidia's PX2). It is thus quite obvious to see that Mobileye's tech is a clear leader when it comes to fielding driver assistance features at a low cost, in today's market.
It is the combination of decent TACC and lane keeping that makes people think Mobileye is a leader in self-driving. However, Mobileye really isn't. A car, any car, built on the basis of Mobileye tech cannot be trusted to self-drive itself. Mobileye knows this and left Tesla because of Tesla overselling its capabilities. Tesla itself now more clearly warns its own customers that they have to keep their eyes on the road and their hands on the wheel.
Factually, however, Mobileye isn't even a factor when it comes to self-driving. All of the leading self-driving competitors rely on their own solutions, be it Google (NASDAQ:GOOG) (NASDAQ:GOOGL) / Waymo, Nissan or General Motors (NYSE:GM) / Cruise Automation. All of these solutions add LIDAR to a host of sensors including cameras and radar. And most importantly, all of these solutions are being built for true self-driving where the driver does not have to pay attention to how the car is performing its driving duties (commonly translated to "Level 4" and "Level 5" self-driving, but really the only kind of self-driving there is).
In being built to achieve Level 4 / Level 5 self-driving, these cars, even under testing, are many orders of magnitude better than anything Mobileye has to offer today. They're not even comparable. And therein lies the reason why Intel can't but be making a mistake in acquiring Mobileye. It isn't really about the performance of Mobileye's technology today, but because of a single reason:
As soon as commercially-available cars adopt LIDAR, the entire previous driver-assistance generation, including Mobileye's system, becomes obsolete. This happens even before self-driving is attained. The reason? A self-driving system can also be sold as a driver-assistance system, before it's fully ready to provide self-driving. And in that role, what Google, Nissan, GM and several other automakers already have today greatly exceeds any capability Mobileye has or will have. Their competitive tech, if applied solely to driver assistance, is ready today. A Google car can go for 5,000 miles on average between requiring driver input, under demanding conditions. That car is ready today, if it's simply labeled "driver-assisted" instead of "self-driven".
As a result, even though Mobileye seems to lead today, it's already effectively obsolete. The only thing keeping this obsolescence from materializing is the inclusion of LIDAR on presently-available cars. Of course, what's keeping LIDAR from hitting presently-available cars is its cost - which is hard to justify before self-driving tech is ready. But even that is changing as several companies (Quanergy, Velodyne, others) are set to deliver solid-state LIDAR based on phased arrays. These, being mass produced, promise low-enough costs within the next 2 years for the sensors to be deployed widely. As a result, within the next 2 years, driver-assistance functions are likely to be made obsolete simply by deploying not-yet-fully-ready self-driving software in a driver-assistance role.
To make it short: Intel is buying a company that's a leader in driver assistance today, but which will be made obsolete within a few years by self-driving tech already in existence today. Yet, Intel is paying tens of years of possible earnings into the future, for this same company. And in buying it, Intel does not receive self-driving leadership or anything of the sort.
That's not to say that Mobileye products won't continue to sell well as a low-end solution when the higher-end self-driving based solutions arrive. It will still be cheaper, but its market will be increasingly constrained. It's doubtful that's what Intel thinks it's buying, though.
One Possible Saving Grace
Maybe Intel isn't buying Mobileye for the products it sells today or expects to sell tomorrow. Maybe, instead, Intel is buying Mobileye for its underlying ability to produce specific-purpose ASICs pertaining to the driver assistance/self-driving world.
In this case, what Intel would seek would be to be a supplier to the self-driving winners, and not a competitor to them. There might be room there, as ASIC or FPGA solutions might conceivably out-compete GPUs for the computing role.
Conclusion
From the perspective of buying the current driver-assistance leader, Mobileye, the acquisition can only be a mistake. Current driver-assistance capabilities wildly lag what current self-driving tech can already do. If current self-driving tech is sold initially as driver-assistance, it will instantly obsolete the current driver-assistance products.
The only impediment to sell current self-driving technology as driver assistance is the lack of availability of low-cost LIDAR systems. This availability looks set to change within the next couple of years as solid-state LIDAR reaches the market. As such, acquiring the current driver-assistance leader seems like a preposition which might go obsolete within just a couple of years.
Disclosure: I am/we are short TSLA.
I wrote this article myself, and it expresses my own opinions. I am not receiving compensation for it (other than from Seeking Alpha). I have no business relationship with any company whose stock is mentioned in this article.