e.l.f. Beauty (NYSE: ELF) - Strong Sell or Short Recommendation
The 180-day lockup period for the e.l.f. Beauty Inc. IPO is scheduled to expire on March 27, 2017. The lock-up period was originally set to expire on 3.21, but was extended due to earnings release. At this point, the company's pre-IPO insiders will be able to sell their 36M shares for the first time since e.l.f Beauty went public. This represents 81.2% of the total shares outstanding (see below).

e.l.f. Beauty is up 57% (pre-market session 3.8) since its IPO, and we predict investors will be motivated to sell their positions both to free up capital as well as cash in on significant gains.
We predict a 2-3% price dip in the days (-11, +9) surrounding the lock-up event (day 0). This is consistent with price movement we have seen around such expirations in the past.
Our firm has found movement around lock-up period expirations to be most promising in situations where a large percentage of total shares outstanding are restricted, the stock has performed well since its IPO and outside investors hold a significant portion of the restricted shares. e.l.f Beauty fits the description for all these requirements.
Major pre-IPO shareholders include twelve executive officers and company directors as well as large outside investor TPG Capital, which holds 42.7% of total shares outstanding (see below).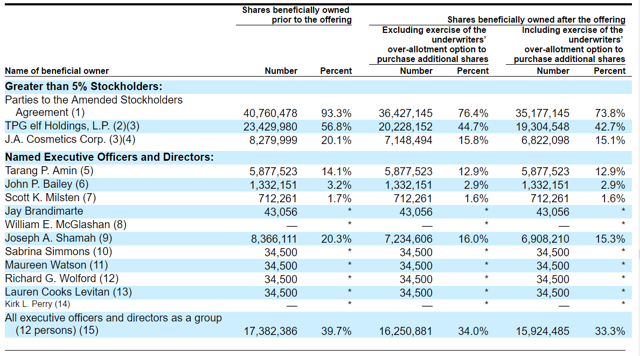 (S-1/A Filing)
We previously highlighted this event on our IPO Insights platform.
Business Overview: Provider of high-quality cosmetics at affordable prices
Based in Oakland, California, e.l.f. Beauty Inc. manufactures high-quality cosmetics that are sold at affordable prices. The company sells the majority of its products for $6 or less. It began with an e-commerce site before expanding into retail sales at CVS Pharmacy (NYSE:CVS), Wal-Mart (NYSE:WMT) and Target (NYSE:TGT) and is now one of the fastest-growing cosmetics brands in the U.S. The company reports that its sales have grown 20 times faster than the growth of other cosmetics companies, on average, since 2014.
Executive management
Tarang P. Amin serves as the company's chief executive officer, chairman and director. Amin has more than 25 years of experience in the consumer products industry. He previously served in executive roles at Schiff Nutrition, The Clorox Company (NYSE:CLX) and Procter & Gamble (NYSE:PG). He holds a Bachelor of Arts in international policy and a Master of Business Administration from Duke University.
John P. Bailey is the chief financial officer and president of e.l.f. Beauty. He has served in leadership roles in a number of different global investment and equity firms, including TPG, North Castle Partners and Credit Suisse First Boston. Bailey holds a Bachelor of Business Administration from the University of Michigan.
Early market performance
e.l.f Beauty made its market debut on 9.21 and priced at $17, which was above its marketed price range of $14 to $16. The stock jumped 55.7% on its first day of trading. The stock has continued to trade well above its initial price, ranging between $23.73 and $32.75 since its debut. The stock reached its high of $32.75 on November 29 and has come down since then. It is currently trading at $25.92 (pre-market session 3.8), down 20.8% from its high.
Financial highlights
The company reported third-quarter financial results on 11.10. Highlights included:
11% increase in sales from $55M in Q32015 to $56.3M in Q32016.
Gross margin growth from 51% in Q32015 to 58% in Q32016.
17% increase in adjusted net income from $3.9M to $4.5M for Q32015 and Q32016, respectively.
2016 full-year guidance for net sales of $227M, compared to $191M for 2015 and EPS of $0.3, compared to $0.27 for 2015.
Conclusion: Short Opportunity
e.l.f. Beauty is up significantly since its IPO but has been trending downward over the last several months. With such high returns, we believe early investors will be eager to take profits once lock-up restrictions are lifted on 3.27, particularly with concern that the stock could continue its current trajectory.
As noted above, pre-IPO shareholders hold 36 million shares, 81.2% of total shares outstanding. These firms and individual investors will likely be motivated to sell their positions in order to free up capital for other investments as well as cash in on gains.
We recommend shareholders sell their position or consider shorting shares before these pre-IPO shareholders have the opportunity to on 3.27.
Don Dion's IPO Insights provides up-to-date information and analysis on the major IPOs each week, along with additional opportunities to invest and short these stocks at their quiet period and lockup period expirations, respectively. Consider following us at the link above. We will continue our PRO offerings on Seeking Alpha alongside our more exclusive research.
Disclosure: I/we have no positions in any stocks mentioned, but may initiate a short position in ELF over the next 72 hours.
I wrote this article myself, and it expresses my own opinions. I am not receiving compensation for it (other than from Seeking Alpha). I have no business relationship with any company whose stock is mentioned in this article.