A Growth Story or a Dividend Story?
Is Microsoft (NASDAQ:MSFT) for growth-oriented investors or dividend-oriented investors? Or both? Microsoft began in 1975 as a young upstart and quickly became first a "disrupter" and then a leader in the rapidly developing technology sector.
I first studied Microsoft in 2004, when a member of my investment club advocated Microsoft as a good buy for a mature growth stock around $25.00. I became a Seeking Alpha reader in 2010 and a contributor in 2012. By this time, my primary focus had shifted to dividends.

(Microsoft logo from Simplivity website)
Microsoft began paying an 8-cent quarterly dividend in February 2003, shortly after a 2-for-1 split adjusted the price from $48.30 to $24.15. Dave Fish reports a 14.8% 10-year dividend growth rate. From time to time, I would look at MSFT as a potential candidate for the portfolio. The yield was becoming more attractive because the dividend growth was outpacing the growth of the stock price. Here are MSFT's high yields for 2007-2015, with other selected data:
| | | | | |
| --- | --- | --- | --- | --- |
| Year | Dividend | Low Price | High Yield | Low P/E Ratio |
| 2007 | $.41 | $22.2 | 1.8% | 15.7 |
| 2008 | $.46 | $26.9 | 1.6% | 14.4 |
| 2009 | $.52 | $14.9 | 3.4% | 9.2 |
| 2010 | $.55 | $22.0 | 2.4% | 10.5 |
| 2011 | $.68 | $23.1 | 2.6% | 8.6 |
| 2012 | $.83 | $23.8 | 3.2% | 11.9 |
| 2013 | $.97 | $26.3 | 3.4% | 10.2 |
| 2014 | $1.15 | $30.8 | 3.5% | 11.7 |
| 2015 | $1.29 | $40.1 | 3.0% | 27.1 |
| 2016 | $1.47 | $39.7 | 3.5% | 18.9 |
Microsoft's fiscal year 2017 ends on June 30, 2017.
The price on March 10, 2017 was $64.93. At the current dividend of $1.56, the yield is 2.40%. Earnings for 2016 (the trailing 12 months) were $2.10 per share, so MSFT has a price/earnings ratio of 30.9. The average P/E for the most recent 5 years was 18.7.
Some growth-oriented investors became disenchanted during Steve Ballmer's tenure as CEO (2000-2014), particularly after Ballmer dismissed the importance of Apple's (NASDAQ:AAPL) introduction of the iPhone in 2007. Some analysts called MSFT "dead money." SA contributor Benedict Evans wrote a 2013 article titled, "The Irrelevance of Microsoft."
But dividend-oriented investors picked up the slack. In the Fall of 2014, Seeking Alpha contributor Mike Nadel launched his "New Nifty 50" project, which gleaned dividend stock ideas from ten dividend investors in the SA community. Five companies were named by all ten panelists: Chevron (NYSE:CVX), Coca-Cola (NYSE:KO), Kimberly-Clark (NYSE:KMB), Johnson & Johnson (NYSE:JNJ) and Procter & Gamble (NYSE:PG). Microsoft was named by 7 of the 10 panelists, which put MSFT in the top 21 companies. Among companies in the technology sector, MSFT was the top pick. International Business Machines (NYSE:IBM) was picked by 6 panelists. Apple, Automatic Data (NASDAQ:ADP) and Qualcomm (NASDAQ:QCOM) were each chosen by 4 of the 10 panelists.
I see Microsoft as a dividend stock that is in the process of reclaiming its identity as a growth company.
My short history with Microsoft
My involvement with Seeking Alpha (beginning in 2010) coincided with my growing interest in dividends. By 2012, MSFT had made the transition from primarily a growth company to primarily a dividend company. Between 2010-2014, I didn't undertake a serious study of Microsoft, perhaps because the yield seemed too low, or because CEO Steve Ballmer received very mixed reviews. (It's instructive to scan the titles of SA articles about MSFT during this period.) As Ballmer was departing as CEO, there was considerable interest in the possibility of former Boeing and Ford CEO Alan Mulally as a possible replacement.
I was only mildly interested in MSFT during that period. But two things happened to put MSFT in my "crosshairs."
Satya Nadella was appointed Chief Executive Officer on February 4, 2014. As president of Microsoft's $19 billion Server and Tools Business, Nadella led a transformation of the company's business and technology culture from client services to cloud infrastructure and services. From the beginning of Nadella's tenure as CEO, it was clear that he had the vision and the leadership capability to ignite a new era of growth for Microsoft. Now both growth investors and dividend investors were getting behind MSFT.
I was encouraged by SA contributor Bob Wells to read Lowell Miller's book, The Single Best Investment, which advocated using Standard & Poor's credit ratings as a way of assessing a company's financial strength. Due to the longevity of the bull market, I was becoming more defensive in stock selection and I began to shift the portfolio toward companies with higher credit ratings. This lowered the portfolio yield somewhat, but it increased my S.W.A.N. (Sleep Well At Night) quotient. At that time, there were only three companies with AAA credit ratings from S&P: Exxon (NYSE:XOM), Johnson & Johnson and Microsoft.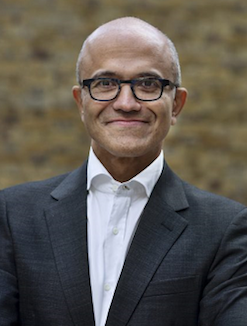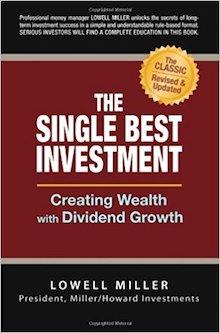 (Satya Nadella photo from MSFT website. Book cover from Amazon)
Exxon's credit rating was lowered one notch to AA+ during the oil crisis, so now there are just two companies with an AAA credit rating. JNJ had been part of the portfolio since July 2009, and in September 2015, I made an initial purchase of MSFT at $43.66. I've added to the position several times, raising the cost basis to $48.35. Currently, MSFT is 3.5% of the portfolio.
Microsoft is a relatively young but iconic company
Microsoft was founded on April 4, 1975 in Albuquerque by Bill Gates and Paul Allen. On November 26, 1976, the company registered the name Micro-Soft with the Secretary of State of New Mexico. Sales for 1976 totaled $16,005. The company moved to Bellevue, Washington, on January 1, 1979. In late 1978, eleven of the then-thirteen employees posed for the staff photo below.
(Microsoft staff photo, Albuquerque, Dec 7, 1978, from Wikipedia)
Top: Steve Wood, Bob Wallace, Jim Lane; Middle: Bob O'Rear, Bob Greenberg, Marc McDonald, Gordon Letwin; Bottom: Bill Gates, Andrea Lewis, Marla Wood, Paul Allen. Not pictured: Ric Weiland, Miriam Lubow.
The company restructured in 1981 as a Washington corporation, changing its name to "Microsoft Corporation, Inc." Bill Gates became president and chairman of the board. Steve Ballmer, who had joined the company in 1980, succeeded Gates as CEO from January 2000. In February 2014, Satya Nadella succeeded Ballmer as CEO.
In 1980, IBM asked Microsoft to produce the software operating system for its first personal computer, the IBM PC. It was called MS-DOS (Microsoft Disk Operating System). This was MSFT's first bonanza because most PC manufacturers licensed MS-DOS as their operating system, generating more than 100 million copies of the program by the early 1990s.
By 1993, the Windows operating system was selling one million copies per month, and almost 90 percent of the world's PCs ran on a Microsoft operating system. In 1995, the company released Windows 95, which for the first time fully integrated MS-DOS with Windows and effectively matched in ease of use Apple Computer's Mac OS. Microsoft became the leader in word-processing and spreadsheet programs.
The Encyclopedia Britannica said "by the mid-1990s Microsoft, which became a publicly owned corporation in 1986, had become one of the most powerful and profitable companies in American history. It consistently earned profits of 25 cents on every sales dollar, an astonishing record."
That record is enough to label Microsoft "iconic." When one considers that it was begun as a start-up by two up-starts just 42 years ago, it is one of the most dramatic growth stories in investing history. The present market capitalization is over $500 billion. It has made many people very wealthy, most notably co-founder Bill Gates. Gates' humanitarian, philanthropic work will forever be associated with the Microsoft story, which is another aspect of its iconic nature. The Bill and Melinda Gates Foundation is not only the recipient of the vast bulk of Gates' wealth, but it will also receive a large portion of Warren Buffett's wealth. This is not a reason to invest in MSFT, but it is certainly part of this company's legacy.
Here's a snapshot of Microsoft's five most recent years from Better Investing: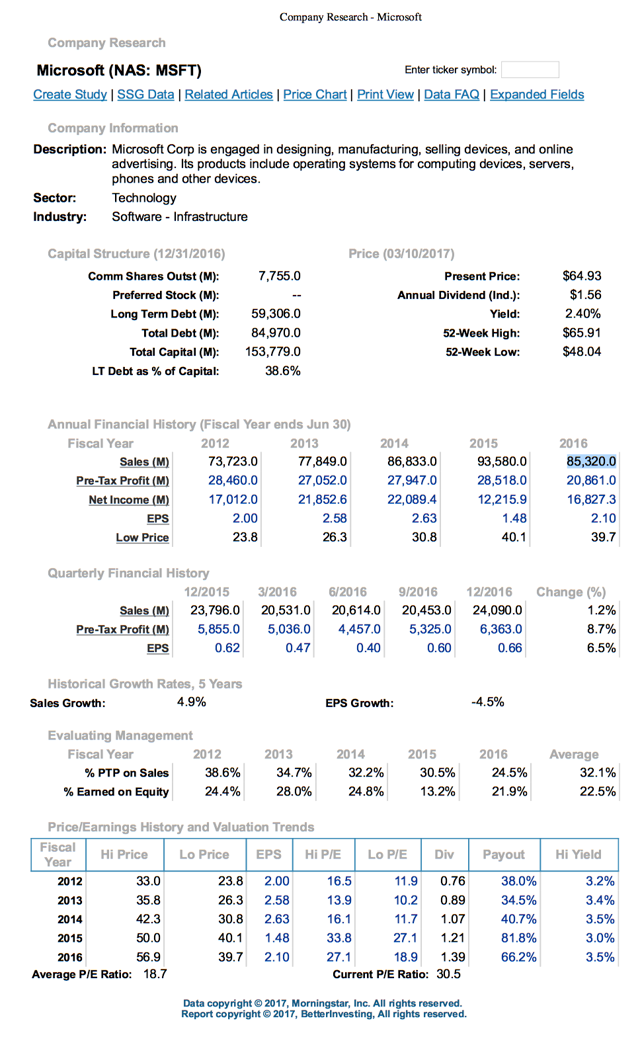 (Company Report from Better Investing)
Microsoft's 2016 sales were $85.3 billion, reversing a trend of strong sales gains. Earnings per share have been erratic for the past five years, up $2.10 from "trough" 2015 earnings of $1.48, but down from 2014 EPS of $2.63. Microsoft is going through a transition away from being PC-centric to the "Intelligent Cloud."
MSFT's website identifies the company's mission: Empower every person and every organization on the planet to achieve more; and the company's Strategy: Build best-in-class platforms and productivity services for a mobile-first, cloud-first world.
The website also provides information about three broad segments. Included in italics are some highlights from the 2017 Q2 earnings call on January 26, 2017:
1. Productivity and Business Processes
Productivity, communication, and information services span a variety of devices and platforms, comprised of these businesses:
Office Commercial ("Office 365 commercial seats grew 37% year over year, and revenue is up 49% in constant currency. ... We're changing the nature of work with Office as the universal toolkit to help people and teams accomplish more together. To that end, this quarter we introduced Microsoft Teams, our new chat-based workspace for Office 365.")
Office Consumer
Microsoft Dynamics business solutions
LinkedIn ("We completed the acquisition of LinkedIn in December, marking the start of our journey to bring together the world's professional cloud with the world's leading professional network. ... The combination of LinkedIn Business Solutions and Dynamics 365 ... strengthens our position in this growing and competitive market.")
2. Intelligent Cloud
Public, private, and hybrid server products and cloud services that can power modern business, comprised of these businesses:
Server products and cloud services ("Our commercial cloud annualized revenue run rate now exceeds $14 billion, and we are on track to achieve our goal of $20 billion in fiscal year 18.")
Enterprise Services ("Swift Transportation, one of the largest trucking companies in the United States, is digitizing work for nearly 20,000 drivers with Office 365 and Skype, and is using Azure to harness the data from their sensor-equipped trucks to optimize driver productivity and safety.")
3. More Personal Computing
Products and services geared towards harmonizing the interests of end users, developers, and IT professionals across screens of all sizes, comprised of these businesses:
Windows ("Windows 10 commercial customers are rapidly adopting Windows 10, driven by their need for a secure and trusted platform. In fact, this quarter enterprise and education deployments increased 52%.")
Devices ("Overall, commercial demand for Surface remains strong, with three consecutive quarters of more than 25% growth. Organizations across industries are looking to Surface to help them achieve more - such as Her Majesty's Revenue & Customs in the UK rolling out Surface to more than 25,000 employees.")
Gaming ("The consumer PC market is also stabilizing. Gamers are increasingly turning to Windows 10 premium PCs for the best gaming experience, logging more than 26 billion hours of game play on PCs and tablets this year. One reason gamers love their Windows 10 PCs is because they can connect to their favorite games and social network on Xbox Live. Xbox Live monthly active users grew to 55 million this quarter, a new record - with growth across PCs, mobile and console.")
Search advertising ("Users have asked Cortana more than 18 billion questions to date, and we're opening up new addressable markets with the Cortana Devices SDK. BMW, Renault-Nissan and Harman are all using Cortana to embed voice activated intelligence into their portfolio of products.")
Here are the segment results for Q2 2017 (ending 12/31/16):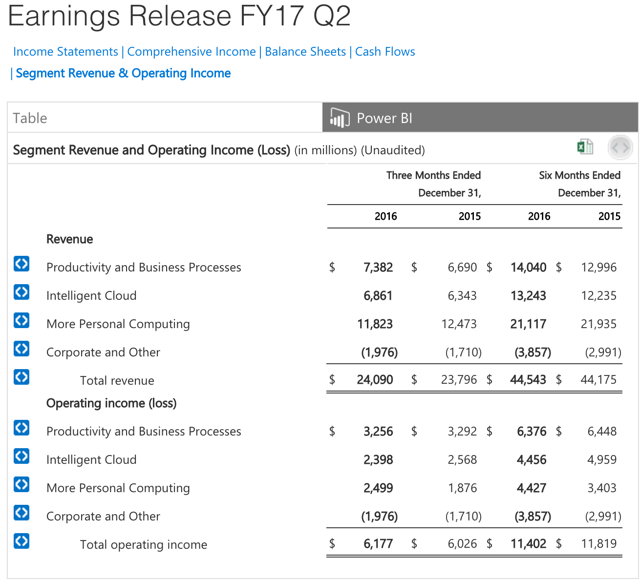 (Q2 2017 Earnings Release from MSFT website)
Q3 2017, which ends March 31, 2017, will be the first full quarter of results for Microsoft's newly-purchased LinkedIn. The first question in the January 26, 2017 earnings call was from Keith Weiss of Morgan Stanley:
"Very nice quarter you guys ... I wanted to ask a question about the LinkedIn and what our expectations should be for achieving revenue synergies on LinkedIn? There's a lot of really interesting things you could do with that asset in combining with your own portfolio, and how should we think of the potential for achieving some expense synergies? ..."
Here was CEO Satya Nadella's response:
"... The core ethos of LinkedIn needs to be about member-first, how do we increase the engagement on the mobile flagship application as well as the revamped desktop experience that's now rolling out. That's at the core of being able to, in fact, then have revenue growth in their business solutions.... whether it's the integration with Office 365 or Dynamics 365...."
Satya Nadella is leading Microsoft in a transition from dependence on the PC to the cloud, offering customers a wide array of services.
Microsoft's role in this dividend portfolio
I've grown MSFT's percentage of my Retirement Income Portfolio over time because of its AAA S&P credit rating, the transformative energy that Satya Nadella is providing to expand the role of the cloud and cross-selling of services. Chief Financial Officer Amy Hood, who has been in the CFO position four years (a year longer than Nadella's 3-year tenure as CEO), is also providing significant leadership.
So Microsoft increases the portfolio's average credit rating and it provides a way to participate in the largest sector of the economy: information technology (21.53% of the economy). The technology sector comprises 16.2% of the market value of the portfolio and it contributes 11.2% of the portfolio's income. Here are the six technology companies and their percentage of the portfolio:
| | | | | | |
| --- | --- | --- | --- | --- | --- |
| Company | Price | Dividend | Yield | %Port | S&P Rating |
| Microsoft | $64.93 | $1.56 | 2.4% | 3.5% | AAA |
| Apple | $139.14 | $2.28 | 1.6% | 3.4% | AA+ |
| Automatic Data | $104.55 | $2.28 | 2.2% | 2.6% | AA |
| Cisco (NASDAQ:CSCO) | $34.26 | $1.16 | 3.4% | 2.5% | AA- |
| Int. Bus. Machines | $177.83 | $5.60 | 3.1% | 2.2% | AA- |
| Texas Instrum (NYSE:TXN) | $80.33 | $2.00 | 2.5% | 2.0% | A+ |
| Total | | | | 16.2% | |
The complete portfolio was updated on March 3, and it can be found here. The only changes since then were the addition of a few shares of MSFT at $64.55 and a few shares of Merck (NYSE:MRK) at $65.64. Neither of these purchases were made at bargain prices, but they served to lift the portfolio allocation of these companies to the intended target. JNJ remains the largest holding at 3.7%. 3M (NYSE:MMM) is the second largest holding at 3.5%, just edging out MSFT, which is the third largest holding.
F.A.S.T. Graphs confirms that Microsoft is not cheap. The price chart has escalated greatly since the historic low during the Great Recession. F.A.S.T. Graphs shows debt as a conservative 38% of capitalization.
I have included Microsoft in the portfolio also because it has grown the dividend over time at a rate of around 14%, and because I believe the present company management has charted a course that will see the company regain its growth identity. I've viewed Texas Instruments and Enterprise Products Partners (NYSE:EPD) as the two best managements in the portfolio. With Satya Nadella's leadership, I see Microsoft as a close third.
Given the elevated nature of the market, and given Microsoft's strong price performance in recent years, I feel obliged to offer this caveat. If you're considering initiating a position in MSFT, I encourage you to weigh the risks of entering at these lofty levels, but I am convinced that MSFT deserves a place on virtually every investor's watch list. If you haven't read Chuck Carnevale's recent article about the market, I encourage you to do so: "Happy 8th Birthday Bull Market! Has The S&P 500 Become Dangerously Overvalued?"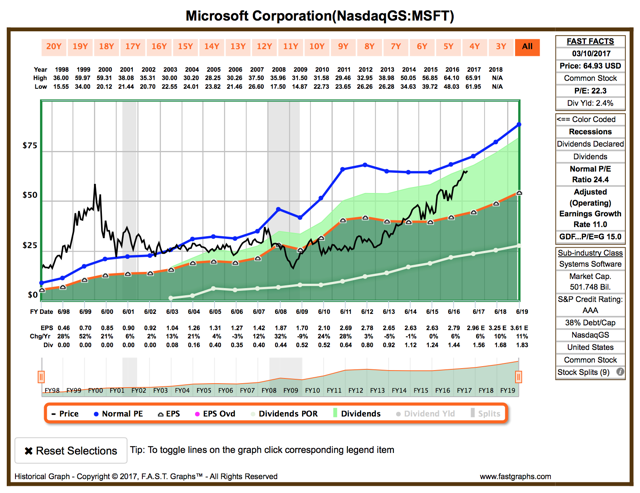 (Graph from F.A.S.T. Graphs)
My goal is to produce about one article per week, usually about one of the holdings in my retirement portfolio. You can access previous articles here.
To be notified of future articles on a real time basis, just click "follow" at the top of this article, then choose "follow this author" and "real-time alerts."
Your comments are an important part of my learning process. We are co-learners. I'm grateful for my SA colleagues and friends.
It's not my intent to advocate the purchase or sale of any security. I offer articles and blogs to provide ideas for stocks to study and to share a journal of my effort to design and build a retirement portfolio that puts a priority on relative safety, a history of dividend growth and solid future prospects. Your goals and risk tolerance may differ, so please do your own due diligence.
Disclosure: I am/we are long MSFT, JNJ, AAPL, MMM, PG, PFE, MRK, ADP, WMT, KO, CSCO, GE, IBM, RY, TD, NSRGY, GWW, CL, UL, TXN, PSA, VFC, SO, WEC, PPL, DUK, GPC, BCE, VTR, O, BIP, EPD, AGR, WPC, BEP, BIF, HASI, MRCC, PEGI, APLE, VTI, VEA, VWO, VYM, VOE, VNQ, VPU.
I wrote this article myself, and it expresses my own opinions. I am not receiving compensation for it (other than from Seeking Alpha). I have no business relationship with any company whose stock is mentioned in this article.