Today's EM FX isn't quite what it was four years ago during the "taper tantrum" episode. But things are different this time. So far, EM has been trading in resilient fashion against the headwind posed by higher US real yields. This is particularly the case for the high yield part of the asset class.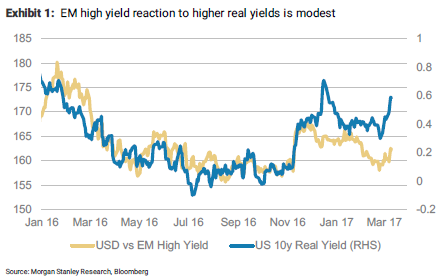 Fund flows have been strong as well. EM-dedicated funds (up to March 8) surged to US$2.1bn as EM remained resilient to rising US yields. Both hard currency and local currency funds saw strong inflows of US$1.0bn (0.69% of AUM) and US$818m (0.57% of AUM), respectively. YTD inflows stand at US$13.0bn, with US$8.1bn and US$3.9bn into hard and local currency funds, respectively. This makes it the strongest start to the year on record.
Now, a good portion of the EM investor base still remains skeptical about the sustainability of the pick-up in EM growth, and that there is therefore substantial vulnerability to prospective Fed tightening. This rings true, to an extent. Certainly the recent pick-up in US real yields has caused some weakness in EM. Recent messaging from Fed officials raised the expectation for a hike next week to a near certainty and caught the market off guard, and EM has struggled a bit. This would imply that a more hawkish FOMC next week that guides towards a steeper rate hike path into 2018 will probably result in some weakness for EM.
But beware - Fed tightening doesn't always result in weaker EM FX. Investors who have lived through the 2013 taper tantrum could be forgiven for thinking otherwise. However, not every tightening cycle that sees consistently more hawkish pricing around the Fed rate path results in EM weakness and USD strength. Take the 2004-06 period for instance, when we saw the US curve consistently underestimated the terminal Fed Funds rate , and yet as US rates moved higher the USD weakened and EM currencies were very strong.

Ditto the 1994-1995 tightening cycle which saw the dollar fall even more.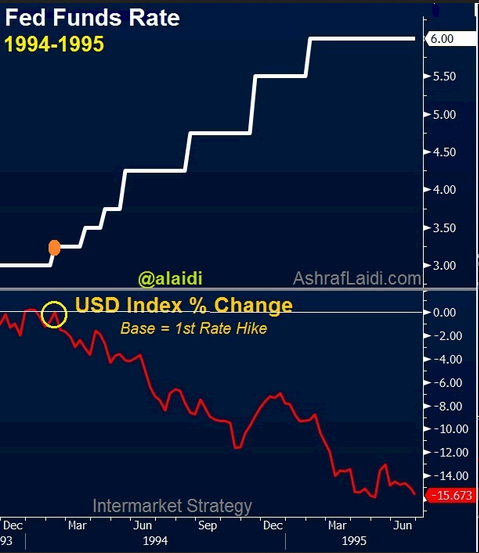 Source: Safehaven
But this doesn't mean EM FX isn't a compelling short. For one, the cycle is now different. Leverage within EM economies is much higher now, raising the risks around any externally imposed tightening. Potential growth and productivity is lower, too although things are starting to pick up.
The way to think about the EM FX playbook is that the risk from the Fed to EM currencies comes more via the impact that additional tightening could have on global equities and other global risk assets, rather than any particular EM vulnerability. In particular, EMs with exposure to the commodities space look compelling shorts.
With protectionism on the rise and supply/demand dynamics yet to recover, commodity prices are set to fall as demand slows down and negative risk appetite takes over. Oil prices for instance, were down over 8% in two days after US oil inventories hit their highest levels since 1982. Meanwhile, seasonal factors are also going against the industrial metals such as iron ore and copper as Chinese copper inventories and metals imports tend to peak in February-March. This implies the removal of a pillar of support for many commodity-related currencies.
Commodity currencies in the EM space such as the Malaysian Ringgit (MYR), Russian Rouble (RUB), Chilean Peso (CLP) and South African Rand (ZAR) will be ones to watch.
MYR looks to be the most vulnerable Asian EM currency to a rise in US real yields and steepening global yield curves, given Malaysia's high external debt, high foreign holdings in the domestic bond market and relatively low FX reserves cushion. Meanwhile, fundamentals in Russia remain strong, but oil is still the main driver of the RUB. Cautious monetary policy aside, the RUB could be a compelling short as well. With the CLP, further domestic weakness and populism risk for this year's elections will add pressure to any commodity price weakness. The ZAR has shown signs of recovery but heavy bond market positioning and lower commodity prices will keep the ZAR depressed, making it a compelling funding currency.
The Canadian Dollar (CAD) and Norwegian Krona (NOK) also make interesting funding currencies for a long USD play should oil prices continue to fall. Within G10, CAD has been more sensitive than NOK to oil as positioning is still very long, although the CAD tends to be more insensitive to Fed positioning.
Disclosure: I/we have no positions in any stocks mentioned, and no plans to initiate any positions within the next 72 hours.
I wrote this article myself, and it expresses my own opinions. I am not receiving compensation for it (other than from Seeking Alpha). I have no business relationship with any company whose stock is mentioned in this article.