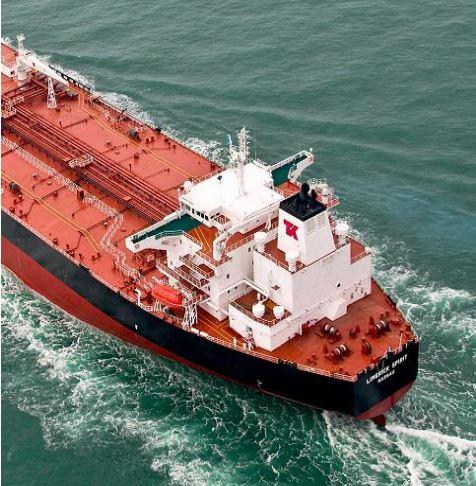 Teekay Tankers (NYSE:TNK) stock has been in the dumpster as of late with no sign of a recovery in the near term. What should investors look for that might indicate a reversal? I'm no industry expert but look for indicators that may signal a new direction for the stock. I'm going to offer a unique perspective on stock price movements past and future. The beauty of this is in its simplicity that not only can be applied to TNK but also other tanker companies that have a large fleet makeup of Aframax and Suezmax tankers.
Teekay Tankers is in the business of transporting oil. TNK is a subsidiary of Teekay Corporation (NYSE:TK) which we will not delve into here since it has no bearing on the perspective laid out in this article. The bulk of its fleet consists of Aframax and Suezmax tankers. Success or failure comes down to daily rates and 2017 is off to a rocky start: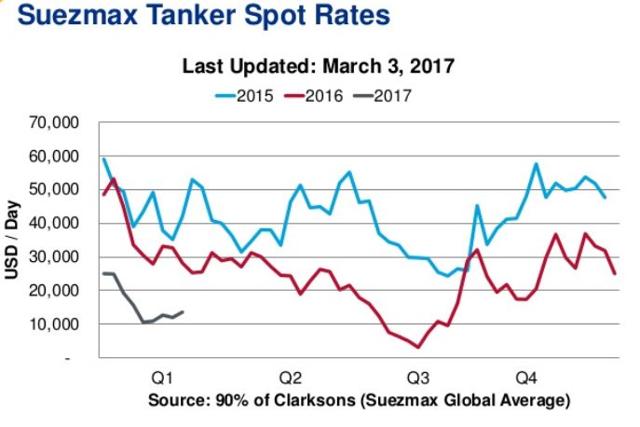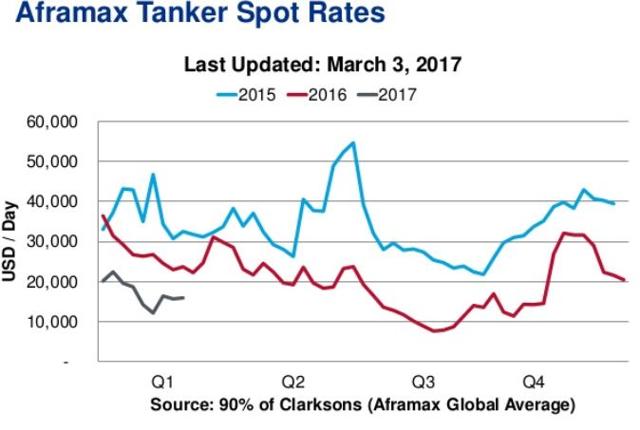 The question is what is the driving factor for rates? We'll focus on two areas:
Global demand growth
Global Fleet growth or capacity growth
It's obvious if global new builds outpace phase-outs then global fleet capacity is going higher. If capacity growth exceeds demand growth, then the race to the bottom on rates will ensue as competition becomes fiercer. The 2017 tanker market looks to be a difficult year with fleet growth expected around 5 percent.
My perspective: Rates improve if global demand growth outstrips yearly capacity growth. More importantly, stock prices rise. Global demand and calculated yearly growth rates are as follows: (Global demand source - International Energy Agency)

Now for the secret sauce. The second table below looks at global capacity for Aframax and Suezmax tankers by focusing on the yearly growth rate. The analysis includes companies with large Aframax and Suezmax tankers as it relates to percent of total fleet. Frontline Ltd. (NYSE:FRO) is the only company where the percentage is less than 40%. It's possible a case could be made for the VLCC market but our focus is on TNK so we'll leave that analysis for another day. Other companies in the analysis are Nordic American Tankers Limited (NYSE:NAT) and Tsakos Energy Navigation Limited (NYSE:TNP). Fleet sizes obtained from their websites are as follows: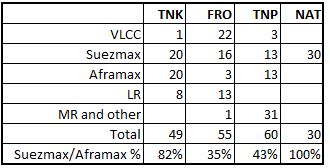 We created a metric that is defined by subtracting the capacity growth rate from the global demand growth rate given above (Rounded to one place, highlighted in orange). We define capacity as deadweight tonnage or dwt. A positive result is positive for the stocks in our defined mid-size segment and vice versa.

The source for global vessel count from TNK SEC filings over the years and/or Weber tanker reports.
The correlation is strong between the change in yearly stock prices and our metric. We can conclude when, or more importantly, predict, a positive number signals a recovery in the market cycle pushing stocks higher, assuming the companies can manage the storm during the trough.
The one outlier is 2014 for FRO. FRO has the smallest percentage of Aframax and Suezmax ships to total fleet size. I'll admit I expected more outliers so it's a pleasant surprise.
Using this perspective tells us that 2017 could be ugly, even more so than now, but it also shows 2017 could be the bottom of the cycle given the data.
Creating a market cycle using the cumulative effect for our metric yields: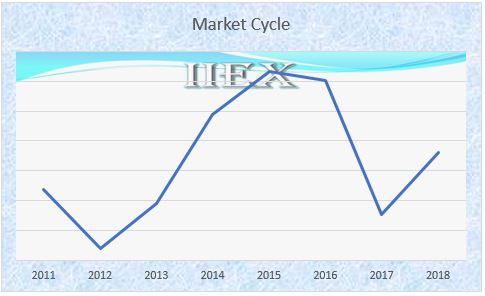 The data shows a very weak 2017 followed by a recovery in 2018 and beyond.
The March 2017 Weber weekly tanker report indicates phase-outs will overtake new builds in 2019 and 2020, while 2018 is about balanced, at least for the Suezmax.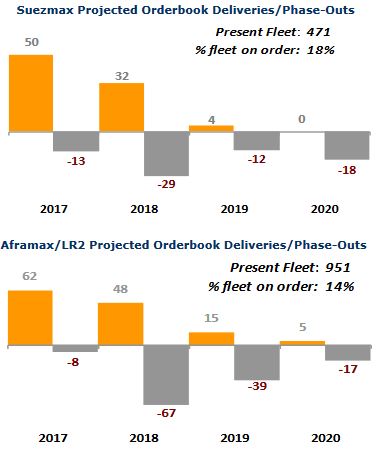 Source: Issue 9-2017 Weber Weekly Tanker Report
Our graph indicates a five-year cycle indicating the next peak occurring around 2020. Bottom line there is no rush to buy any of these stocks. On the other hand, 2017 could be the year to start building positions assuming these companies can weather the storm.
The conclusions in this article fall along the same lines indicated by TNK in its recent slide presentation as it relates to the cycle. I think TNK is cheap here and currently have a present fair value of $3.10. I picked TNK because I believe it has the largest discount to fair value at the time of this writing. Additional fair value data for TNK and other stocks can be found here. The company has a base dividend of $0.12 and a policy of higher payouts tied to higher profits or 30% to 50% of adjusted net income, which probably will not affect the dividend until 2018.
Based on the 2017 data, I doubt we have seen the bottom in TNK as of this writing but I plan on adding throughout the year if the stock trends lower.
The downside in all this, no matter the quality of management, is the companies are tied to the shifting winds when it comes to global oil demand and global fleet sizes. Management controls how well it weathers the downcycles, which, per our analysis, occur around the five-year mark. You can also conclude that instead of these stocks being buy and hold forever, they become sells three to four years into the market recovery.
Disclosure: I am/we are long TNK.
I wrote this article myself, and it expresses my own opinions. I am not receiving compensation for it (other than from Seeking Alpha). I have no business relationship with any company whose stock is mentioned in this article.