Uncertainties over President Trump's border adjustment tax and the recent sell-off in oil prices are pushing investors away from Canadian oil companies. At HFI Research, we believe now is the time to selectively buy Canadian oil companies that will survive and thrive even if oil prices remain lower for longer.
Border Adjustment Tax
Should we be worried about the border adjustment tax?
Headline risks create unnecessary fear for investors. Without further due diligence, it's easy to see concerns for why a border adjustment tax would be terrible for the Canadian oil industry, but one can also easily prove why it's wrong.
Here's a breakdown of what AltaCorp recently said in a memo to its clients: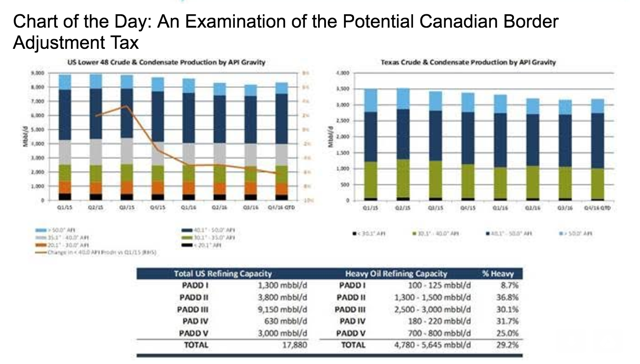 In today's Chart of The Day we examine US crude output, focusing on the API quality of that production. Much discussion has surfaced around the Trump Administration's "buy American" policies, the speculation of a Border Adjustment Tax (BAT), and the impact BAT could have on Canadian crude exports. Many investors may not appreciate the nuances of US refining, and how it is not possible for US Refiners to use a 100% "American"' feedstock. The US refiners need Canadian heavy oil.

Consider that 67% of Q4/16 US crude and condensate production is "lighter" than the typical WTI barrel (39° API); this represents ~8.0 mmbbl/d of ~12.0 mmbbl/d of total US liquids production (including plant condensate). And in Texas, where Permian production is expected to generate most of the US near-term growth, crude output has next to no heavy oil production (a mere 1.7% of state production.)

Currently, US refining has ~5.2 mmbbl/d of heavy oil refining capacity, yet the US only produces 0.4 mmbbl/d of heavy oil; US refiners have no choice but to import foreign heavy oil. As such, we believe Canada will continue to play an important role in supplying US refiners with heavy oil no matter what the tax implications are for US industry. Additionally, with the recent approval of Keystone XL (which will relieve concerns around future heavy oil transport bottlenecks), we believe there is a low probability the Trump Administration enacts an oil BAT aimed at Canadian imports. We recommend investment in Canadian heavy oil producers which have been impacted recently: SU and CNQ among the Large Caps and ATH, PXX, BTE, GXE and CPG in the Mid-to-Small Caps.
To understand the potential impact on the Canadian oil industry, one must understand the US refinery landscape. According to AltaCorp, over 67% of US production leans on the lighter end of the spectrum (39 API). US refinery has 5.2 million b/d of heavy oil refining capacity, and the US does not produce very much heavy oil. In addition, the additional pipeline capacities that will be built in the wake of Trump's regulatory uplift will help spur additional demand for Canadian heavy oil.
The concerns over the border adjustment tax also misses out on the point that a BAT with Canada will be very economically negative for both sides. There is already evidence that the BAT won't be implemented. Commerce Secretary, Wilbur Ross, commented that President Trump will meet opposing senators to see their point of view. Sources close to Wilbur Ross say he is against a BAT. Canada's minister of natural resources also expressed cautious optimism over the new relationship with the US counterparts as Keystone will finally get going and other Canadian oil pipelines.
Overall, there are economic and fundamental reasons why we don't see BAT as an issue going forward. Even in the case that BAT is implemented, the demand for heavy oil from Canada won't drop as US refineries are geared to process heavy oil.
Canadian Oil Companies
This leaves us with the question, what Canadian oil companies should we buy in the wake of the recent sell-off?
We built a five-category ranking system that takes into account the valuation, production growth, debt level, cash flow margin, and the cost to replace and grow production. Using this ranking system, we determine which company ranks the highest in our basket of 11 Canadian oil companies.

(OTC:RRENF, OTC:GENGF, OTCPK:PTORF, BTE, PWE, OTC:SPGYF, OTCPK:AETUF, PGH, OTC:TNEYF, CPG)
Our ranking system is a relative value ranking system that pits the companies in our list against each other. Based on the scores, Raging River and Gear Energy, two HFI Research holdings, are ranked at the top of the list, while Pengrowth and Baytex rank at the bottom of our list.
Our latest flagship report "What Changed This Week" discusses our findings and how each of the companies are expected to perform if oil prices remain lower for longer.
If you would like to read our research on Canadian oil companies, you can sign up here. For more info on premium, please read this.
Disclosure: I am/we are long RRENF, GENGF.
I wrote this article myself, and it expresses my own opinions. I am not receiving compensation for it (other than from Seeking Alpha). I have no business relationship with any company whose stock is mentioned in this article.
Editor's Note: This article discusses one or more securities that do not trade on a major U.S. exchange. Please be aware of the risks associated with these stocks.