As spotted by one eagle-eyed Seeking Alpha reader, tucked away in Zynga's (NASDAQ:ZNGA) FY16 10-K came the first news of the social game company's first acquisition of the year.
"On February 14, 2017, we purchased Solitaire mobile game applications from Harpan LLC for approximately $42.5 million in cash," reads the statement, which is listed under the heading 14. Subsequent Events, Share Repurchase Program.
"As the initial accounting for the business combination is incomplete as of the date of this filing, we will record the preliminary purchase price allocation in the first quarter of 2017."
Big price, little known company
On 31 December 2016, Zynga had $852 million in cash and equivalents, so the amount isn't large from that point of view.
However, given Harpan LLC is a little-unknown mobile game developer, with just four simple Solitaire card games on the Apple App Store and Google Play store, it seems like a substantial amount.
Information about Harpan is difficult to come by. Its Facebook page hasn't been updated since 2015, its Twitter page (123 followers) since March 2014, and the company website doesn't load.
More digging around suggests it's a one-man operation with the CEO and co-founder being Tim Oswald.
As for its games, none of them appear to be obvious blockbusters. The best performer, at least in terms of download rankings, is Solitaire by Harpan, which peaked at #6 on the US iPhone charts and 25 on the Google Play charts in July 2015.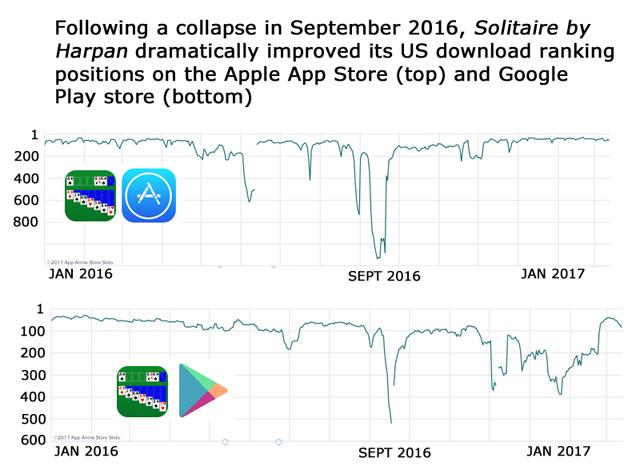 (source: App Annie - free but registration required)
However, more recently, it's been in the App Store Top 50 and Google Play Top 100 for downloads.
Spider Solitaire's best US download ranking is 439 on the App Store and 202 on Google Play, while Pyramid Solitaire and FreeCell Solitaire haven't ranked at all in the US on either store.
Joining the dots
So why has Zynga's spent $42.5 million on a handful of relatively low ranking apps?
The only reason can be it believes they have great potential to generate significant future advertising revenue. Indirect revenue such as advertising isn't tracked by app stores, and hence isn't included in the top grossing charts, which are purely based on in-app purchases.
Zynga generates around 25 percent of its revenue ($195 million in FY16) from in-game advertising, mainly from casual social games such as Words With Friends.
Indeed, in his recent shareholder letter, CEO Frank Gibeau pointed to the fact that thanks to the company's new focus on live operations such as time-limited events, tournaments and challenges, Words With Friends' revenue was up 32 percent year-on-year.
At present, Harpan's Solitaire games only contain simple banner advertising, so Zynga clearly thinks its more sophisticated advertising and live ops playbook can ramp up revenues quickly and substantially.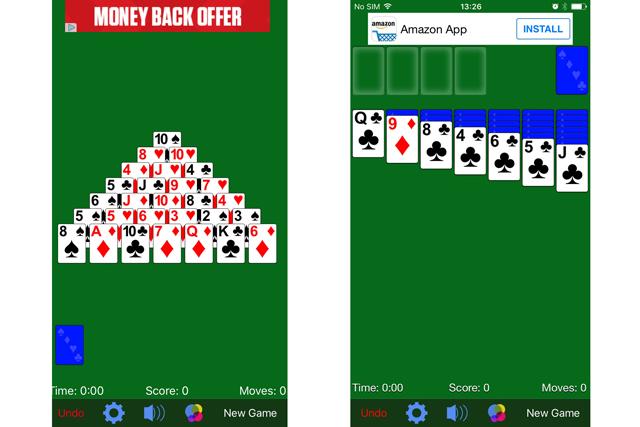 (source: Author - Harpan's games currently only run simple banner adverts)
Without any numbers about how many people are playing the games, it's impossible to judge how reasonable this assumption is. It is a surprise than Zynga has spent so much cash upfront, however.
When it acquired Daily Celebrity Crossword developer PuzzleSocial in late 2016, the deal was structured as $21 million cash with a potential performance earn-out of $42 million over the next 2.5 years.
The difference seems to be that the PuzzleSocial deal was acquisition of VC-funded company with staff and based around their future performance. This deal isn't the acquisition of Harpan, but a one-time payment for its games.
We await more details from Zynga's FY17 Q1 financials with interest.
Disclosure: I/we have no positions in any stocks mentioned, and no plans to initiate any positions within the next 72 hours. I wrote this article myself, and it expresses my own opinions. I am not receiving compensation for it (other than from Seeking Alpha). I have no business relationship with any company whose stock is mentioned in this article.