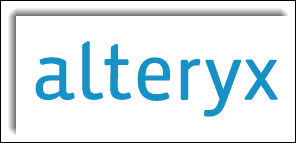 Quick Take
Self-service data analytics software company Alteryx (NYSE:AYX) has set proposed share price terms at a midpoint of $13 per share at a post-IPO valuation of $732 million for its IPO expected raise of $117 million in gross proceeds.
Alteryx is a fast-growing software company operating in the enterprise data intelligence space.
While management has posted some impressive financial results in recent periods, the proposed IPO is richly valued when compared to competitors.
My opinion on the IPO is neutral based on its high valuation.
Company Recap
Irvine, California-based Alteryx was founded in 2010 to create easier-to-use data analysis software for enterprises.
The company has raised $163 million in only three disclosed venture capital funding rounds since its inception.
Below is a brief explainer video about the company's software:
(Source: Alteryx)
Competitors include the full gamut of business intelligence providers and data visualization software, some of which are also company partners.
IBM (NYSE:IBM)
Microsoft (NASDAQ:MSFT)
Oracle (NYSE:ORCL)
SAP (NYSE:SAP)
SAS
MicroStrategy (NASDAQ:MSTR)
TIBCO
Tableau (NYSE:DATA)
Qlik
Commentary
Alteryx certainly fits the growth trajectory prototype for software-enabled technology companies seeking to float shares to the public.
Management proposes to value the company at approximately 8.5x trailing 12-month revenues.
Revenues are growing at 60% per year, gross margin is 81%, while the company is using relatively low amounts of cash in operations (2016 audited GAAP results).
Investors in the IPO will not have much in the way of voting power, as the company is selling only Class A shares which have one-tenth the voting power of Class B shares retained by private investors and senior management.
Interestingly, a recent study found that companies with unequal voting rights perform worse than companies with the same voting rights.
Management did not detail how it intends to use the net proceeds from the offering, other than for general corporate purposes.
I previously wrote in detail about Alteryx' IPO in my article, Alteryx Aims To Raise $75 Million In IPO.
In that article, I lauded Alteryx for its increasing revenues and gross margin, relatively low cash burn and large market opportunity.
In addition, the market for its self-service software appears to be large and growing, as organizations try to decentralize data analysis among a greater number of users to increase operational agility.
While no new information has caused me to change that evaluation of its recent financial performance, management's IPO valuation at a Price/Sales multiple of 8.5x seems rather rich, especially when compared to competitor/partner Tableau , which currently indicates a multiple of 4.6x.
For investors believing the company will continue its high growth rates, in analyzing enterprise IT IPOs over the past few years, I've repeatedly seen that startups tend to hit a 'wall' when top line revenues reach $150 to $200 million.
Once they reach that point, year over year percentage growth rates drop significantly as the law of large numbers kicks in, and when growth rate drops, so does the Price/Sales multiple.
Accordingly, my opinion on the Alteryx IPO is neutral, as I believe an 8.6x Price/Sales multiple is fully valued.
Author's note: I write about IPOs and M&A deals. Click the Follow button next to my name at the top of this article if you want to receive future articles automatically.
Disclosure: I/we have no positions in any stocks mentioned, and no plans to initiate any positions within the next 72 hours.
I wrote this article myself, and it expresses my own opinions. I am not receiving compensation for it (other than from Seeking Alpha). I have no business relationship with any company whose stock is mentioned in this article.