Uniti Group, Inc. (NASDAQ:UNIT) is an independent, internally-managed telecom REIT which owns and leases network infrastructure. The Company's bonds provide relatively high yields, ranging from 4.50% to 5.00% on its secured notes vs. 4.43% on a bank loan ETF like the PowerShares Senior Loan Portfolio (BKLN) and from 6.35% to 6.85% on its unsecured notes vs. 5.23% on a high-yield ETF like the iShares iBoxx High Yield Fund (NYSEARCA:HYG). The UNIT common stock pays a relatively high dividend yield of 8.85% vs. other specialty REITs averaging 3.54% (e.g., the Dow Jones US Large Cap Specialty REITs Index). As shown in the graph below, the two investment classes are generally moving in tandem and, since mid-November, that direction has been mostly up on improving results and diversification: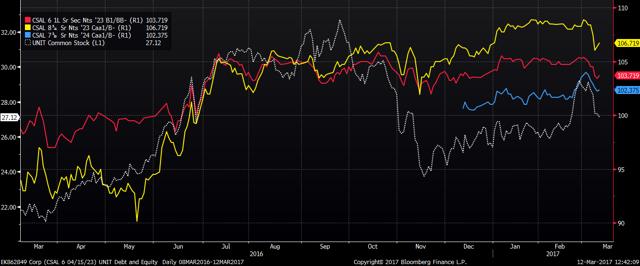 The graph above is informative, but not a complete picture of UNIT's securities, their relative performance or where they might be headed. Filling out the rest of it requires an understanding of UNIT's relationship with its former parent. In April 2015, the Company was spun off from Windstream Holdings, Inc. (WIN) under the name Communications Sales & Leasing, Inc. Prior to the spin-off, UNIT generated $476.3 million revenue and $259.8 million Adjusted Funds From Operations (or AFFO) between April and December 2015.
In conjunction with the spin-off, WIN contributed to UNIT its Distribution Systems (fiber and copper network assets and real estate) and a small Consumer CLEC Business. In exchange for those assets, UNIT leased the Distribution Systems back to WIN under a long-term exclusive triple-net Master Lease. To finance the asset purchase, UNIT incurred $3.65 billion in long-term debt including $1.51 billion of notes and $2.14 billion of term loans under senior secured credit facilities.
Per the Summary Financial Information table below, ever since the spin-off, revenue and cash flow have been growing sequentially from quarter to quarter and Adjusted EBITDA/Interest coverage has been consistently stable at 2.5x even if Adjusted EBITDA margin has trailed off as the Company expanded: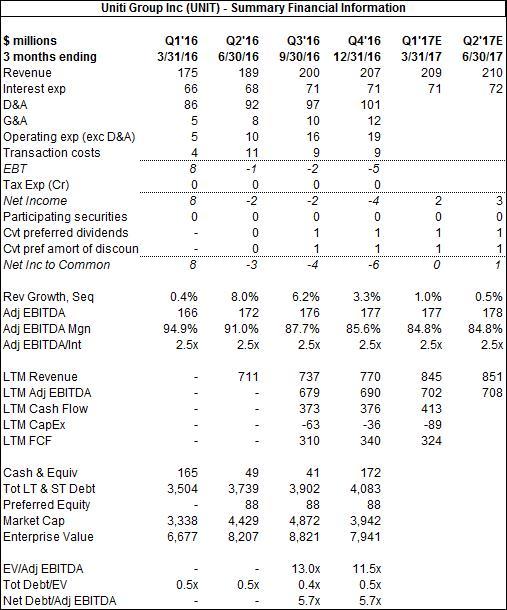 At its start in FY'15, all of UNIT's revenue was dependent on lease payments from WIN. One year later, after multiple acquisitions, the Company was able to report $770.4 million revenue and $398.5 million AFFO, with 24% of forecast revenue coming from parties other than WIN, new international operations, and reporting lines via multiple business segments.
See Funds From Operations summary table below. While credit metrics are nice, what matters to UNIT's equity investors is how the REIT's expansion translates into payable dividends. Looked at from a flow of funds perspective, for the past three quarters, UNIT has been showing stable FFO and AFFO while Funds Available for Distribution (or FAD) has been growing. The drop-down of more infrastructure and the addition of new business lines have increased the share count, but kept the $0.60 per quarter dividends on track. That translates into a dividend yield that's just shy of 9% in what remains a quite low yield environment, regardless of what the Fed does to push up interest rates this week.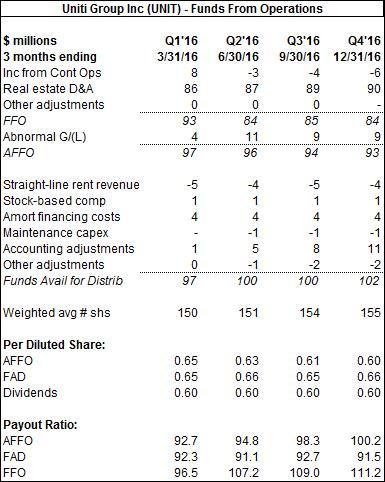 The idea behind spinning UNIT off was that the new telecom REIT would be free to buy and lease assets not just from WIN, but other carriers, then a novel idea. There was a good degree of skepticism about how readily those other carriers would sell infrastructure assets to a REIT formed by a competitor which, early on, still owned 19.6% of its common stock. The perception that UNIT would remain WIN's "mini-me" began to change with the $409 million acquisition of PEG Bandwidth in January 2016.
This February, one year and half a dozen acquisitions later, the Company announced its latest wireless telecom infrastructure deal: a $170 million cash and stock transaction to buy fiber operator Hunt Telecom. Hunt is a leading E-Rate program service provider for K-12 schools in Louisiana with a dense fiber network of 140,000 fiber strand miles and 2,600 route miles (E-Rate is shorthand for the School and Libraries Program administered by the Universal Service Administrative Company, a private, non-profit organization based in Washington DC that provides telecom assistance and reduced rates to rural areas, schools, hospitals, libraries, and low-income families). The Hunt Telecom acquisition accelerates UNIT's focus on E-Rate programs, government agencies and enterprise customers, and pushes the Company's revenue diversification away from WIN up to 24% of its top line.
Management expects the Hunt Telecom deal to be accretive to AFFO in the first year following its close and to garner substantial synergies over the ensuing 18 months. Along with the deal announcement last month, UNIT also announced a name change. Communications Sales & Leasing, Inc. became Uniti Group Inc., a company which manages and reports results in four business segments:
Uniti Fiber - Provides cell site backhaul, small cell for wireless operators and Ethernet, wavelengths and dark fiber for telecom carriers and enterprise; includes 605,000 strand miles of fiber with 200,00 fiber strands awarded for future deployment for wireless carriers, and 5,450 customer connections.
Uniti Towers - Builds, owns and operates telecommunications towers for wireless carriers; in 2016, UNIT bought 32 towers from WIN plus operating rights on another 49 towers; at the start of this year, the Company acquired 366 towers in Latin America from Network Management Holdings LTD (or NMS) along with an additional 105 build-to-suit tower sites under development, creating a portfolio of 468 wireless communication towers.
Uniti Leasing - Acquires fiber, data centers, next-generation consumer broadband, coaxial and upgradeable copper, and leases them back to anchor customers on either an exclusive or shared-tenant basis; this business segment depends largely on rental revenues from leasing the Distribution Systems to WIN under a master lease.
Talk America - A Consumer CLEC business which provides local telephone, high-speed Internet and long distance service to 37,000 customers in 17 eastern and central states; network assets used to provide these services are provided by contract under interconnection agreements with other telecom carriers.
The M&A Summary table below lists UNIT's significant acquisitions. UNIT's first transaction, the $1.1 million purchase of Summit Wireless Infrastructure LLC in January 2016 for $1.1 million in equity earn outs, was not material enough to include separately. Summit Wireless builds, owns and operates wireless towers in Mexico and its results are a minor contributor to UNIT's Leasing business. The REIT's next transaction that May was also small - UNIT paid $3 million for 32 wireless towers from WIN along with operating rights for 49 wireless towers previously conveyed to the Company in the spin-off and leased back to WIN in the Master Lease. However, that same month, UNIT closed the much more substantial $409 million acquisition of PEG Bandwidth LLC. PEG provides cell site backhaul and dark fiber and owns an extensive fiber network in the Northeast/Mid Atlantic, Illinois and South Central parts of the US. In August, UNIT acquired Tower Cloud, Inc., a provider of data transport services to the wireless and enterprise sectors, including fiber-to-the-tower backhaul, small cell networks, and dark fiber in the South East. UNIT then combined Tower Cloud and PEG Bandwidth into what became Uniti Fiber. In November, UNIT combined its U.S. and Latin America towers and tower real estate businesses into Uniti Towers.

In January 2017, Uniti Towers closed the acquisition of Network Management Holdings Ltd. (called NMS). NMS owns and operates 366 wireless towers in Latin America with an additional 105 build-to-suit tower sites under development. The NMS portfolio includes 212 sites in Mexico, 100 in Colombia, and 54 in Nicaragua. With NMS, the Uniti Towers portfolio expanded to 468 wireless towers.
See Current & Pro Forma Capitalization table from management's February 23rd Hunt Telecom M&A slide deck below. Management has included a "last quarter annualized" analysis of the impact of both the NMS and Hunt Telecom deals on FY'16 LQA Adjusted EBITDA, net leverage and net secured leverage. Per the slide, in brief, FY'16 LQA Adjusted EBITDA of $709 million is increased by $4 million on the NMS deal and by $17 million on the Hunt deal, resulting in pro forma $730 million Adjusted EBITDA, 5.8x net leverage and 3.7x net secured leverage.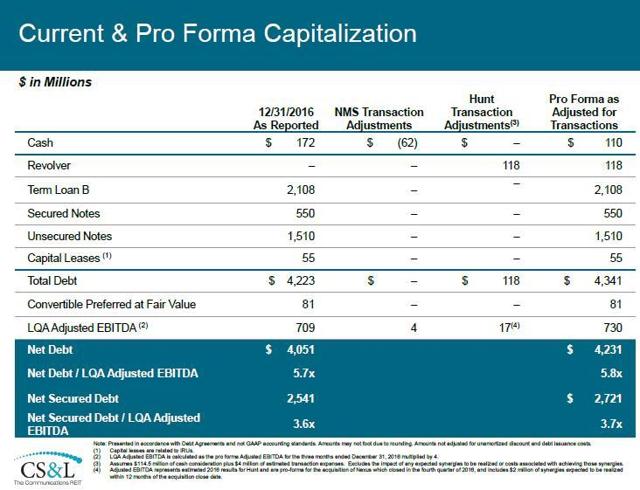 In case you can't quite make out the tiny footnotes at the bottom of that slide, they include these comments (paraphrased): the amounts were not adjusted for un-amortized discount and debt issuance costs; the capital leases are related to Indefeasible Rights of Use; the Hunt Telecom deal is assumed to be paid for with $114.5 million of cash consideration and incur $4 million of estimated transaction expenses; the Hunt Telecom numbers exclude the impact of expected synergies or costs associated with achieving those synergies; the Hunt Telecom Adjusted EBITDA estimated for 2016 is pro-forma for an acquisition of Louisiana's third largest E-Rate provider Nexus, a deal which Hunt Telecom closed in Q4'16 - and, hence, the Adjusted EBITDA of $17 million includes $2 million of synergies expected to be realized within 12 months of the close date.
When UNIT reported its most recent results and forecasts, it could not incorporate the still-pending Hunt Telecom transaction into its published guidance for FY'17. The published guidance included NMS, but excluded Hunt Telecom. See Segment & Pro Forma Information table below - it includes my revised pro forma based on FY'17 guidance. To get a better handle on how Hunt Telecom should affect FY'17 - the year we're in and the one that matters - I've added the expected $37 million Hunt Telecom revenue and 40% expected EBITDA margin to the guidance midpoints in the right-most column of the table (the one labeled "FY'17 PF Hunt M&A"). To be conservative, I've excluded the $2 million of synergies related to the footnoted Hunt Telecom/Nexus transaction. That would be a bit of a stretch. Using these assumptions, UNIT's FY'17 midpoint guidance of $844 million revenue and $736 million Adjusted EBITDA becomes $881 million pro forma revenue and $751 million pro forma Adjusted EBITDA with Hunt Telecom factored in.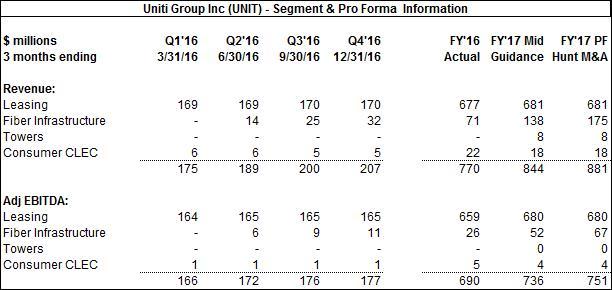 Applying the $4.231 billion net debt figure from the Hunt M&A presentation, net leverage this year should be about two ticks lower or 5.6x and net secured leverage will be dialed back down a tick to 3.6x. All of that looks encouraging. One addendum to this segment information and pro forma table: despite appearances from the numbers shown above, there's no expected decline in Leasing segment revenue. Instead, per management, results for Uniti Towers which were previously as part of the Leasing business segment will, beginning Q1'17, be reported within the new Towers business segment. Prior period segment data will be recast to conform to the new format going forward.
See graph of UNIT's debt instruments and WIN CDS below. Per the graph, revenue diversification, increasing cash flow, declining leverage, and the expectation of better credit metrics have helped tighten spreads on UNIT's secured bank debt, secured notes, unsecured notes, and CDS. In fact, the Company's five-year CDS (the dashed white line near the bottom of the graph), perhaps the best credit proxy, now trades at about +218 basis points. That also looks encouraging, but it's a bit myopic. While UNIT's credit metrics have been improving, WIN - its former parent and still the main source of UNIT's revenue - has seen its revenue decelerate and also seen its margins deteriorate. WIN's five-year CDS (the orange dashed line at the top) now trades at more than 500 basis points. Consider this, UNIT's senior unsecured debt is rated Caa1/B- by Moody's and S&P. WIN is rated B2/B+. Something is out of whack when a higher rated company's credit is considered more than twice as risky as that of a company which is (A) smaller and (B) heavily dependent on it.

WIN remains the dominant source of UNIT's earnings and that raises certain issues with respect to the Master Lease between UNIT and WIN. The Master Lease has an initial term of 15 years with four five-year renewal options and covers properties in 29 states. The rent for the initial term is an annual fixed amount of $650 million during the first three years and then is subject to an annual escalation of 0.5% in each of the ensuing years. Rental revenues over the 15-year initial term are recognized in the financial statements on a straight-line basis at $667.2 million per year. Tenant-funded Capital Improvements (or TCIs) - the maintenance, repair, overbuild, upgrade or replacement to leased network, including replacement of copper distribution systems with fiber distribution systems - automatically become property of UNIT under the Master Lease after their construction by WIN. Hence, as WIN invests in upgrading its network, UNIT benefits by receiving non-monetary consideration related to TCIs as they automatically become its property. At that time, UNIT recognizes the cost basis of TCIs that are capital in nature as real estate investments and deferred revenue. UNIT then depreciates the real estate investments over their estimated useful lives and amortizes the deferred revenue as additional leasing revenues over the same depreciable life of the TCI assets.
One other thought. During FYE'16, UNIT recorded $157.0 million of TCIs and $6.1 million of TCI revenue. That's less than 1% of consolidated revenue in FY'16. However, at FYE'16, the net book value of the TCIs recorded as part of property, plant and equipment on the REIT's consolidated balance sheet was $218.7 million. That's about 8% of net PP&E. Although it's unlikely to happen, should WIN run into serious cash flow problems and fail to pay rent under the Master Lease, beyond the immediate loss of revenue, investors should be aware that UNIT could also be obliged to write off a significant chunk of the upgraded net PP&E on its balance sheet in addition to writing off other specifically affected properties.
How likely is WIN to stop paying rent …? WIN has taken steps to stem subscriber losses and reverse revenue declines by investing in upgrades to increase its network speeds. In February, WIN closed its $1.077 billion acquisition of EarthLink (ELNK), an IT network services company which expands WIN's fiber footprint and service offerings to include SD-WAN, UCaaS, network security, managed services and cloud connectivity. WIN is expecting to benefit from $150 million of synergies and, on a pro forma basis, its net leverage would be reduced from 3.86x to 3.56x, even if its Adjusted EBITDA/Interest coverage has been running at just 1.5x.
WIN's turnaround is challenged by legacy voice and low-bandwidth data wholesale business services (e.g., time division multiplexing). The wholesale segment, which accounted for 13.4% of WIN's Q4'16 revenue and 22.6% of its Q4'16 segment profits, should see a 6.3% revenue decline this year if WIN's guidance is accurate. The consensus revenue estimate for WIN is $5.65 billion this year vs. $5.39 billion in FY'16. By lowering capex to its guidance midpoint of $815 million, free cash flow at WIN could move toward the positive $200 million figure the management estimates for FY'17 from the negative $65 million the company booked in FY'16. In other words, if WIN's network upgrades and other initiatives slowly turn the telecom company back toward positive cash flow as management (and the Street consensus) predicts, UNIT's bond and stock holders shouldn't be that worried about having their rent paid.
Let's get at the nub of the matter - where's the value in UNIT or between UNIT and WIN…? UNIT's secured and unsecured notes yield more than generic high yield bonds. But they don't yield anything close to what WIN secured and unsecured notes provide with lower and improving leverage. The Windstream Holdings Midwest WIN 6¾% Secured Notes '28 are rated BB by S&P and traded last at 87.875 where they yield 8.47% or more than 350 basis points wider than the Uniti Group CSAL 6% 1st Lien Secured Notes '23 rated B1/BB-. The Windstream Services LLC WIN 6⅜% Senior Notes '23 are rated B2/B+ and traded last at 91 where they yield 8.21% or more than 186 basis points wider than the lower rated, higher leverage, 76% dependent Uniti Group CSAL 8¼% Senior Notes '23 rated Caa1/B-. With credit metrics improving at WIN, preference would be to own the WIN debt over the UNIT debt.
How about the equity…? Per the Valuation Multiples Comparison table below, UNIT is significantly smaller than most of its telecom/media/tech specialty REIT peers, and it's priced at a steep discount, whether one measures using price to FFO or price to AFFO. When you consider UNIT's nearly 9% dividend yield vs. the 3% average for the selected comps, its common stock is a very attractive opportunity.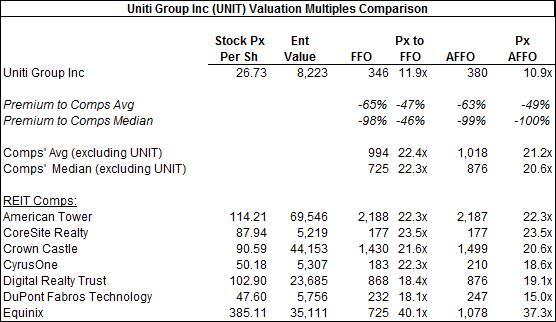 UNIT's common stock also appears to be a better bet than WIN's common stock. The two equities are fairly well correlated given their inter-related businesses (r-squared 61% over the past six months). However, UNIT's equity market cap ($4.2 billion) and total enterprise value ($7.9 billion as of FYE'16) now exceed those of its former parent ($1.2 billion and $5.7 billion, respectively). While WIN's Total Enterprise Value to blended forecast EBITDA multiple of 3.9x is low vs. the 7.4x average for its peers - an analogous 47% discount - closing that gap requires a faster turnaround than WIN has demonstrated so far. UNIT's increasing diversification makes its dividend payment ability more secure and, that being the case, preference should be to own UNIT common for the high dividend yield over WIN common requiring an accelerated turnaround.