Snap, Inc.'s (NYSE:SNAP) recent IPO was the largest since 2014, and represents another landmark for social media companies. While the biggest question mark for Snap probably revolves around its astronomical valuation despite significant concerns about its business model, one relatively small thing happened to stand out to us: the fees it paid for accounting services, related to its IPO, appear to be unusually high.
As part of the registration statement filings, companies are required to disclose "a reasonably itemized statement of all expenses in connection with" the offering, including legal and accounting fees. Legal fees are paid to the company's counsel for the compiling of the registration statement and other advice related to the offering. Accounting fees, which are separate and distinct from audit fees (which are usually disclosed in the proxy statement), are paid to the external auditor and relate to services such as the auditor's comfort letter, review of the registration statements, etc.
As one can see in the chart below, legal fees typically outweigh accounting fees by about 75% on average.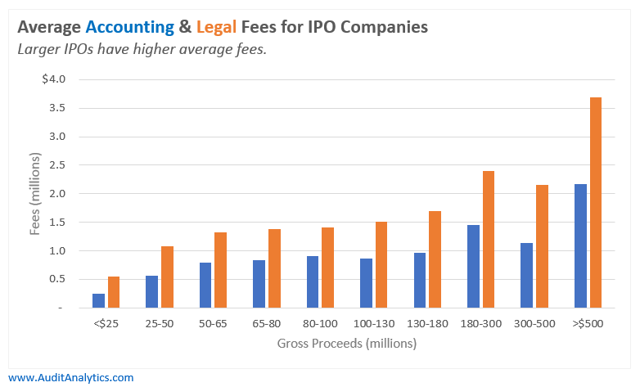 Snap's accounting fees were $6.9 million - almost four times larger than its legal fees and significantly more than the accounting fees paid by Facebook (NASDAQ:FB), Twitter (NYSE:TWTR), and other similar IPO companies. (You can see for yourself on Page II-1, Item 13, in Snap's last S-1/A.) Compared to other similar IPO companies, the difference stands out.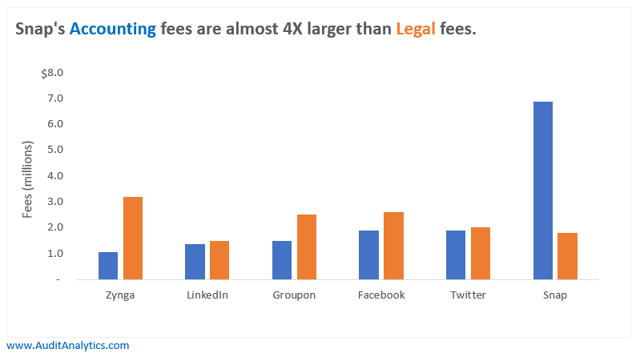 To give a clearer picture of just how much of an outlier Snap's accounting fees are, we made a scatter plot of accounting fees for the companies above compared to the log of their gross IPO proceeds. (Taking the log of gross proceeds better accounts for order of magnitude differences in the size of these IPOs, which range from $350 million to $16,000 million.)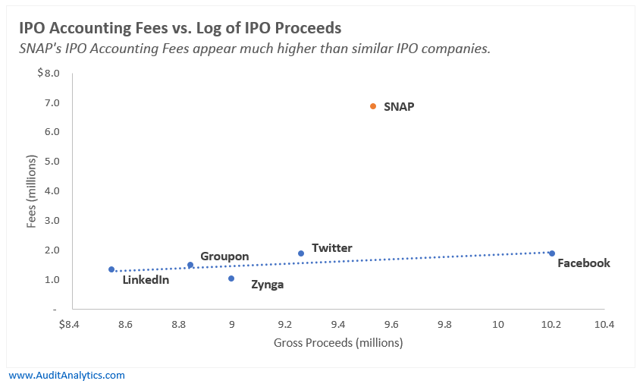 A pretty strong trendline reflecting the relationship between proceeds and accounting fees emerges from LinkedIn to Facebook, with Snap showing as an obvious outlier.
What does this mean? Frankly, we don't know. But there could be some clues in its registration statement. Two things in particular stand out.
First, at the beginning of 2016, Snap switched from using PricewaterhouseCoopers to Ernst & Young. Switching auditors can bring about an increase in costs as the new auditor gets caught up to speed on the company's business and accounting.
Second, PwC and Snap identified a material weakness related to a lack of qualified accounting personnel back in fiscal 2014. According to the prospectus, these weaknesses were remediated as of the end of fiscal 2015.
So why does this matter? Fees paid to the auditor are always a little sensitive. Although they're being paid by the company, the auditors really work for the public - as a "public watchdog". Unusually high fees can signal a couple of things, including unspecified and undisclosed accounting issues.
Of course, it's possible Snap just got a bad deal. But what we can say is that Snap is in rarefied air. It's not just among its peers that it stands out. Its IPO accounting fees are still an outlier even when looking at over 1,000 IPOs going back to the beginning of 2012.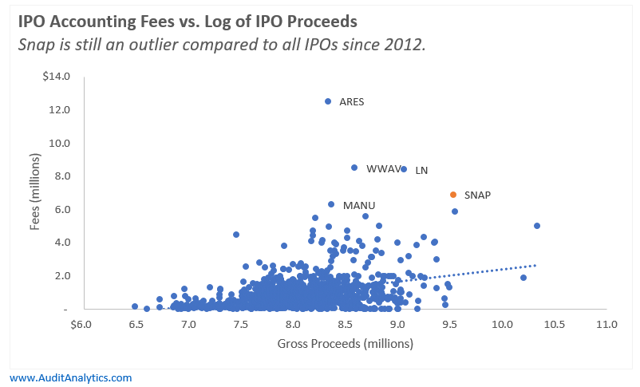 Disclosure: I/we have no positions in any stocks mentioned, and no plans to initiate any positions within the next 72 hours.
I wrote this article myself, and it expresses my own opinions. I am not receiving compensation for it. I have no business relationship with any company whose stock is mentioned in this article.
Additional disclosure: Audit Analytics is a team from Audit Analytics, an independent provider of audit, regulatory and disclosure intelligence. This article was written by John Pakaluk, Dir. Product Management, and Matt Dolan, Research Analyst. We did not receive compensation for this article (other than from Seeking Alpha), and we have no business relationship with any company whose stock is mentioned in this article.