By Raul de Frutos
Following two consecutive hearings last week, the Philippines' mining industry expressed its confidence that the Commission on Appointments (CA) will reject Gina Lopez as the Environment secretary, emphasizing that she was unable to persuade the members of the committee. Lopez is among just a few of President Rodrigo Duterte's appointees yet to be confirmed by lawmakers. Nickel prices fell 10% as bears believe there will be a rejection.
Nickel's bull market started when Duterte became president of the Philippines in June. Prices gained throughout the year as Lopez led an environmental crackdown on the Philippine mining industry.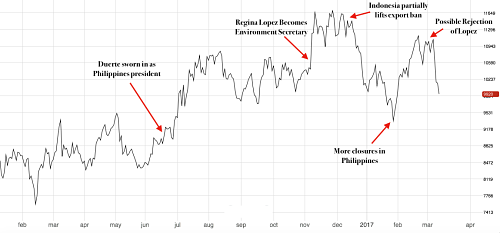 Developments in the nickel industry. Source: Raul De Frutos/MetalMiner analysis of LME data.
The Philippines is the top nickel ore exporter and Lopez's approval would probably sustain worries over supply disruptions that could lift global prices this year. On the other hand, a rejection would give miners a key win in the battle against environmentalists, adding pressure to nickel prices.
President Duterte continues to throw support to Lopez, but at the same time he is hoping for a happy compromise between environmentalists and the mining industry, amid rising concerns over job and revenue losses.
Indonesia
Meanwhile, prices are also feeling downward pressure on reports that Indonesia's partial lift of the export ban announced in January may result in higher volumes of ore hitting the market. Last week, Hong Kong-listed China Hanking Holdings announced its intention to restart a low-grade nickel mine it closed in 2014, in the wake of Indonesia's export ban. The restart is at a relatively small scale, though. The exact shape of Indonesia's new export regime is unclear.
Oil Prices Fall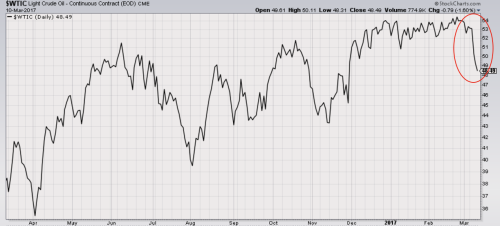 Oil falls below $50 a barrel. Source: MetalMiner analysis of @stockcharts.com data.
Adding weakness to nickel prices is also the recent decline in oil prices. Prices last week fell 9% after the Energy Information Administration said inventories of U.S. crude stocks climbed by 8.2 million barrels, far more than analysts expected, as refinery oil purchases declined. Weakness in oil prices is not only bearish for nickel but for the rest of industrial metals which for the most part also declined in price last week.
What This Means For Metal Buyers
The recent price weakness seems normal in the context of a bull market. However, the recent slump in oil prices and the possible rejection of Regina Lopez as the Environment secretary are factors that could end nickel's bull run. Stainless buyers need to monitor these two developments closely.