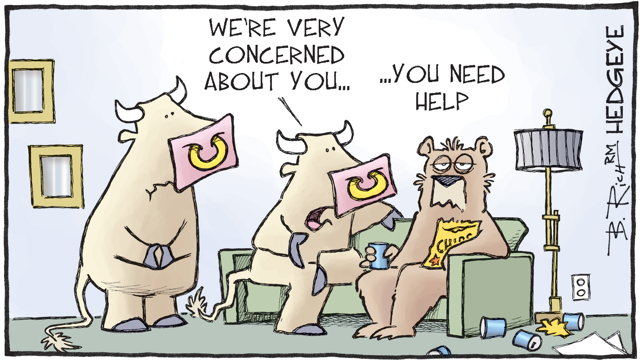 Some things in life are inevitable. Death, taxes and the never-ending stock market debate between bulls and bears. For the record, we remain in the bull camp and like U.S. stocks here (NYSEARCA:SPY).
It's our contention that the U.S. and global economic growth are heating up and a lot of investors are missing out. Global retail sales, export and industrial production data are all accelerating in the past few months. On the domestic front, it's clear as day: economic barometers, from consumer confidence to jobs market data, are all heading higher.
Meanwhile, a number of stubborn bears out there continue to make the specious argument that the U.S. stock market is expensive. "At 22 times trailing twelve month earnings," they ask, "how on earth could an investor possibly buy the S&P 500?"
The answer is simple, really. Valuation is not a catalyst.
Let's take a closer look.
Hedgeye Senior Macro analyst Darius Dale did a detailed analysis of a favorite bearish indicator - the cyclically-adjusted price-to-earnings ratio or CAPE - in a recent Early Look.
The CAPE ratio is a valuation measure defined as the current price divided by the past ten years of inflation-adjusted earnings. The ratio is designed to put into perspective current equity market prices versus market history.
Sure, stocks are expensive. The current CAPE ratio is 28.3; that's in the 96th percentile of all readings (i.e. more expensive than 96% of the data) going back to January 1881. That sure is expensive. An alarmist headline from Business Insider, points out that "Stocks have only been this expensive during the crash of 1929, the tech bubble, and the financial crisis."
But before you go out and sell your stocks, consider that market valuations can get a lot more expensive from here.
As Dale writes:
"The top 10 one-year-forward returns of CAPE Ratio readings between the ninth and tenth decile carry a whopping average of +34.8%! That figure drops to +30.2% for the top 20 and +21.3% for the top 50. Over the last 30 years, the average of the top 10 one-year-forward returns of CAPE Ratio readings between the eighth and ninth decile is +31.1%."
Dale asks a simple question: Can you afford to miss a +31% move to the upside in your benchmark?
To underscore his point, since Business Insider noted that stocks have only been more expensive during the Great Depression, the 2000-2001 tech bubble and the 2008 financial crisis, the S&P 500 is up 5.3%.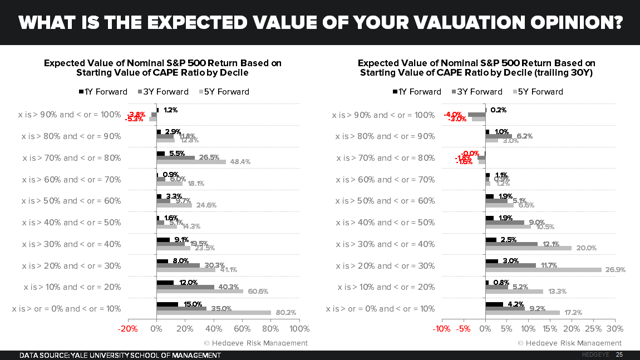 Instead of hemming and hawing about valuation, as the stock market heads higher, consider actual catalysts. Specifically, we're watching economic growth, inflation and earnings. On that front, here's the score:
Retail sales and consumer price inflation are near or above 5-year highs.
Consumer confidence hit 15-year highs.
Companies surveyed, as part of the ISM Manufacturing readings, are saying sales backlogs and new orders are rising to three year highs.
After snapping a 23-month streak of declining year-over-year labor market growth in January, from 1.5% to 1.6%, jobs added for the month of February came in at 1.6% (i.e. in-line with the accelerating trend). We're betting jobs growth improves through May 2017 since we'll be lapping last year's truly poor jobs data.
Meanwhile, 493 of 500 S&P 500 companies have reported sales and earnings growth of +4.8% and 6.3% (year-over-year).
Bottom Line: With U.S. economic data heating up, the burden of proof to the contrary is on the bears. We're sticking with the bull camp.
Disclosure: I/we have no positions in any stocks mentioned, and no plans to initiate any positions within the next 72 hours.
I wrote this article myself, and it expresses my own opinions. I am not receiving compensation for it. I have no business relationship with any company whose stock is mentioned in this article.