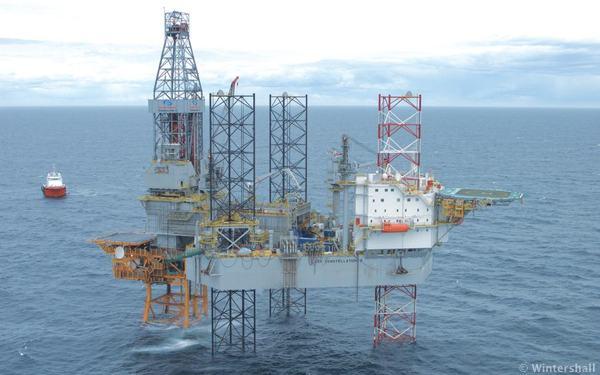 Image: The Jack-up Transocean Constellation II.
New about Transocean Ltd. (NYSE:RIG)
Investment Thesis:
The offshore drilling Industry is suffering through the worst bear cycle in history. The oil crash that began late in 2014 has had a terrible effect particularly on the offshore drilling players such as Transocean, Seadrill (NYSE:SDRL), Rowan Companies (NYSE:RDC), Ensco Plc. (NYSE:ESV) or Noble Corporation (NYSE:NE) and another dozen or more companies struggling to avoid a financial meltdown, due to a basic lack of work, dismal day rates and rig oversupply which is the unavoidable trichotomy of an offshore drilling bear market.
Subsequently, competition is naturally becoming fiercer, because the offshore jack-up market (shallow waters) and the offshore floater market are oversupplied by a multitude of rigs, modern and old, that compete against each other for a very limited amount of contracts at low day rate, often close to breakeven level.
Transocean is the uncontested leader in the deep water sector (floaters) with an impressive backlog estimated at over $10.8 billion (see graph below as of March 14, 2017) and owns also a number of jack-ups representing a more modest non-core part of the total business with a backlog estimated at $161 million (As of March 14, 2017) -- Backlog estimated by Fun Trading.

Today, this article is about the jack-up part of Transocean which may be divested to Borr Drilling, a new company formed in Norway.
What is the "news" all about?
We learned on Friday by Evercore ISI's James West and team, who were commenting about a news initially announced by Tradewinds:
We noted in our Recap and Weekly that Borr Drilling was reportedly interested in purchasing Transocean's jackup fleet. According to Tradewinds, the Norwegian startup is "closing in" on a $1.2 billion deal to acquire a fleet of 15 RIG jackups.

The potential transaction would entail Transocean's entire active fleet of 10 high-specification jack-ups, plus another five newbuilds under construction at Singapore's Keppel FELS, for a total price of $1.2 billion.

Another $1.125 billion is due on the five newbuilds, which would be assumed by Borr Drilling as these rigs have been deferred until 2020. [note from fun trading: deferred until 2020-2021]

Excluding the $290 million already paid for these newbuilds, the reported purchase price averages to $120 million per jackup and is well above our Bull Case estimate of $96 million and IHS-Petrodata's $80 million estimate for >=350′ IC modern jackups.

Half of Transocean's active jack-up fleet is currently stacked while the other half is contracted for 38 rig months (average 7.6 months per rig) for $172 million in backlog (only 1.5% of RIG's total $11.3 billion).[note from Fun trading: backlog is now $10.8 billion and JU backlog represents $161 million]

We would be aggressive buyers of Transocean if this transaction materializes, as it would monetize an under-utilized jack-up fleet that averages 13.5 years of age and eliminate a large chunk of future newbuild capex. Although the company previously targeted high spec jack-ups to be 24% of their 2020 fleet, CEO Jeremy Thigpen has more recently stated the firm's focus is on ultra-deepwater and harsh environment floaters.
Reminder: The news should be classified as a "rumor," until we get an official statement. It is prudent to use what has been indicated above as a potential future event rather than a fact.
1 - Let's look at the most recent Transocean fleet status released on February 9, 2017.
Note: I will show here the Jack-up part of the fleet status. For the ones who want to read my article about the whole Transocean FSR. please click here.
Excerpt of the FSR. Jack-up Segment only:
High-specification Jackups
1
Transocean Cepheus ("1")
400/35
1Q2020
Available
2
Transocean Cassiopeia ("1")
400/35
2Q2020
Available
3

Transocean

Centaurus ("1")

400/35
3Q2020
Available
4
Transocean Cetus ("1")
400/35
4Q2020
Available
5

Transocean

Circinus ("1")

400/35
1Q2021
Available
("1") - The five newbuild high-specification jackups contracted to Keppel FELS Limited's shipyard in Singapore are expected to be delivered from the shipyard in two and three month intervals beginning in the first quarter of 2020.
High-Specification Jackups
High-specification Jackup: (11)

350'/400'-30,000'/35,000'

Year built

Contract

End

Current

Day Rate

K $

Location
1

2003

3/17

Still operational per Infields as 3/14/17

85

[Bunduq]

UAE

2

2001

5/17

5/17-5/18 Option

5/18-5/19 Option

212

-

-

-

[Total]

UKNS

3

2013

5/17

5/17-5/18 option

115

110

[Chevron] Thailand

4

2013

3/18

140

[Chevron] Thailand

5

2013

10/18
139

[Chevron] Thailand
Stacked Jack-ups.
As we can see Transocean Jack-up fleet status is comprised of 5 jack-ups under-construction, 5 jack-ups operational and 5 jack-ups cold stacked.
The Jack-up GSF Constellation I may roll off contract at the end of this month, unless the rig gets another extension?
2 - A little bit about Borr Drilling.
Borr Drilling Limited is registered on the NOTC-list as of 19 December 2016 with ticker code BORR.
The company has issued 77,500,000 shares each with a par value US$ 0.01, all of which is registered in the VPS with ISIN code BMG575071086.

Based on the issue price of USD 2.00 per share (equivalent to NOK 16.89 per share), the market capitalization is USD 155 million equivalent to approx. NOK 1,308,975,000. The company has entered into an agreement whereby it will be able to use the reporting systems as of 19 December 2016.
The company's purpose is to own and operate offshore drilling rigs.
On January 24, 2017, the company completed the delivery of the two Hercules JUs, the Triumph and the Resilience.
Looking at the board and the CEO/COO there is a strong relation with Seadrill Ltd. (NYSE:SDRL)
CEO is Rune Magnus Lundeträ, sounds familiar? (He worked at Seadrill Ltd for eight years, serving as CFO from 2012 to 2015.)
COO is Sven Anton Maier (He worked for Seadrill between 2007 and 2016. )
Erling Lind (Board member.)
Tor Olav Tröim (Board member, was Vice President and a director of Seadrill Limited between 2005 and 2014. )
Fredrik Halvorsen (Board member, was CEO and President of Seadrill Limited from October 2012 until July 2013 and also worked for Frontline Corporate Services Ltd (NYSE:FRO) from October 2010 until July 2013. )
Michelle Wolfe (Board member)
This looks like a John Fredriksen's new baby to me, and reminds me of the "sand box". So far, we have a very limited information regarding this new player and we are left with more questions than answers.
Borr Drilling owns actually only two jack-ups that it purchased from Hercules offshore for an amount of $130 million.
The Borr drilling Ran (formerly the Hercules Triumph).
The Borr drilling Frigg (formerly the Hercules Resilience).
Note: if you want to get more information about the sale of the Hercules Triumph and the Hercules Resilience, SA published my article on December 3, 2016. Please click here.
On January 30, 2017, we learned from OffshoreEnergyToday the following:
U.S.-based Dleif Drilling has rejected an offer made by Borr Drilling, formerly known as Magni Drilling, for the sale of the drillship Sertão.

Dleif received the offer for the drillship in November 2016 from the then Magni Drilling. The $75 million offer was not accepted by Dleif and subsequently expired on November 22, 2016, although conversations with Magni have continued, Dleif said last Wednesday.

The sixth generation deepwater drillship (2012) used to be owned by the Brazilian bankrupted, Schahin Group and was under long-term charter with the state-owned oil giant Petrobras. The drillship worked on the Libra field together with Scahin's other drillship, Cerrado, which was bought at an auction by Ocean Rig in April 2016 for $65 million.
The Drillship Cerrado has been renamed Ocean Rig Paros by Ocean Rig UDW (NASDAQ:ORIG) and is cold stacked in Greece at a cost of $10k/d.
3 - Commentary:
This is a significant news for Transocean, because the company will divest its entire non-core jack-up fleet, including its five jack-ups under-construction. The financial implications can run deep into RIG balance sheet and it is important to analyze this major move in details.
For the ones who want to refresh their memory, it is important to read my article about the 4Q'16. Please click here.
To access the 4Q'16 conference call transcript from seeking alpha, click here.
First, Transocean will become a "deepwater player" exclusively, which will not affect significantly revenues.
Fleet Operating Statistics for 2016 per Quarter.
Segment

4Q'16

$ million

3Q'16

$ million

2Q'16

$ million

1Q'16

$ million

UDW
560
583
556
621
HE Floaters
100
103
100
181
Deepwater
35
43
51
85
Midwater
30
87
133
138
HS JU
66
66
74
82
Termination fee
169
9
9
4
Contract intangible
2
4
4
209
Client Reimbursable
12
11
16
21
Total in $ million
974
906
943
1,341
As we can see, RIG 2016 revenues were $4,164 million and revenues from HS jack-ups were $288 million ($526 million in 2015), representing 6.9%. The 2016 revenues were significantly reduced from 2015 and were down 43.6% (see details in the chart below).

RIG ended 2016 with a cash and cash equivalent of $3.052 billion and a long term debt of ~$7.5 billion (Total debt ~$8.546 billion). CapEx 2016 was $1.344 billion.
M. Marc Mey, CFO, said in the last conference call:
Capital expenditures in 2017 are anticipated to be approximately $500 million. This includes $430 million in new book CapEx, largely associated with the ship truck payments of the Deepwater Pontus and Deepwater Poseidon.

In 2018, we expect CapEx of approximately $325 million. This includes approximately $100 million in newbuild CapEx and $245 million for maintenance and other CapEx.
Second, by monetizing its non-core Jack-up fleet, RIG will save a significant amount of CapEx in 2020-2021 and probably a fair amount of headache as well.
The new build construction program was $2.171 billion at the end of 2016. This amount was related to five jack-ups and two drillships without a long term contract.
As a reminder, On November 2013, Transocean ordered five jack-ups.
Keppel FELS Limited (Keppel FELS), a wholly-owned subsidiary of Keppel Offshore & Marine (Keppel O&M), has secured a repeat order from a subsidiary of Transocean Ltd. (Transocean) to build 5 KFELS Super B Class jackup rigs for US$1.1 billion. The rigs are scheduled to be delivered progressively from 1Q 2016 to 3Q 2017.
Transocean already paid $290 million for the five jack-ups and will have to pay an extra cost for the recent delivery delay.
Third, the rig fleet will be significantly reduced without impacting significantly revenues.
As of February 9, 2017, RIG owned and operated a fleet of 56 rigs, excluding rigs under construction, as follows:
* 30 ultra‑deepwater floaters;
* Seven harsh environment floaters;
* Three deepwater floaters;
* Six midwater floaters; and
* 10 high‑specification jack-ups.
The fleet will go down to 46 floaters and two drillship under construction. However, this number will be lower because the company is listing actually 22 cold stacked floaters and 10 floaters "held for sale". Which means that the RIG fleet may eventually go down to approximately 25 floaters at the end of 2017.
Assets held for sale-In the year ended December 31, 2016, we recognized an aggregate loss of $41 million ($39 million, or $0.10 per diluted share, net of tax), associated with the impairment of the deepwater floaters M.G. Hulme, Jr. and Sedco 702 and the midwater floaters, GSF Rig 140, Sedco 704, Transocean Driller, Transocean John Shaw and Transocean Winner, along with related and other equipment, which were classified as assets held for sale at the time of impairment.
4 - Takeaway about the sale.
Borr drilling will pay $1.2 billion for the 15 jack-ups. I firmly believe Evercore ISI's James West and team explanation regarding the jack-up evaluation is not logical. They should not have applied an average cost of $120 million per rig as they did, and conclude that the price was too high?
In fact, I consider it as a fair deal and here is why.
Based on what the company paid to Hercules offshore, which is $60 million per jack-up (ready stacked), I came up with the breakdown below:
1 - 4 Jack-ups contracted with a backlog of $162 million as of today. Estimated value of $290 million ($60 million per JU plus ~30% of backlog).
2 - 5 Jack-ups cold stacked ($30 million each) and 1 Jack-up ($60 million) soon to be idle. Estimated Value of $210 million.
3 - 5 Jack-ups under-construction with delivery in 2020-2021 for a total price remaining of $810 million + recent delay costs. Estimated value paid $700 million or $140 million per JU.
I see this deal as a positive transaction for Transocean and Borr Drilling as well, who will own a competitive and fairly modern Jack-up fleet at a large discount. Transocean will be able to reduce net debt to approximately $4.3 billion, with a significant lower capex in 2020-2021 and only two drillships under-construction to take care about.
Important note: Do not forget to follow me on Transocean and other offshore drillers. Thank you in advance.
Disclosure: I am/we are long RIG.
I wrote this article myself, and it expresses my own opinions. I am not receiving compensation for it (other than from Seeking Alpha). I have no business relationship with any company whose stock is mentioned in this article.