Casino and Gaming stocks are on the move after Morgan Stanley made a bullish call on Wynn Resorts, Limited (NASDAQ:WYNN) today, suggesting that the stock price could double as its market share grows in Macau. Wynn Resources own two casinos in Macau. The Wynn Macau opened in 2006 while the Wynn Palace opened more recently in 2016.
Wynn Resorts is up almost 5% today and has penetrated long-term resistance at $103. This could be a very bullish sign for Wynn if the stock price manages to stay above $103.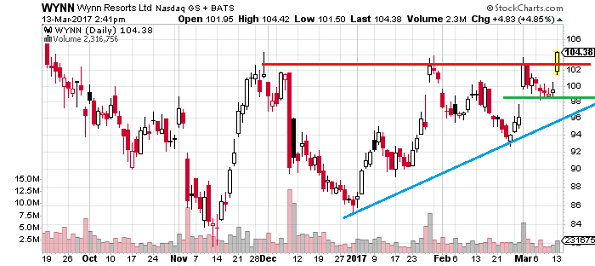 (Source: StockCharts.com)
Casinos and Gaming Subindustry
The GICS Casinos and Gaming subindustry has been on a run since the start of 2016, up 48% as shown in the aggregate performance of Casino and Gaming Stocks chart below.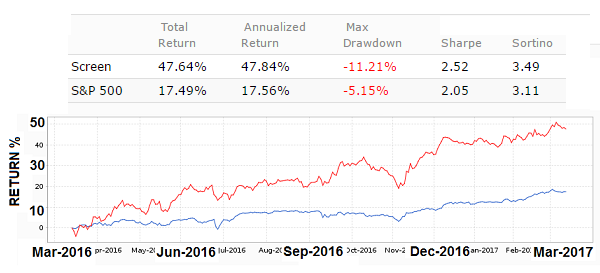 (Source: Portfolio123)
While the markets are certainly bullish on casino and gaming stocks, I am having some troubles getting excited about them. I have examined many fundamental aggregates for the subindustry and I am not seeing anything that convinces me that I should be scrambling to buy gambling stocks. About the best thing that I can say is that industry revenues flattened out in 2016 after have been in decline since 2014.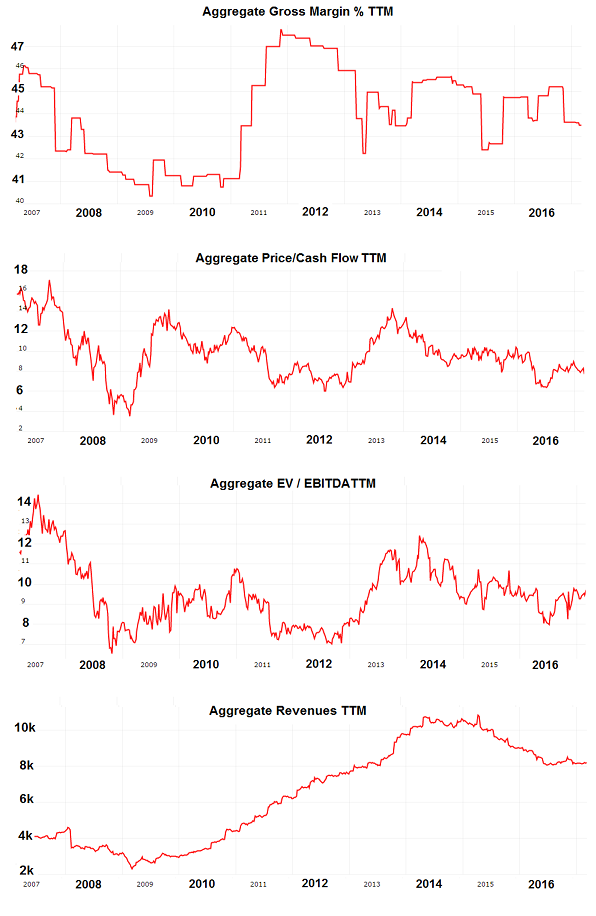 (Source: Portfolio123)
The price/cash flow at ~8 is comparable to what is was at the start of 2013 when casino and gaming stocks initiated a bullish run but given the lower gross margin and revenues today, I have doubts about further upside here. I believe the exuberance of the current market is possibly marking an end of the bull, as it did in 2014.
Notable Stocks
This section presents some interesting price charts that suggest potential future bullishness or bearishness for specific companies. This presentation does not provide exhaustive analysis for each stock and it is suggested that the user do further fundamental analysis on these stocks prior to making a decision to purchase or sell any of the stocks identified.
Eldorado Resorts
Eldorado Resorts, Inc. (NASDAQ:ERI) gained 3.6% today and continues to break out from what was a previous resistance level of $17.50. Eldorado Resorts is getting ready to acquire Isle of Capri Casinos, Inc. (NASDAQ:ISLE) in the first quarter this year. ERI announced this morning that it intends to offer $375 million in senior notes due 2025, to be used for the acquisition.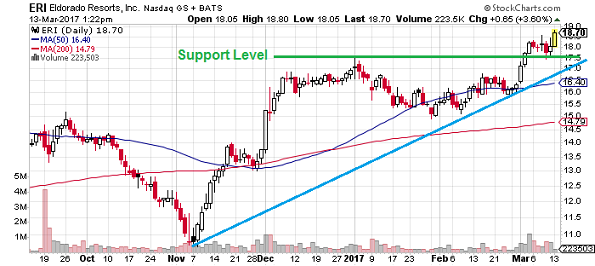 (Source: StockCharts.com)
Penn National Gaming
Penn National Gaming, Inc. (NASDAQ:PENN) is breaking out from long-term resistance at $14.75. PENN recently announced authorization for buyback of 100 million common shares. Other than that, I can't find a solid reason for why this stock is so bullish.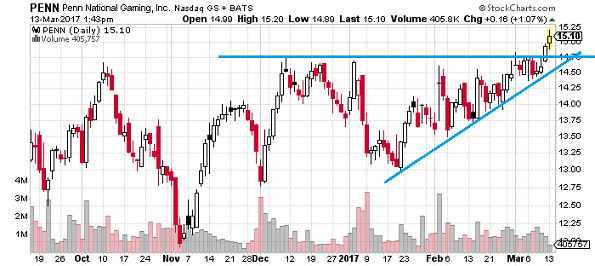 (Source: StockCharts.com)
Century Casinos
Century Casinos, Inc. (NASDAQ:CNTY) jumped by 5.2% today as a result of Q4 beats in revenues and EPS. Century Casinos operates in Canada, United States and Poland. The stock price appears ready to rise to the $8 level from a recent price of $7.66 before experiencing significant resistance.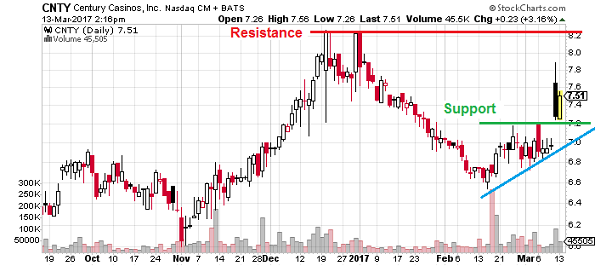 (Source: StockCharts.com)
Empire Resorts
Empire Resorts, Inc. (NASDAQ:NYNY) owns and operates the Monticello Casino & Raceway, a harness racing track and casino located in Monticello, New York. Empire Resorts subsidiary Montreign, has just closed on $500 million credit facilities for construction of Montreign Resort Casino - an 18-story casino, hotel and entertainment complex. Empire Resorts is a stock that appears to be ready to fall to $18.50 from a current price of $22.15.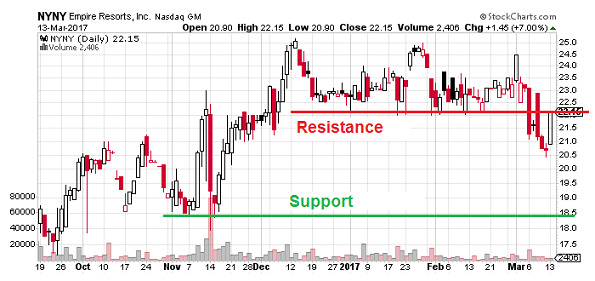 (Source: StockCharts.com)
MGM Resorts
MGM Resorts International (NYSE:MGM) was trading in the $29 range three weeks ago but has fallen to less than $26 as a result of Q4 miss. This stock could fall further to the $24 level before finding support.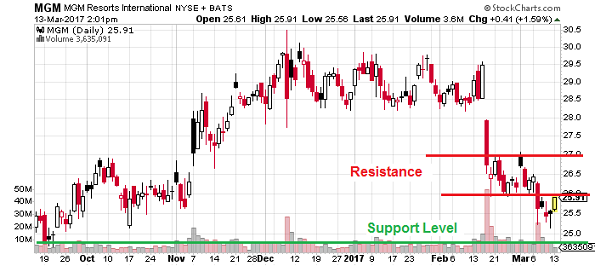 (Source: StockCharts.com)
Wrap-Up
Casino and Gaming stocks have been on a bull-run since the start of 2016 and there has been some excitement about the market for casino stock this year. Macau gaming revenue was above expectations in February but below expectations in January. This is likely a result of the Chinese New Year, more so than improving economy. Nevada state gaming revenues jumped 12% in January, but state fee collection in February for the month of January was down 8%. Therefore, I would not get too excited about the casino growth in Nevada just yet. I am not seeing the evidence in the aggregate fundamentals to justify the current bull run. However, you the reader feels otherwise, WYNN, ERI, PENN, and CNTY have bullish stock patterns and are worthy of further study. For investors who feel that casino and gaming stocks are overextended may consider shorting NYNY. I would stay on the sidelines with MGM as a decline in price won't be too significant.
Disclosure: I/we have no positions in any stocks mentioned, and no plans to initiate any positions within the next 72 hours.
I wrote this article myself, and it expresses my own opinions. I am not receiving compensation for it (other than from Seeking Alpha). I have no business relationship with any company whose stock is mentioned in this article.