In line with our process of being on the ground in the countries we invest in, Scott Osheroff, Analyst at Asia Frontier Capital, travelled to Laos to visit portfolio companies and other companies on our shortlist. The photos in this article are all by AFC.
As our group departed Bangkok for Ubon Ratchathani I was looking forward to seeing a different part of Laos than I experienced a year earlier when I visited Vientiane, the capital of Laos. Upon landing, our group of 20 or so investors assembled into a convoy of vans making the one-hour drive towards the border. When we arrived on the Thai side of the border in Chong Mek, things were orderly and the infrastructure was very modern as this stretch of road is part of the ASEAN road network, thus the highways are of a first world standard. However, once we walked through a tunnel under "no man's land", the Laos side felt like Mars.
Walking up the stairs of the tunnel and between a small metal gate we had suddenly arrived in Laos - welcomed by a dirt field which stretched to the nearest road. Being one of two non-Thais on the trip, I had to find the actual border post which was a short walk down the road in order to purchase a visa while everyone else was expedited to an air-conditioned duty-free shop owned and operated by the Dao-Heuang Group, one of the largest private companies in Laos and whose coffee plantation we were off to see that afternoon.
After sorting out my visa and buying some dried fruit snacks and sampling the Dao Coffee in the duty-free shop, we got back to driving towards Pakse, the second largest city in Laos, where the highway opened up to frequent construction. Considering the old highway used to lead to a slow and monotonous drive, once completed, this will allow for the efficient flow of goods throughout southern Laos through to both Thailand and Vietnam, assisting with the country's further interconnection in the region being it is the only landlocked country in the Mekong Sub-region.
About an hour into our drive, the topography changed as we flanked a large hill with a Buddha atop it and proceeded to cross a long bridge. We had arrived at the Mekong river and across it was Pakse, which flanks its northern banks. Across the bridge was our hotel for that evening and on the left, a magnificently out-of-place building reminiscent of a property on the Right Bank in Paris, we were told is the new home of the Vietnamese family who owns the Dao-Heuang Group. In front of their house is one of a regional chain of Dao Coffee shops. After a quick coffee in this fully modernized coffee shop and a greeting from the company's management, we set out yet again, this time to the source of the coffee, a several thousand hectare plantation owned by Dao-Heuang 1.5 hours north.
View from the hotel in Pakse with Champasak Grand Hotel in the centre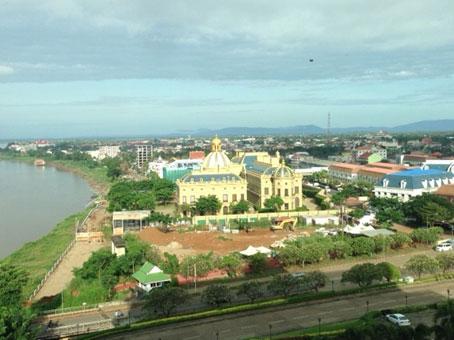 Laos, being on a plateau well above sea level, is renowned for its rolling hills, lush greenery and cool weather. As we pushed northward, passing traditional villages on the same highway under seemingly perpetual construction, we transitioned consistently between pavement and gravel road, while the skies simultaneously opened up on us with a dense rainfall. Eventually, the rain cleared and the stunning mountains became visible all around us. It was obvious we were climbing higher as the topography had changed yet again and we were now well over 1,000 meters above sea level. Each mountain top was covered in a misty haze as we got closer to the plantation. Upon arriving at the plantation, we were given a quick tour of the on-site facilities where the coffee beans are separated from the fruits, as well as a building constructed for a previous visit by Thai Royalty which overlooks a river running through the property. With a slight chill in the air (rare for the rest of Southeast Asia), we proceeded to the plantation itself where we were educated about the varieties of coffee grown, and the company's good agricultural practices. The plantation stretched as far as the eye could see in every direction with large trees creating a canopy to provide shade to the coffee. It was beautiful to say the least.
Freshly hulled coffee beans being loaded for transport to the drying facility.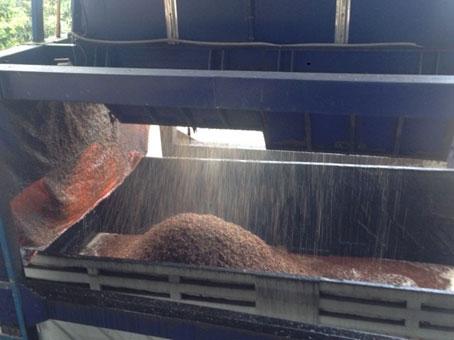 The following morning, we woke up early to visit Dao-Heuang's USD 120 million processing facilities just north of Pakse. This is the heart of their processing operations where they roast and export the internationally competitive coffee we saw the day before to Japan, Thailand and Europe, produce some of the highest quality fruit chips on the regional market, as well as produce bottled water which has a ~30% domestic market share. All of their machinery is imported from Western countries and as the per capita income of the average Laotian rises, they are selling more of their products domestically. A highly encouraging story with the potential for multiple IPO's of subsidiary companies, we are patiently waiting for Dao-Heuang to advance towards an IPO on the Laos Stock Exchange (LSX).
Several hectares of coffee sun drying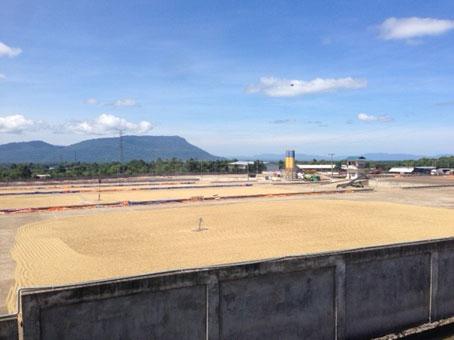 One of several water bottling production lines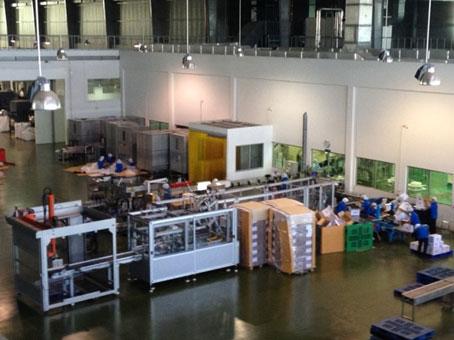 Another company which is already listed on the LSX is EDL Generation Company (EDL Gen). A national symbol for the country branded as the "Battery of Asia," EDL Gen is a partially privatized State Owned Enterprise (SOE) which is the largest domestic producer of electricity. EDL Gen has several dozen run-of-the-river hydropower dams with a target to reach approximately 100 by 2020, as well as expanding into other renewables such as solar and wind (in fact, earlier this year, EDL Gen inaugurated Laos's first solar power plant capable of generating 3MW of electricity). Run-of-the-river hydro projects tend to be much more environmentally friendly than traditional dams which create large reservoirs by flooding the areas behind the dams. With quasi-monopoly status in electricity generation, all of the power generated by the company is either sold to EDL, the state-owned electricity distribution company, or exported to neighbouring countries
With a small population of nearly 7 million, Laos is relying on its water resources, among others, to become a regional supplier of commodities. This has seen EDL Gen focus on becoming a regional supplier of green energy to its neighbours - China, Vietnam, Cambodia, Thailand and Myanmar - creating a stable and high quality source of foreign exchange.
After a two-hour drive from Dao's processing facilities, we arrived at EDL Gen's 76MW Xeset 2 dam where we received a presentation from management followed by a free exploration of the dam site and its turbines which are manufactured by ABB. Walking down into the heart of the dam, you could feel the intensity of the turbines as they churned water into green energy. This being a run-of-the-river hydro project, it is a three-tiered dam, thus we started at the lowest dam and continued up the mountain behind to reach the next two projects.
EDL Gen's Xeset 2 dam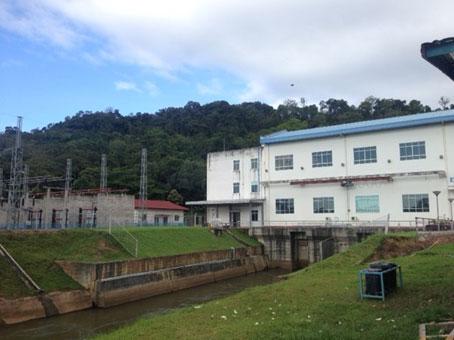 As our tour came to an end, it was getting late in the day. With the Thai border set to close around sunset, we wrapped up our dam site visit and raced back to the border post, which we had entered the day prior. Arriving just in time, I stamped out of Laos by myself and took a quiet stroll in the pitch-black of night across no man's land finding my way to the Thai border checkpoint as it would take me longer to pass immigration than my Thai counterparts.
The evening concluded back in Ubon Ratchathani at our hotel buttressing up against a river bank where we were able to reflect on Laos and its budding potential as the Mekong sub-region becomes increasingly interconnected and wealthy. Laos is often overlooked as an investment opportunity, however, with the government recently passing legislation which should see international custodians enter the market and with several more potential IPOs in the pipeline, it seems this landlocked country will increasingly move out of its slumber and continue to integrate into the fast-paced world which surrounds it.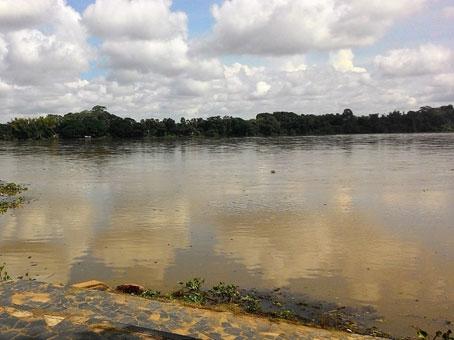 Disclosure: I am/we are long EDL LS.
I wrote this article myself, and it expresses my own opinions. I am not receiving compensation for it. I have no business relationship with any company whose stock is mentioned in this article.
Additional disclosure: The AFC Asia Frontier Fund has a long position in EDL Generation Company listed in Laos.