It's Time to Rotate Out of High-Yield CEFs
For the past several weeks I've been anxious about high-yield fixed-income CEFs. I wrote about it here at the end of January, and followed up here and here. Clearly the category is overheated after a great run. If you bought into this category a year or so ago, you have done very well… on paper. Is it time to turn those paper profits into real gains? I think it is.
In a useful comment in one of his recent articles, George Sprizter pointed us to the Merrill Lynch US High Yield Total Return Index as an indicator for high-yield corporate bonds. I've been following it closely since and yesterday it crossed below its 50 day.
Here's the two-year chart: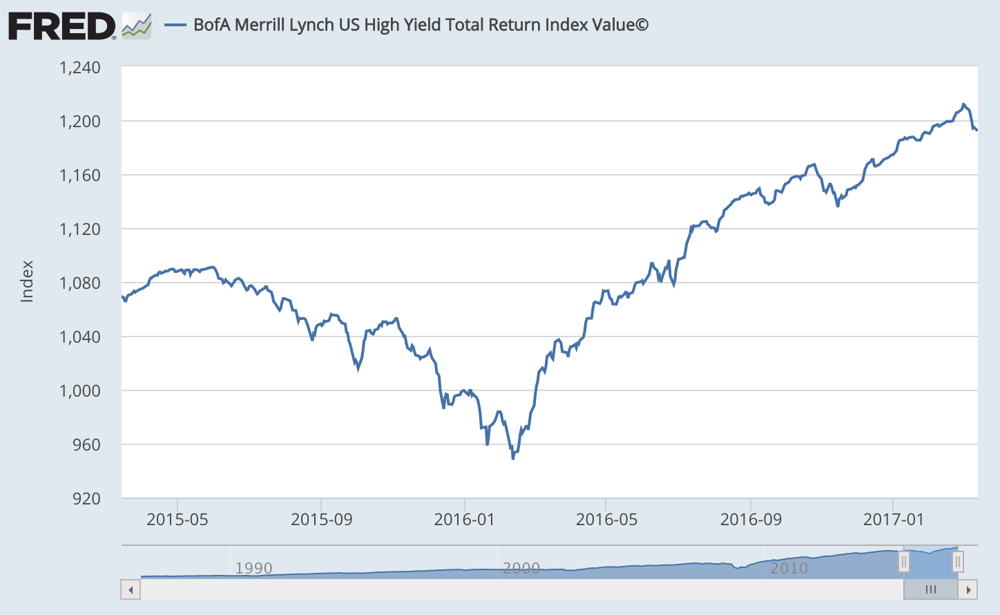 Here's two years on the ETFs iShares High Yield Corporate (HYG) and SPDR Barclays High Yield Bond (JNK)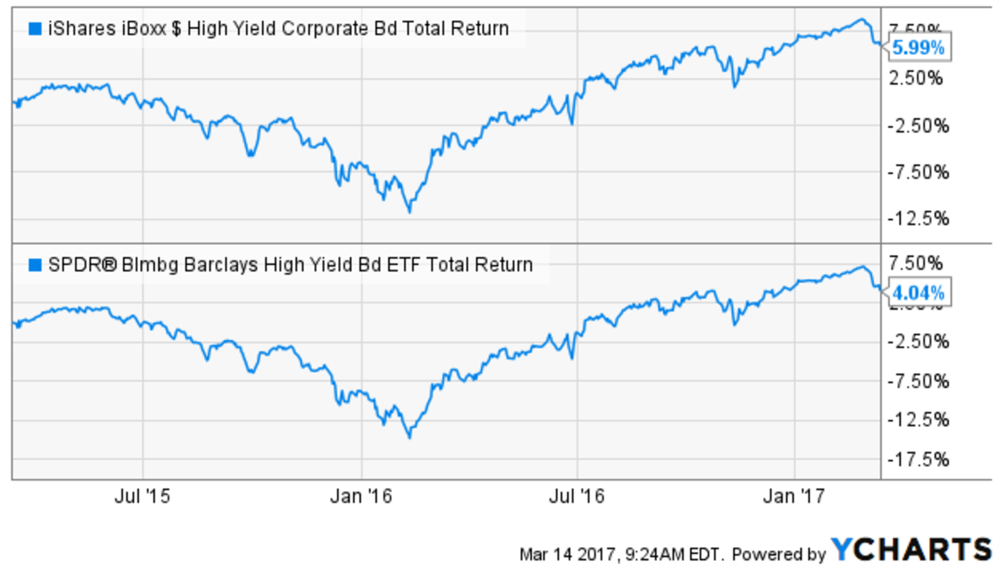 And some CEFs: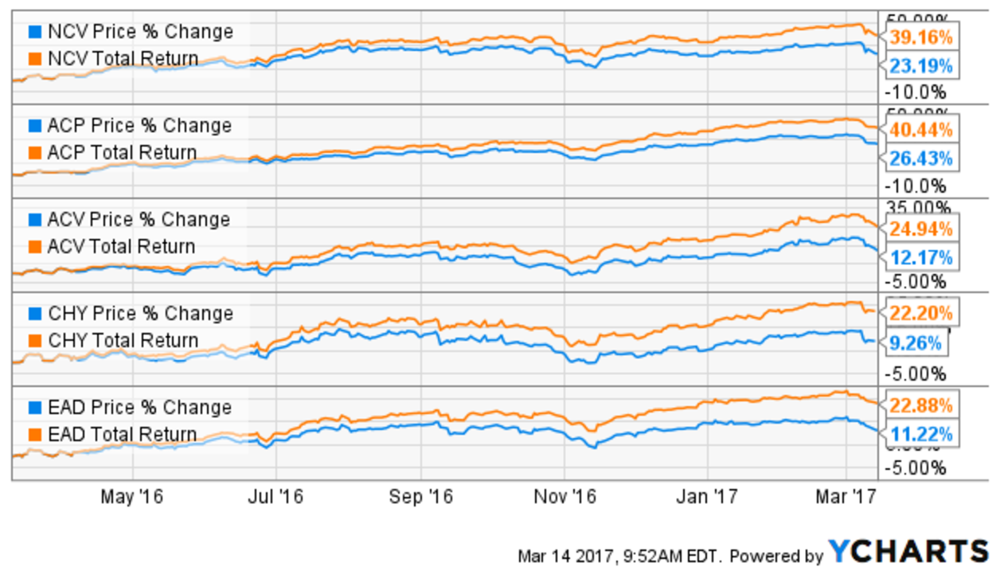 I've selected funds that I own or have been writing about frequently as representative examples of the high-yield fixed-income category: AllianzGI Convertible & Income (NCV), Avenue Income Credit Strategy (ACP), AllianzGI Diversified Income & Convert (ACV), Calamos Convertible & High Income (CHY), Wells Fargo Inc Opp (EAD).
Most are not pure high-yield corporate bond funds; they mix equities and convertibles into their portfolios, but even so, they are dropping with the HY index. EAD is a HY bond fund, so I've put it in here as an example.
I show both total return (reinvested distributions) and price. If you have been taking the distributions as current income, the price chart shows your portfolio gains for the year.
This is the index as of yesterday: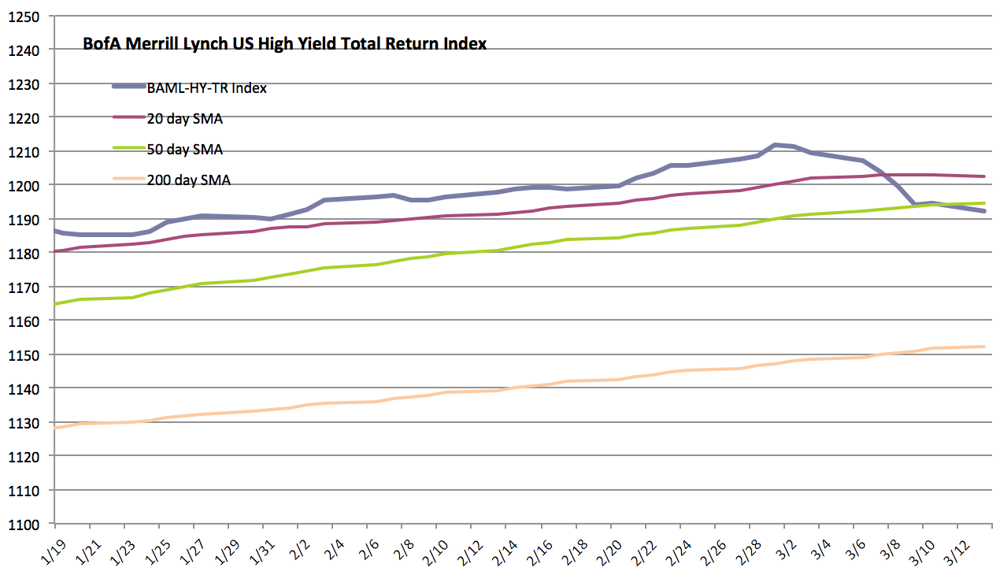 Ordinarily, I'd not get too excited about this sell signal. But the broader picture is aligned with it in many ways. Of course it's no secret that interest rates are going to be moving up, but that's only part of it.
The option-adjusted spread is seen here: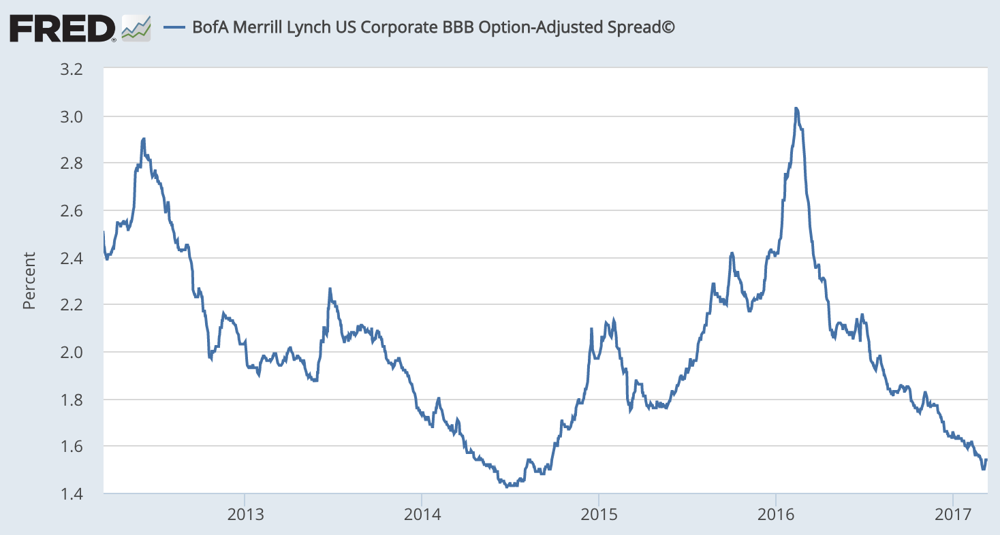 That low is unlikely to be sustainable in the current climate, and if it moves up, high-yield bonds will go the other way.
So, in answer to the question I was asking a few weeks ago, "Is it time to rotate out of high-yield bond CEFs?" I think the time has come to say, "Yes." Might even be a bit late to leave the party, but it's not going to get earlier, is it?
"But," you'll ask, "what about my income?" One approach could be to be to take profits on holdings that have gained 10-12% or more depending on when you bought them, set aside a few months' distributions worth as income, and wait. Buying opportunities in CEFs should be coming. If history is any predictor at all, as high-yield begins to falter, and I believe that's already begun, there will be a run for the exits opening discounts and opportunities. I'm willing to wait.
Disclosure: I am/we are long ACP, ACV, NCV.
I wrote this article myself, and it expresses my own opinions. I am not receiving compensation for it. I have no business relationship with any company whose stock is mentioned in this article.
Additional disclosure: I have cut my position by at least 75% in the funds listed above and long. I have sold my entire position in HYG. Readers should be aware that I am not an investment professional and this article does not constitute investment advice. I am passing along the results of my research and my individual opinions on the subject. Any investor who finds these results intriguing will certainly want to do all due diligence to determine if any security or strategy described here is suitable for his or her portfolio.