Bank Stocks' Nice Run
The big banks covered in this post are: Bank of America (NYSE:BAC), BB&T (NYSE:BBT), Bank of New York/Mellon (NYSE:BK), Citibank (NYSE:C), Capital One (NYSE:COF), Fifth Third (NASDAQ:FITB), Huntington (NASDAQ:HBAN), JPMorgan Chase (NYSE:JPM), KEY (NYSE:KEY), M&T (NYSE:MTB), PNC (NYSE:PNC), Regions (NYSE:RF), SunTrust (NYSE:STI), USBank (NYSE:USB), Wells Fargo (NYSE:WFC), and Zion's (NASDAQ:ZION).
As shown in chart 1, since November the average big bank's stock price is up 31%. Leading the way is Bank of America. Lagging the pack is Bank of New York/Mellon, up 12%.
Chart 1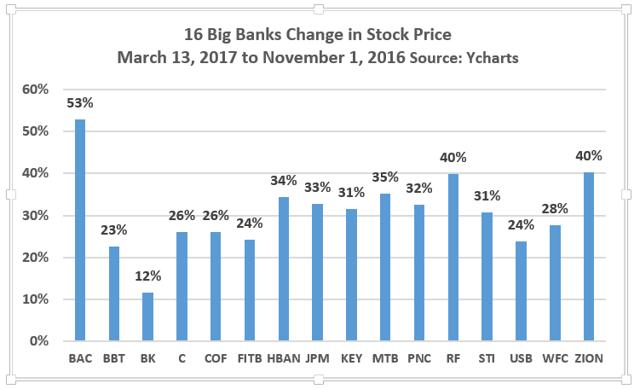 Most of the recent jump in big bank prices occurred in November and December. Chart 2 shows price appreciation for the 16 banks since year-end.
Chart 2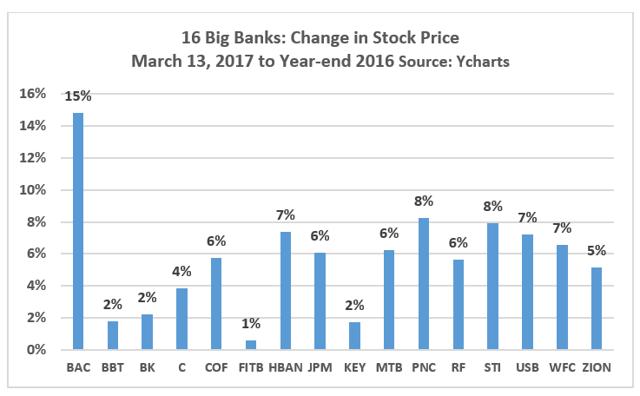 Earnings Estimates for 2017
Chart 3 shows current consensus Q1 earnings per share estimates for each of the 16 banks.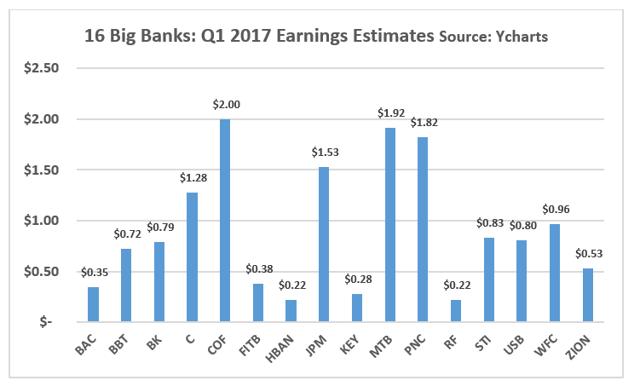 Chart 4 provides a snapshot of the percentage change in consensus EPS forecasted for Q1 2017 and Q1 2018 compared to actual 1Q 2016 EPS for each of the banks. While BAC and ZION's show impressive EPS growth, it should be noted that in each case baseline Q1 2016 earnings were considerably weaker than earnings reported during the subsequent three quarters of 2016. Fifth Third's -5% decline in EPS reflects an extraordinary gain in Q1 2016.
Chart 4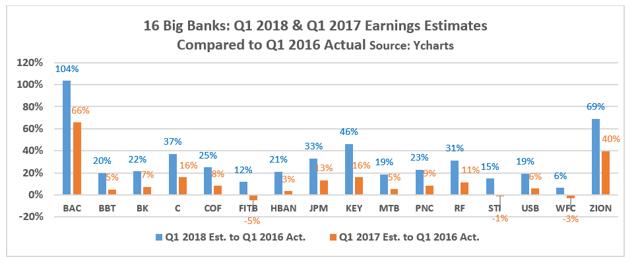 Chart 5 shows the analyst community's current 2017 EPS forecast for the 16 banks compared to 2016 actuals.
Chart 5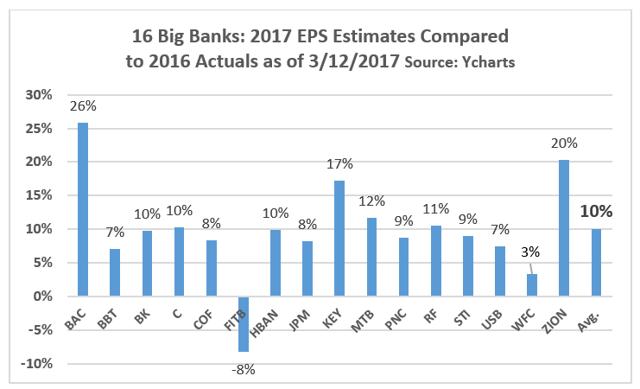 Buy-Sell Recommendations
Chart 6 indicates Buy recommendations outnumber Sell recommendations for every bank other than M&T and FITB. It is worth highlighting that no analyst has a Buy recommendation on MTB; the bank does have 16 Hold recommendations. The following banks have no Sell calls: BAC, BK, HBAN, KEY, and ZION.
Chart 6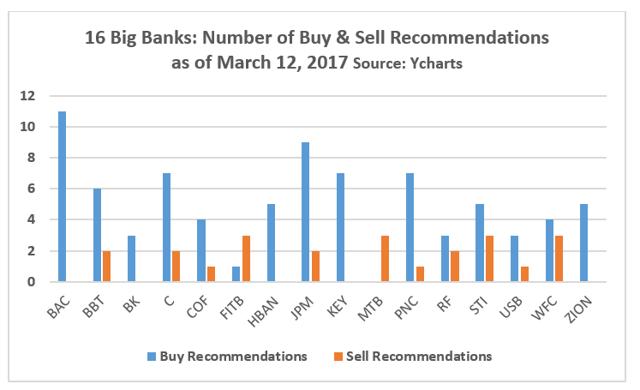 The next chart shows that all banks with the exception of PNC have seen a drop in the number of Buy recommendations from year-end 2015. The biggest declines are seen at RF and FITB.
Chart 7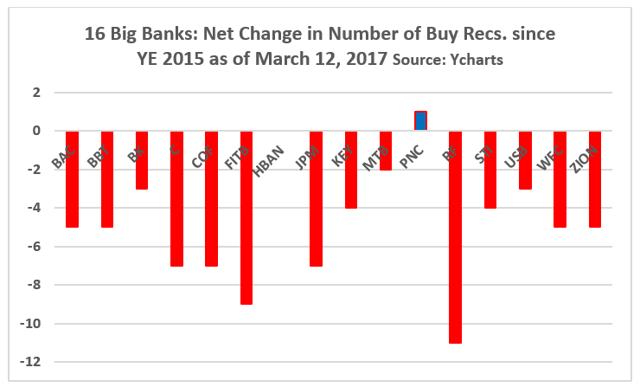 Watch for 3 Risks in 2017
There are three risks threatening bank stock prices in 2017-2018: Credit Quality, Loan Growth, and Disappointment from Rising Interest Rates.
Credit Quality
Nothing can damage bank earnings and investor confidence more than deterioration in credit quality. This is a topic I have covered in two posts earlier this year, one addressing 4Q 2016 provision expense and the other 4Q auto lending.
In the post about provision expense, I noted that 4Q credit quality metrics looked excellent. Further, by virtue of the strong year-end numbers, investors should interpret low provision expense as a strong indicator that bank earnings, at least in the short term, appear safe.
Jamie Dimon, chairman and CEO of JPM, recently chimed in on the topic of credit quality, saying: "I mean, literally, look at the numbers: It's never been better….ever, ever, ever, ever, ever, ever, ever, ever, ever, ever, ever, ever, ever, ever." That's quite a statement.
While credit quality metrics look excellent, history shows that deterioration is gradual and often difficult to detect until it is too late. As my post about auto lending suggested, there is clear evidence auto lending could pose a challenge for some lenders as early as this year; but that said, auto lending represents less than 5% of total loans for US banks.
The far greater risk to credit quality comes from the past several years when the banking industry grew loans at a pace much faster than the growth rate of the overall economy. History shows that banks cannot grow loans much faster than the economy over time. When they do, eventually there is a reversion to the growth rate of the economy.
As the next issue highlights, since late 2016 loan growth in banks has turned sluggish. It is not clear why.
Loan Growth
The Federal Reserve reports industry-wide loan numbers. The most current report indicates that loan growth has unexpectedly slowed across several loan categories.
Table 1 compares March 1 commercial bank loan outstandings by loan category to year-end numbers. If this trend is to continue, EPS estimates will have to be modified. So far no bank CEO has suggested loan growth problems, but this concern is likely to arise during Q1 earnings calls. Investors will want to understand the cause(s) of the slowdown should it persist. If the slowdown is the result of banks' reducing risk appetite -- especially if prompted by bank regulators -- expect revisions to earnings estimates for the second half of 2017.
Table 1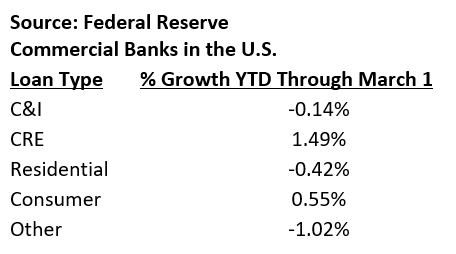 Impact from Rising Interest Rates
Bank investors are heartened by the much touted salutary impact rising interest rates have on bank earnings. Likely one or two rate increases will prove modestly helpful to some banks in the short-term.
However, should rates rise 3 or 4 times in 2017, I continue to believe that investors in the vast majority of banks will ultimately be disappointed by reality. This is a topic I addressed last August using 30 years of historical data to prove that rising rates have never improved industry earnings. That said, as I wrote in September, there are small number of banks with specific characteristics that should materially benefit from rising rates.
Investors who are confident rising rates produce greater bank profits should visit the 2005 Annual Report of Bank of America. As a reminder, the last time the Fed meaningfully raised rates was from mid-2004 to mid-2006. Like just about every bank in the country, Bank of America actually found rising rates hurt profits at the time because of the relationship between short and long-term rates. Here is what the CEO wrote in the letter to shareholders:
Our greatest financial challenge in 2005 was the continuing flattening of the yield curve, which is the difference between long- and short-term interest rates. As that difference shrank, banks, which tend to price deposits based on short-term rates, were adversely affected. In essence, profit margins were compressed. We expect the yield curve to remain relatively flat in 2006, providing an opportunity for well-managed banks to differentiate themselves.
Source: Bank of America 2005 Annual Report
One Final Chart to Keep Bank Investors Humble
Investing in banks is in vogue. Investors who are jumping on the bandwagon and not paying strict attention to the drivers of bank profits are well-served to examine chart 8. Yes, bank stocks look great since November, but Chart 8 should be a reminder that banking is not without risk.
Chart 8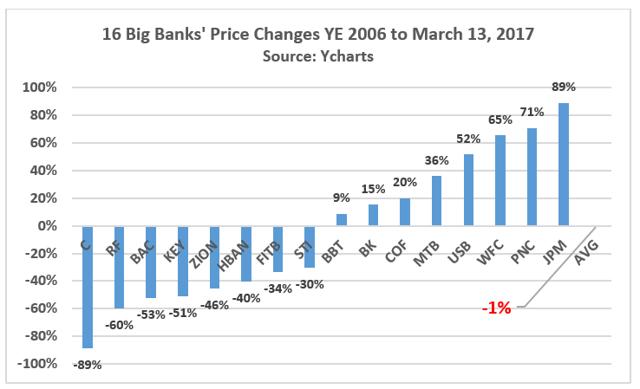 Disclosure: I am/we are long JPM, HBAN. I wrote this article myself, and it expresses my own opinions. I am not receiving compensation for it (other than from Seeking Alpha). I have no business relationship with any company whose stock is mentioned in this article.
Additional disclosure: Although I own no shares at this time, as a former Bank of America officer I continue to have certain financial interests in BAC.