After this pre-release, what's left to hear on the earnings call on March 23? Plenty! Micron Technology (NASDAQ:MU) is beginning to earn some credibility with better investor communications and less opacity. Not so long ago, the message to investors and analysts was lousy and was delivered in a cloudy and confused manner, citing statistics that couldn't be independently gauged or verified or tracked. Now, with this March 2 pre-release, the company has updated its guidance prior to a formal earnings release, in three consecutive quarters.
I've presented below what was guided and what was pre-released. The question I'd like to have answered on March 23 is how did investors and analysts get this so wrong? What can we do better? What can the company do better? We've had an analyst day on February 2. We've had companies like Hewlett Packard Enterprise (NYSE:HPE) telegraph that their memory costs have gone up 30% in a month. We've had nightly reads on the memory spot markets from DRAMeXchange. We've had lots of sell side research reports. But March 2 was a blowout of 30% beyond consensus estimates and even 15% above high estimates. Why does a blowout like this happen?
What had Micron guided and what did they pre-release? Let's refresh. This is the guidance for the second fiscal (February) quarter that was provided when Micron Technology held their earnings call for their first quarter on December 21, 2016: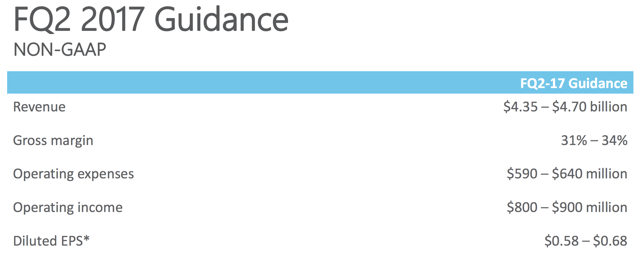 And what did Ernie Maddock CFO pre-release on March 2?

While I give Ernie high marks for his third consecutive quarterly pre-release update, there are many questions to be answered on March 23. Was the margin increase in DRAM or NAND or both? Is Micron still picking up share in NAND? What were the bit shipments and Average Selling Prices for each segment? Did the company deliver on its analyst day promise to liquidate inventory?
And what about guidance for the May quarter? On February 3, I wrote an article which presented the data we'd been told at analyst day and coupled it with some estimates on where contract pricing might be to derive an arithmetical look at 2017. I didn't call this an earnings estimate and subsequently put out two articles with a 77-cent base case estimate and a 95-cent high side estimate for the February quarter. This trio of articles, with the assumptions as of those dates, is instructive on where we are now. What was right and wrong in these assumptions and modeling conclusions:
Revenue was too high by a couple hundred million dollars.
Margin was low by a couple hundred basis points.
A major underpinning of those articles was a significant move in DRAM contract pricing. While I still believe DRAM pricing will be a major driver, given that DRAM is 60%-plus of Micron's business, DRAM spot prices have recently plateaued as I've tried to update in a series of Instablogs. Of course it's not quite as easy as the headlines make it out to be: DDR3 DRAM spot has been in a three week decline, while DDR4 DRAM spot is about level in the same time frame. And it is DDR4 which is increasingly important to Micron. Blended DRAM spot prices remain significantly higher than contract pricing, as the spot vs. contract prices in this Instablog show.
The new information is what has been happening in NAND. Now, since the beginning of the second fiscal quarter, the average NAND chip spot price is up 23.9% versus 23.8% for DRAM. Couple that with Ernie's 3/2/17 intelligence that Micron now expects NAND bit shipments for Micron will be up 60% YoY, and both my price and volume estimates for NAND in previous models were too light.
Here's what's been happening to the NAND average chip price: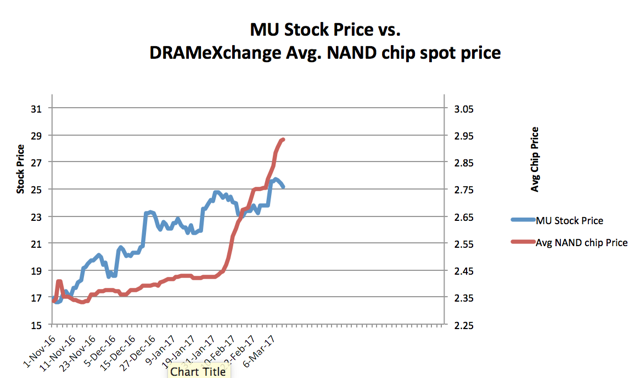 I recall being surprised at Bernstein's Mark Newman predicting that NAND bits shipped for the 2Q might rise by 24%. My models have used 11.58% for each quarter, which was derived from the 55% two year CAGR high estimate delivered at analyst day. Perhaps heavier NAND bit shipments, and stronger prices, are advance indicators of a superiority of Micron and Intel's (NASDAQ:INTC) 3DNand over offerings from competitors?
For this February quarter my February 4 article and model showed the following:
$4.7 billion in revenue (too high)
35.7% gross margin (too low)
80 cent EPS (too low)
And for the 3Q this mathematical exercise showed:
$5.5 billion in revenue
43.3%
$1.44 EPS
For Ernie's guidance for the third quarter ending in May, I think these numbers need to be tempered somewhat. The arithmetic model assumed a 10% increase in ASPs for DRAM for the quarter. Given the recent plateauing of DRAM spot prices, even though they remain significantly higher than contract pricing, this number may be too aggressive. Cutting the other direction, the arithmetic model used only a 1% increase in NAND ASPs and 11.58% QoQ increase in NAND bits. Given the sizzling spot price for NAND pictured in the graph above, and Ernie's assertion Micron will move 60% more bits this year than last, both NAND ASPs and bits will likely prove low.
So here's where I think Ernie's guidance for the May quarter will come in:
$5 billion revenue
40% gross margin
$1.06 EPS
And here's how that compares to the roundup of analyst estimates from a table in my post pre-release article:
Earnings per share estimates:
| | | | | | |
| --- | --- | --- | --- | --- | --- |
| | 2Q | 3Q | 4Q | 2017 | 2018 |
| Wells Fargo | .83 | .90 | 1.01 | 2.92 | 3.92 |
| Goldman Sachs | | 1.04 | 1.50 | 3.60 | 3.75 |
| Deutsche Bank | .86 | .94 | 1.01 | 3.16 | 3.89 |
| Cowen | .86 | 1.02 | 1.12 | 3.32 | 4.08 |
| Needham | .86 | .92 | 1.00 | 2.12 | 4.20 |
| Citi | .82 | .87 | .87 | 2.81 | 3.96 |
Conclusions. Bear in mind that a proper estimate for the third quarter can't be done without the information we should get in the March 23 earnings call. Also bear in mind that Ernie has beat the pre-release number in the last two quarters. For the first quarter he pre-released 28 cents and delivered 32 cents. I think that's the logic that will go into his earnings guide here: deliver revenue, gross margin, and EPS guidance that the company can comfortably beat. So hopefully a guide of $5 billion in revenue, 40% gross margin, and $1.06 in EPS are beaten.
If most recent quarters have been all about DRAM, which is still around 60% of consolidated revenue, I think the third quarter may be much more about NAND than it ever has been. We should know what will become of NAND-only competitor Toshiba. We should see whether these aggressive bit growth estimates are being realized. We may know more about the competitive advantages of CuA (CMOS under array), and floating gate, and greater density, and better yield. We can also see whether the sizzling NAND spot price performance continues.
By the way, I think Ernie may have been sandbagging a bit on March 2. I think and hope he may deliver 90 cents in EPS for the February quarter, rather than the 86 cent +/- he has pre-released.
Buckle in for the ride. Good luck to all.
Disclosure: I am/we are long MU, INTC.
I wrote this article myself, and it expresses my own opinions. I am not receiving compensation for it (other than from Seeking Alpha). I have no business relationship with any company whose stock is mentioned in this article.