I have been following for a while now the trend of the Z(30) volatility indicator that tracks the normalized standard deviation of the S&P 500 (represented by SPY).
The next table summarizes the percentiles of the Z(30) indicator based on historical analysis:

Here is an historical comparison between the SPY and the Z(30). I have added dates when the indicator was either below the 10% percentile and when it was higher than 90% percentile.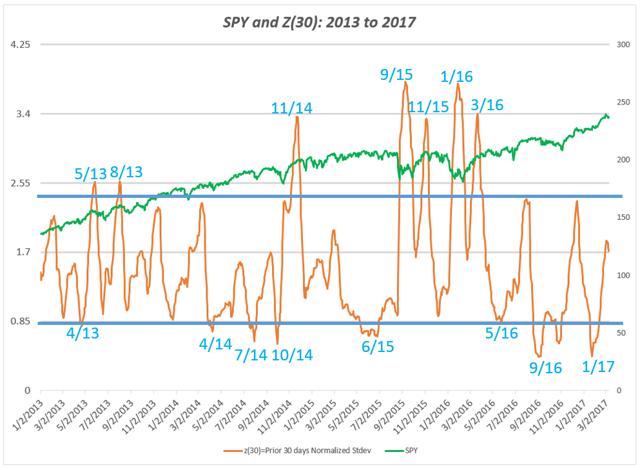 One conclusion from this graph is that the Z(30) indicator seems to move very quickly after reaching a peak or a valley. This was proven several times in the recent couple of years.
Another conclusion is that after a period that the indicator had a series of three consecutive valleys (for example in the time period between April'14 to Oct'14), or when it had a series of three consecutive peaks (for example between Sep'15 to March'16) it was followed with a massive move to the other direction, meaning a massive change in volatility in the following months.
The interesting thing is that we are the mere of a similar situation nowadays where the markets were relatively calm since September'16 (remember that the indicator is an average of the previous 30 days) achieving two valleys. If we would get another valley close to the levels of 0.85 points this could point out that the incline in volatility is getting closer.
Here is a sensitivity of the Z(30) in the next ten trading days illustrating different scenarios of daily swings.
For example the "+/-1%" column represents a scenario that the SPY would move up by 1% in the first day and -1% the following day and so on.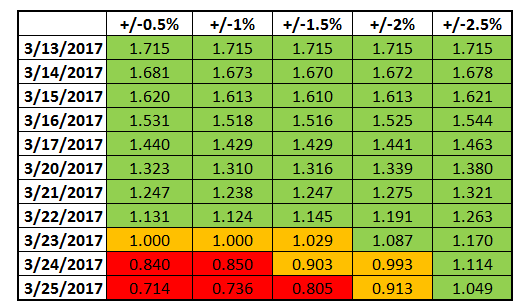 From the table it is obvious that the route of the Z(30) to go down to the levels of 0.85 points is in the scenarios where the daily swings are lower than 1.5%.
Based on the recent trading trend it is most likely that this would be the case in the short term and if indeed materialize it would allow to expect a massive move in the following month of April.
I will continue to track and see if materialize.
Happy investing!
Disclosure: I/we have no positions in any stocks mentioned, and no plans to initiate any positions within the next 72 hours.
I wrote this article myself, and it expresses my own opinions. I am not receiving compensation for it (other than from Seeking Alpha). I have no business relationship with any company whose stock is mentioned in this article.
Additional disclosure: The opinions of the author are not recommendations to either buy or sell any security. Please do your own research prior to making any investment decision.