I have been following a high-income, sustainable principal portfolio since October 2015. The objectives are to generate high current income while maintaining a stable capital base. When I began this exercise I felt strongly that there were bargains across the board in the closed-end fund universe. As is typical for closed-end funds, valuations exaggerated the broader markets' fears and downturns. Discounts were strikingly deep. There were funds that had been running double-digit premiums that fell into discount territory. For a CEF investor, it was a massive buying opportunity.
To get the full background on the model, refer to my article from October 2015 (A CEF Portfolio For High Current Income With Capital Preservation) and the most recent summary from the end of 2016 (Retirement Income: The High-Yield Sustainable-Capital CEF Portfolio 2016 Report). The second reference reviews the history, so I'll not rehash that information here in detail.
At the close of 2016 I added an ETF, InfraCap MLP ETF (AMZA), to get exposure to the energy sector (as midstream MLPs) and for the income yield. Since that decision I've been having second thoughts on this choice, but I've decided to leave it for at least one more quarter and not discuss those second thoughts here.
Portfolio Objectives
High yield for current income. The model is designed to be a retirement income portfolio where income is withdrawn on a quarterly basis. Instead of the more-or-less standard 4% rule, I set my income objective at 8% (or 5% for two tax-free funds). Excess income is reinvested in the funds that are most out of balance from an equal-weight target.
Sustainable principal value. Capital growth is not an explicit objective, but I felt that maintaining a sustainable principal would require periods of capital growth to offset inevitable periods of capital erosion. Thus some selections were added for their potential for modest capital growth even if their income falls short of the portfolio's target.
Asset class diversification. I've attempted to structure a reasonable mix of equity, both common and preferred, fixed-income, and real estate.
Tax efficiency. I envision the funds as being held in a taxable account of an investor at a relatively high marginal tax rate. Thus, we have a couple of tax-free municipal bond funds, and several funds selected for their tax-managed strategies. Typically this means the funds are managed to pay at least a portion of their distributions as return of capital which is deferred income until such time as the fund is sold. It would, however, be difficult to attain the first three objectives from only tax-efficient income producers, so there is a significant portion of the portfolio in fixed-income funds that pay distributions as ordinary income. The importance of this objective and the degree to which an individual will choose to adapt the overall strategy will of course depend on one's own tax situation.
I normally update the portfolio at the end of each quarter, but because I'll be unable to do so at the end of March, I'll get ahead of myself here and doing an early update. This complicates things a bit because consistency from quarter to quarter really facilitates my efforts to maintain this exercise. So I've taken some liberties, justified in my view, to get as close to a realistic projection for the end of the quarter as I could. I cannot predict where the values will go, but all income is declared and is as good as in the book, so I can be sure of that. In June, I'll work from this data set and I should be back on the quarter-by-quarter track.
In order to keep this update consistent with those previous and those to follow, I wanted to keep it reasonably correct for the quarter's income, so for funds that have not passed their ex-dividend dates I did include the declared distribution in the quarter's income. But I had to make some corrections to distributions and prices to allow for ex-dividend dates. For funds that I intend to hold and whose ex-dates fall after 13 March, I corrected the price by subtracting the distribution and kept the distribution in the income column. This keeps the income straight for the quarter and puts a reasonable allowance for the impact the distribution will have on capital value. Not perfect but, for my purposes, better than the alternative. As we'll see I am replacing two funds. As it happens both are before their March ex-date and their replacements are past their March ex-dates, so I didn't include any March income for those entries. This reduced the income slightly, but as the income does exceed the target for the quarter, it merely means there is somewhat less in the reinvestment pool, but a tad more in the portfolio value column, so it's a wash.
The Portfolio
The portfolio comprises 15 equal-weighted funds and is based on an initial $100,000 investment.
Holdings through today (13 March 2017) are:
Equity-Common
Equity-Preferred
Fixed Income – Taxable
Fixed Income - Tax-Free Municipal Bond
Real Estate
At last quarter's review, I replaced Eaton Vance Tax-Managed Diversified Equity Income Fund (NYSE: ETY) and Western Asset Mortgage Defined Opportunity Fund (NYSE: DMO) with AMZA and HIE. Interested readers can review the year-end article for the rationale for these changes.
Asset allocations by category are shown in this chart.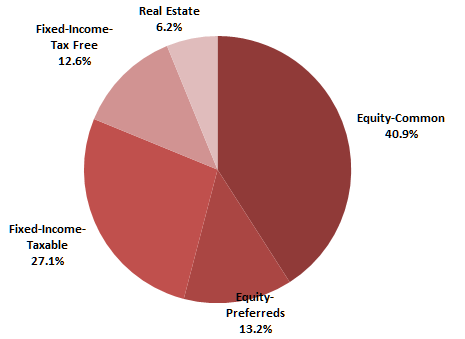 Fourth-Quarter Results
The table summarizes the quarter's results.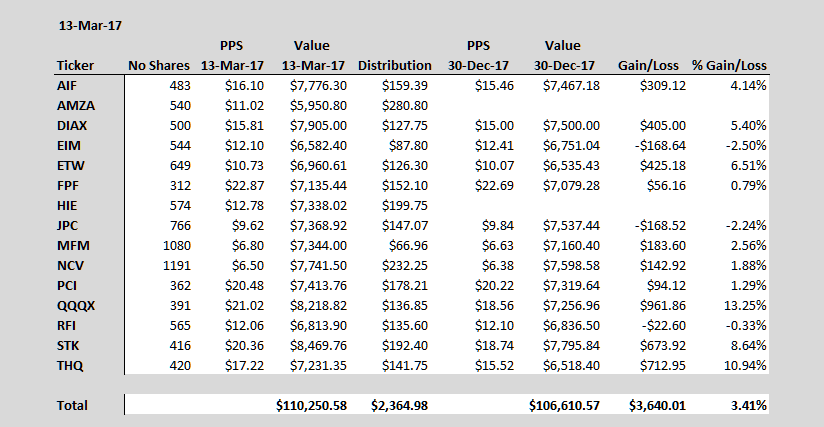 Income
As we see, income objectives continue to be met. Annualized yield for the quarter based on the start value was 8.87%. This is down from the previous quarter's 9.56% annualized yield because that quarter included two year-end special distributions in addition to the regular income. Values for the two muni-bond funds (EIM and MFM) only represent two months' income. I'll be replacing these funds before their March ex-dividend dates as I explained above, so I'm not including their income for March.
This quarter saw one distribution cut and one increase. ETW cut its monthly distribution per share (-6.5%) while MFM increased its distribution by 3.23%.
Capital Value
There was a 3.41% increase in capital value for the year to date. This reversed the decline we saw for the final quarter of 2016. The increase of $3,640 gain for the quarter does not offset the -$4.79% loss for the previous quarter but is a welcome reversal. Interest rate concerns continued to take a toll on JPC, but the other preferred stock fund, FPF, moved up slightly. Equity lead with gains, with two funds posting double digit upticks for the period. Three equity funds that had been lagging were leaders this time around with QQQX, STK and THQ following the turnaround in technology and biotechnology stocks for 2017.
I continue to be concerned about inadequate diversification in the equity holdings. The portfolio's sector allocation is weighted heavily toward technology (STK and QQQX) and healthcare (THQ). STK and THQ are reliable, if volatile, income producers that also generate capital growth so they are important to the portfolio's objectives. I'm less convinced that QQQX is appropriate but I've decided to hold on to it for at least one more quarter. It and its sibling DIAX, which follows the Dow 30, have begun to track their indexes better than they had been doing in the past. This was the hope when Nuveen reorganized these option-income funds, but it has been slow to come to fruition.
Summary
These next tables summarize performance of the model portfolio for the quarter, the year and since its October 2015 inception.
Income continues to be solid. To date (18 months) the initial $100K investment has generated nearly $16K in total income.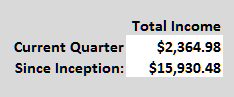 The goal of capital sustainability has been met. Capital value has grown 10.6% over the life of the portfolio after having withdrawn a quarterly 2% as current income.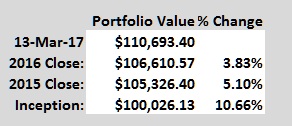 When income and capital appreciation are considered together, the model portfolio has gained just over 26% for its brief history.

Total income of $15,930 since inception is substantially in excess of the 8% (5% for the muni-bond funds) taken as current income. There has been a excess to reinvest each quarter. For the current quarter there is an excess $337.58. Adding that to the $3,566.27 in previously reinvested distribution income gives a total of $3,903.84 (3.9% of initial capital investment) in excess income that has been retained to compound in the portfolio.
Summing up the income performance: Over six quarters this $100,000 CEF portfolio has generated $15,930, or 10.62% annualized yield on invested capital. $12,026, or 8.02% annualized yield on invested capital, was taken as cash income. All with no loss of initial capital - indeed, with a 10.2% (6.81% annualized) gain in portfolio value.
Reinvestments and Changes
I've decided to replace the two municipal bond funds. This was not a pressing change, but I felt tough times were going to continue in the muni-bond arena and I wanted to add some stalwarts. Those are Pimco Municipal Income Fund II (PML) and Nuveen Quality Municipal Income Fund (NAD), to replace EIM and MFM. This is a fairly modest change. Muni bonds are going through an extended rough period and this may well get worse as interest rates begin to tick up later this month. Muni bonds are particularly sensitive to interest rate changes. I had considered getting out completely but rejected that as an excessive tampering with the conceptual basis of the portfolio and, since I'm not doing it in my own income account, I didn't see why I'd do it here.
NAD just cut its distribution 6%, so one hopes it will be insulated from further cuts. It is yielding 5.75%. At $4.5B AUM it ranks among the largest of CEFs and comes with a history of strong performance. The distribution cut led, as they often do, to a deepening of the discount, which stands at -9.67%. Z-scores are -2.7, -1.53 and -1.83 for 3, 6, and 12 months, so the fund offers an attractive entry at this time. PML is less well valued, but I felt it was the best of the PIMCO muni-bond funds when I recently looked at the category (PIMCO Cuts Distributions... What Does It Mean?). It pays 6.36%, and although it does have a 3.55% premium, that is the lowest of the PIMCO national municipal bond CEFs. I've decided that there is going to be a PIMCO premium, and if I want PIMCO's special expertise, I'm going to have to pay it. PML is about as low as PIMCO's muni-bond premiums go these days, so I'll bite that bullet. I should add that I own the California state equivalents of these two funds: Nuveen's NAC and PIMCO's PCQ and I've been happy with them. I will take the proceeds from liquidating EIM and MFM, add the excess distribution income to it and split that money evenly between NAC and PML.
This table shows key metrics for the funds in the current portfolio.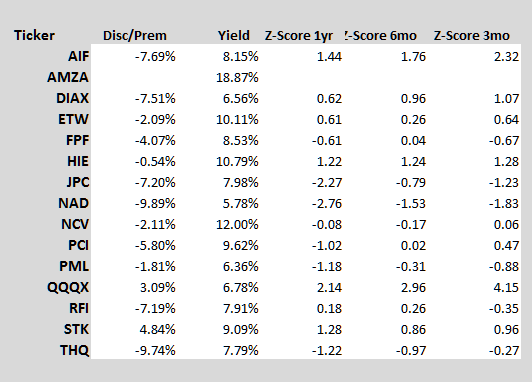 And this shows the composition of the portfolio from today's close.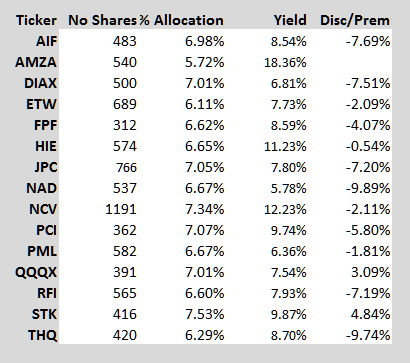 As always, I'll return to this model portfolio at the end of the next quarter.
Disclosure: I am/we are long AIF, AMZA, DIAX, FPF, HIE, NCV, PCI, THQ.
I wrote this article myself, and it expresses my own opinions. I am not receiving compensation for it (other than from Seeking Alpha). I have no business relationship with any company whose stock is mentioned in this article.
Additional disclosure: I am not an investment professional and this article does not constitute investment advice. I am passing along the results of my research on the subject. Any investor who finds these results intriguing will certainly want to do all due diligence to determine if any security mentioned here is suitable for his or her portfolio.