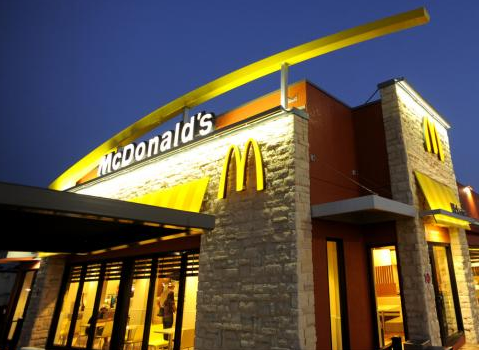 An important part of the bull case for McDonald's (NYSE:MCD) for as long as I can remember has been its ample dividend. MCD is certainly large and mature enough that investors crave capital returns, and the company has surely obliged. Its new, more franchise-heavy mix strategy seems to be freeing up some capital as well, but at the same time, MCD is already spending heavily on its dividend. Does it still have room in the budget to keep bumping its payout indefinitely?
Note that I'll be using data from Morningstar for this exercise.
We'll begin by taking a look at MCD's payout over the past decade to see where it has come from.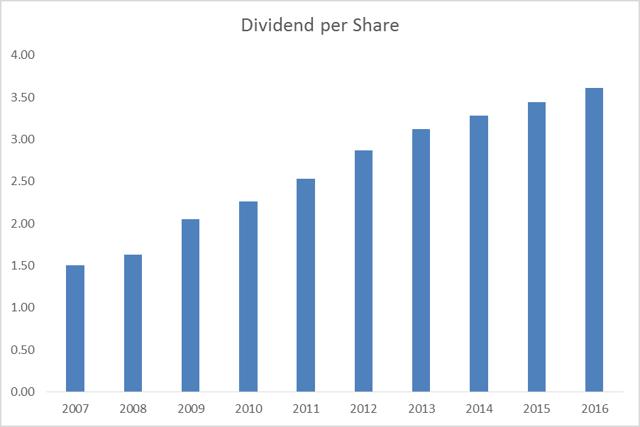 Ten years ago, the payout was just $1.50 and today, it is approaching $4. That's terrific growth, and it shows that management has become very committed to returning cash to shareholders where possible. That's the first step for a company becoming a great dividend stock, and while it sounds simple, this view is certainly not shared by the management team of every large company.
Seen another way, this chart shows the change Y/Y for MCD's dividend payment.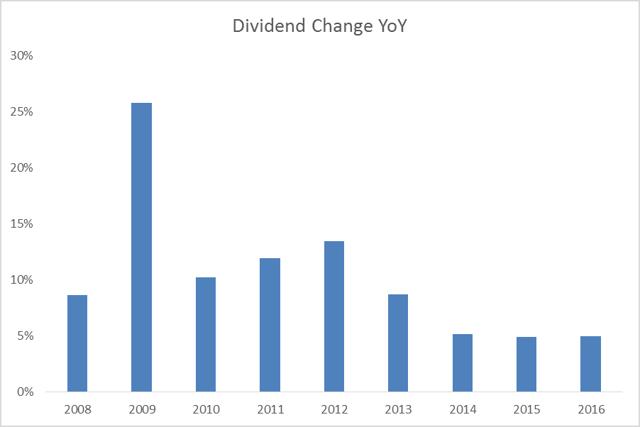 There were some years after the financial crisis that MCD produced double-digit gains, but those days are unfortunately gone. We are still seeing steady mid-single-digit increases, and while that's fine, given what we are about to see now, I don't think MCD will be able to sustain double-digit bumps going forward. At least, not anytime soon.
Why so gloomy? Dividend payments are cash expenditures and thus, cash has to be generated from somewhere in order to pay for them. That can come from cash already on hand, debt, or, most ideally, from FCF generation. This is really the only sustainable way to finance a dividend payment, and below, we can see that MCD's ever-rising dividend and flat FCF are beginning to run into each other.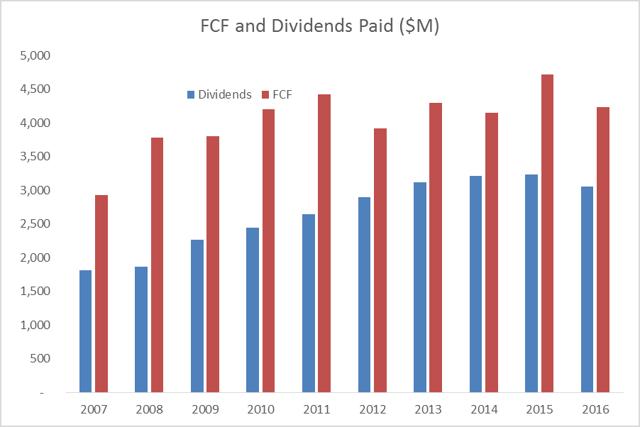 MCD's FCF generation has been huge for a long time; that's one of the benefits of a franchise-heavy system. MCD has done this better than anyone over the years, and it shows here. But that doesn't necessarily mean it can simply raise the dividend with impunity. Indeed, last year's FCF - despite the relatively recent move towards even more franchising - was roughly congruent with that of 2010. In other words, MCD has clearly plateaued in terms of how much cash it can produce, and while that may change down the line, history says the odds of that are low.
At the same time, the rising dividend payment has taken its toll on MCD's available FCF that isn't used on the dividend. The lower payout in 2007 was only about $1.8B, but last year, it was almost $3.1B. That said, the enormous buyback effort that MCD embarked upon in the recent past did reduce the float enough that the dividend was actually less costly in 2016 than 2015 despite the higher payout. That certainly helps, but the reduction in cost was slight and unsustainable given that MCD cannot possibly afford $11B in buybacks every year. And to be fair, it cannot even be expected to get close to that number on a regular basis without tremendous levels of new debt. That implies that the dividend's cost will be higher this year once again, and that's not great considering MCD's flat FCF.
If we take the same data as above, but turn it into a ratio, we get the below chart. Basically, this shows us how much of MCD's FCF is used up by the dividend each year, and the result is rather interesting.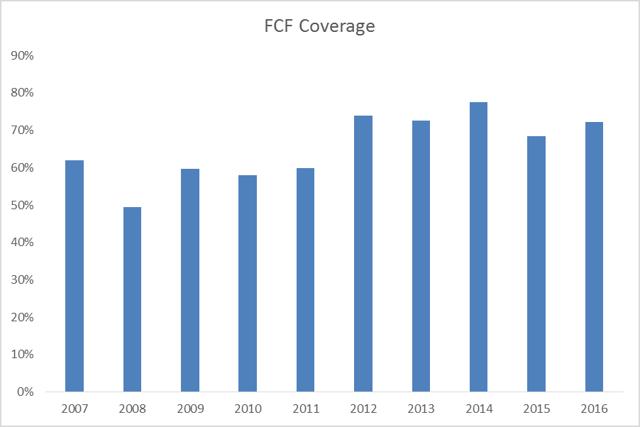 We can see that MCD's FCF coverage used to hover in the 60% area, but since its FCF generation flattened out a number of years ago, its FCF coverage is now more regularly in the 70%-to-80% range. That's not a problem for dividend safety - MCD's dividend is still very safe - but it does raise an issue of growth potential. After all, around 80% of FCF coverage is where I get concerned for a company's dividend payment because that leaves very little flexibility in terms of not only additional space to raise the payout, but in financing other things the business needs. That can include share repurchases, new capex, paying down debt or anything else you can think of. If a company is spending 80% or 90% of its cash on the dividend payment, it has almost nothing left over for anything else. MCD isn't there yet, but it is getting very close, and considering its flat FCF generation, I certainly wouldn't be surprised to see it get there relatively soon.
On the plus side, the franchise-heavy system mix does have certain advantages, including lower capex.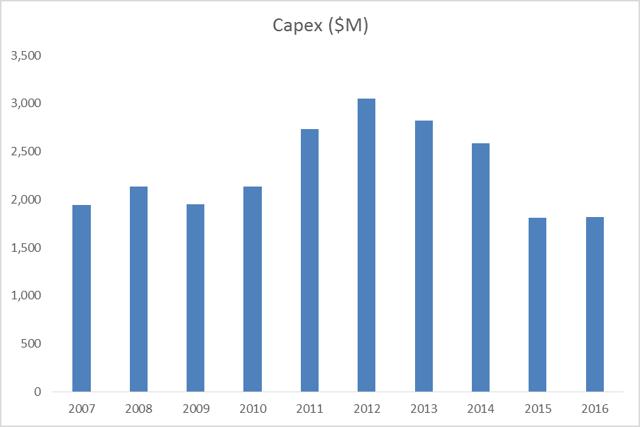 You can see very clearly when MCD went to the lower mix of company-owned shops and that capex savings will be around forever. That directly impacts FCF in a positive way and that is something that MCD was counting on, of course. There is a measurable and meaningful impact from the mix shift and we can certainly see that it is working.
But is it enough? The reduction in capex of $700M to $900M per year is certainly huge and helps keep MCD's dividend payment growing. But keep in mind that at some point, that cookie jar will be empty as well. I'm not trying to raise alarm because MCD's dividend is still very safe, as I mentioned. But from a growth perspective, what is left after this? MCD cannot reasonably reduce its company-owned store mix again, at least not meaningfully, which really doesn't leave anything at all in terms of boosting FCF. That means it is down to comp sales growth and that has slowed materially in the past few quarters against the gangbusters numbers that had bulls very excited a year or two ago.
So what's the bottom line? MCD's payout is very safe at $3.76, and at current FCF levels, it could still raise the payout another 20% or so before it runs into the danger zone. That's a few years' worth of increases depending upon the size of each bump, but again, if you're looking long term, that's a rather obvious brick wall that the dividend may very well run into three or four years down the road. If you're in MCD for some other reason, that is probably fine, but if you're looking strictly for income, it likely isn't. I just don't see a scenario where MCD can boost FCF enough to continue to raise its dividend indefinitely, and that means that for long-term holders, you're likely better off looking elsewhere.
Disclosure: I/we have no positions in any stocks mentioned, and no plans to initiate any positions within the next 72 hours.
I wrote this article myself, and it expresses my own opinions. I am not receiving compensation for it (other than from Seeking Alpha). I have no business relationship with any company whose stock is mentioned in this article.