As I wrote this article, I was looking out my window at the wind blowing snow everywhere. I expected this snow to significantly decrease trading volume for the day. This was especially the case, given that a pattern of low initial trading volume, speaking during the second half of the trading session has been established over the past week or so. But this is the exact opposite of what I saw in the market. Trading volume was actually higher during morning trading than it has been in recent days.
SH, the ProShares Short S&P 500 ETF, also saw a spike in volume in morning trading. Like with SPY, this is the opposite trend that we have been seeing, with low volume during the morning with high volume during the later part of the trading session.
This coincides with a decline in SPY and a spike in SH. The energy sector is leading the way lower, mostly due to a substantial decline in oil prices. I like relying on volume when analyzing stock movement because price moves only tell us half the picture. A downward movement on higher-than-normal volume suggests that bears are placing significant downward pressure on stocks.
The end of the day also saw an uptick in volume, consistent with the recent trend that we have been seeing.
Potential Explanation
The disparity between morning and afternoon trading volumes may be due to two factors. Normally, morning volume is high because the markets are incorporating overnight news. I think most investors have largely been on autopilot lately, so the impact of news has not been as large. Furthermore, I suspect the spike at the end of the day is due to a large number of day traders closing out their trades.
Volatility
Additionally, expected volatility increased significantly during the day, with VIX hitting 12.54 in early morning trading. The increased VIX is likely due to a growing concern over how the FOMC meeting will turn out. However, the Vix (NYSEARCA:VIXY) is still near its record low. While VIXY suffers from contango, a spike in VIXY would indicate to me a shift in perception about the overall markets vs. the reality of the market in that investors would be expecting future VIX levels to be higher than they are. If that happens, I would expect to see a downturn in the markets.
However, as you can see in the chart of the VIX term structure on March 14, right now, we are still far from backwardation.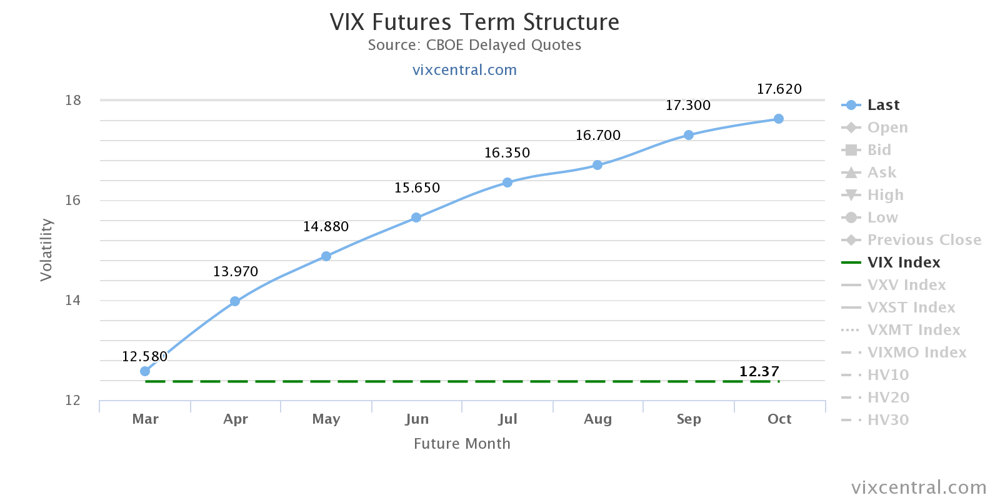 Connecting volatility to the theme of this article, VIXY saw a similar pattern to that of SPY: high trading volumes in the morning and lower trading volumes throughout the day.
Impact
While I do not see enough evidence for a major correction yet, I have mentioned repeatedly, stocks are overvalued and expectations are way beyond reality. Today's trading session adds confidence that a correction is coming and that the odds of sufficient ROI by investing in index funds are declining, especially given that confidence in the direction of the country is declining, as I mentioned in this week's Launchpad.
If the S&P 500 is able to break through its current support level, I expect it to drop pretty quickly to 2,350, and for 2,360 to become a resistance level. Also, as I said earlier, if VIXY begins to increase in price, that would signal a real shift in market sentiment and an increased likelihood of a major correction, or even a crash.
Disclosure: I am/we are long RWM,VIXY.
I wrote this article myself, and it expresses my own opinions. I am not receiving compensation for it (other than from Seeking Alpha). I have no business relationship with any company whose stock is mentioned in this article.
Additional disclosure: I hold a generally contrarian position.