Update: The Fed delivered its rate hike. Poll results are as follows.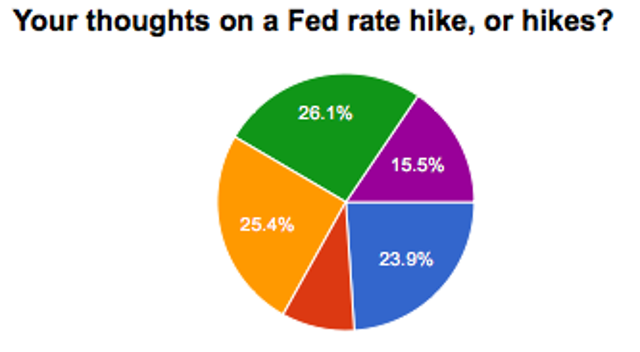 Not a big deal - I anticipated a rate hike, or hikes - 23.9%
Any Fed move suggests the economy is strong - I like that - 9.2%
Devil is in the details - Let's see a policy statement, Yellen's talk - 25.4%
Not worried about a rate hike - I'm worried about this toppy market - 26.1%
Any Fed move could mean challenging days ahead for markets - 15.5%
Thanks to everyone who participated in today's poll. We're back tomorrow with more Market Challenge!
*****
The Fed concludes its two-day meeting today. And it's expected it will deliver a much-anticipated rate hike.
Given markets are looking at this probable rate hike and others, what is an investor to do?
Your thoughts on what's next for the markets? Offer your opinion below!