I hold aggregate credit growth to a very high standard when it comes to inflation.
One of my favorite economists, Milton Friedman, stated:
Inflation is always and everywhere a monetary phenomenon in the sense that it is and can be produced only by a more rapid increase in the quantity of money than in output.
The monetary phenomenon is the greatest contributor to inflation. Productivity, currency strength, supply and demand are also contributing factors to what the rate of inflation will be.
With the release of the Federal Flow of Funds report for the fourth quarter of 2016 last week, we find that aggregate credit growth slowed to an annualized rate of just 3.17% per capita in the US. This compares with a 3.98% rate of growth in the third quarter of 2016.

Trump's Reflation
While inflation expectations have already been on the rise, even since before Trump was elected president, there was another surge in inflation expectations after Trump's presidential win.
The five-year forward inflation expectations were 1.89% on election day, November 8th. The following day, they surged to 1.97%. The day after that, to 2.06%.
The five-year forward inflation expectations peaked at 2.22% on January 26th and again on March 1st. They were 2.09% as of Thursday, March 9th.
Here is a chart showing both the expected five-year forward inflation rate and the 10-year treasury yield:

The jump in both inflation expectations as well as the 10-year yield post Trump's election win is pronounced.
To meet these inflation expectations, we need credit growth to accelerate. So far, there doesn't seem to be any indication that is happening.
Inflation And Credit Growth
Here is a chart showing the total amount of credit in the US as of December 31st, 2016:

We stand at $66.079 trillion. The growth of this aggregate credit amount, adjusted for population growth, is the greatest contributor to inflation. Per the chart below, the red line is the inflation rate and the blue line is the rate of credit growth.

The reason why the credit growth rate is higher in most cases than the rate of inflation is because of gains made in productivity or output per hour.
If I were to add the rate of productivity to the rate of inflation, I'd get a number far closer to credit growth. Productivity growth is deflationary; it reduces the cost to make something. If there were no productivity growth, then inflation would be closer to the rate of credit growth. So in the chart below, I added the productivity growth rate to the rate of inflation to show just that.

From the early 1990s until about 2007, we had inflation bouncing around 2.5% per year. At the same time, we have aggregate credit growth mostly between 5% and 10% per year.
Post the last recession, our credit growth has been low, ranging around the 2.5% to 3.5% zone. That is why inflation has been so low of late.
You Can Lead People To A Bank, But You Can't Make Them Borrow
Trump and his economic team have a goal of getting the US economy to grow 3.5%+ again. There is effort to light a spark under the economy.
One would think that we'd be seeing an increase in loan demand so to make the investments to capture some of that future economic growth.
Aggregate credit is everything from government debt to business to household debt. So there are a lot of details to analyze to see where credit is growing and where it is declining.
One area worth noting is total loans and leases in bank credit at all commercial banks. As of March 1st, 2017, it stands at $9.144 trillion.

As you can see in the chart above, there has been a flat line of growth in loans and leases in bank credit since about December of last year.
The annual rate of change has also been showing a marked decline all the way out to March 1st, 2017.

This is telling in that the first quarter of 2017, we're not seeing a lot of credit growth in bank loans and leases at all.
With the Fed hiking rates, perhaps even aggressively, that too could put the brakes on borrowing as the cost of money goes up.
Investment Expectations
I think both inflation expectations as well as rates on the 10-year treasury could fall either very soon or at least over the next 2-6 months.
If we are to get even slower credit growth, we could well be in for a credit crunch. That'll make companies that hold a lot of debt more risky.
The current delinquency rate on commercial and industrial loans remains at historically low levels. The rate as of the fourth quarter of 2016 was just 1.59%. This too could see an upswing if we are to get both less growth in credit along with a Fed that is raising interest rates.

We could be in for an unwind of the reflation trade. The reflation trade was originally sell bonds and buy stocks that will benefit from growth.
The inverse of that would be to buy bonds and sell stocks that would have benefited from growth.
To better illustrate, here is a chart of iShares 20 year+ Treasury ETF (NYSEARCA:TLT), which worked out wonderfully had you sold upon the election of Trump.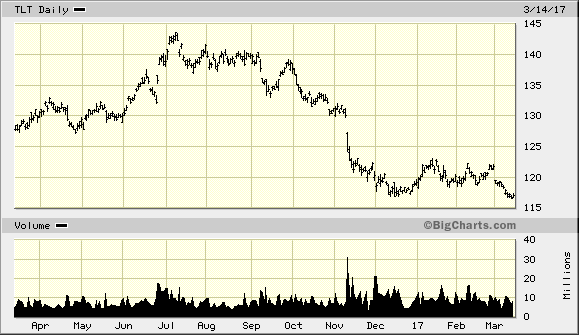 Here is a chart of the Dow ETF (NYSEARCA:DIA), which, had you went long upon the election of Trump, would have worked out wonderfully.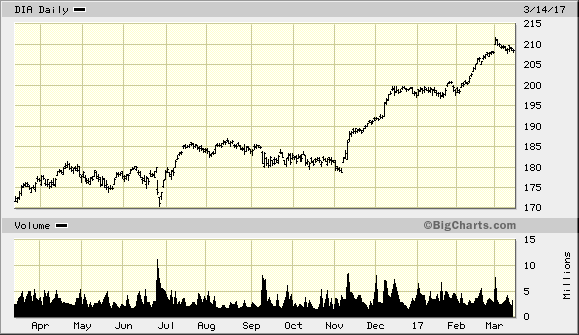 Another perspective to consider.
Disclosure: I/we have no positions in any stocks mentioned, and no plans to initiate any positions within the next 72 hours.
I wrote this article myself, and it expresses my own opinions. I am not receiving compensation for it (other than from Seeking Alpha). I have no business relationship with any company whose stock is mentioned in this article.