This post is written by Jim (Jiecheng) Huang for Integer Investments.
Introduction
Under Armour (NYSE: NYSE:UAA) has been experiencing a rough 2017. Their share price has plunged significantly, declining by more than 32% since they reported their fourth-quarter and full year results on January 31. This article will first look into their complex share structure and how their founder, CEO and Chairman of the Board, Kevin Plank, could be a potential concern. It will next concentrate on where Under Armour is headed regarding growth. It will conclude with our valuation of Under Armour and our recommendations for it.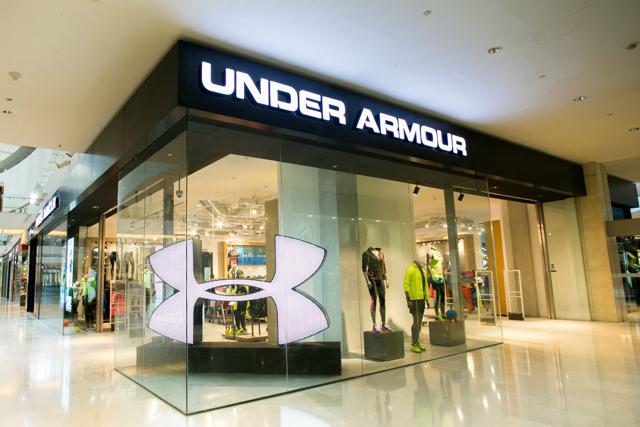 (Source: Yahoo Finance)
Founded in 1996 by former University of Maryland football player Kevin Plank, Under Armour is the originator of performance apparel. Together with their subsidiaries, develops, markets, and distributes branded performance apparel, footwear, and accessories for men, women, and youth primarily in North America, Europe, the Middle East, Africa, the Asia-Pacific, and Latin America.
The company sells their products through wholesale channels, including national and regional sporting goods chains, independent and specialty retailers, department store chains, institutional athletic departments, and leagues and teams, as well as independent distributors; and directly to consumers through a network of brand and factory house stores, and Website.
Under Armour's mission is to make all athletes better through passion, design and the relentless pursuit of innovation.
Complex class structure and controversial CEO statement
Tri-Class structure explained and potential concerns:
Under Armour currently operates under a three-class shares structure. Class A shares are publicly traded; they are voting shares with one vote per share. Class B shares are not available to the public and contain ten votes per share; these shares are owned exclusively by Under Armour's CEO and Chairman of the Board, Kevin Plank. Class C (UA) shares were the result of a special dividend to Class A and B shareholders. They are publicly traded but contain no voting rights. The existence of Class C shares allows management to sell some of their shares while maintaining control.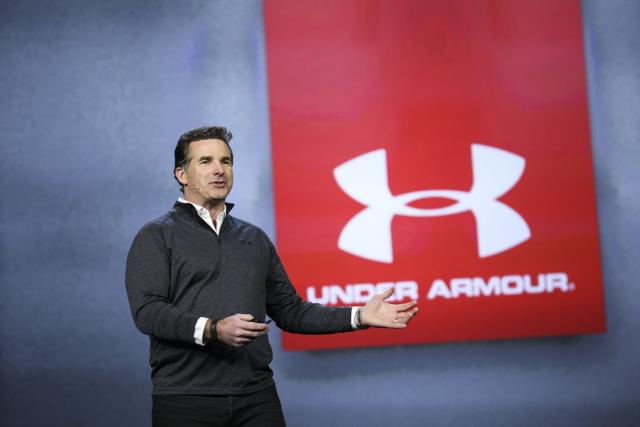 According to their 8-K form on August 31, 2016, Mr. Plank entered into a pre-arranged stock trading plan that allows him to sell up to 1,875,000 Class C shares held by himself personally and up to 200,000 Class C shares held by his charitable foundation. Mr. Plank will decrease his ownership from 15.6% (Class A, B and C) to 15.2% if Mr. Plank indeed fully executes his trading plan. Regardless, it is almost certain that Mr. Plank will maintain an ownership of 15% or more of the total number of shares of Class A and Class B shares. As stated in their 10-K form, the only shares Mr. Plank will be selling are his Class C shares. "All of the outstanding shares of Class B Convertible Common Stock will automatically convert into shares of Class A Common Stock on a one-for-one basis upon the death or disability of Mr. Plank or on the record date for any stockholders' meeting upon which the shares of Class A Common Stock and Class B Convertible Common Stock beneficially owned by Mr. Plank is less than 15% of the total shares of Class A Common Stock and Class B Convertible Common Stock outstanding or upon the other events specified in the Class C Charter."
As stated in the 2016 proxy statement, Mr. Plank holds 65.3% of the voting rights. Hence, Mr. Plank will have full control of governance issues such as board elections. It is therefore imperative for a long investor to fully understand and support Mr. Plank's vision as this is a crucial part of what you are planning to hold a long position.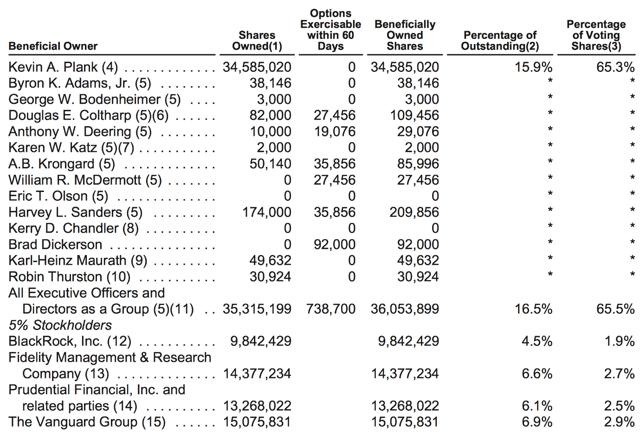 In addition, there are concerns of agency problems with a "Dual-Class" / "Tri-Class" structure, outlined in an academic paper published by Dr. Masulis, Dr. Wang and Dr. Xie in The Journal of Finance. They conducted a study that examines how the divergence between insider voting rights and cash-flow rights affects the managerial extraction of private benefit of control. Results were obvious, insiders holding more voting rights relative to cash flow rights will extract more private benefits at the expense of outside shareholders. The study showed that as the divergence increases, corporate cash holding is worth less to outside shareholders, CEO receives greater compensation, managers make shareholder value-destroying acquisitions more often, and capital expenditure contributes less to shareholder value.
Along those lines, in 2016 alone, Mr. Plank has sold shares of Under Armour on three separate occasions. The Under Armour CEO sold a total of 1,100,000 shares at an average price of $42.81. This means that, over the last 12 months, Mr. Plank cashed in more than $47M. The share price has decreased on average 55.48% since his trades. (Source: Gurufocus)
Mr. Plank is not alone in its insider selling. Various other UA insiders are selling at a rapid (although declining) pace. Over the past three years, the volume of insider-sells was significantly more than the volume of insider buys. This shows that the management prefers to receive the immediate financial compensation than holding onto their shares. However, there haven't been transactions in 2017. This, compared with the past behaviour, might suggest that insiders agree with the current share price. In other words, they believe that the share is properly valued.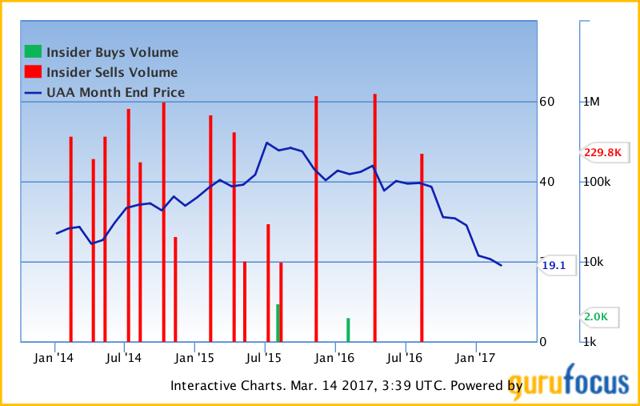 Controversial CEO Statement
In a CNBC interview earlier last month, Mr. Plank said: "To have such a pro-business president is something that is a real asset for the country." This controversial statement by Mr. Plank led to a #BoycottUnderArmour trend on Twitter and some of their most famous endorsements speaking out against Mr. Plank's comments. These endorsements include, back to back NBA MVP, Stephen Curry, actor Dwayne "The Rock" Johnson and professional ballerina Misty Copeland.
The company issued a statement shortly after stating that "We engage in policy, not politics. We believe in advocating for fair trade, an inclusive immigration policy that welcomes the best and the brightest and those seeking opportunity in the great tradition of our country." They also issued a full-page ad in The Baltimore Sun a week later clarifying their stance on the immigration policy.
It is not the political stance that Mr. Plank takes that may concern investors, but the lack of awareness. When someone like Mr. Plank holds such high control of the company, his words or his vision represent Under Armour.
This is exactly why a "Dual Class" structure is more commonly seen in the tech industry than other industries. When investors invest in companies such as Facebook (FB) and Alphabet (GOOGL) (GOOG), they are not only investing in the cash flows or growth opportunity of the company, but also the visions that they share with the founders of these companies. Many of these investors believe that the company is better when their founders have full control.
Where will the revenue growth come from?
So far, investors did not mind the fact that Mr. Plank controlled the company thanks to the outstanding growth performance. However, as reported in a recent earnings announcement, UA has ended their 26 consecutive quarters of 20% or more revenue growth. Their fourth-quarter revenue growth was 12%, which was well below analyst expectations. We will discuss whether the days of 20% revenue growth are over and where the potential growth will come from.
As seen from past 10-K forms, UA has focused a lot more on their international markets such as U.K., Germany, China, and Australia. This is also where growth is still tremendously high.
Regional Segments

As we can see from the table below (Source: 2016 10-K form), net revenues contribution from North America as a percentage have been decreasing steadily, 90.7% in 2014, 87.2% in 2015 and 83% in 2016. We expect this number to continue to decrease in the future while Under Armour expands internationally.
Percentage growth in net revenues for the North American segment has decreased from 27.5% in 2014 (Source: 2015 10-K form) and 23.6% in 2015 to 15.9% in 2016. The 2016 net revenues growth fell well below analyst expectations, this was a major contributor to the steep decline in share price.
In other segments such as EMEA, Asia-Pacific, Latin America and Connected Fitness, net revenues have been increasing at a high rate. This is especially true in the Asia-Pacific region, where it increased net revenues 105.7% in 2015 and 85.4% in 2016. Despite a much lower absolute number, if the international segments can grow at such rate, there is potential for Under Armour to resume their 20% or higher revenue growth.

Google Trends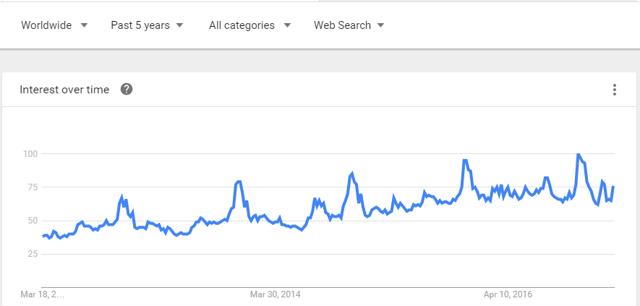 From the above Google Trends heat map, we searched the keyword "Under Armour." This shows how popular this term was on Google for the past five years. There is a steady increase in popularity, the spikes within particular years are a seasonal pattern such as more people are searching for "Under Armour" in holiday seasons like December.
The regional graph below shows how popular the keyword "Under Armour" is around the world. As we can see, apart from the United States, Under Armour is gaining popularity in Asia-Pacific countries such as Hong Kong, Philippines, Canada and Taiwan. This is extremely important for Under Armour as the international market will soon be their primary focus if they wish to regain high growth in net revenues. There are many other countries that Under Armour can grow in, such as Russia, China, United Kingdom, Germany, Singapore, Japan, Australia, Spain, Italy, and many more. They are not on the regional graph simply because their Google search volume is not high enough in comparison to other countries. But that also translates to more opportunities to grow.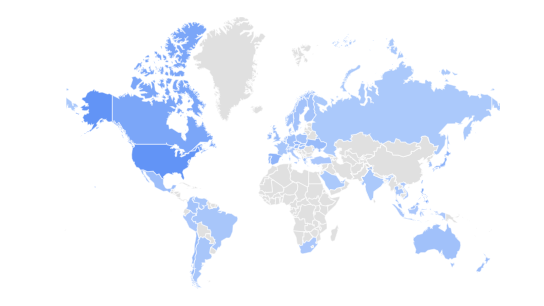 (Under Armour Google Searches)
In comparison to Under Armour, there were a lot more Google searches for Nike (NKE). In particular, Nike is growing in China. A huge market where Under Armour seems to be behind. Tapping into this market by growing brand recognition might provide robust growth opportunities to Under Armour. Average popularity was 69 for Nike and Under Armour was 7. (Out of 100) It really shows that besides sales, there is still room for Under Armour to grow.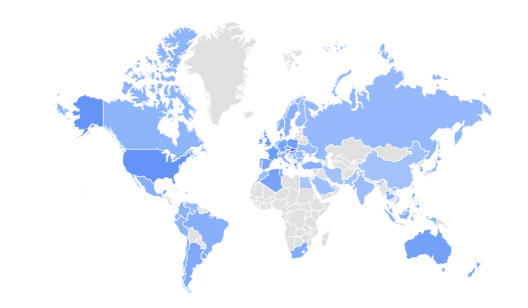 (Nike Google Searches)
Product Category
The tables below show Under Armours' net revenues by product category and the percentage change in net revenues of that particular category for the year.
There is a clear decreasing trend for the percentage growth in the Apparel category, from 30% in 2014, 22.2% in 2015 to 15.3% in 2013. As explained in the 10-K form, both 2014 and 2015's increase in net revenues were driven primarily by apparel unit net revenues growth and new offerings in multiple lines led by training, golf and running; and footwear unit growth, led by running and basketball and the expansion of their footwear offerings internationally. It is similar for 2016 but the basketball line was also included for apparel units net revenues growth as a primary driver.

It is obvious that Under Armour's apparel category has reached their bottleneck in terms of net revenues growth, while their footwear category has maintained a strong growth of roughly 50% (44.2% in 2014, 57.3% in 2015 and 49.1% in 2016). The footwear category has also increased rapidly as a percentage of total net revenues, from 12.81% in 2013, 13.97% in 2014, 17.10% in 2015 to 20.95% for 2016.
2017 Outlook
Looking forward, Under Armour is expecting net revenues to grow between 11% and 12%. This is well below previous growth rates, which means Under Armour is either unsure of their 2017 net revenues growth and wishes to avoid earnings disappointments or the company holds private information which has led the management to estimate a continued decline in net revenues growth (Source: Under Armour announces outlook for 2017).
The current market price of $19.15 reflects this lower expected net revenues growth. Therefore, if an investor believes that Under Armour's net revenues growth for the coming quarters is well beyond this 11% to 12%, this can be a great entry point.
Fundamentals & Valuation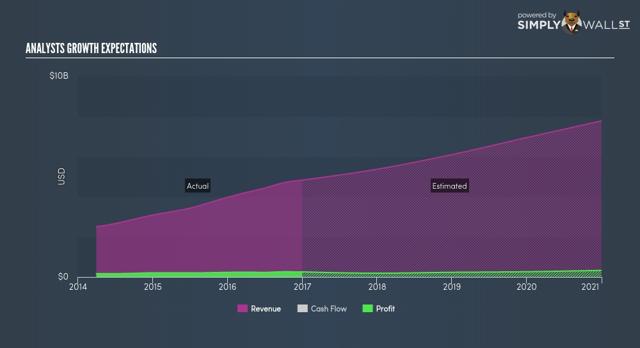 Under Armour's revenues are expected to grow at a slightly slower pace in comparison to the past three years. The graph below shows analysts' estimation for the next five years. Revenues are expected to grow from $4.8B in 2016 to $7.8B in 2021. Profits are expected to increase from $257M to $329M.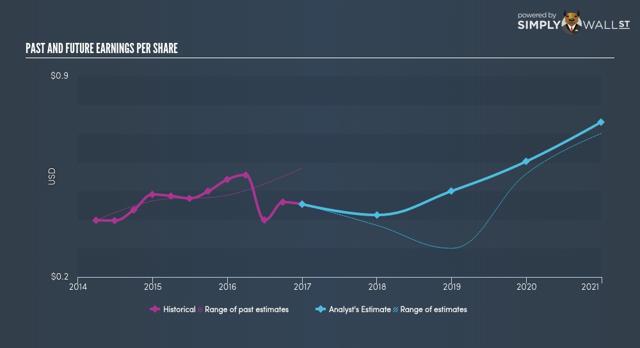 EPS is expected to pick up the pace after the sharp decline from the establishment of Class C shares in 2016. 4-traders suggested similar point estimates, EPS is expected at $0.47 for 2017, $0.55 for 2018 and $0.68 for 2019.
According to Simply Wall St's estimates, Under Armour trades at a P/E multiple of 42.2X. This is well below the 64.6X to 76.8X range from the past three years, but it is still very expensive in comparison to industry averages.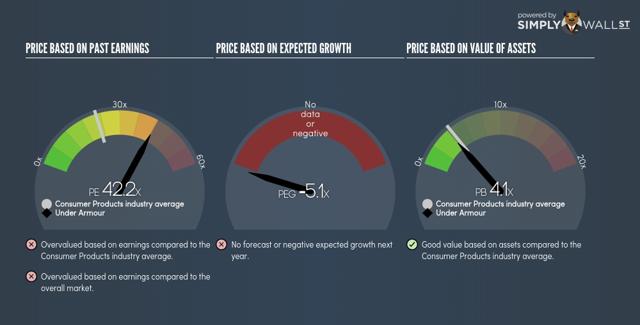 The level of debt has increased dramatically from 2015, but it shouldn't be too much of a concern as interest on debt is well covered by earnings with a 8.7X coverage ratio. Equity stands at $2.03B while debt is $818M.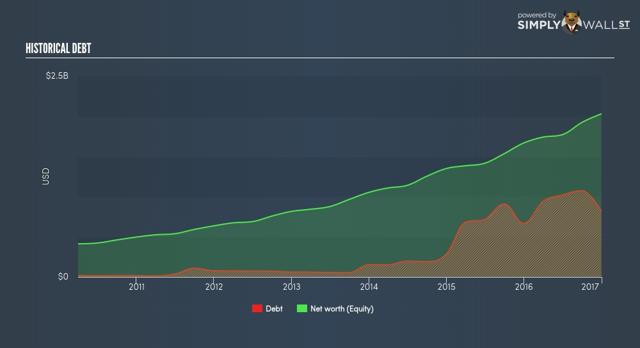 By using a two-step DCF model, we obtained a fair value of $13.69. We used an EPS of $0.45 (2016 EPS), a growth rate for the next ten years of 11.9%, and a ten-year terminal growth rate of 3% and a discount rate of 8%.
We chose the 11.9% growth rate for two reasons. First, Under Armour's management expects this year growth rate to be 11-12%. Second, we looked at the last ten and twenty years of revenue growth for Nike. Ten years ago Nike's revenues stood at $15B and twenty years ago they were netting $5B which is approximately Under Armour's revenues today. In ten years, Nike's revenues climbed to approximately $15B and in another ten years to the current level of $32B. Therefore, we assume that Under Armour has the ability to grow at the same pace as Nike, starting from a similar level. Considering that Nike is a great success story in this industry, applying the same growth rate to Under Armour is quite generous.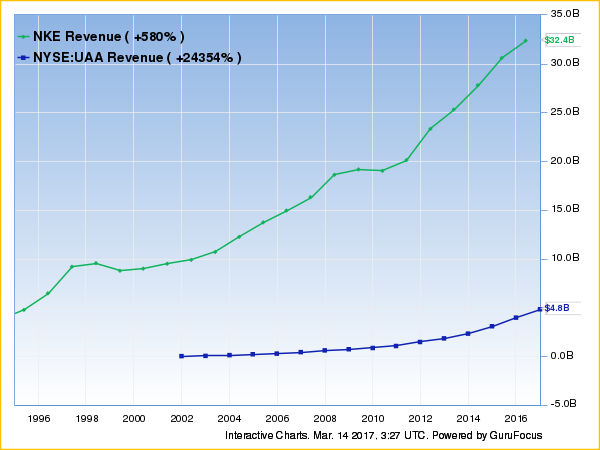 As previously mentioned, applying these values, a discounted cash flow model arrives at a valuation of $13.69. Considering that the current share price of Under Armour is approximately $19, Under Armour is overvalued by nearly 40%. If we keep everything constant apart from next ten years' EPS growth rate, we need to assume a growth rate of 17.8% to justify the current valuation. This seems relatively difficult considering the current industry headwinds and size of Under Armour. At this rate, Under Armour's revenue would grow from $5B to $25B (instead of to $15B) in just ten years.
Conclusion
Under Armour's share price has declined by more than 32% since the company reported disappointing fourth-quarter and full year results on January 31. With a complex tri-class share structure and a CEO holding 65.3% of the voting shares, it is important for investors holding long positions in Under Armour to share and believe the visions Mr. Plank holds. With continued strong growth in regions outside of North America and the footwear category, the 11% to 12% net revenues guidance from Under Armour looks achievable, providing the possibility of an earnings surprise as the first quarter closes. However, despite being an impressive growth rate, this pace does not justify the current share price that implies a growth rate of almost 18%. Therefore, with concerns about potential agency problems in a "Tri-Class" structure and the uncertainty in long-term growth, Integer will not be investing at this stage. In sum, we believe that Under Armour is still overpriced and its share structure might lead to governance issues. We believe that Nike is a higher quality company (see our recent analysis of Nike here).
As always, thank you for reading. If you wish to follow our future articles, just click the "Follow" button next to our name at the top. If you would like us to cover a company, please let us know in the comments. For information about Integer Investments, visit our website. Thank you for reading.