Canada Goose (Pending:GOOS) filed an F-1/A with the Securities and Exchange Commission for its upcoming initial public offering. The company plans to sell 20 million shares at a marketed price range of C$14 to C$16, with an additional 3,000,0000 shares as an overallotment option for its underwriters. Of the shares being offered, 64% will come from company insiders.
The company expects to raise C$300M (US$223M) through its IPO. If Canada Goose prices at the mid-point of its price range, it would command a fully diluted market cap value of C$1.26B and trade at a price/sales multiple of 4.25x. The company will list on the New York Stock Exchange and Toronto Stock Exchange under the ticker symbol "GOOS."
We first previewed the deal on our IPO Insights platform.
The underwriters for the IPO are CIBC Capital Markets, Credit Suisse, Goldman Sachs & Co., RBC Capital Markets, BofA Merrill Lynch, Morgan Stanley, Barclays, BMO Capital Markets, TD, Wells Fargo Securities, Baird, Canaccord Genuity and Nomura.
Canada Goose is expected to price Wednesday night (3/15).
Business overview
Canada Goose Holdings Inc. is an apparel company based in Toronto, Ontario, which is best known for its signature cold-weather parkas. The jackets are easily recognizable due to its "Arctic program" patch located on the shoulder of jackets (shown below). Its jackets and parkas retail for between $500-$1500, with its most well-known parka retailing for $900. The company's high-end parkas sell through online retailers, via catalogs, its e-commerce sites and in retail locations in New York and Toronto. Its products are entirely produced in Canada, which management believes helps to maintain high quality and authenticity across its lines.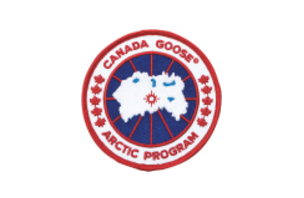 The company has customers in 36 countries. It has been in business for more than 60 years, having started in 1957 in Toronto. The company is a family-run business, and currently, the founder's grandson serves as CEO.
In 2013, Bain Capital acquired a 70% stake in the company. Following the IPO, Bain will maintain a controlling stake in the company.
Executive management overview
Dani Reiss is the chief executive officer, a director and president of Canada Goose. He is the grandson of the company's founder and joined it in 1997. Reiss was named as the president and CEO in 2001. He holds a Bachelor of Arts from the University of Toronto.
John Black serves as the chief financial officer of Canada Goose Holdings and joined the company in that role in Aug. 2013. He previously served as the CFO of Protenergy Natural Foods, the Ontario Lottery and Gaming Corporation and the Trimark Sportswear Group. He holds a Bachelor of Commerce and a Bachelor of Administration from the University of Ottawa and is a certified public accountant.
Financial highlights and risks
The company has experienced significant growth in revenue. Revenue increased from C$152.1M in 2014 to C$290.8M in 2016, representing a CAGR of 38.3%. Canada Goose has experienced particularly strong growth in the US market, with US sales surpassing Canadian sales in FY2016. The company reports high and increasing gross margins. Gross margins increased from 38.6% in 2014 to 50.1% in 2016. As of December 31, 2016, Canada Goose had C$30.1M in cash and cash equivalents and C$373.9M in total liabilities.

(Source: SEC Filings)
Conclusion: Consider Buying In
Canada Goose has shown strong growth and good profits. It is popular primarily in the Northeast and among celebrities. However, fashion trends often end, and Canada Goose's popularity could decline at some point in the future.
We believe that the company may do well in the near term, however, particularly with Bain's backing. If investors wish to invest, they might make allocations now with plans to get out in the next few months.
Don Dion's IPO Insights provides up-to-date information and analysis on the major IPOs each week, along with additional opportunities to invest and short these stocks at their quiet period and lockup period expirations, respectively. Consider following us at the link above. We will continue our PRO offerings on Seeking Alpha alongside our more exclusive research.
Disclosure: I/we have no positions in any stocks mentioned, but may initiate a long position in GOOS over the next 72 hours.
I wrote this article myself, and it expresses my own opinions. I am not receiving compensation for it (other than from Seeking Alpha). I have no business relationship with any company whose stock is mentioned in this article.