The Consumer Price Index for All Urban Consumers increased 0.1% in February on a seasonally-adjusted basis, the U.S. Bureau of Labor Statistics reported today. Over the last 12 months, headline inflation increased 2.7%, the highest number in 5 years.
February's increase of 0.1% - down from 0.6% in January - was slightly higher than the consensus forecast, which called for a rate of 0.0%. But it was the smallest one-month increase in seasonally-adjusted CPI since July 2016.
A key factor in February's moderate inflation was a decline in gasoline prices, which fell 3.0%, but are up 30.7% over the last 12 months. The decline in the energy index was the first since July 2016. Prices for used cars and trucks also fell, 0.6%, and are down 4.3% over the last year. New vehicle prices fell 0.2%.
Food prices - which have been stable over the last year - rose 0.2% in February. Also increasing: Prices for electricity, 0.8%; apparel, 0.6%; transportation services, 0.7%, and medical care services, 0.2%.
Core inflation - which strips out food and energy - increased 0.2% in February, and is up 2.2% over the last 12 months. Year-over-year core inflation has remained in the 2.1% to 2.3% range over the last year, even as headline inflation has escalated: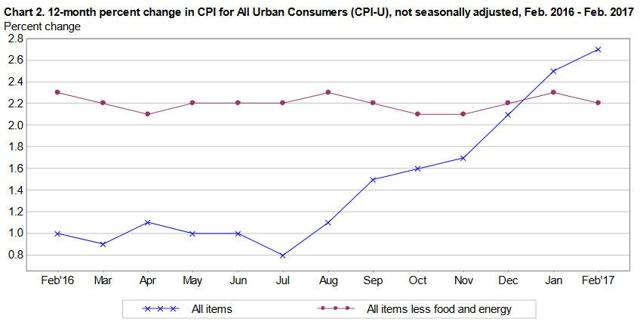 What this means for TIPS and I Bonds. Holders of inflation-protected investments are also interested in non-seasonally adjusted inflation, which is used to adjust the principal balances of Treasury Inflation-Protected Securities and set future interest rates for U.S. Series I Savings Bonds. In February, the CPI index was set at 243.603, an increase of 0.31% over the January number. The year-over-year number is 2.74%.
For holders of TIPS, this means that their principal balances will increase 0.31% in April. View the April inflation indexes for all TIPS.
For I Bonds, the next reset of the 6-month variable rate will come May 1, based on inflation from September 2016 to March 2017. At this point, with one month remaining, non-seasonally adjusted inflation has increased 0.90%, which would translate to a new variable rate of 1.80%, annualized. That is down from the current variable rate of 2.76%, but one month remains. Here are the numbers: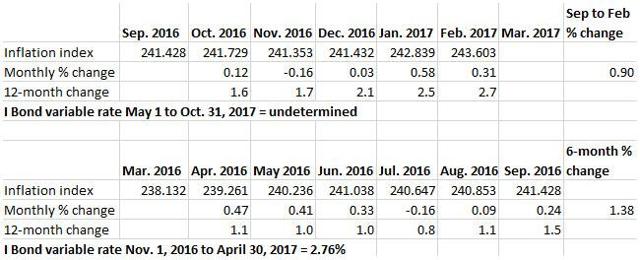 The March inflation number, which will be released April 14 at 8:30 a.m., will determine the new I Bond variable rate. That will set in motion some interesting decision making, since the variable rate may be falling on May 1, even while the fixed rate could be rising above the current 0.0%. I'll be writing more on that in April.
What this means for interest rates. The Federal Reserve is meeting today and is expected to boost its short-term Federal Funds Rate by 0.25%. Today's inflation numbers should have little effect on that decision. The headline number came in slightly higher than expected, and year-over-year inflation is running at its highest rate in 5 years. Some analysis from today's live coverage at the Wall Street Journal:
The bigger news coming out of the meeting will be Fed officials' projections of how much more they expect to lift rates this year. In December, they penciled in three quarter-percentage-point increases this year. Markets will be eager to see if officials stick to those forecasts or add a fourth, given recent signs of a strengthening labor market and firming inflation.
Disclosure: I/we have no positions in any stocks mentioned, and no plans to initiate any positions within the next 72 hours.
I wrote this article myself, and it expresses my own opinions. I am not receiving compensation for it (other than from Seeking Alpha). I have no business relationship with any company whose stock is mentioned in this article.