Thesis
I would argue that Magna International (NYSE:MGA) is very undervalued at current prices. The company is expecting significant growth. Its balance sheet is intact and the company's dividend is fairly high with a low payout ratio. I would say Magna is a strong buy.
About The Company
Magna International is a large automotive supplier and contract manufacturer. The company makes automotive systems, assemblies, modules, and other components across the globe. The company also offers engineering and contract manufacturing services. It serves original equipment manufacturers (OEMs), tier one suppliers, and also non automotive customers. Magna's market cap is $17B and the company employs 155,000 people. Despite their size Magna is growing.
What I Like
Magna is currently trading at a very cheap valuation. The company currently has a P/E of 8.4, which is under the auto industry average, and a forward P/E of 6.74. This is low enough to put Magna on the radar of even the most value conscious investors. PEG comes in at 0.69 which implies Magna is a good value based on expected growth. Price/book is 1.7 and under the auto industry average as well. Finally, Magna trades at a 32% discount to future cash flow. This is shown in Figure 1.
Figure 1: Magna Discount To Future Cash Flow

Source: Simply Wall St
Now let's talk growth. Magna is expected to grow earnings 8.4% next year and 47% over the next three years. Analysts have a one year consensus price target of $52.75 which represents a 21% premium to the closing price of 3/14/2017. The company displayed a very strong 2016. They grew sales, return a bunch of cash to shareholders, boosted earnings, everything I look for. A summary of this is shown in Figure 2.
Figure 2: Magna 2016 Performance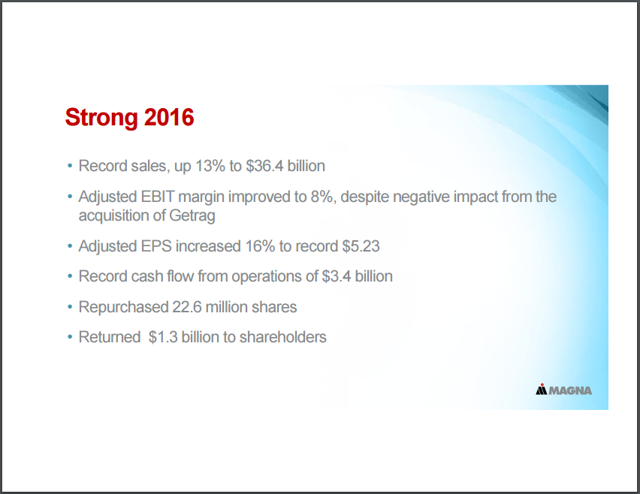 Source: Magna Q4 Presentation
The company also displays strong performance metrics. Magna's return on equity, assets, and capital are 21.5%, 7.9%, and 20% respectively. ROE is in line with the auto industry average while both ROA and ROC exceed the industry average. When it comes to Magna's balance sheet there is a lot to like.
The company has little debt with a debt/equity of 31%. Magna also has very strong cash flow. The company also returns loads of cash to its shareholders. In 2016 Magna returned $1.3B to shareholders. In the fourth quarter alone purchased 2.7m shares and paid out $95m in dividends, hiking the dividend 10% on the day of earnings.
This brings me to the company's dividend. Currently the yield is 2.56% which is pretty good. However, the payout ratio is only 19% implying the dividend has room to grow and is very safe. Magna has a lot going for it.
Opportunities And Drivers
Currently the automotive world is on the brink of major change. It is hotly debated if, and how soon, electric and autonomous cars will take over and how much this will affect OEMs. Magna has several drivers going for it. First, the company is huge as far as suppliers are concerned. Their size gives them an advantage should the company need to spend to adjust. Second, the company offers contract manufacturing and engineering services. This will be addressed a little later. Finally, because Magna is a supplier, it doesn't matter so much what type of car is produced as long as they are still being produced. But, this will be addressed in risks.
Magna Steyr is a part of Magna that operates an auto factory in Austria. This group has launched several programs in its history and is in hot demand going forward. The BMW 5 series and Jaguar JLR are set to launch the first half of this year. The Jaguar I-Pace is scheduled for launch the first half of 2018. And, the company announced that two new models are set for launch in 2018 and beyond. Although, they are keeping the specific programs under wraps.
I think this capability is a huge advantage for Magna. There are tons of startups developing their own autonomous or electric car. These new companies will need an established player in the industry if they want to do small scale production. I believe that Magna's manufacturing contracting service is a major opportunity for that company to gobble up lots of small business.
Risks
There are a few risks with Magna I would like to address. First, over the past twelve months there has been a significant amount of insider selling. My usual sources of data for insider rosters - Yahoo and Nasdaq - had no information on insider holdings and trades. However, Simply Wall St noted that insiders have been dumping it like the plague over the past nine months. The total amount has been some $27m. This is shown in Figure 3. The jury is out with regards to why this is happening.
Figure 3: Magna Insider Selling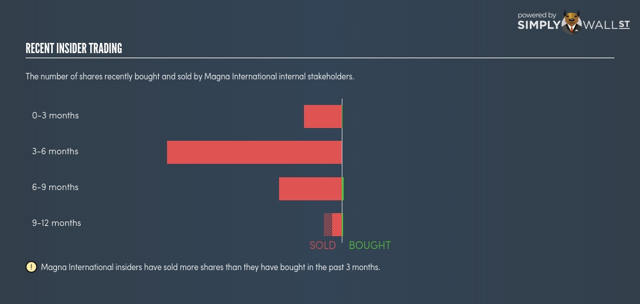 Source: Simply Wall St
Next, with change there is always risk. I think very few people would argue that the automotive industry is not on the brink of major changes. Companies will have to change to survive. I believe Magna to be capable of this, but some people may not. Vehicle sales are soaring and due to drop. Such is the nature of a cyclical business. However, I think Magna will continue to grow contract manufacturing more than supplying will diminish.
Some people could also argue that Magna is a value trap. It seems so enticing with its low P/E and nice dividend. I am admittedly inexperienced when it comes to value traps. From what I have been able to learn, a value trap usually represents a failing company or an industry with systemic risk. I do not believe that to be the case with Magna but will investigate more. I just see too much growth for Magna to be a value trap. The company does not seem stagnant to me whatsoever.
Final Thoughts
I like Magna a whole lot. The company seems overwhelmingly cheap with above average growth. Its balance sheet is intact and it returns tons of cash to its shareholders. I think Magna is well positioned for future growth due to its contract manufacturing services. I will continue to investigate the insider selling and what constitutes a value trap. This is uncharted water for me due to lack of information so I would recommend, as always, you do your own due diligence before taking a position. That being said, I like Magna more than any company I have seen in quite some time.
Disclosure: I/we have no positions in any stocks mentioned, but may initiate a long position in MGA over the next 72 hours.
I wrote this article myself, and it expresses my own opinions. I am not receiving compensation for it (other than from Seeking Alpha). I have no business relationship with any company whose stock is mentioned in this article.