Since the fourth-quarter results were released on February 27, Frontier Communications (NYSE:FTR) has declined 30%. There is concern about weak financial performance, management's interest in a reverse stock split and a potential dividend slash. However, it is imperative that FTR be valued based upon the present value of expected future cash flows, rather than emotion. Currently buffeted by investors' emotion, FTR is substantially undervalued.
It is not a pretty picture: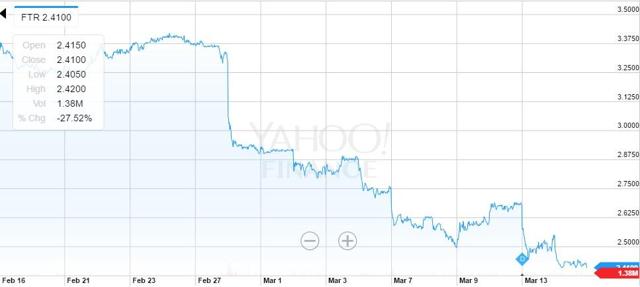 Financial results were especially weak due to CTF account cleanup stemming from the acquisition of some of Verizon's assets in 2016. With management pushing a reverse stock split, which is to be voted on in May, investors have punished FTR. With yield spiking to 15%, it seems that investors anticipate a dividend cut in the near future. To add fuel to these fears, BofA/Merrill Lynch whacked its target price from $7.50 to $2.50 hinting at the potential for a dividend reduction. Unfortunately, this is another example of analysts revising their stock price targets to reflect market sentiment rather than expected future cash flows.
Negative Catalysts Should Take a Backseat to Free Cash Flow
Undoubtedly, these are substantial negative catalysts that rightfully spark concern in investors' minds. However, it is my contention that a stock should be valued based upon the present value of expected future cash flows. The CTF issue seems to indicate a decline in cash flow relative to previous expectations. A decline in stock price on this basis would be warranted if the existing stock already reflected expected future cash flows. A reverse stock split does not alter the present value of future cash flows; the percentage of ownership does not change. Likewise, dividend cut also does not change the present value of future cash flows attributable to the equity owners. But a dividend cut could be a symptom of declining free cash flow which is used to pay common stock dividends. If a dividend cut does occur, I expect FTR's stock price to be negatively affected as dividend investors flee the stock. While this is understandable, a dividend cut does not reflect a change in future free cash flow. It only reflects an alteration in the allocation of free cash flow. At the current time, our best guide for free cash flow was stated as guidance from management in the fourth-quarter conference call.
Assessing and Recalculating Management's Guidance
In the fourth-quarter conference call, management estimated free cash flow for 2017 to be $800 million to $1 billion. Per the conference call slides, free cash flow is defined as "net cash provided by operating activities less capital expenditures and preferred dividends." Before discounting the amount of free cash flow stated by management, it is prudent to perform a basic recalculation based on post-acquisition 2016 numbers to determine the reasonableness of management's guidance. In 2016, FTR generated $1.66 billion from cash from operations. In the first quarter of 2016, FTR generated negative $62 million of cash from operations. Thus in the last three quarters - all of which were post-acquisition - FTR generated about $1.71 billion in cash from operations. Extrapolating this amount to the four quarters of 2017 and assuming no growth or decline, FTR is positioned to generate approximately $2.25 billion in cash from operations. To complete our recalculation of management expectations, we need to subtract out expected capital expenditures and dividends to preferred shares. In the fourth-quarter conference call, management guided capital expenditures for 2017 to land between $1 billion and $1.25 billion. In 2016, dividends to preferred shares totaled $214 million. We will assume for the sake of this model that dividends paid to preferred remain static.
Taking the estimated cash from operations amount and subtracting out the capital expenditures amount based upon the midpoint of guidance and subtracting out the estimated dividends to preferred shares, we see that management's estimates seem reasonable: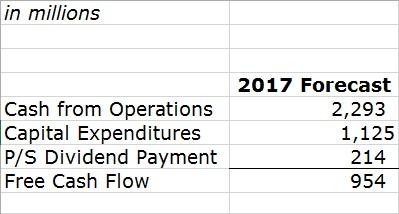 The free cash flow amount of $954 million lands solidly in between management's guidance of $800 million to $1 billion, even providing some wiggle room if cash from operations were to decline or if capital expenditures end up closer to the upper end of guidance. This $954 million is free cash flow to equity, an amount that can be used to pay common stock dividends, make investments over and beyond the recurring capital expenditures, and/or repurchase shares.
To complete a discounted cash flow analysis, we need to discount all future expected free cash flows to equity back to the present by the cost of equity. Instead of using dividend yield to establish a cost of equity, I will use the capital asset pricing model (CAPM). Because the market believes a dividend cut is coming in the near future, it would be inappropriate to use the current dividend yield as the cost of equity. It is also impossible to extrapolate what the dividend yield would be after a dividend cut. Due to these factors, it is best to use CAPM to calculate the cost of equity.
Calculating the Cost of Equity
In calculating the cost of equity, I used a risk-free rate of 2.60% based upon the current yield of ten-year U.S. treasury, a beta of 0.96, and the expected return of the market of 10.49%, which is the average long-term return of the S&P 500. Yahoo Finance states a beta of 0.45 and Google Finance states a beta of 0.66. These betas seemed rather on the low side from having observed FTR's recent price decline. First I calculated beta using the weekly closing prices of FTR and the S&P 500 over the period of a year. This yielded a beta of 2.08. Believable but seeming a little high, I performed a second beta calculation using the month-end closing of FTR and the S&P 500. This yielded a beta of negative 0.16. Yes, it yielded a negative beta. This may seem odd at first glance, but intuitively makes sense since FTR and the S&P 500 have strongly been in opposite directions over the last twelve months. Due to the significant disparities in betas calculated over the same period of time, further discussion and analysis are required. Under my thesis, the negative beta derived properly demonstrates the divergence of FTR from the S&P 500. My thesis is that this was unjustified and that FTR's stock price will move strongly upward, reverting towards the movement of the S&P 500 over the last twelve months. Thus, from a forward-looking perspective, I am unconvinced that a beta of negative 0.16 is appropriate. A beta of 2.08 seems to capture the volatility that FTR has endured in the past twelve months. However, due to the fact that FTR retains robust expected free cash flow in 2017, it intuitively seems inappropriate to assign FTR a beta of 2.08, driving up the discount rate to near 20%. To add further color to this point, I would note that projected 2017 free cash flow per share is $.77, with a price to free cash flow ratio of barely above $3. It is irrational to assign a staggering beta of 2.08 to a company trading at such ridiculously cheap multiples. Because of this contrasting tale of two betas, it is my contention that a simple average results in a superior approximation of risk than either beta alone. This simple average calculation results in a beta of 0.96.
Completing Discounted Cash Flow Analysis
I made the assumption that management achieves its midpoint of free cash flow guidance of $900 million in 2017. I also assumed that the free cash flow amount will decline by 7% per year for all the periods discounted back to the present. I discounted forty years of free cash flow back to the present by the discount rate of 10.17%. I then divided the sum of discounted cash flows by the amount of the total weighted average shares outstanding at year end of 1.164 billion. This yielded a stock price of $4.50, over 75% higher than FTR's current stock price.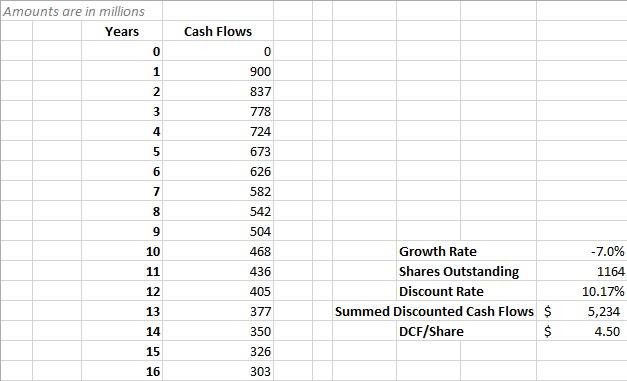 Discussion of Discounted Cash Flow Analysis
While my model is far from perfect, I believe it is constructed with reasonable assumptions. The free cash flow to equity amounts are established by management and are recalculated for reasonableness, and an annual reduction of 7% is assumed to reflect declining cash flows. Additionally, the model does not discount the cash flows in perpetuity, but rather for only forty years. I believe my financial model is fair; however, its primary weakness is free cash flow amounts declining at a faster rate than my forecasted 7%. Substantially faster decline would render my model less than accurate.
Conclusion
It appears to me that investors are assuming a major dividend cut to occur in the near future. If this does occur, dividend investors would likely flee the stock resulting in a significant negative price movement, although unjustified. The stock would be continued to be inappropriately valued as the massive variance between current stock price and the stock price based upon the discounted cash flow model would persist. There is an incongruence between the current market price and the price derived from a rational, mathematical valuation. On the basis of my model, I believe there is substantial upside in FTR and expect it to climb to $4.00 per share in the next twelve months. Hopefully, rational investors will prevail and FTR will be priced fairly in the near future. I enjoyed penning this piece, my first on Seeking Alpha. I welcome any feedback and thoughts about my assumptions and FTR.
Disclosure: I am/we are long FTR.
I wrote this article myself, and it expresses my own opinions. I am not receiving compensation for it. I have no business relationship with any company whose stock is mentioned in this article.