Welcome to the record breaking edition of Natural Gas Daily!
A late brutal winter storm that's currently hitting across the Northeast is pushing natural gas demand to record levels for this time of the year.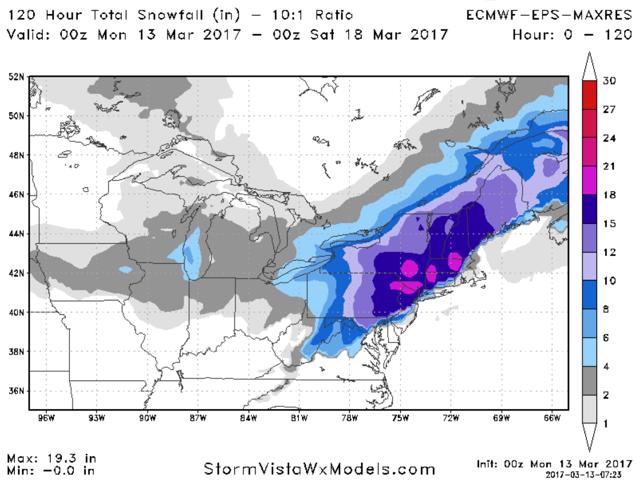 On an implied weekly basis, current storage draws are expected to already total -139 Bcf. We expect the storage report for 3/17 week to be record shattering.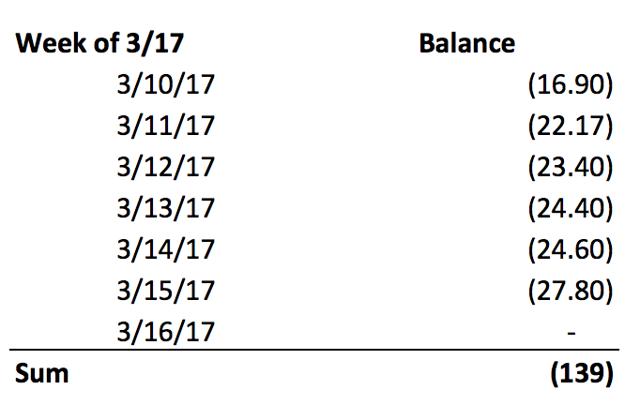 Source: HFI Research Energy Estimates
The Winter storm comes at a time when the 2016-2017 Winter heating demand has pushed EOS projections up from 1.4 Tcf to start 2017 to 2.17 Tcf as of last week. The latest storage projections, including the cold blast we are currently seeing, is expected to push EOS from 2.17 Tcf to less than 2 Tcf now. Our latest update puts EOS at 1.97 Tcf or just 170 Bcf above the five-year average.
With natural gas prices hovering around $2.975/MMBtu, natural gas traders we have been talking to points to the latest rally as a good opportunity to sell down long exposure. Here's what we said this morning in our new premium section, "What are the traders saying?"
Two physical gas traders we talked to today points to the same selling pressure they have been observing since the cold blast was projected late last week. Natural gas prices early in the day made a move up to $3.00/MMBtu before being rejected. They point to the number of longs that have cost basis above $3 and are using the nearest resistance level to liquidate into. With no weather catalysts in the current forecast, it's unlikely natural gas can sustain a move above $3/MMBtu. If weather shifts to colder than normal in April however, they see possible spikes above $3, but they don't think it will stay above that level for more than a week. They are selling volatility into the latest rally and positioned for a reversal.
Overall, the current winter storm is expected to bring storage down from over 2.1 Tcf last week to below 2 Tcf this week. We are forecasting a record breaking storage draw for the week ending 3/17.
8-14 Day Outlook
Disclosure: I/we have no positions in any stocks mentioned, and no plans to initiate any positions within the next 72 hours.
I wrote this article myself, and it expresses my own opinions. I am not receiving compensation for it (other than from Seeking Alpha). I have no business relationship with any company whose stock is mentioned in this article.