The FOMC raised interest rates on Wednesday, with the decision coming on the heels of the Consumer Price Index data released Wednesday morning by the Bureau of Labor. The report shows an uptick in the price of consumer goods for February, a net gain of 0.1%. Although down from January's 0.6% increase, a year-over-year look shows consumer prices have risen 2.7%, which is 0.7% above the Fed's target rate of 2%.
The rising cost of most goods and services is in large part due to the failed monetary policies of the Fed. Money printing and quantitative easing have created runaway inflation, which is driving up prices for consumers.
The biggest jumps YOY were in the energy sectors for gasoline (30.7%) and utility gas service (10.9%). Shelter, transportation services, and medical care all jumped over 3%. While the basket of food items for home consumption fell 1.7%, the cost of eating out rose 2.4%.
The rise in food consumption outside of the home will likely affect lower income households the most, given BLS household expenditure data from 2015, which shows the bottom 20% spending 34% ($1,281) of total yearly food expenditures on food outside the home. The 2.4% increase since last year alone has added another $30 per-family per-year to lower income budgets.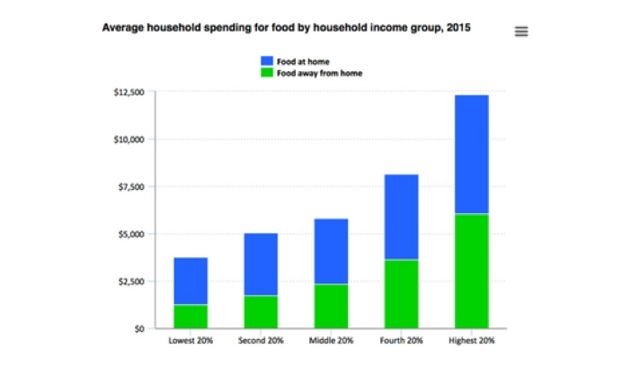 The methodology to compute the CPI is a flawed metric that provides false data. Peter Schiff has proven this with his own research into the actual increase in price of common household goods, which shows a significant difference between what's reported in the CPI and what consumers are actually paying. Watch a video from Peter where he explains how this works: