It has been seen before. Corporations that are not yet at the reorganization or liquidation stage, but have limited options. The capital budget is constricted waiting for better times that may never come. Slowly but surely the bare minimum deteriorates, and then everyone faces the day they hoped would never arrive.
Denbury Resources (DNR) has seen its stock pummeled. So the capital market is probably prohibitively expensive. The credit line is still there. Management has been slowly selling non-core assets to whittle down the debt. But growth options no longer really exist. The company really needs a reverse merger to survive. Diversification is long overdue. The remaining projects still have some sizable cost headwinds that prevent reasonable profits in the new lower cost environment.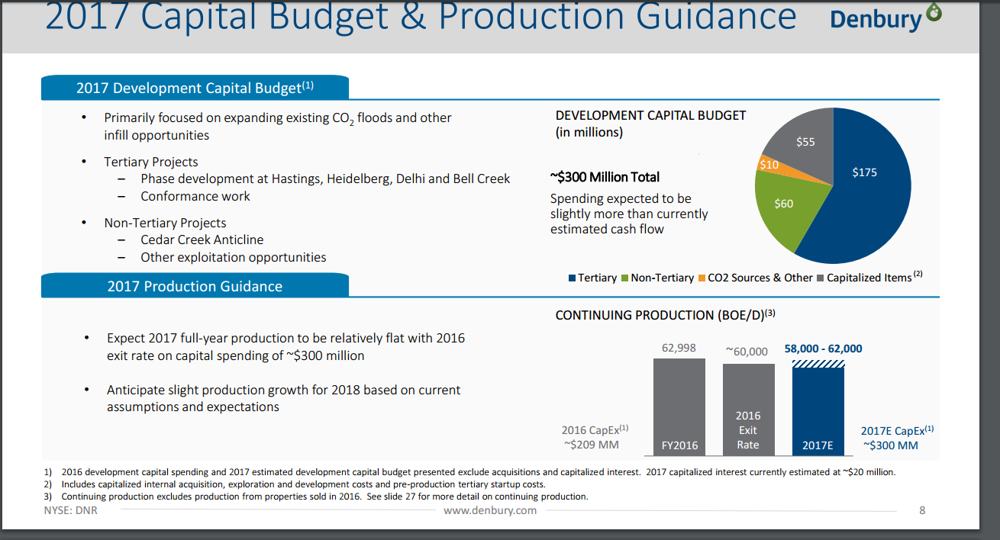 Denbury Resources February, 2017, Corporate Presentation
One of the early signs of trouble is shown above. Management predicts no real growth. Plus the budget slightly exceeds cash flow. So the company needs to borrow or sell assets to maintain production or stem the production decline. If higher selling prices are in the near future this could be a temporary situation. But right now, materially higher pricing does not appear to be in the future of the industry. So there is a significant risk that this situation could repeat itself or more likely get worse. The gas between cash flow and the budget could increase as production gradually declines.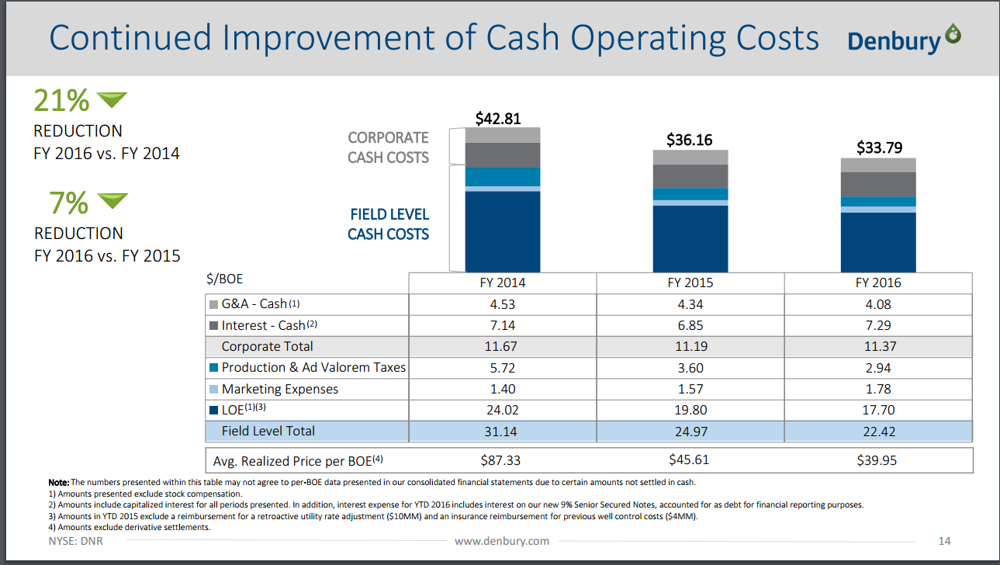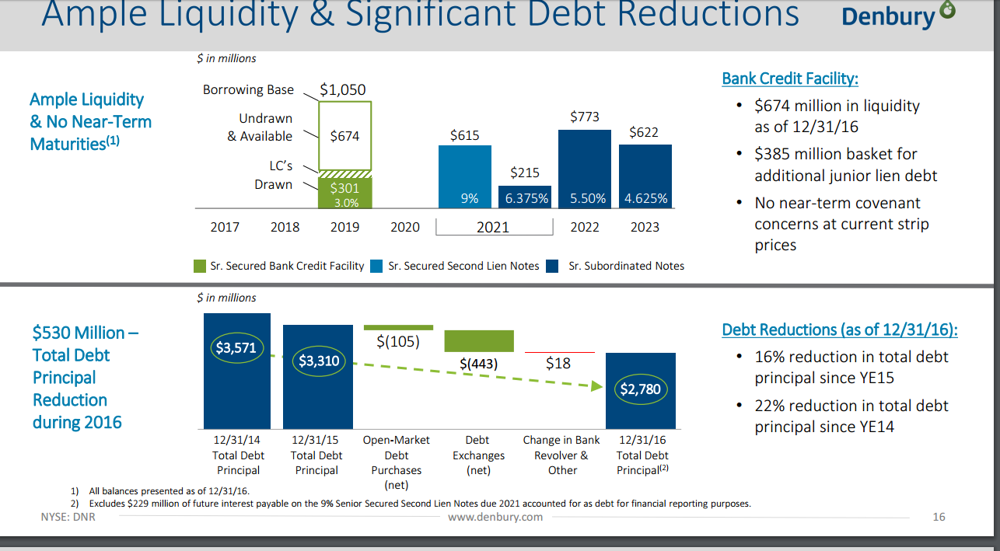 Denbury Resources February, 2017, Corporate Presentation
The biggest problem by far is that the debt reduction is not proceeding nearly fast enough. Either management has the asset values to sell enough properties to restore corporate financial health or they do not. The lack of action may indicate some overvalued assets. Management may not be selling the properties because the sales are not accretive at current prices. Instead, the sales would make the financial situation worse. The accountants have already used some distressed company accounting. The notes to slides above refer to interest that is classified as debt because otherwise the company would have shown a now prohibited gain on the exchange of debt. So at the very least the financials warn potential investors that the company is risky.
Management has stated that there is no debt due for awhile and that the bank liquidity will do the job. But the bank line gets reviewed every six months, to every six months the liquidity picture can change. If the bank cuts the credit line enough, there will be a financial crisis. The lack of cash flow suggests that this is a real possibility sooner rather than later.
The capital budget of $300 million is a little more than 10% of debt. But the cash flow is even less than the capital budget. So the debt ratios are out of line. This is still another reason the bank line may not be available. The bank credit line may not be available when the company needs it. Banks will not loan money under a credit line if a covenant violation is on the horizon.
So despite the good news shown on the first slide, the company has not found a sufficiently profitable combination. So unless the cost cutting pace quickens quite a bit, this company could be in for further financial deterioration.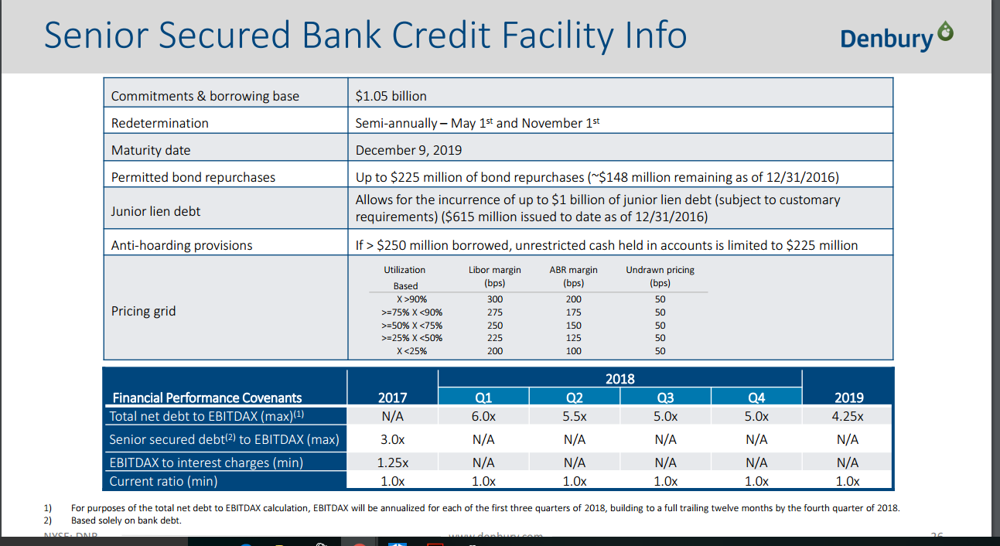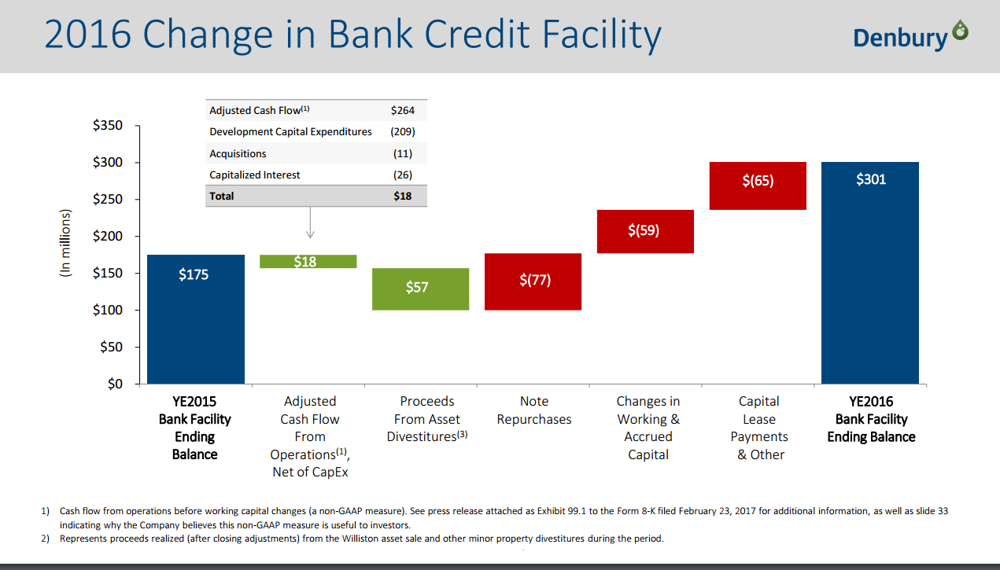 Denbury Resources February, 2017, Corporate Presentation
There are a couple of things that could cause some serious issues ahead of market expectations. The first is that EBITDAX appears to be in the $300 million range for fiscal year 2016. Not only does management need to increase that to about $500 million by year end 2018, but the reserves may be deemed to high cost to be commercial. Cash flow from operations decreased in the fourth quarter to about $60 million. If that trend continues, the projected cash flow in the current year could be revised downward.
Low earnings are caused by uneconomic reserves. So the first sign of trouble is likely to be the re-determination process that will next occur in May. Economic reserves will be a high priority. If commodity prices continue the current declining trend, then this company's bank line could be severely cut. The waiver on net debt to EBITDAX will not do much good.
The company survival strategy could be more reliant on property sales than Mr. Market realizes. But selling prices of leases also depend upon commodity price levels and outlook. This company had a window of opportunity for about six months that may be narrowing or even closing.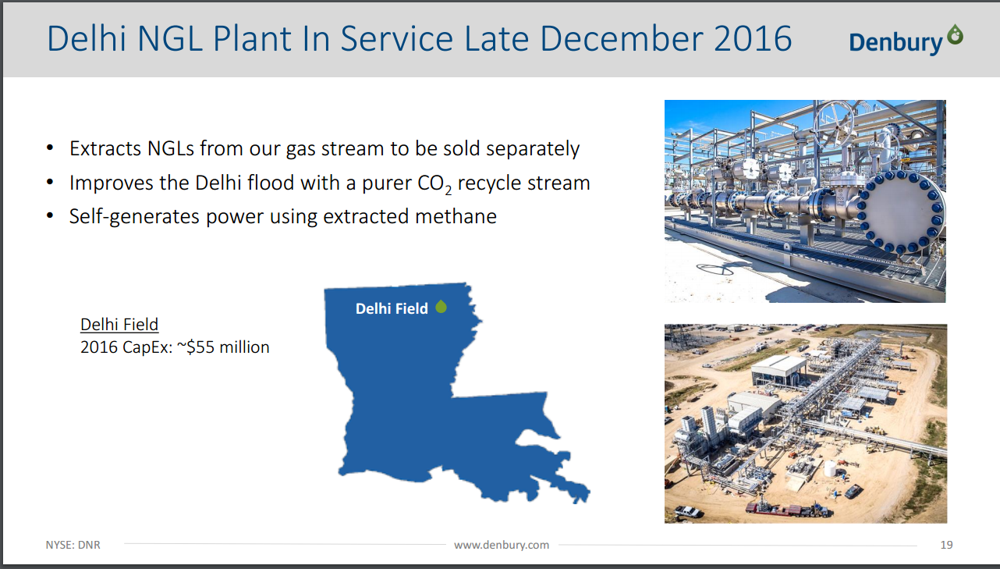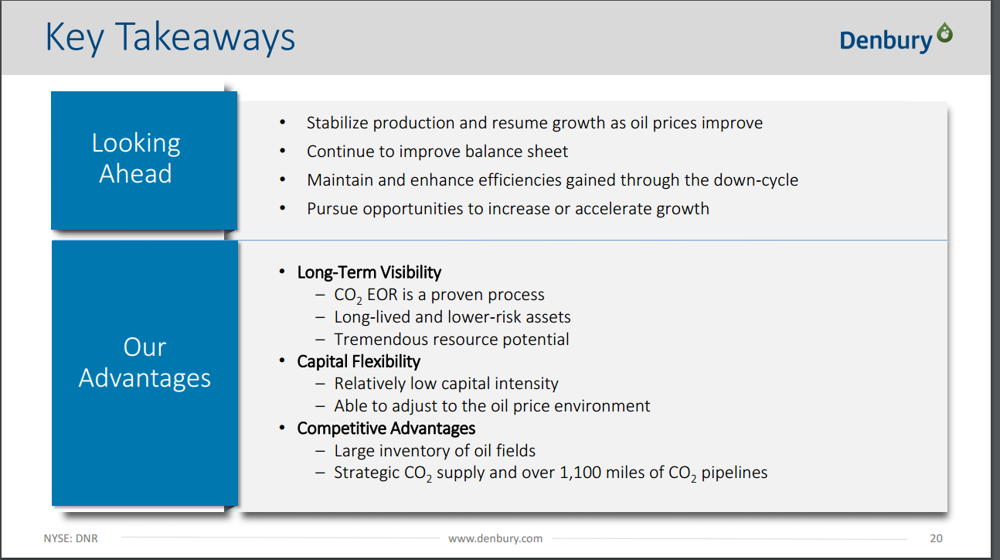 Denbury Resources February, 2017, Corporate Presentation
The company does have one revenue booster in the form of a new gas processing plant. How significant a boost to revenue this plant will be remains to be seen. The balance sheet improvement needs to happen much faster and far more significantly. The company probably needs to pay down $2 billion of debt to survive. The advantages shown above do not enable sufficient profitability. So even though management publicly tells investors that there are no debt payment worries for years, the threat to corporate viability may come from a completely different direction. Most likely there are significant reserves that are uneconomic because they are too high cost to produce. But those are also the leases that are the least likely to sell. So this company may be caught in a downward spiral that it cannot escape. Despite the low price of the stock, this stock could become an excellent short candidate in the near future. The case for a stock price drop is far stronger than the one for capital appreciation.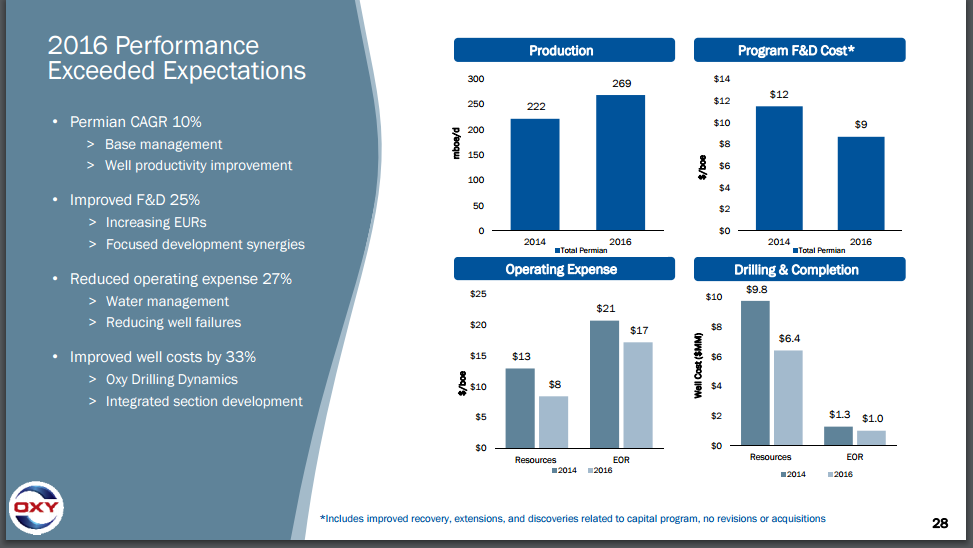 Source: Occidental Petroleum Fourth Quarter, 2016, Earnings Conference Call Slides, February 9, 2017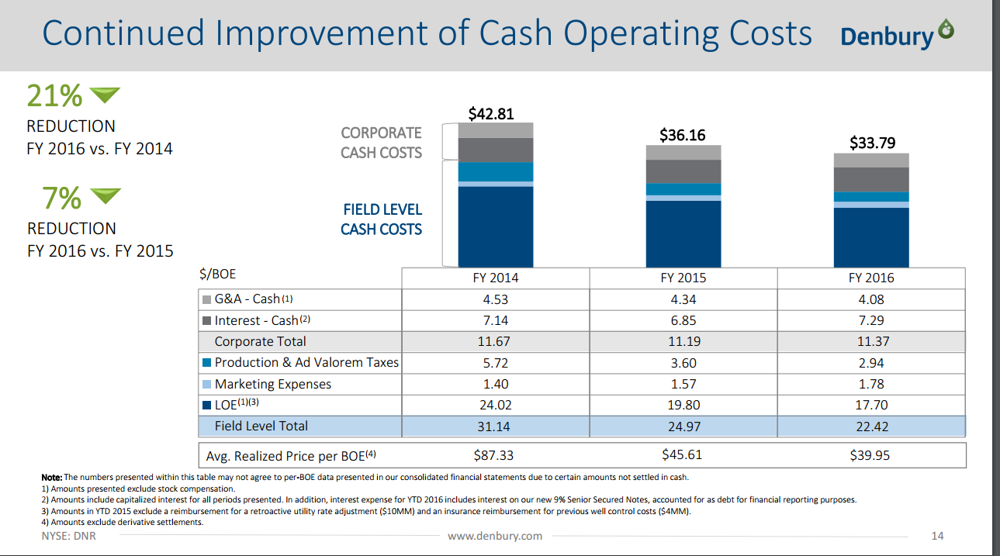 Denbury Resources February, 2017, Corporate Presentation
As shown above, the biggest cost disadvantage that Denbury faces is the interest costs per BOE. That $7.29 BOE is a huge competitive disadvantage when compared to a company such as Occidental Petroleum (OXY) in the current low commodity price environment. The G&A costs for Denbury are also pretty generous. So something is going to have to give in order for those margins to reach a reasonable profitability point. This company really needs a sizable and sustained commodity price rally for reasonable profitability. A very large exchange of equity for debt or a reverse merger is another possibility. Otherwise the chances for stock appreciation are dim and the lights are going out. The company is in a commodity industry and has to compete against the likes of Occidental and its cost structure. That is starting to look like a very tall order.
Disclaimer: I am not an investment advisor and this article is not meant to be a recommendation of the purchase or sale of stock. Investors are advised to review all company documents, and press releases to see if the company fits their own investment qualifications.
Disclosure: I/we have no positions in any stocks mentioned, and no plans to initiate any positions within the next 72 hours.
I wrote this article myself, and it expresses my own opinions. I am not receiving compensation for it. I have no business relationship with any company whose stock is mentioned in this article.