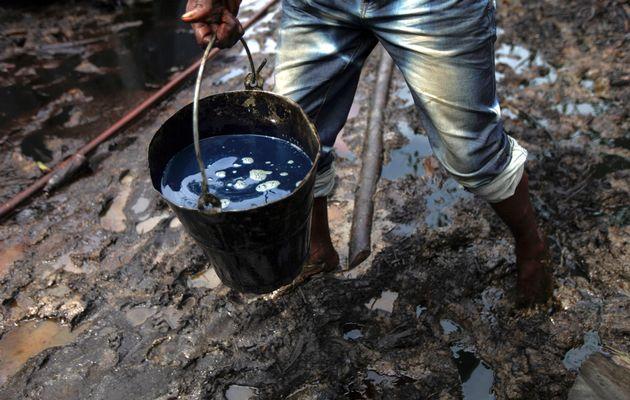 Nigeria's crude out production level has been hampered by destruction from different militant groups. The last group to wreak havoc on a massive scale was the Niger Delta Avengers.
After the agreed OPEC cut, everything looks set for more upsides to current crude prices. While the initial news was that the agreed cut was implemented to 80% of the supply reduction, dissenting rumors have been floating around about the uncertainty to carry the cut into the back half of the year while some sources are claiming a lack of follow through by some OPEC member countries. This has stabilized the oil rally from last year.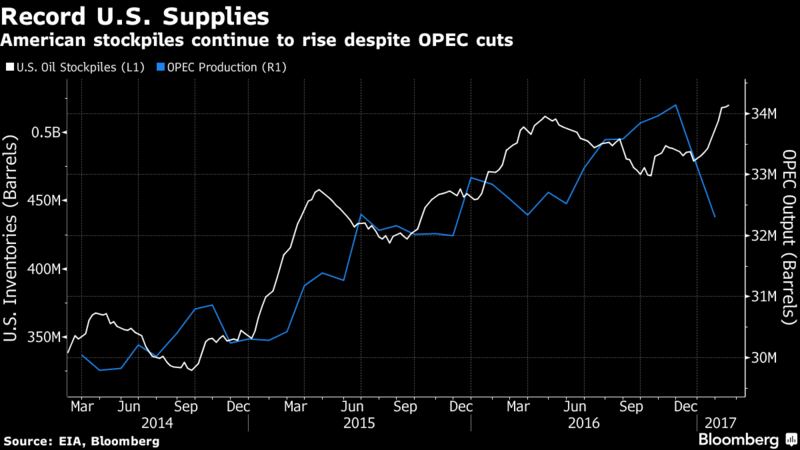 Source: Bloomberg
In the absence of a full implementation of the supply cut in the back half of 2017, crude oil might fall back to the 2016 lows, partly fueled by the upsurge in production by shale oil producers.
As a result, a fresh bullish thesis is floating around based on more supply constriction by some OPEC members who are exempt from the cut.
These member countries include Libya and Nigeria.
Nigeria has a maximum crude oil production capacity of 2.5 million barrels per day. This makes it the 6th largest exporter of oil. Libya, on the other hand, has a maximum output of about 1.25mbpd (short term) while boasting of Africa's largest oil reserve. Libya currently produces ~600,000mbpd of crude oil.
With both countries hampered by unrest and instability due to attacks by militants and opposing groups, this has hampered productivity.
This is driving a new bullish thesis that instability in both countries will help uphold the OPEC cut by reducing the quota of inventory supply from both countries.
Let's drill deeper.
In Nigeria, this is no longer true. The Niger Delta Avengers having been contained have retreated and production is back to previous highs. For Nigeria, the focus has ascended to cost optimization. Recently, her cost of production was reported to have declined massively.
According to a WSJ report, Nigeria became the third most expensive country to produce oil with a cost per barrel of $28.99. It further declined to $27 per barrel at the end of 2016.
This was driven by new cost-cutting measures.
According to the worldstagegroup:
The NNPC had renegotiated its deep offshore rig-rate from a staggering $580,000 to $164,000 per day, saving the country a 71.7 per cent cost of executing a similar operation in the past.
Recently, the Minister for Petroleum explained that the country plans to reduce the cost to $18 per barrel by the end of the current administration.
This shows the dire need of the country to get production up to the maximum capacity needed to navigate the current recession which has seen inflation rate shoot to the air.
Nigeria was exempted from cutting oil production during the Algiers accord. The country benefited from its poor economic state which saw the economy plunge into recession as the falling price of crude oil led to the depletion of its foreign reserve. This put a demand glut and uncertainty on the Naira, thereby resulting in a devaluation of the currency which spurred inflation and a decline in GDP.
Since then, efforts have been intensified to get crude oil production back to the optimal level given that crude oil represented over 90% of its foreign export earnings and 70% of revenue.
As a result, lowering production will grind Nigeria's economy to a halt.
In Libya, there is a battle between the Benghazi defense brigades (BDB) and the Libyan National Army (LNA), led by Field Marshal, Haftar.
Production in some of its largest oil ports has been on and off. This fight is also affecting big production ports in Es Sidar and Ras Lanuf.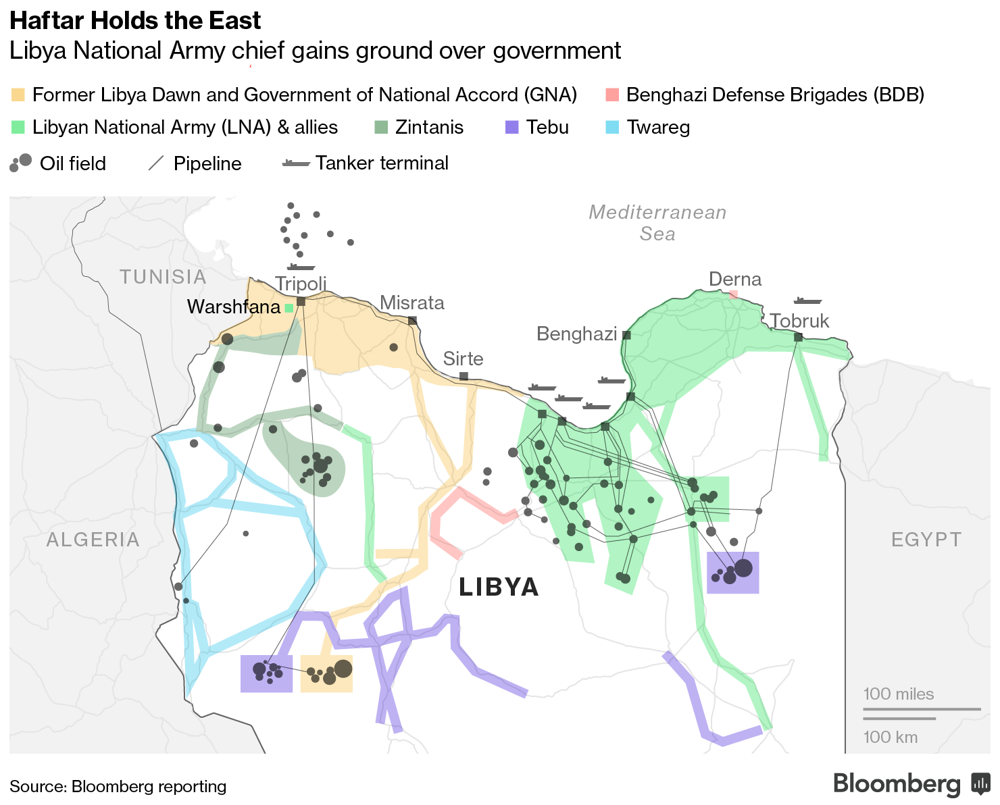 The militants who are said to be linked to terrorist groups are opposed to a new coalition led by Haftar who they claim has signed a deal with Rosneft (OTCPK:RNFTF) (Russian oil giant) to sell oil.
Haftar has the support the Russians who are more interested in securing new trading deals should Haftar succeed. This is because Russia lost a lot of arms deal after Qhadaffi was ousted.
There are also rumors that Russia might also be helping Haftar's forces by printing money to foster economic activities outside (in Tobruk) the state capital, Tripoli.
It is interesting to know that reports on the seizure of Libya's largest oil port have affected the price of crude oil lately.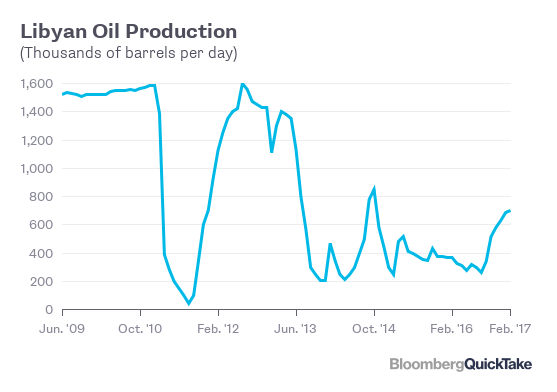 Source: Bloomberg
According to Bloomberg:
Reports of Es Sider's capture led benchmark Brent crude to jump by 82 cents a barrel on Friday, and prices jumped again when Es Sider and Ras Lanuf halted operations. Brent was at $56.05 a barrel, up 16 cents, at 12:18 p.m. in London.
A unity government (Government of National Accord) under Fayez Al Saraj which was created after Gadhafi was toppled is the only recognized body allowed to sell and export oil.
While oil production has resumed in Nigeria, it is hard to say when the battle in Libya will end. Both warring factions appear well equipped for strikes and counter strikes with global backings.
However, the Libyan government installed by the UN appears to be the stronger side and it is resolved to ensure Haftar's forces do not succeed.
Recently, the petroleum facility guards were claimed to have taken back Ras Lanuf and El Sidar from Haftar. However, that claim has been lost as Haftar's forces who are accretive to oil production when in control have regained control of the two ports.
By betting that Libya and Nigeria will somehow stop producing oil and more fighting will erupt, bulls are making a risky bet because while Nigeria has for the moment resolved its conflicts, the warring parties in Libya are more about control than output. And while the Tripoli government has set a target for 1 million barrels/day by the end of the year, disruption has only led to decline of a few thousand barrels which are not significant in the long run as the recent shale-driven decline has proven. Moreover, rather than stagnate, production in Libya has jumped YoY.
Disclosure: I/we have no positions in any stocks mentioned, and no plans to initiate any positions within the next 72 hours.
I wrote this article myself, and it expresses my own opinions. I am not receiving compensation for it. I have no business relationship with any company whose stock is mentioned in this article.