It's March again, which means it's time for that great annual tradition of March Madness, where a majority of the nation's workers will officially dive into low-productivity mode for at least a couple of days, if not a matter of weeks.
According to ESPN, more than $10 billion will be wagered on this year's NCAA basketball tournament, only a small fraction of it legally (meaning, in Vegas at actual casinos). In fact, the draw of the tournament is so strong that more Americans are expected to fill out brackets this year than have voted for any Presidential candidate in history (incumbent included):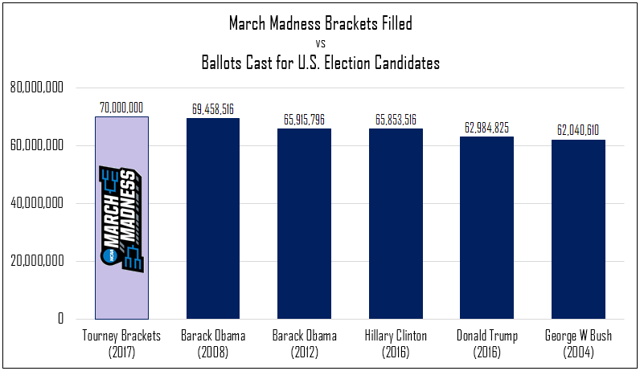 Nothing, it seems, unites Americans quite like this annual rite of athletic passage. But why let a little fun get in the way of a great learning opportunity? That's why I'm here.
I write a version of this piece each year because, in my opinion, the process of filling out an NCAA Tournament bracket is ultimately a lot like that of constructing an investment portfolio - finding the right balance between the "safe" picks and the "upset" picks; crafting a "unique" bracket that you think can outperform your coworkers (or "the market"); even making picks that will make us feel good when they work out well (picking our alma mater's team, or values-based investing).
Of course, given the similarities, it's a shame that we are, on balance, pretty terrible at both tasks - the litany of research regarding the folly of stock-picking is rivaled only by the annual avalanche of "my bracket is already busted" jokes, which will get old in a hurry. But just because we're all destined to be eliminated from our office pools by this weekend, that doesn't mean we can't learn a little something about investing in the process.
And as a side benefit? I might even help you fill out a better bracket.
The "most likely" outcomes aren't really the most likely
The biggest mistake that people tend to make when filling out their brackets is picking too much "chalk," or highly-seeded teams. The mistake is one of confusing the most likely individual outcomes with the most likely aggregate outcome. I'll show you what I mean.
Two years ago, I examined the case of Kentucky, which entered the tournament as the as-yet-unbeaten #1 overall seed, and the most overwhelming Tournament favorite in recent memory. As statistician Nate Silver pointed out then, the Wildcats entered the tournament with at least a 73% chance of winning every game they were scheduled/projected to play in the tournament.
However, both Silver and I noted that even though Kentucky was the overwhelming favorite in every individual game they played, they were still more likely to lose the title than to win it, with their title odds measuring about 40%, versus 60% for "the field" (i.e., anybody else). No, there wasn't any one team in the field which was more likely than Kentucky to win it all (Villanova, at 11%, came in a distant second), so if you had to pick one, you'd have picked Kentucky. But you'd have done so admitting that you were more likely to be wrong than to be right.
Ultimately, this dynamic boils down to basic statistics - add enough rounds (or trials) to any game of chance, and the odds of an "unexpected" outcome steadily rise. It's a sports version of the old "birthday problem," wherein small odds become large odds quite quickly given enough trials.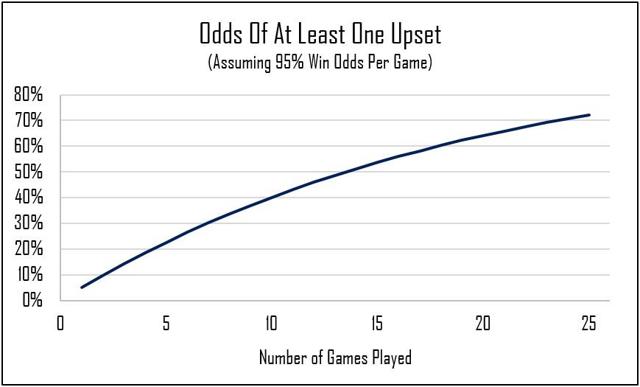 As the above chart shows, even if top seeds had a 95% chance of winning every game, they would only need to play 14 games before the probability of "all-favorites-winning" would become lower than the probability of "at-least-one-upset." And since teams rarely have a win probability in excess of 95%, the real number of games that it takes before we can expect an upset is, in fact, much lower than 14.
Perhaps unsurprisingly, Kentucky did not take home the title two years ago, losing in the national semifinals to Wisconsin. As an added bonus, the #2 most-likely champion in the field, Villanova, didn't even survive the first weekend, falling to NC State in the second round. The eventual champion, Duke, was far from an upset winner (they were, after all, a #1 seed in their region), but they entered the tournament with only a 34% chance of reaching the Final Four, let alone winning the title.
With 63 games in the tournament (okay, fine, 67 if you include the play-in games), there's basically no way that an "all high seeds" approach, or anything close to it, can win out. Remember, there has only been one year in history where all four #1 seeds advanced to the Final Four, as compared to three years where none of the four did. In fact, since the 2010 tournament, only 8 #1 seeds combined have reached the Final Four (granted, 8 of the last 12 national champions have been top seeds, but Final Four participants are a very different story).
So, what does all of this mean for investing? For starters, constructing a portfolio comprised only of blue-chip stocks is probably a bad idea. Every year, a list of the top-performing stocks in the S&P 500 Index includes some barely known companies, or at least companies that are hardly thought of as "top-tier" firms. (In fact, the only company to have cracked the top 10 in total return in each of the last two years is Nvidia (NASDAQ:NVDA); congratulations to you if you had that stock in your portfolio).
Even the best-informed (and gutsiest) stock picker would have been hard-pressed to allocate a meaningful portion of their portfolio to the names on the "top performer" lists. In large part, that's because career risk (or, in the case of brackets, risk of humiliation) is a killer-lose money for your clients owning Apple (NASDAQ:AAPL) stock, and you'll be forgiven, but lose it owning VeriSign (NASDAQ:VRSN) and you may soon be out of a job.
That fear of failure is why, for example, football coaches don't go for it on 4th down nearly as often as they mathematically should - it's a matter of guessing at which failures will be "acceptable," and which will not, rather than optimizing one's chances of winning. It's also why your bracket probably stinks, and why your portfolio might, too.
You're overestimating the differences
After my great success in predicting Kentucky's demise two years ago, last year, I decided to focus on the parity in the field, and how we were likely overstating the difference in quality between the top-seeded teams and the lower-seeded teams. Last year in particular, there was no obviously great team heading into the tournament, and in fact, most statistics suggested that the level of parity had rarely been higher.
And yet, even in a season of unprecedented balance and chaos, the "experts" over at ESPN overwhelmingly chose the same two teams as their predicted champion - Kansas and Michigan State. Of the 31 experts making picks, 18 picked Michigan State, 10 picked Kansas, and only 3 picked anybody else. That 28 out of 31 represented 90% certainty among the group of experts, even though statistical odds suggested that the mathematical probability of one of those two cutting down the nets were closer to 28%. That's a huge gap.
Perhaps even more amazingly, a full 30 out of the 31 experts selected Michigan State to win the Midwest region, despite the fact that the Spartans weren't even the top seed in the region, and that the odds of them reaching the Final Four were only projected around 34% (not the 97% that the ESPN experts had suggested).
I gently suggested that Michigan State was the most overrated team in the entire field, and guess what happened next? The Spartans lost their first round game against 15th-seeded minnow Middle Tennessee State, in a game that was dubbed "the biggest upset in NCAA tournament history." It was, of course... and yet, at least one personal finance writer nodded along knowingly as it all unfolded.
In addition to the Michigan State dynamic, I also noted that the ESPN experts had consistently underrated the teams seeded #5 or below. Where the ESPN experts' picks suggested only a 2 or 3% chance of a low-seeded team advancing to the Final Four, mathematical odds put that number closer to 30%. The experts were almost right, too, until #10 seed Syracuse pulled off a dramatic comeback against #1 seed Virginia to reach the Final Four.
So, what do we see this year from the ESPN experts?
(Note: the mathematical "odds" we're comparing the ESPN picks to are based on win expectancy projections based on a composite of six separate team "power ranking" systems; despite checkered results in recent political elections, these stats have retained strong predictive power in the realm of sports.)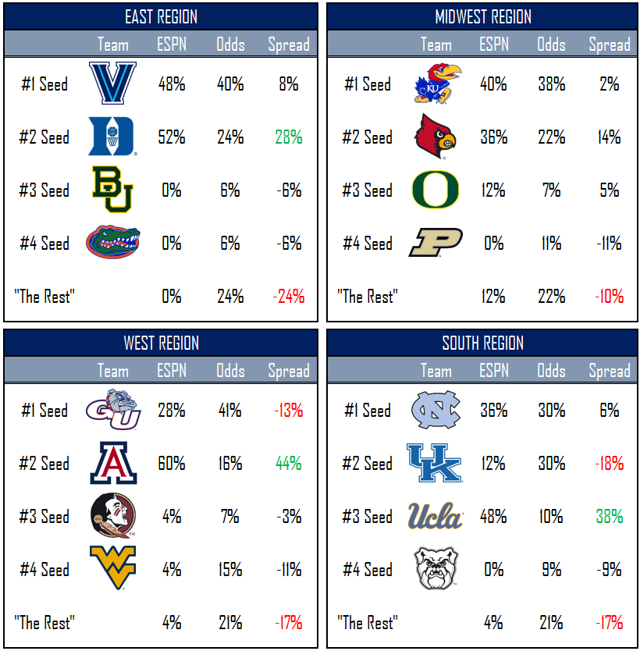 There's nothing nearly as extreme as last year's 97% Michigan State love, but a few things still jump out here, all of which are telling.
Once again, teams seeded #5 or below are consistently underrated by the experts, in every region, by a wide margin.
The team with the largest positive bias among ESPN experts (Arizona) happens to be in a region with a #1 seed (Gonzaga) that has turned in a number of disappointing performances in recent tournaments; recency bias, anyone?
The team with the next-largest positive bias (UCLA) boasts one of the nation's flashiest and most visible individual players, Lonzo Ball, a potential #1 overall draft pick in this year's NBA Draft. Even Ball's father has been making headlines this week. This seems like pretty standard blue-chip bias. Lonzo Ball might as well be a high-charisma CEO like Steve Jobs or Elon Musk.
All in all, the ESPN experts are once again displaying the same two very important biases, biases that have a tendency to come up year after year after year, for sports analysts and investment managers alike. Overrating the blue chips and overrating recent events can be killers for your portfolio, as well as for your bracket.
The stocks that have outperformed their benchmarks in recent years are generally unlikely to repeat the feat this year, just like the teams that outperformed (or underperformed) their seeds last year are unlikely to continue doing so (unless, of course, they're consistently misranked or mis-seeded).
In sports as in investing, there tends to be at least some measure of mean reversion. Don't be like the ESPN analysts - focus on the numbers, not on your emotional memory. And if Arizona, UCLA, or Duke go down on the first weekend this year, don't say you weren't warned.
Sometimes history lies
Finally, you hear it all the time in investing: "past performance is not an indicator of future results." We should definitely apply the same thinking when filling out our brackets. As many of you are no doubt aware, a #1 seed has never lost to a #16 seed since the tournament expanded to 64 teams - they are 128-0. Does this mean they're invulnerable? Hardly.
Shifting just one line on the seed list to #2, we see that 8 of 128 #2 seeds have lost to their #15 seed opponents, including three in a recent two-year span (and, of course, that now-famous Michigan State loss last year). Even if we assume that every #1 seed has a 98% chance of beating a #16 seed in any given game (a high but fair probability), we arrive at a 7.8% chance of a 16-over-1 upset in any given year. That's probably a lot higher than you might have expected.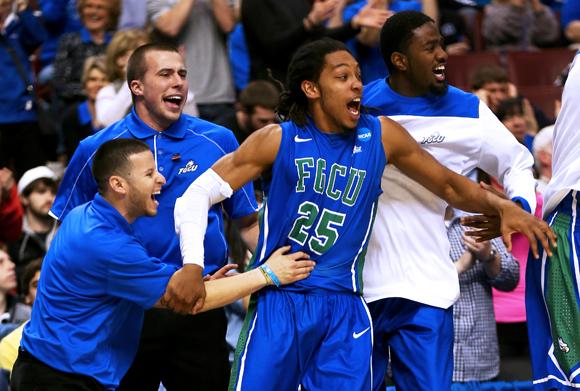 Frankly, the really unlikely outcome is that we've gone this far without seeing a single such upset-assuming that 98% win probability, the odds of an upset-free streak lasting this long are only about 1 in 13 (7.5%). Even if we were to increase the individual-game win probability to 99% for the top seed, the odds of a winless streak for the 16 seeds still only increases to 27.6%, meaning we still should have expected at least one upset by now.
Does that mean you should pick a 16-seed this year? No, of course not. But you shouldn't feel too comfortable automatically picking all of the #1 seeds every year, either, even if it's consistently paid off for you so far.
Take "the field"
In the world of bracketology, choosing "the field" is unfortunately not an option. Even though we may recognize that Kansas or Villanova or North Carolina is more likely to lose the title than to win it, that doesn't mean there are necessarily any better options available to us. We've gotta pick somebody. Lucky for us, the same all-or-nothing approach doesn't hold true in investing.
When we're operating in the markets, we both can and should choose investments that represent "the field" (they're called index funds). We'll still own plenty of the Kansases and Kentuckys of the world in those funds, but we'll also get to own some of the lesser-known teams (stocks), for when the unlikely-but-eventually-inevitable "upsets" happen. That way your portfolio won't end up busted, even if your bracket does. Have fun out there, but check your strategies at the door when it comes to investing - there shouldn't be any "madness" in anyone's portfolio.
(P.S.- Go 'Hoos)
Author's Note: A version of this article was first published on MyFinancialAnswers.com in 2015; it is amended annually to remind us that a) what we think will happen in March is almost always wrong, and b) we need to apply the lessons from our bracket failures elsewhere in our lives, where the stakes are a lot higher than the $10 annual office pool ante.
Disclosure: I/we have no positions in any stocks mentioned, and no plans to initiate any positions within the next 72 hours.
Business relationship disclosure: The author is a contract employee and partial owner of myFinancialAnswers.com, and he is compensated to provide industry commentary for the site. The opinions provided here may also be published at myFinancialAnswers.com.