Much has been written about the yen's safe haven status. A quick look at the charts shows that, during the great recession, USD/JPY went from almost 124, down to about 75.60. I am not going to get into the details about why the yen acts as a safe haven, and instead will simply link to "Why Is the Japanese yen a Safe-Haven Currency?," which does a fairly decent job of explaining various reasons. The point of this article is to examine what the yen is showing us about risk appetite vs. what the VIX tells us about risk assessments.
Even taking into account variations in the yen, caused by macro-economic factors, one cannot really say that the yen and VIX move together. While the Japanese yen and VIX are both measures related to risk, they measure two very different aspects of risk.
Consider the 20 year graphs (weekly data) of both USD/JPY and the VIX.

Clearly, the graphs do not line up. Around the time of the last recession, the yen continued to strengthen in value, well beyond the time when the VIX peaked.
Risk Appetite
vs. Expected Risk
People do not move to safe haven assets when "stuff" hits the fan. They move to safe haven assets when they do not want to deal with a high degree of risk. That means, even if people do not currently expect risk, if they are unwilling to tolerate risk, then they will still move to safe haven assets. Therefore, the yen is less an indicator of current or expected risk, and more a measure of how much risk people are willing to take on: investor's "risk appetite."
The VIX, on the other hand, is a measure of the expected 30 day volatility in the S&P 500. It is a measure of how risky investors expect the market to be, in the near future. So if people are willing to take on a lot of risk, the yen may stay weak, even if the VIX is up, etc.
Current Situation
Below are the one year daily charts for USD/JPY and VIX.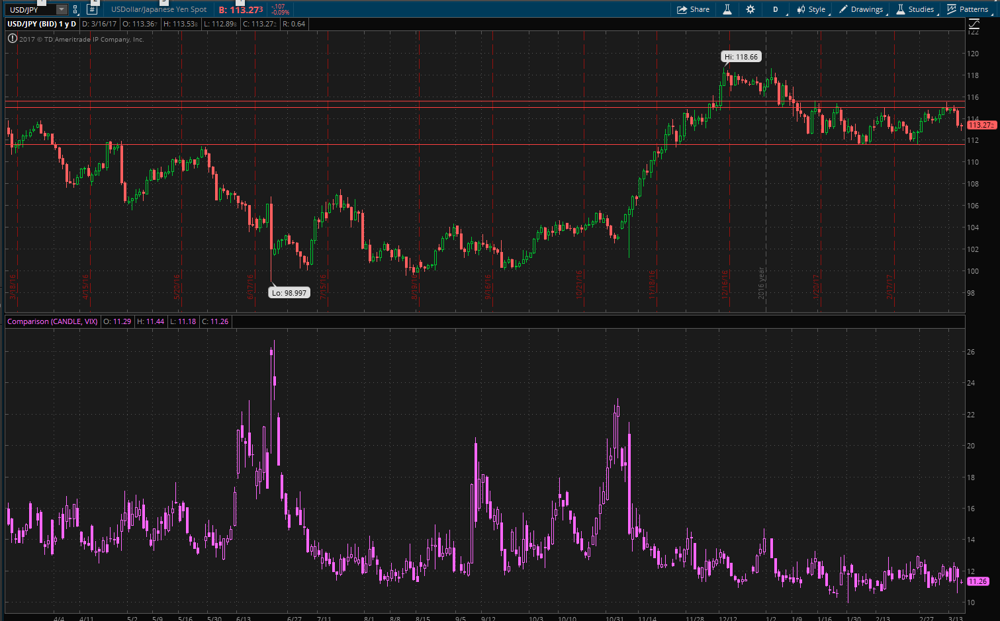 For the last two months, USD/JPY has been trading more or less between 111.6 and 115. Leading up to the FOMC announcement, it was trading at roughly 114.50. But after the announcement, it very quickly dropped to ~113.35 This likely has more to do with a weakening dollar, rather than a decrease in risk appetite.
However, USD/JPY is still well off its 20 year high of ~148 and has dropped considerably from its local high of 125. This, taken with the sideways movement suggests to me that investors are starting to reevaluate how much risk they are willing to take on.
Meanwhile, it appears that VIX has more or less bottomed out, having changed little since November, and having dropped below 10 at one point. This coincides with a recent topping of the S&P 500.
Watch For
It is difficult to make exact predictions, but there are a few things we should watch. If USD/JPY breaks below support around 111.50, that would indicate that investors are starting to lose their appetite for risk. Given that the markets are already overvalued, as I mentioned in "Market Sentiment Vs. Reality," that would indicate an increase chance of a correction.
Disclosure: I am/we are long VIXY.
I wrote this article myself, and it expresses my own opinions. I am not receiving compensation for it. I have no business relationship with any company whose stock is mentioned in this article.
Additional disclosure: I hold a generally contrarian portfolio.