Wal-Mart (NYSE:WMT) is making additional investments in its pricing strategy to ensure it remains the most affordable retailer within the U.S. A recent price comparison by Reuters in five cities for a basket of 15 items showed Wal-Mart offering the goods at 5% to 10% cheaper than Aldi. Wal-Mart's new pricing strategy is being used in at least 1,200 stores within the U.S. A couple of months ago, a similar pricing comparison showed Wal-Mart's prices were 20% to 40% higher than Aldi's.
This aggressive move by Wal-Mart is also to build a better defense against the launch of operations by German discount retailer Lidl. Lidl is expected to open its first 20 stores in South Carolina, North Carolina, and Virginia. Both Lidl and Aldi have performed extremely well in the United Kingdom at the expense of other traditional retailers, including Wal-Mart's Asda. This will be a multiyear competition between Wal-Mart and Aldi/Lidl as these German retailers open new stores and expand into new territories. It will require continuous investments by Wal-Mart, which should hurt its bottom line and stock performance for the next few years.
Current Pricing Strategy
Wal-Mart has always been a price leader among other discount retailers. However, in the last few years Aldi has been able to beat Wal-Mart on the price front by offering more private label options and limited choices. Although Wal-Mart is still by far the biggest retailer, it is growing at a much slower pace than Aldi. Wal-Mart has cornered 22% of the grocery market in the U.S. and is currently growing at 2%. On the other hand, Aldi has 1.5% of the market, but it's growing at 15% annually.
Wal-Mart used to offer price matching to customers. This policy was slowly phased out in many stores to allow greater flexibility in pricing depending on location and competition. In its new pricing policy, it is much more aggressive. Wal-Mart is beating Aldi on prices for many basic items like milk, eggs, soda, and paper towels in the stores where the comparison was made. It has asked major consumer product vendors like Procter & Gamble (NYSE:PG), Unilever (NYSE:UL) and Conagra Brands (NYSE:CAG) to cut their prices drastically.
Wal-Mart is also preparing to defend against the launch of Lidl. Lidl is believed to be a bigger threat to Wal-Mart than Aldi. It sells more brands, has in-store bakeries, and more fresh produce. The availability of more branded goods by Lidl should make it more appealing to domestic customers than Aldi, which relies heavily on private label goods.
Avoiding the Situation Faced in Britain
Aldi and Lidl have wreaked havoc on traditional retailers in the UK in the last few years. They have increased their combined market share to close to 11% as other retailers saw their market share fall. However, the bigger impact has been on the margins. As both Aldi and Lidl have increased discounts to attract more customers, the traditional retailers have also had to reduce their prices, leading to a rapid decrease in margins.
Market Share Change in Great Britain Among Major Retailers in the Last Few Years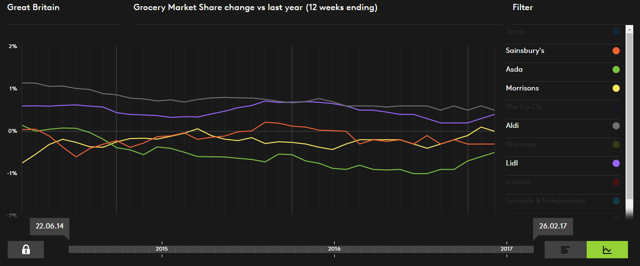 Source: Kantar Worldpanel. (Note: Wal-Mart's Asda was rapidly losing market share as it put more stress on protecting margins.)
Wal-Mart cannot afford to let similar situation happen in the U.S. As such, we can assume that Wal-Mart will forego its margins in order to protect market share. This will end up hurting the bottom line and also divert resources from its competition with Amazon (NASDAQ:AMZN) in e-commerce.
Investor Takeaway
Wal-Mart will face massive challenges in the next few years. One of the biggest would be the rapid expansion by Aldi and Lidl. Both of these German discount chains have shown that they can grab market share from established players and compete aggressively on the price front. The current pricing strategy shows that Wal-Mart is trying to protect its market share at the expense of margins. This will hurt its bottom line and reduce available cash that it can return to investors through stock buybacks and dividends.
Although it's unclear if Wal-Mart will be able to protect its market share in the future, it will certainly see its margin shrinking for the next couple of years. This should negatively impact its stock performance and reduces its appeal for both short-term and long-term investors.
Disclosure: I/we have no positions in any stocks mentioned, and no plans to initiate any positions within the next 72 hours.
I wrote this article myself, and it expresses my own opinions. I am not receiving compensation for it (other than from Seeking Alpha). I have no business relationship with any company whose stock is mentioned in this article.