I previously promised myself I would never write an article on Seeking Alpha about any stock that I didn't actually own. However, a few nights ago, something happened that changed this conviction. I had decided it was time yet again to clean up my personal email account, so I started that process, which I'm sure you most likely do yourself. As I was going line by line to delete those emails I knew were never going to be utilized, I came across an email which included an article I had previously forwarded to a friend of mine who owns a successful local breakfast and lunch restaurant. The article was published in Bloomberg.com on February 2, 2015, and was titled "Chipotle: The Definitive Oral History".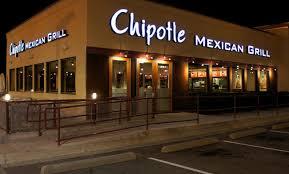 If you read or even scan the article, you'll see that it wasn't really an investment piece. Rather it was more of a timeline detailing a classic American business success story. How did the company start and what led to its incredible success at the time are detailed in a fascinating narrative. I admit being someone that has always liked Chipotle (NYSE:CMG), even though the closest outlet is now 45 minutes away from where I live. My proclivity for the company's food is most likely why I read the piece in the first place.
One thing I had remembered distinctly within the text was a lengthy discussion detailing how CMG had once been owned by McDonald's (NYSE:MCD) for about eight years. At the article's publication, it was blatantly obvious which company appeared to being doing quite well while the other was struggling as detailed in the following quotes: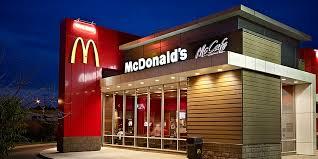 In the years since their split, Chipotle's rapid growth and consistently astonishing financial results have made it a darling of investors. Its commitment to fresh, high-quality ingredients at only slightly higher prices has helped to define a new wave of "fast casual" dining. And McDonald's … well, everyone knows what's happened to McDonald's. As consumers' tastes changed, the chain became the poster-child for America's obesity epidemic. Sales slumped, and, recently, the stock price followed. Last week, McDonald's announced that Chief Executive Don Thompson would step down on March 1 and be replaced by Chief Brand Officer Steve Easterbrook. The incoming CEO has one job: to get the iconic chain back on some kind of track at a time when Chipotle and its disciples are ascendant.

The story of Chipotle's meteoric rise is also the story of McDonald's failure to adapt to the changing American appetite.
Wow. That's some very strong wording. So here we sit today just over 25 months later. What was going on then with the respective stocks, and what has unfolded since?
On February 2, 2015, CMG closed at $712.55. Earnings per share for all of 2014 were $14.13, so the P/E ratio was 50.4 (recognizing this was a growth story at the time as EPS was only $8.75 just two years earlier).
On the other hand, MCD ended that day at $92.51 and had earned $5.36 in 2014, giving it a 17.3 P/E ratio (a valuation metric nearly 2/3 cheaper).
Now we fast forward to today. As of March 15, 2017, CMG finished at $400.96. 2016 EPS has shrunk to $1.06. The stock has never paid a dividend, which makes a total return calculation very simple for the time period. It's down 44%.
Most of you probably know where this is headed. MCD closed at $127.88 on March 15, 2017. 2016 EPS was $5.72. With dividends reinvested in the stock, the 25-month total return was over 48%.
Think about that for just a minute. How many people would have predicted on February 2, 2015, especially anyone reading the Bloomberg article, that 25 months later, a $10,000 investment in CMG (described as "a darling of investors") would be worth $5,600 while the same amount purchased in MCD ("sales slumped... the stock price followed") would have been valued at $14,800? For you math wizards, that's about a 2.6x multiple. Maybe even more amazing is the fact that MCD's EPS only increased 6.7% during this time frame.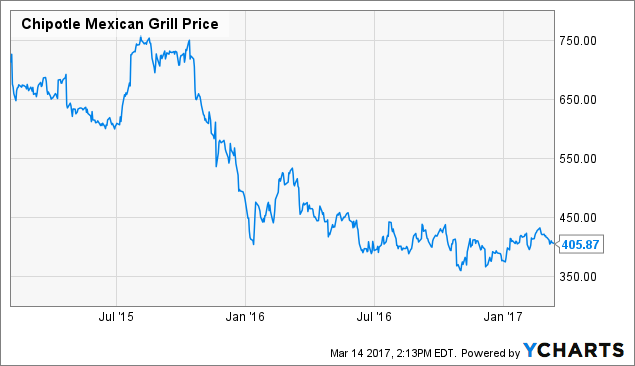 MCD data by YCharts
Now as I stated earlier, I currently have no dog in this fight. Although I once owned MCD for a few years back in the late '90s into 2002, I have not owned either of the two stocks at any time in the 25-month period referenced here. For those who own or may be considering these companies, I at least owe my readers some valuation thoughts:
CMG
The company has no long-term debt, which is a huge positive, especially when going through a difficult time period. Management does not have to worry about interest payments or any upcoming debt maturities.
CMG did earn $15.16/share in 2015, a year which already included the first few months of the foodborne illness problems. IF you have any sense the ship can be righted and eventually growth reignited, you're now looking at a price that's come down to 26x that earlier EPS which is well below nosebleed territory.
Many companies that have been hit with such an unexpected crisis are often forced to dilute current shareholders as they need to raise equity to buy time. This has not been the case with CMG.
CMG ended the year with 2,250 restaurants, only had to close three during all of 2016, and expects to open around 200 new locations in 2017. If those plans pan out and the units are profitable, things could head back in the positive direction.
And now we proceed to a small history lesson. In the introductory paragraph to this section, I mentioned owning MCD back in the '90s. What I didn't tell you was that I sold it because of what was then a somewhat similar pressing issue that just wouldn't go away... mad cow disease. For those of you old enough to remember, the public was worried about eating beef, and the constant press coverage wasn't helping MCD's stock price. I sold because I was tired of worrying. What I had purchased at 24.47/share a few years before, I ended up selling on January 4, 2002, at 26.96/share. That's ok, however, as with dividends reinvested, all I've given up since is 13.8% annual compounding....over 7x the value on my exit date (sarcasm noted).
MCD
For the dividend crowd, the stock pays almost 3%, and it's hard to argue with 40 years of dividend increases.
Although an extremely infrequent customer myself, I'm still one of those people who questions the imminent doom naysayers of the company who seem to surface at various times. The parking lots and interiors of the locations I drive by always seem busy.
Currently trading at 22.5x 2016 EPS seems to be very similar to other iconic, dividend-paying American companies that investors like to own.
It is very hard to move the needle significantly with a company this size ($104B market cap), so don't expect fantastic growth over time.
As I pointed out earlier in the article, the stock has returned 48% in 25 months. I personally take the view opportunity was already missed. If I owned it below 100, I think I'd be sitting tight with a smile on my face. I would not initiate a position at this time.
One of my goals in writing this article is also to reflect on how this 25-month history on two stocks can help us as investors in virtually any other company. Let's look at the bullet points in my initial summary at the top:
Change - Yes, a lot can change in 25 months. What often seems so obvious at the present moment may not appear that way in future. See if you can find anyone that predicted in October of 2007, an all-time market high in the S&P 500 at the time, that Lehman Brothers would file for bankruptcy a mere 11 months later. I'm sure you can remember similar examples over your investing lifetime.
Valuation - Most of us have read or heard many times that famous Buffett line "Price is what you pay, value is what you get". As I've pointed out above, CMG was trading at a 50x EPS multiple based on trailing earnings. If things go wrong under that valuation, you're on average (admittedly not every case) going to suffer a lot more relative to lower PEs. So, when you're patting yourself on the back today for that highflier you own that's done so well to date (come on...you know which stocks I'm talking about), just keep this bit of history in mind. There is a reason why Seth Klarman's book "Margin of Safety" is such an investment classic.
Risk - I'm sure, like me, many of you try to at least think about the risks associated with stocks you own. Some of you might even create a check list of +'s and -'s as you analyze your investments. But during the halcyon days when owning CMG seemed like a no brainer and MCD was a boring, dying monolith, did anyone (and I'm including professional analysts and money managers) EVER consider a foodborne illness would be the catalyst that started the decline of the former? The lesson here is there most certainly are hidden risks we can't possibly evaluate in each stock we own.
Concentration - This is the toughest paragraph for me to write. I've very much come to believe in concentration as the correct way to invest for me personally. I often scoff at articles that discuss portfolios exceeding 30 holdings (my own number is currently at 21), and when I see reference to more than 50, I just roll my eyes. But what if I'm wrong in my top picks (three of which are now over 10%)? Maybe I'm the fool in the long run when I make a mistake or the unimaginable happens. Those of you that sell down a position when it exceeds a certain percentage might actually be doing the right thing... unless of course you bought Amazon (NASDAQ:AMZN) 15 years ago, sold it way too soon as it appreciated to your maximum holding tolerance, and thus missed out on 59x your initial investment (that hurts to even think about it).
My hope with this look in the rear view mirror is that you'll reflect a bit on what you own, why you own it and what really are acceptable levels in your investment parameters. And maybe I even learned a lesson to more carefully scan my email folders before automatically deleting old entries.
Disclosure: I/we have no positions in any stocks mentioned, and no plans to initiate any positions within the next 72 hours.
I wrote this article myself, and it expresses my own opinions. I am not receiving compensation for it (other than from Seeking Alpha). I have no business relationship with any company whose stock is mentioned in this article.