I have already mentioned that holding physical gold is really a form of investing, and have also given some insight into why gold accumulates value. Now I want to go further.
Overview
It is useful to compare the growth rates of both the S&P 500 and gold over a long period of time. But simply looking at average growth rates is not enough. This is because growth isn't necessarily distributed in a simple fashion. Consider the monthly growth rates for the S&P 500 and gold between April 1968 and December 2015. The mean growth rate for the S&P 500 was 0.85%, including dividends, while the mean growth rate for gold was 0.74% (both month over month).
The reason I am using month-over-month figures, rather than year-over-year figures, is because I have monthly price data for gold available by month. This gives a better resolution for a potential model. I could, of course, cite everything in YoY equivalents, but since the model is set up to compute values in monthly increments, I decided to leave things as is.
Histograms
Yet if we look at the histograms for these growth rates, we see things are far more complicated.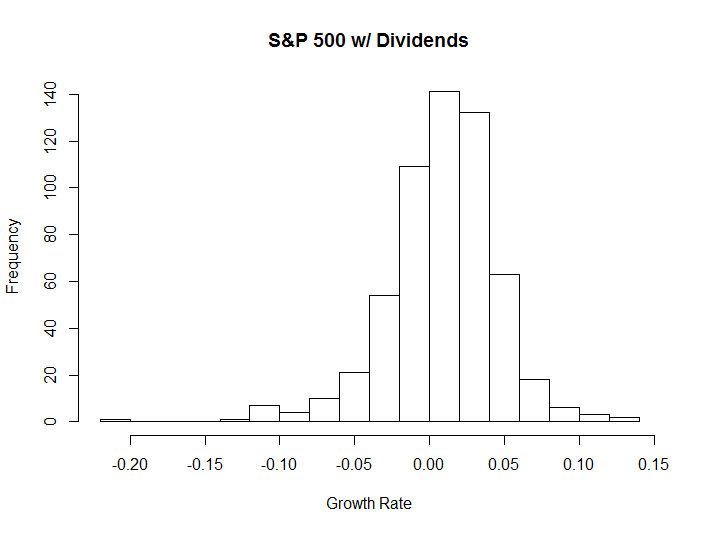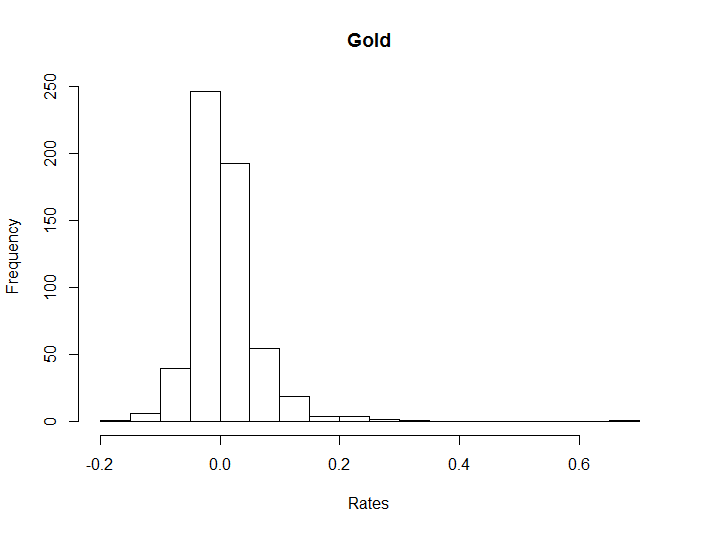 Prelims
Most people are familiar with the normal distribution. It is symmetric about the mean and has a rounded top. Not every probability distribution is so nice however.
To handle more distributions, there are two values, in addition to mean and standard deviation/variance that are available. They are "skew" and "kurtosis."
Skew is not all that difficult to understand. Essentially, if more of the data points are to the left of the mean than to the right of it, then the distribution is left, or positive, skewed. If more data points fall to the right of the mean than to the left, then the distribution is left, or negative, skewed.
Kurtosis is a bit more complicated to understand. It is a measure of the "tailedness." To visualize kurtosis, consider that distributions with a higher positive kurtosis are more "pointy" around the mean. A normal distribution, for reference, has a kurtosis of 3. Taking into account kurtosis is important because assuming a normal distribution can result in ignoring potential swings due to outliers.
To learn more about skew and kurtosis, you can read up on central moments (warning: math ahead). Investopedia also has decent articles on skewness and kurtotic risk.
Model
From the two histograms, it becomes apparent that these distributions are not exactly normally distributed. There is a fair amount of skew, and kurtosis as well. The family of distribution that provides the most flexibility to model this system is the family of Pearson distributions.
To fit the model, we can use either method of moments or maximum likelihood estimation. Luckily "R" has a library that allows for fitting a sample to a Pearson distribution. Here are the results, using method of moments. Growth rates are per month.
Here are the moments for both the S&P 500 and gold.
| | | | | |
| --- | --- | --- | --- | --- |
| | Mean | Variance | Skewness | Kurtosis |
| S&P 500 | 0.008494686 | 0.00132369 | -0.7434548 | 3.053563 |
| Gold | 0.00743042 | 0.003572344 | 3.217783 | 27.11366 |
This is actually fairly interesting. The S&P 500 is slightly closer to a normal distribution (skewness = 0, kurtosis = 3). Gold is heavily skewed and has a high degree of kurtosis.
Simulation Results
Now that we have these figures, we can see how gold is likely to compare to the S&P 500 over the next 40 years, assuming that the system maintains a similar distribution. Running the model for 10,000 iterations, the S&P 500 outperformed gold in 74.8% of the trials.
This does not mean that gold is a bad investment however. It just means that one cannot simply throw money into gold and expect it to perform as well as the S&P 500. Though after 40 years, the difference between the two, on average, was only about 6%, based on the 10,000 trials.
Conclusion
One of the reasons gold is a good investment is less about extreme growth and more about hedging. Furthermore, as I mentioned in "Holding Physical Bullion Really Is Investing," gold has a beta of roughly 0.5 with respect to the S&P 500, or at least, that is the approximated beta using the available monthly data from April 1968 through December 2015. So gold is a good way to offset non-systemic risk.
Of course, please remember that these figures assume that the S&P 500 and gold continue to act in this way for the foreseeable future. Also remember that these figures give overall price dynamics, and allow for long-term projections. They do not allow for short-term market predictions, as the market is influenced by many factors.
Future Work
Since I now have models for both S&P 500 and gold price dynamics, if I can add in price dynamics for bonds, I can model the Harry Browne Permanent Portfolio strategy. This will likely be the next major project, as a reader has asked me about it before.