Upon a quick portfolio edit, I realized I have been unknowingly allocating a much higher portion of my capital into US equities and out of international and emerging market funds. This is a mistake, and I am starting to correct it. I have started to shift especially into China and my recommendation is that others follow suit - the reason - stronger growth.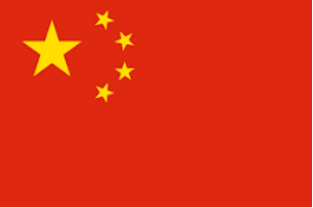 Previously I discussed the opportunity in China (prior article), and this remains a huge opportunity for those who plan on being in the market for the next twenty years.
China unexpectedly posted its first trade gap in three years in February as a construction boom pushed imports much higher than expected. That upbeat import reading reinforced the growing view that economic activity in China picked up in the first two months of the year. - Fortune
If we examine iShares China Large-Cap (NYSEARCA:FXI) a popular fund with over 3B in assets and an expense ratio of 0.74%, the top holdings are compelling.
These five top holdings make up almost 40% of the entire ETF, so it only makes sense to drill into each of these a bit. The tickers below are the respective American Depository Receipts (ADRs) for the top 5 holdings, an ADR is simply a certificate by a US bank representing a specified number of shares in a foreign security traded on a US exchange.

Notice the strong growth in revenue and earnings per share in the last five years overall. While China Mobile (NYSE:CHL) has struggled a bit I found a compelling long idea from a fellow seeking alpha PRO research contributor which can be accessed here. China Mobile has 60% market share in China and was the first to enter the 4G space; and this stock makes up roughly 8% of FXI. China Mobile also has over a 3% yield and a healthy payout ratio near 40%.
Tencent Holdings (OTCPK:TCEHY) has huge growth due in part to the top-grossing PC game League of Legends and social media platforms such as WeChat which has over 700 million active users. I read another good seeking alpha article from a colleague in January which provides a great long thesis on Tencent Holdings.
The Chinese bank stocks are also growing more than you'll typically find here in the US, however, it's a bit of an apples to oranges comparison based on a different regulatory and interest rate environment. In China, overall there are looser loan rules and thus while growth may be higher risk is also higher. The positive side is that free cash flow is healthy throughout the top holdings.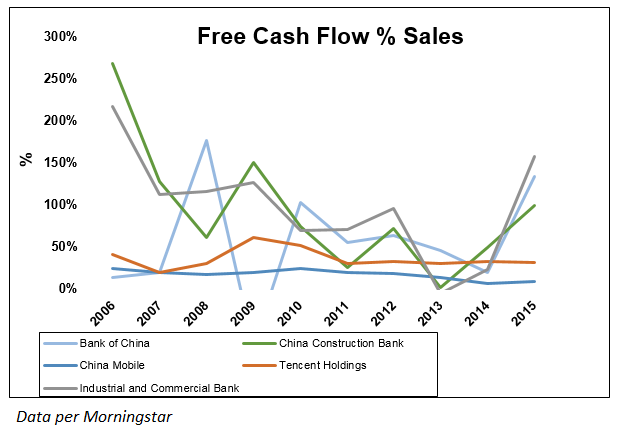 The other good news is that valuations are not out of sync with expected growth. At first glance Tencent Holdings may appear overvalued, however, the PEG ratio is 1.2 which is slightly higher than Facebook (NASDAQ:FB) at 1.1 and lower than Google (NASDAQ:GOOG) (NASDAQ:GOOGL) at 1.3. In essence, Tencent is a strong business that is fairly valued today.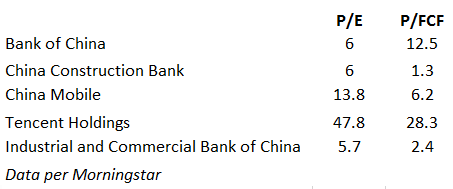 Investing in China may sound like old news, but not diversifying your portfolio in this high growth area of the world will make you miss out on a multitude of growth in an ever-adapting global economy.
Disclosure: I am/we are long FXI.
I wrote this article myself, and it expresses my own opinions. I am not receiving compensation for it (other than from Seeking Alpha). I have no business relationship with any company whose stock is mentioned in this article.
Editor's Note: This article discusses one or more securities that do not trade on a major U.S. exchange. Please be aware of the risks associated with these stocks.