Introduction
This is my third and final article focusing on the apparel retail sector. My goal in writing these three articles was to search for opportunity in a beaten-up industry full of names we are familiar with. After all, I figured there has to be some strong brands out there who are getting punished due to worries over their brick-and-mortar future (i.e., babies being thrown out with the bathwater).
As e-commerce continues to present an alternative (and a better alternative, in many cases) to brick-and-mortar shopping, many stores are battling declining foot traffic. Especially included in this first category are department stores that typically serve as a mall anchor; this was the topic of my first article.
The main conclusion from this article was that although the traditional department store model is generally under attack, not all "department store" companies are equally positioned to succeed. I highlighted Nordstrom (NYSE:JWN) in particular as a company that seemed to be a step ahead of the rest. It has much higher in sales per square foot, a solid head start with its off-price chain (which has actually seen positive comparable sales growth), Nordstrom Rack, and its BBB+ credit rating from S&P makes it the highest rated department store by a full two notches.
The second article focused on the companies taking market share in this tough environment. Primarily, this included Amazon (NASDAQ:AMZN) and the discounters (TJX Companies (NYSE:TJX) and Ross Stores (NASDAQ:ROST)). I also included Costco (NASDAQ:COST) and Wal-Mart (NYSE:WMT), which have both seen comparable sales continue to increase, as well as two sporting goods stores that have had solid sales growth, Foot Locker (NYSE:FL) and Dick's Sporting Goods (NYSE:DKS).
The goal here was to look for "under-appreciated" performance. While I couldn't find an ideal candidate for that, some companies present different advantages. For example, Dick's and Foot Locker provide the best upside, I argued, due to their strong sales growth yet relatively low valuations. Wal-Mart, on the other hand, provides the best defense of any of the companies, due to its momentum of comparable sales growth (nine straight quarters), solid earnings yield, and typical strong performance during recessions. Ultimately, it comes down to investor preference, and it depends on their view of the environment going forward. I pointed out that I am very cautious today and in no hurry to initiate any new positions.
With that said, here is the final part in this article series. I anticipate that at least a few of the companies I look at will have brands that continue to resonate positively with consumers, yet have been negatively impacted by the challenging retail environment.
The Companies And The Numbers
For this analysis, I have selected thirteen companies to be included in the comparable group. Surely, this doesn't include every possible candidate, but I am confident it is a good group of names that encompasses a significant portion of apparel retailing in North America.
Here is the data: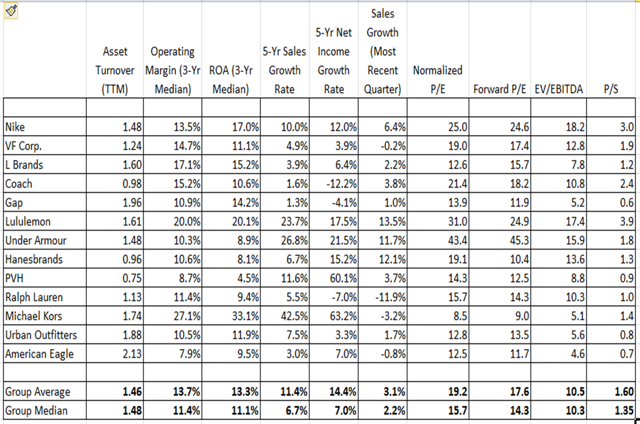 (Source: YCharts, Morningstar, author's work)
All the companies and categories may scare you off at first, but let me attempt to simplify it in a few bullet points:
These are clothing and apparel brands across several areas, including luxury (Coach (COH)), Michael Kors (NYSE:KORS)), sports/athletic (Nike (NYSE:NKE)), Lululemon (NASDAQ:LULU)), Under Armour (NYSE:UAA)), and some more diversified brands (V.F. Corp. (NYSE:VFC), L Brands (NYSE:LB), Gap (NYSE:GPS), Hanesbrands (NYSE:HBI), PVH Corp. (NYSE:PVH), Ralph Lauren (NYSE:RL), Urban Outfitters (NASDAQ:URBN), American Eagle Outfitters (NYSE:AEO)).
They are ranked from top to bottom by market capitalization, with Nike being the largest and American Eagle being the smallest.
They are compared across numerous metrics, but there are essentially three main categories: operating performance, growth, and valuation (in that order).
At the bottom, I included a mean and median for each metric across the group to get an idea of where each company lies relative to the average.
All data, with the exception of asset turnover (which was obtained from Morningstar), was obtained from YCharts. I have found YCharts to be both a useful and accurate source of data. Feel free to double check any numbers and point out any discrepancies you find. Lastly, the normalized P/E, EV/EBITDA, and P/S are all on a TTM basis.
Let me first point out that although it is easy to just focus on the average numbers at the bottom, when we look at the individual companies, we see a great dispersion. And this isn't in one metric either. Across all metrics, you will generally see a pretty large gap between the highest and lowest numbers. Because some of these outliers may skew the average (particularly the higher numbers), the median may be a better indication of where the "average" company lies.
In general, the athletic apparel companies (the major ones are Nike, Lululemon, and Under Armour) have higher growth rates but also higher valuations. The one exception is Michael Kors, which has seen a stratospheric growth rate in sales over the past five years. Notice, though, that in the most recent quarter, its sales actually declined at a pretty significant rate (comparable sales were down mid-single digits).
That brings me to an important part of the analysis. We need some sort of a framework to analyze the companies here, because there are a lot of companies and a lot of metrics. If we just look at the table, Michael Kors looks like an incredible bargain, but that's why we need to pick which numbers should receive more emphasis.
Analysis Framework: Stable Sales And Solid Valuation
What is it that we are looking for in an apparel company today? We could start by looking at valuation, operating performance, revenue growth, or even metrics not listed in the table, such as e-commerce penetration. I will argue that the first requirement we should look for is stability in sales, both in the past few years and especially as of late.
In a difficult retail environment where more stores are closing than opening, I want to see a company that recognizes this reality. It's not just headline sales growth that matters. What I care more about is underlying or comparable sales growth. In general, comparable sales growth is more indicative of underlying strength in the business. There is no way to sway this number other than having a strong operation. A company could, on the other hand, influence total revenue by opening new stores. I don't like that trend in general, but especially not in the retail industry, where statistics show that the U.S. is significantly "overstored" compared to other countries.
Perhaps not surprisingly, there are a number of companies in the table whose underlying sales growth has been deteriorating. While this trend may reverse at some point and they could become spectacular investments, I think I would be speculating to try and figure out when this will happen. Call me conservative, but I will choose to wait first until things stabilize and then assess the value, rather than trying to predict right now when things will improve and determine a value accordingly.
The next thing to look at is valuation. What most people could agree on is that the rise of e-commerce has made life tougher for brick-and-mortar stores. Although many of these brands are expanding their online presence, most also operate their own physical locations and/or rely on physical locations for a portion of sales. So, although clothing and apparel brands are generally in a stronger position than department stores, they are not immune from all the challenges.
E-commerce itself may also present a bit of a challenge. I discussed this topic in my first article, but in sum, Amazon has raised the standards for the shopping experience. Free shipping is often expected, and that lone cost to retailers can weigh on margins. Throw in free returns, and it is easy to see why margins may be lower online.
An apparel company's valuation should reflect this reality. While we would all like to own a company that is growing at healthy rates and seemingly immune from any broader retail weakness, it is not easy to find one that hasn't also seen a run-up in valuation. And if the valuation more than reflects its strong performance, there may not be a great opportunity for an investor.
So there are two risks I want to mitigate: investing in a business that is fundamentally declining, and paying too high a price for a company in a difficult retail environment. With that said, let me get to the two companies that stood out after doing my research.
The Outfitters: Stable Sales And Attractive Valuations
I will admit that the last thing I expected was to come out of my research and determine that Urban Outfitters and American Eagle Outfitters presented the best value. The first thing I did was question, "Aren't they struggling with declining sales and closing a lot of stores?" Upon doing some digging, I realized that perceptions like mine are potentially what creates the opportunity here. Because many of their peers, such as Aeropostale (NYSE:ARO) and Abercrombie and Fitch (NYSE:ANF), have declared bankruptcy or are really struggling with declining sales, an unfamiliar investor may group Urban Outfitters and American Eagle in that same category.
A more accurate way to describe these two companies is to say their sales, while not growing at an impressive rate, have moved up solidly in a difficult environment. I am specifically referring to comparable sales growth, which many other companies in the table are struggling with. Furthermore, they remain in solid financial shape, with low debt loads and sizeable cash balances. Throw in their favorable valuations, and that's a combination I like.
That's not all though. There are some qualitative advantages that both companies have. First, they are both pretty far along with expanding their e-commerce efforts. If I'm not mistaken, both companies are near the 30% ballpark in terms of sales coming from online. Urban Outfitters predicted that within the next three years, its sales would be evenly divided between online and in-store sales.
The second thing is that their brands seem to remain popular with their core customer. This link is to an article from late 2015 that talks about a survey of upper-income teens done by Piper Jaffray. Among the top five apparel brands, both American Eagle and Urban Outfitters made the cut. American Eagle came in at #3 behind Nike and Forever 21, and Urban Outfitters was #5.
Here is a link to a more recent survey (July 2016) done by Business Insider. This survey was again done with teens, and their ages ranged from 12 to 18. One of the key findings that stuck out for me was that between American Eagle, Lululemon, Forever 21, Hollister, H&M, Zara, and Abercrombie & Fitch, American Eagle led the way as the favorite brand with 25.47% of those votes.
Both of these surveys should be taken with a grain of salt, as should any individual survey. The second survey only polled 110 teens, which seemed like a small sample size to me. Unfortunately, BI did not include Urban Outfitters at all in its questions.
Either way, I don't see any evidence that either of these brands are seeing significant deterioration. What I do see is that they are continuing to resonate at least to some extent with their core customer, even as more shopping shifts online.
CEO Comments
The last qualitative characteristic that I like specifically applies more to Urban Outfitters, and it is the commentary by CEO Dick Hayne during the company's most recent earnings presentation. Mr. Hayne touched on the topic of the U.S. market being over-retailed, with retail square feet per capita more than six times that in Europe and Japan.
He went so far as to compare what's been going on in retail and shopping malls (too much square foot capacity added in previous decades) to the housing bubble. I'm not sure if the two will play out exactly alike, but nonetheless, I like to see that he has his eyes open regarding the headwinds facing his company.
One interesting point he made: "This trend [doors shuttering and rents retreating] will continue for the foreseeable future and may even accelerate".
He made a point later on in saying that his company doesn't see the logic in expanding now when all signs point to rents being cheaper in the future. I like his thinking, and I like his prudence in this situation. What I like even more is that Urban Outfitters has avoided the pitfall of over-expanding in previous years, as it currently operates somewhere near 600 total brand locations.
Sure, both American Eagle and Urban Outfitters have seen their margins decrease in recent years as their digital businesses have expanded. That's ok with me, though, because they are taking the necessary steps to ensure their sales stabilize and that they are around for the future. If that means going from 10% net margins to 6%, then I'm all for it.
Difference In Growth Prospects
Given the arguments laid out, I believe both Urban Outfitters and American Eagle are relatively undervalued. Now, the companies aren't equal, and it isn't completely fair to discuss them as such. A good discussion of their respective prospects can be found from Trefis here (you can make a free account, which I would suggest doing). For those who don't know, Trefis is a platform found by MIT grads that specializes in building comprehensive visual models for companies. It allows users to play around with the models and see how certain outcomes in business performance and/or growth would theoretically affect the stock price.
The conclusion of the article is that both companies present good value, just in different ways. Urban Outfitters, with its smaller store base (American Eagle has closer to 1000), has better growth prospects, as it has more potential to expand its store base in the future. American Eagle, on the other hand, is the "safer" of the two with slightly higher EBITDA margins and a 3.5% dividend yield (URBN doesn't pay a dividend).
Seeking Alpha Contributor Kenra Investors also put out a good piece on Urban Outfitters that is pretty self-explanatory from the title: "Holding Up Nicely In A Difficult Environment". I agree, and I think his article is worth a read.
Considerations
At the end of this article, you're going to see that I hold no positions in any of the stocks mentioned. To that you may say, "Put your money where your mouth is". This is where some readers may disagree with my thinking, but let me quickly explain it.
My reluctance to buy URBN and AEO has less to do with the individual companies than it does with what's going on in the broader market. I am a big believer in Warren Buffett's advice when it comes to trying your best to block out the noise of the broader market. However, I don't completely ignore it.
My tone has turned very cautious since the market (SPY) has shot up after the election. While I believe that fundamentals continue to chug along at a slow yet steady pace, I also believe the market's advances are outpacing the fundamentals. The heading of an article in today's WSJ was pretty fitting: "Growth Lags Behind Consumer Confidence".
Nothing appears to have changed with regard to the economy during this long economic expansion (slow and steady). What seems to have appeared, though, is a sudden bout of optimism about future growth. The important thing to remember is that the optimism is with regard to the possibility of future growth, not anything that has happened yet. With that in mind, I have decided to refrain from initiating any new positions.
Again, many (if not most) people will disagree with my strategy. I completely understand that, and I understand I risk missing out on future gains. But to me, when the CEO of the company I am considering investing in acknowledges that challenging trends will continue into the foreseeable future and may even accelerate, I am content to be patient. I will keep both of these companies on my radar, because in any broad market or retail weakness, these should present very good investment opportunities (provided that their underlying sales continue to hold up).
Conclusion
My goal in this article was to look for good investment opportunities among U.S. clothing and apparel companies. Many of the thirteen companies I looked at have seen their share price get beaten up. In fact, every company except Nike is trading at least 20% lower than its all-time high, with many more than 50% lower. This is even as the S&P 500 and other indices continue to hover around all-time highs.
Whether shoppers prefer in-store, online, or some combination of both, good quality clothing at affordable prices should continue to do well. That is specifically what I like about apparel companies: they hold a greater control over their future than a typical department store. In other words, they are not guaranteed success because they manufacture their own products, but if they fail to adapt to their customer's preferences, they have only themselves to blame.
American Eagle and Urban Outfitters appear to present the best value today. With sales holding up decently, beaten-up valuations, brands that continue to resonate with core customers, and disciplined expansion strategies, it is not too hard to see why.
My decision to hold off on investing has more to do with the broader market and what I see as a disconnect between fundamentals and stock market performance. That doesn't mean I won't be keeping these stocks in the back of my mind, because I most definitely will. It just means I care more about managing risk than earning outsized returns in the current environment.
That shouldn't take away from the research and the potential value in these two names. As I mentioned in my first article in this series, the names that present good value today have a good chance of presenting good value during any sell-off.
Thanks for reading, and if you would like to read more of my articles, feel free to select the "Follow" button at the top of the page.
Disclosure: I/we have no positions in any stocks mentioned, and no plans to initiate any positions within the next 72 hours.
I wrote this article myself, and it expresses my own opinions. I am not receiving compensation for it (other than from Seeking Alpha). I have no business relationship with any company whose stock is mentioned in this article.