In a widely expected move, on Wednesday afternoon, Federal Reserve policymakers chose to hike interest rates by a quarter of a percentage point to a range of 0.75-1.00 percent, noting increased inflationary pressures and economic activity that has continued to expand at a moderate pace. The decision to raise rates is a course correction from the previous two rate hikes of this cycle - both near prior-year ends - and sets the stage for a faster pace of normalization.
Although much was made of what the Fed may or may not do leading up to Wednesday's decision, it is important to remember that the Federal Funds policy interest rate is still very much near historical lows, and as such, monetary policy remains accommodative. Moreover, the accelerated pace of tightening expected this year is further representative of the torch passing from monetary to fiscal policy for what may become the dominant tool used to jump-start global economic growth.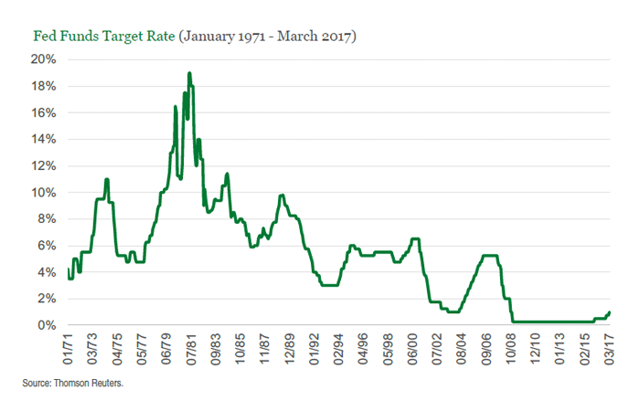 We believe central banks have acknowledged the decreasing marginal benefit of extreme, ultra-low interest rate polices, as negative effects - including weaker bank profitability, higher savings rates, and reduced interest income - may have more than offset the positive effects of perpetually low borrowing costs. For this reason, policymakers have increasingly pointed to fiscal policy tools, such as fresh spending on infrastructure, education, or public R&D funding, as potential avenues for boosting real GDP growth.
Unlike transfer payments or pork barrel "bridge to nowhere" projects, these capital investments have the potential to improve long-run productivity, which is a principal driver of elevated long-run potential economic growth. Directing more spending toward these pro-growth programs is inherently political, and ultimately requires a pivot to structural reforms that also demand significant political capital and commitment.
Nevertheless, the conversation has undoubtedly shifted toward an accelerated pace of interest rate hikes, which is an indicator in and of itself. Monetary policy tightening of any degree generally suggests that the U.S. economy is on solid ground, at least according to the Federal Reserve Open Market Committee's voting members. And based on many of our own indicators, we would agree that the domestic economy is in a position that warrants gradual normalization of monetary policy. More specifically, earnings are high, margins are at peak levels, equity market valuations are generally full, and labor markets have tightened, leading to a pickup in wage growth and rising inflationary pressures.
For these reasons, we believe we are in the mid- to later stages of the economic cycle, and our portfolios are positioned accordingly. Our equity investments largely consist of fundamentally strong businesses that have the capacity to generate their own growth in a secularly challenged environment, and for fixed income, we continue to focus on short- and intermediate-term bonds that exhibit less sensitivity to rising interest rates relative to longer-term securities. We believe as central bank policies across the globe diverge, this positioning will help manage risk as we seek to achieve desired investment outcomes. Yesterday's decision by the Federal Reserve does not change our investment approach, but merely reinforces our preexisting view in regard to where the U.S. economy is in the current economic cycle.